POV Holder:
?
Next POV
Aug 23rd
POV Used
?
POV Ceremony
Aug 25th
HOH Winner 1:
Cody
Next HOH
Aug 28th
Nominations:
Donny & Nicole
Have Nots
Donny & Nicole
POV Players
?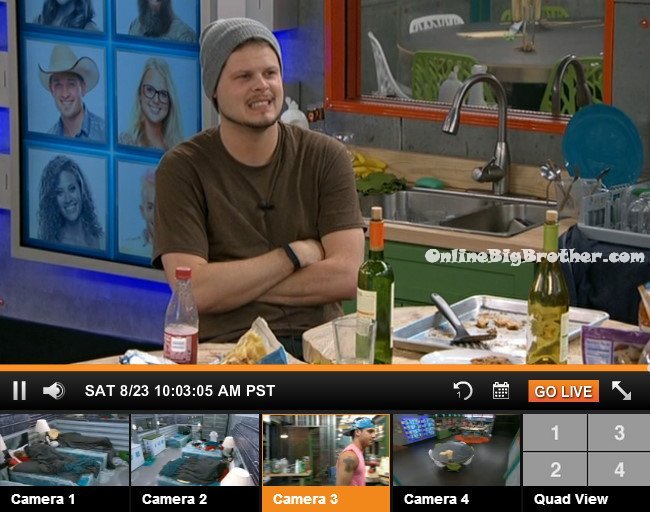 Take Advantage of the FREE 2 day Trial to watch all the drama!
9:15am – 10:15am Big Brother blocks the live feeds to wake up the house guests. Donny gets up to eat and goes back to bed. Derrick is called to the diary room but comes out soon after and splashes water on his face. He sits at the kitchen bar. Cody goes in and comes out of the diary room. Derrick says that he went into the diary room and they kicked me out because I looked like I was sleeping. They told him to go wake up and splash water on his face. How do you look so awake, I guess good looking is good looking. Cody says I knew you were going to say that. Derrick heads to the fire room. Frankie says she is sick. Derrick says she (Victoria) is still not feeling very well. Frankie says no, I told her to tell them. Victoria comes back and lays in the fire room bed with he hand over her head.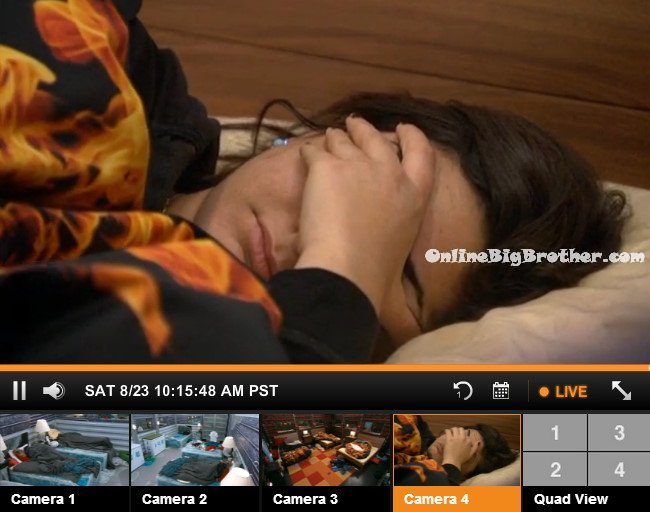 10:25am – 11am In the bathroom – Frankie heads into the bathroom stall and Derrick talks to him while he's in there. Derrick says I definitely think we're getting another one. (Team America Mission) That's the impression I got. Frankie says I hope so. I can't wait. Derrick says it's a little odd that it hasn't came yet. Getting the same impression I'm getting? Frankie doesn't say anything. Big Brother blocks the feeds and when they come back.. Derrick says DONNY's Going home this week .. and then the $10,000 to save Donny. Derrick says DONNY!!! Welcome back to the house buddy! Frankie says whatever it is I want to do it if we can! Derrick says yeah. And I have a feeling by chance he doesn't save himself today. Then it will be a team america moment. It just means he's going to vote us out eventually, there's no doubt about it. You'll be sitting there like.. called that one! Frankie says I know. Derrick says 10K … you watch us work! Frankie says I thought about that yesterday. Derrick says the timing is very interesting. Frankie says it always has been. Derrick says we wouldn't get it (Team America Mission) until Wednesday night. Frankie says yeah it will be after the POV because it would be a lovely back up too. Derrick says it would be interesting my friend. They said basically you would know.. Frankie says they said it would be okay even if we were down one person .. and still if we were down to one person. It would be difficult but it would still be okay. Frankie heads back to bed. Derrick goes to make breakfast.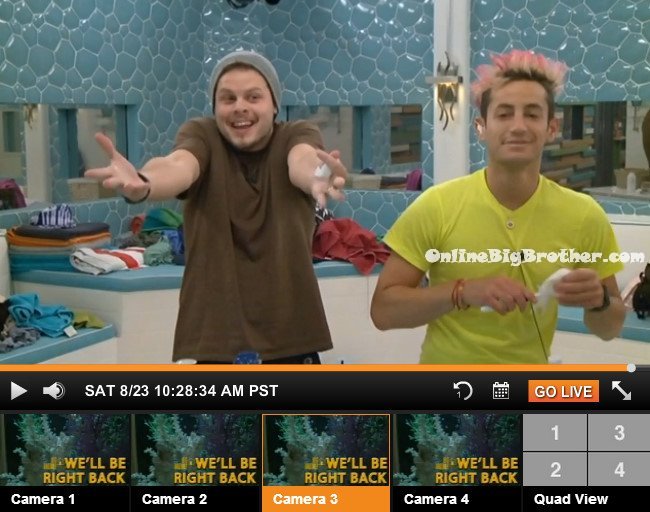 11am In the kitchen – Derrick and Christine are whispering. Derrick asks Christine how she is feeling? Christine says good. Derrick says yeah we're good this week. Christine says I was just worried about double eviction this week. Derrick says yeah if she (Nicole) wins it one of us is going home, but its 5-1 we should win it. Christine says I think she would put me and Frankie up next to each other. Derrick says Victoria is hot and cold with me. She goes a day or two without talking to me. If she's mad at me the day of the vote then I'm going home. Derrick says we're screwed if its me and you, me and Cody, Cody and You. I don't think she would do that though, it wouldn't make sense. Do you think she would go after Frankie? He's such a strong competitor it would be stupid not to. Christine says I don't know. Derrick says I don't think Victoria is going to be able to compete today. I saw here go into the diary room. She didn't look as bad but.. Derrick says I just don't think she's (Nicole) in it. Christine says I think she's more excited to see Hayden. Derrick agrees. I definitely didn't see the love from Jocasta when she was here. Derrick and Christine agree that it will definitely be a bitter / personal jury.

11:15am – 11:45am In the bathroom –
Victoria heads into the bathroom stall. Nicole asks her if she's okay or if she needs anything. She opens the door and finds Victoria on the floor. Nicole says oh my god you're all sweaty! I'm going to get someone for you. Nicole yells Derrick come quick for Victoria!! (Victoria's been having a lot of pain from her teeth.) Big Brother cuts the live feeds…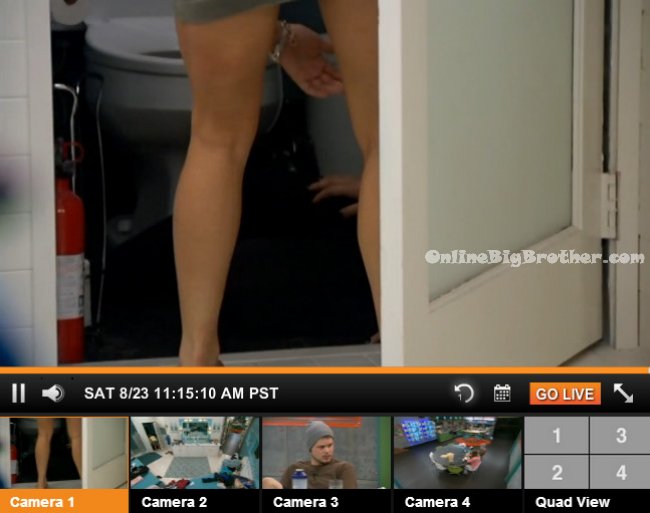 Alliances
"The HITMEN" – Cody & Derrick
More polls here https://www.onlinebigbrother.com/big-brother-compendium/big-brother-16-polls/
[polldaddy poll=8260325]
[polldaddy poll=8261457]