POV Holder:
James
Next POV
Aug 1st
POV Used
No
POV Ceremony
Aug 3rd
HOH
James
Next HOH
Aug 6th
Original Nominations:
Shelli and Clay
After POV Nominations:
Shelli and Clay
Have Nots
Austin, Liz, Julia
TRY the Big Brother 17 Live Feeds FREE for 1 WEEK:
Click here to ensure your live feed subscription supports OnlineBigBrother.com at no extra cost to you.
12am -12:45am Becky and Jackie are painting their nails on the backyard couch chatting about random things. Clay and Shelli are cuddling in silence on the hammock.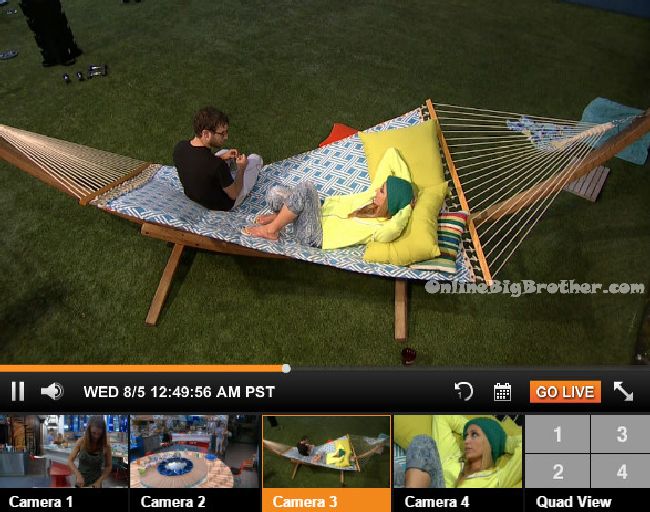 12:50am Hammock – Vanessa is talking to Steve. Vanessa says here is the problem he's (James) pressuring people .. he is basically bullying people to evict Clay. I was the only one that stood up and said I was going to evict Clay. Steve says so you lied. Vanessa tells Steve that she is trusting him with information and letting him know what's going on because if I didn't you would think that our final 2 meant nothing. I was the only one that said what I was going to do and Austin starts to argue and defending himself saying who is coming after me. I feel uncomfortable keeping him (Clay) because he is more likely to come after me than Shelli is. Liz joins them and the conversation ends. They talk about how Austin just pulled Clay in to the cabana room. Vanessa says if we have to keep Clay because of Austin's unwillingness to go against them.. like I get the feeling that you girls are on board. I'm on board. But I feel like Austin is wavering. Liz says because he feels like his a$$ is on the line but I feel like my a$$ could be on the line too. I don't knooooooowwww! Vanessa says there is no reason we can't just tell Clay and have him take the place of Shelli in our group anyways but Clay would try to work with them instead of us. Liz says and I know Shelli would work with us. Steve says there have been many instances in big brother history where people have had a good relationship in the beginning of the game and then gotten back together later in the game. Vanessa says we need to decide what we're doing. Steve says I thought we already did decide what we're doing? Vanessa says that Austin just got a lot of pressure.. it was a bullying. Liz says its hard because if they win they are coming after us. Steve says they're already coming after us. Liz says but not you. And at this point it obvious who votes for who. Steve says they're target is Shelli right now. If you're worried about protecting you and your sister keep Shelli. Shelli will be target number 1. Vanessa says that Austin needs to tell them he is voting to keep Shelli so that it isn't a blindside.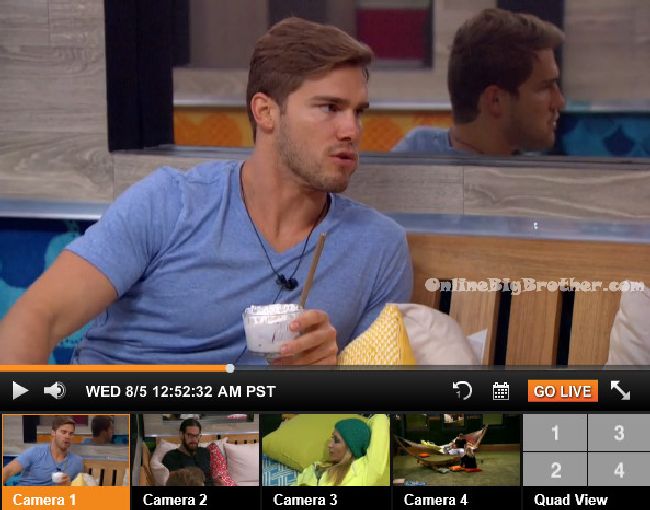 12:50am Cabana room. Austin and Clay are talking. Clay says that he (James) put her in a tough spot. Shelli feels like sh*t obviously after saying what she said. He said straight to her face she is going home. It took her 15 minutes to say anything. She finally said some things and then after she said I should have never said anything. Even if she didn't say anything he still wasn't going to use the veto. She always would have wondered what if I could have said something to have stayed. Austin says and she went for it and I told her I forgive her. Clay says I'm not coming after you or the twins. There are people that are much more on my mind than you. Austin says I know he wants her out pretty bad. Clay says it is what it is.. I'm not campaigning against her. If I were to win double eviction none of you three would be going up. Austin says thank you. I was trying to think of every possible situation on how to flip this but I was a possibility of going up. Clay says yeah we know we talked about that after. It was just a bad night. Between me and you… I know he's (James) going around saying I didn't put you up.. pretty much saying you owe me. Even though this was the plan since the beginning. He's going around to you, Steve and Johnny Mac saying you owe him because he didn't put you up. Austin says choosing between you and Shelli is tough. Austin says after this you're not who I want to go after.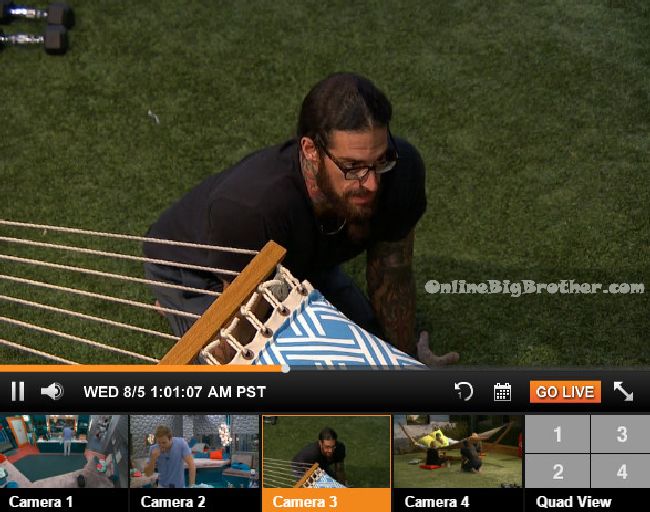 12:50am Austin joins them and tells Liz, Vanessa and Steve that he just talked to Clay and he has other targets and he's not coming after us 3 and that he has other targets. Steve asks Austin if he is still on board. Austin says we need to talk. Steve tells Austin that keeping Shelli is keeping a bigger target in the house. Vanessa suggests they fill Clay the plan too just in case he stays. She says we can put up up as a pawn too. Austin says Clay said he is going to talk to all of you too. Julia says I'm not talking to him. I will but I don't want to. Liz says you can't act like that. Austin says I don't think he would come after us. We're equal numbers on both sides. And we didn't take out his girlfriend. Clay said he's not mad at me any more. He still have my back. He was upset and was basically squeezed for information from James. He said he's not campaigning and that the twins and I aren't his targets. Vanessa suggests they tell Clelli going into the eviction .. right before we say listen which ever one of you stays we have to put you up but we 100% have the votes to keep you. When we do that they will be so loyal. The only way we don't potentially keep they is if its against Steve. Austin says then we take them out and we actually go along with the plan. Jackie joins them. Vanessa asks Jackie does Shelli know she is going home? Jackie says that James kind of told her but I don't know now. Jackie asks did you think Shelli was going to stay? Vanessa says it didn't look like he wanted to be here so why vote for him to stay. Becky joins them. Vanessa says she might just vote for her because she doesn't want her to go out on a unanimous vote. Jackie says she thinks James wants Shelli out because she has 2 HOH's. Vanessa says to vote out someone who has two HOHs is better to keep in the game because they're a bigger threat. Jackie asks but what if she wins. Vanessa says same with Clay he could win too.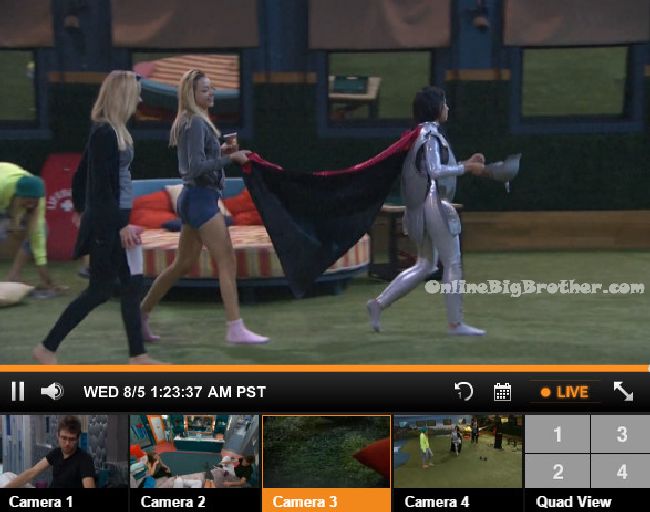 1:05am – 2am
Shelli tells Clay about how she was asked in the diary room about how they were making out. She tells him he's going to get asked. Steve joins them and talks about his tooth aches. He says they're (production) is going to call him in again tomorrow to see how it is. Steve says he thinks they would bring in a doctor like they did with Victoria last season. Steve says that Johnny Mac looked at it and says they asked specifically what Johnny Mac thought about it. Johnny had said there was minor swelling and redness. Clay notices that Shelli is now more touchy. She says that she misses him already. Clay and Shelli head to bed.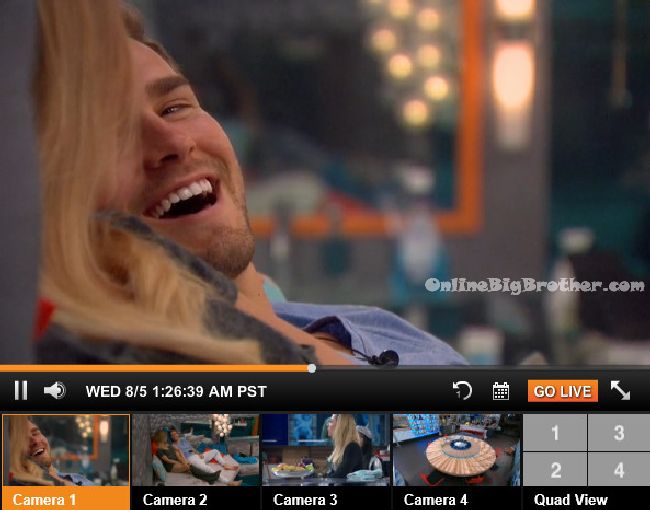 Watch the next week of the feeds for FREE! Click here for your: 7 day FREE Trial
James scares Liz @bigbspoilers #bb17 pic.twitter.com/sl19vmElzr

— Dawg (@DawgsBigBrother) August 5, 2015
Steve scares Julia @bigbspoilers #bb17 pic.twitter.com/7XDKvYfj2R

— Dawg (@DawgsBigBrother) August 5, 2015
Sneaky Steve Scampering @bigbspoilers #bb17 pic.twitter.com/tjuSA1ZV7G

— Dawg (@DawgsBigBrother) August 5, 2015
2:35am Backyard – James says that he doesn't have a problem with them on a personal level. Steve tells James its awkward because neither of them want to campaign. James says everybody thinks they'll start campaigning tomorrow but I think they'll just say whatever happens, happens. Steve says I have a hard time seeing either of them saying anything bad about the other. Steve says I think the game means more to Shelli than it does to Clay. Clay was recruited, Shelli wasn't. James says he thinks Clay's thrown in the towel. James asks do you think he would be happy to stay? Steve says I don't know I think he would be surprised. He expressed that to me last night about keeping Shelli. They head into the kitchen because Steve thinks its too suspicious talking alone in the backyard.

2:50am – 4:45am James says they put a lot of hot girls on the show. Steve says they never put ugly girls on big brother. James whispers Jenn City (Big Brother 14) James says I was worried about breaking up America's sweethearts. Steve brings up how Donny broke up Nicole and Hayden and he was super liked. James says but he was really nice. Meg wakes up and joins them. James asks Meg what is it going to take for you to get into bed with me .. as a friend.. because the way I look at it you're not going to win HOH any time soon. Steve says there's no camera's in jury. James says she's going to be doing lap dances. Meg says oh my god. Becky joins them. They talk about who will get America's Favourite. Becky says she thinks Jason would have gotten it if he was still in the game but now that he's out prejury James will get it. He's playing the game, he's funny, he's got a kid on his side. He'll appeal to so many audiences. Becky jokes and says the reality is that's not even his kid, he took a photo with some strangers kid. James says secrets and lies.. find me a half Asian baby! Becky says people won't even know I'm in the game till I make top five! Meg says that's not even true potato girl! (Becky uses a potato to roll out knots in her back) Steve asks they asked you about that? Becky says f**k ya! Meg head to bed. James comments on how its weird how big of an age gap Clay and Shelli have. Becky says she thinks it will work. Clay is a nice home grown guy. James says we have a 1 in 12 shot at winning 500K. Becky says and a 1 in 6 chance in winning up to 50K. James says well 1 in 11 shot because one of them is going home. Becky talks about how James's deal with Shelli during the HOH comp wasn't real because he was cornered into it. James says that Clay pretty much insinuated that if I didn't win HOH my a$$ would have been on the block. Becky gets called to the diary room. James wonders around the house. He knocks around the pool balls and then starts throwing the hula hoop around.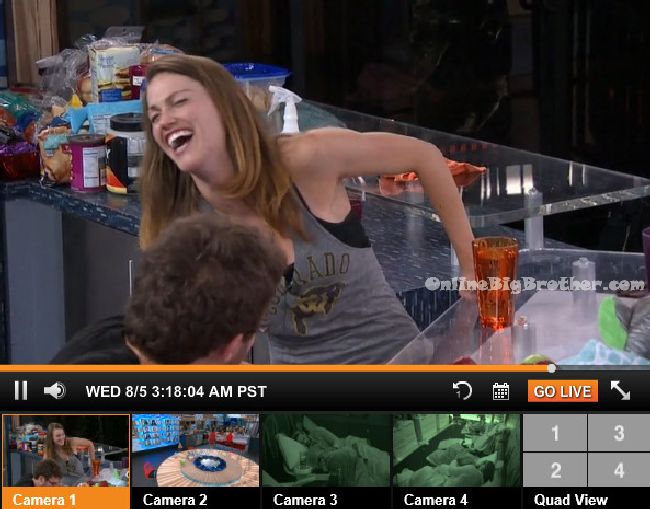 4:50am – 5:55am Becky asks which ever one stays in the game would you work with them? James says no. James says if Shelli leaves Clay is going to latch onto possibly Meg and Johnny Mac. Definitely with Johnny Mac. I don't think he is going to want to work with our group possibly because I'm in there. But I don't think he will want to work with Austin's group because Austin was talking about targeting Clay. And Vanessa told Jackie that she wants Clay gone too. Sh*t changes and next week I might be the target. If Clay wins its going to be a sh*t show! If Johnny Mac wins I couldn't tell you who he would put up but it could possibly be me. Becky says I think you think you're a bigger target than you really are. You've played your HOHs really well. Becky says I'm going to try like hell for this HOH. I am going to pray that you, Jackie and Meg step up and have my back. Becky and James talk about the veto comp. Becky is very surprised Austin hasn't been on the block. James says look who's been HOH.. me, Vanessa and Shelli. James says that he would really be very surprised if Shelli stayed. The only person that could sway the votes is Vanessa talking to Liz. I've been very vocal about wanting Shelli out. I did a lot of work and took a lot of grenades. Johnny Mac is going to keep Clay. Steve is up in the air. It really depends on the twins. I feel like right now we have 3 solid votes. It depends on Austin, Liz, Steve, Julia. James says Clay told Steve to keep Shelli she has been a fan her whole life .I just got recruited from a basketball game. James says why not get the threat out this week and if he wants to go home get him out next week. Becky and James go to bed.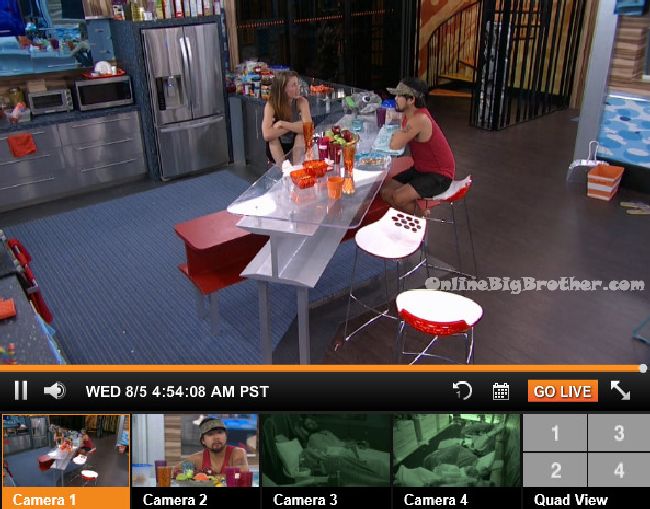 [polldaddy poll=9004995]