POV Holder:
James
Next POV
Aug 1st
POV Used
No
POV Ceremony
Aug 3rd
HOH
James
Next HOH
Aug 6th
Original Nominations:
Shelli and Clay
After POV Nominations:
Shelli and Clay
Have Nots
Austin, Liz, Julia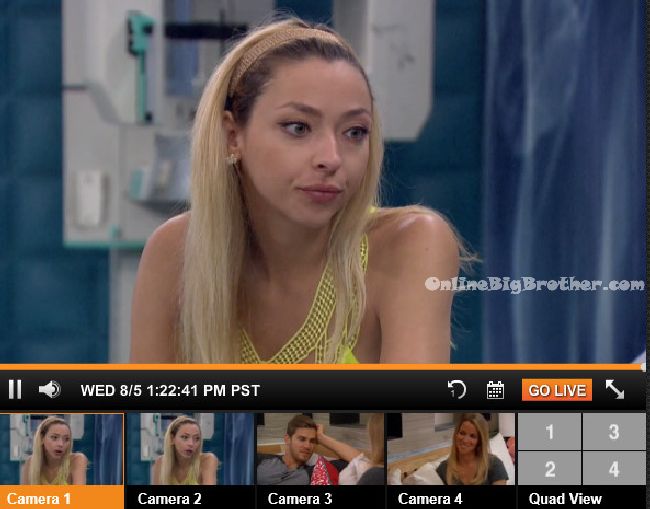 TRY the Big Brother 17 Live Feeds FREE for 1 WEEK:
Click here to ensure your live feed subscription supports OnlineBigBrother.com at no extra cost to you.

1:15pm – 1:30pm Julia tells Austin and Liz that its so awkward. Every time I go into the bathroom Clay is just laying there. I do not like that guy. Do you think he's going to try and talk to us today? Austin says probably. We'll see. Austin leaves. Julia comments on how cute Liz and Austin look cuddling. Julia tells Liz I will never forget what he said about me. Liz says I don't know where I would be without her (Shelli). I love her. Julia says we have to do what is best for our game because if we vote one way and they vote the other. Liz says we have an opportunity to take a really big player, why wouldn't we take it. Julia agrees. Liz says I don't feel bad going back on my word but she was able to go up and say all those things about Austin. Our two votes are the swing vote. Liz says that Shelli needs to talk to us again like why should we keep you in this game. What are you going to do for us. Julia says Clay needs to talk to us too. Liz says if Clay doesn't talk to us I am going to be really upset. Julia says he needs to promise that he isn't going to come after us. Julia says that Shelli is probably the only person that will go after James. Liz says Shelli will always be a bigger target than us. Liz says she's won a lot of HOHs though. It could be a good time to get her out. Julia says I walked in today and saw .. I would be so mad if that motherf**kers head was on my thing. Liz says that's why I lay down here. Julia says his hair smells so bad! Liz says ewww I know! You know how I feel about him. He's a shield in front of me! He's my knight in shinning armour! I'm going to have to break the news to him in the jury house. Julia asks what are you going to say.. I'm just not that into you. Liz says I'm just not into you. Liz says but when I get back to Miami I am going to tell Ryan I am done with you.. (I guess Liz was in a relationship coming into the house too. Odd as she was so against doing anything with Austin when he has a pre-existing relationship.) She says You did not meet my parents .. Big Brother blocks the feeds and switches to Shelli and Clay.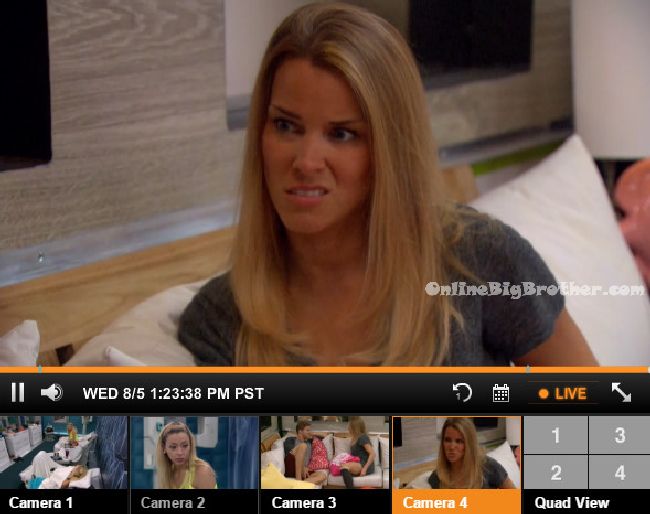 1:15pm
Clay and Shelli head into the cabana room. Shelli says that she definitely feels good about Johnny. When it was me, John and James on the wall. It was hard for me to see how strong John was on the wall. When I made the deal with James I thought that John was still strong. When I started making the deal Johnny dropped. I have to be aware of that. Maybe Johnny didn't want to be caught making a deal that he would have to go back on. Shelli says that James was calling out John you're good buddy. I think the reason why John is so upset is because he feel guilty. He knows one of us is going to go home and see it. Its just something to keep in mind, to watch. Clay says I don't think he would be lying to me. He says that he's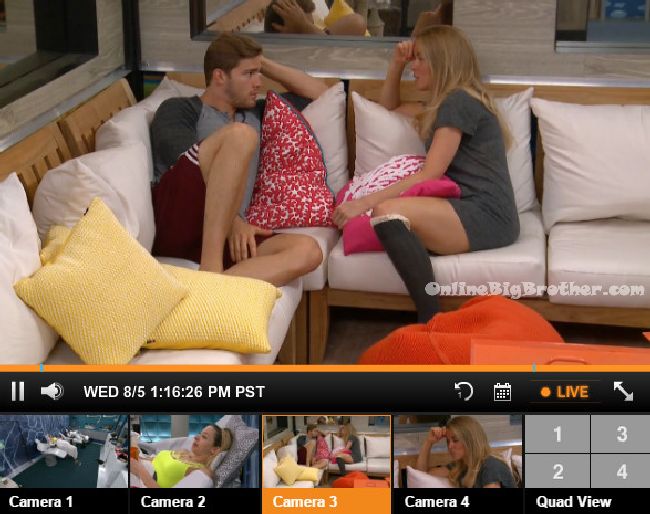 1:35pm – 2:10pm Havenot room – Austin tells the twins that they don't get off being havenots till Midnight Thursday. Liz says no, no, no, no .. that's not fair!! We started on Friday and they started on Saturday! Austin says they're always going to start on Saturday from now on its just because of the competition. Austin the twins and Vanessa talk about keeping Shelli or Clay. Julia says if we vote to keep Clay they're all going to come after us. Austin says why would I be pushing to keep Shelli so hard after what she said. Austin says maybe we talk to James and says we feel really uncomfortable about keeping Clay.. so we make 1 more deal to get him to guarantee us safety for 2 weeks for keeping Clay. We'll go after her but take out Clay now. Vanessa says I'm so confused. Austin says Steve just needs to step up and win HOH. Then we don't have to go back on our word. Vanessa asks so where you guys are now .. you are not wanting to ruffle any feathers? Austin and Liz say yeah. Vanessa tells them about how in the bathroom Shelli said see clay how could you ever pretend to work with James. And then Clay gave her a look like she wasn't supposed to say that in front of me. Liz says if we keep Shelli she will always be a target in front of us .. if we keep Clay he won't be. Vanessa says Clay is going to switch to that side.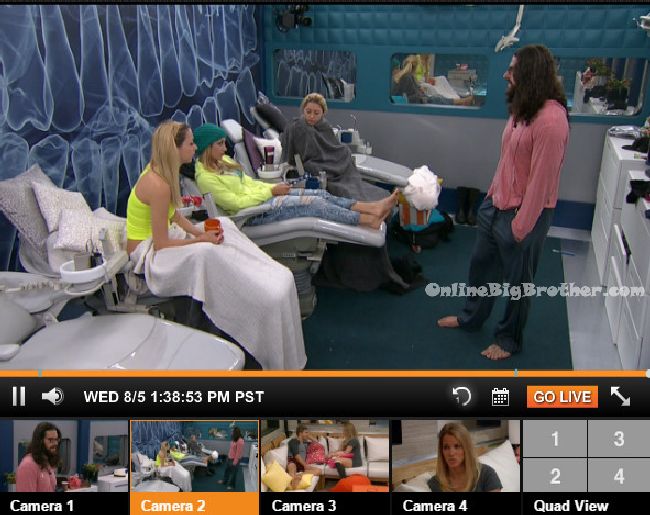 1:40pm – 2:10pm Cabana room – Meg joins Shelli and Clay. Meg asks if what they said about Austin was a lie a whole time. Shelli says I love you but you guys played me like a fool. We sat up there and you guys got me to spill information and then you use it against me. Clay says James was never going to use the veto. Meg says I didn't do anything. Clay says you're guilty by association. Shelli says I feel like I got so duped, and I go so hurt. I feel like I can't say anything right now. I'm hearing whispers. Shelli doesn't want to say anything because she isn't helping her so why should she help her now. Clay says we don't owe you anything. Shelli says she doesn't like were the conversation is going. Meg leaves. Shelli warns CLay not to burn bridges with them. Clay says there's no bridges to be burnt.. they're already burnt! Shelli wonders if someone sent Meg in to say that.
2:10pm Shelli and Clay head into the havenot room. Shelli asks what's going on? She then tells them about how Meg came into the cabana room and asked her to clarify things. Shelli says they're scampering. She says I know you guys are targeting me and so no more information from me. Vanessa says they're trying to figure out if they can trust Austin. Shelli says they know its only the 3 of them so they know once they're out of power then need people. Why is anyone afraid of them. Shelli says that Clay was mad and said you're going to come to us for information after you totally played us .. like no way!! Shelli asks are ya'll still voting for me? Julia says yes. Julia says they want us to vote you out .. we gave you our word. But they're trying to bully us. Shelli says turn it right back around and target him when he isn't HOH. Shelli says that Becky is floating around that's why its not smart to blow up her game yet. Vanessa says when they get into power that's when you do it. Shelli says the only reason why you're scared of him is because he's up there acting like a gorilla. There are 5 of us and 3 of them and we have Johnny Mac and Becky that will float back to us. Shelli says James is scared of being put up next week.. that's why he's doing all this .. its so obvious!! Jackie comes in and leaves. Julia says Jackie just literally riffled around so loud and then didnt grab anything.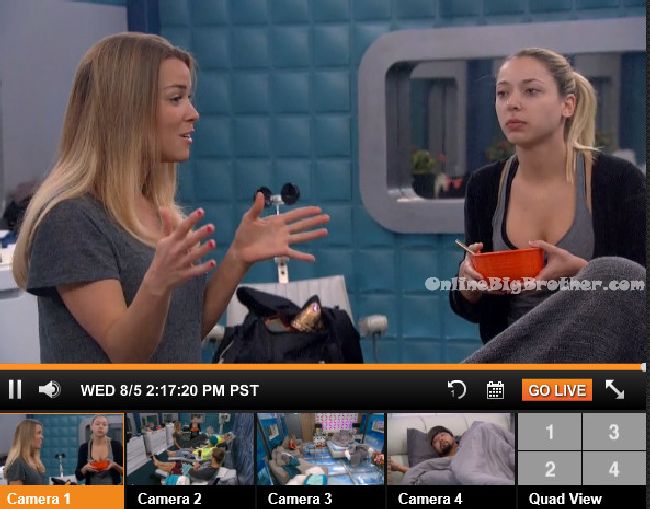 2:15pm HOH room –
Meg tells James that she confronted Clelli about Austin and they kind of threw a fit. They said you came down and told Austin. James says I didn't tell Austin sh*t! Meg says that's what they're saying. James says the only think I told Austin was that I knew he wanted me on the block but that I wanted to start fresh with him. Meg says they're scary. Now they're in the havenot room talking to Austin. James says they're probably trying to figure out what I said to Austin. It doesn't matter. Meg says I think Austin might be saying that you did say something. Meg says I wonder what Steve thinks about it all. James says I couldn't tell.
2:30pm Bathroom – Meg and James talk to Austin. Meg says she had a conversation with Clay and Shelli and I literally laughed in the middle of it. Clay was sassy in it. He said that he basically got played. James says I didnt tell anyone about the conversation I had with you. Austin says wow so neither one of them wants to have the conversation.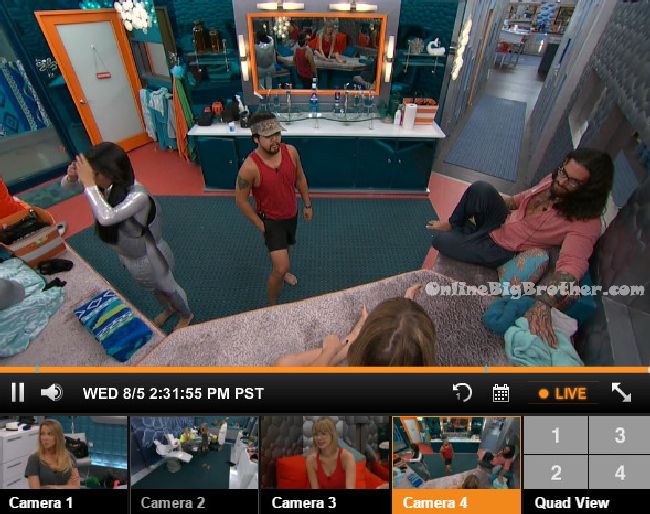 [polldaddy poll=9004995]