POV Holder:
?
Next POV
July 18th
POV Used
?
POV Ceremony
July 20th
HOH Winner Team 1:
Liz
HOH Winner Team 2:
Shelli
Nominations 1 :
?
Nominations 2:
?
Battle of the Block Winner
?
Next HOH/ Next BOB
July 23rd / July17th
Original Nominations:
?
Current Nominations:
?
Have Nots
?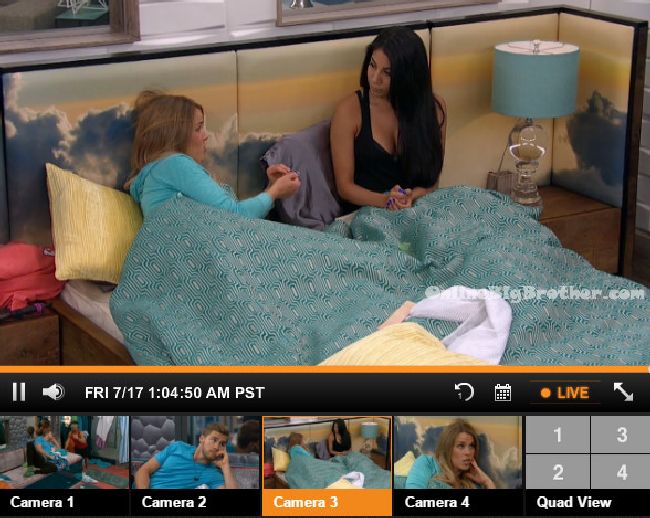 1am HOH room – Shelli and Jackie are talking. Shelli is telling Jackie that she and Beckie should both "sprinkle" in conversations of game with Audrey so that she trusts you more and will be more willing to make deals with you. Shelli says I am HOH right now and I have no idea who I am going to put up and target. I am very stressed about it. Obviously I am happy about it but immediately you think oh sh*t. Clay and I want to know where you and Becky are at. We would like to work with you and Becky. I know you say you don't talk game. Jackie says I do talk game just not with people not in my alliance. Jackie says I would be totally cool with working with Liz. Jackie says I need to talk to Liz because I haven't really talked game with her and I wouldn't be surprise if she put me up. Shelli says she hasn't talked game with Liz either. (Lie) Jackie says she doesn't really believe that Liz has a twin. Should we just ask her? Shelli says Jeff did but his answer didn't really make sense. He is 100% sure. Shelli says why would it be so bad. What if a twin did come back. They're going to bring someone back anyway. So would you want someone coming back from jury that was made or someone that's been in the game the whole time. Shelli tells Jackie that they should stick together and that she really wants a girl to win this year. Jackie says I feel like I couldn't even say anything because Jeff was so loud but I have a voice. Shelli says yeah girl!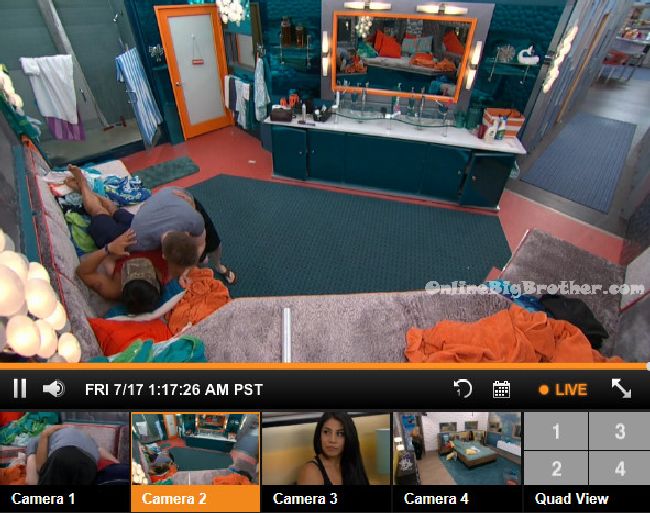 Austin and James are talking in the bathroom. Austin says that this place already feels a lot better. Its a calmer atmosphere. Austin leaves. James asks have you talked to Clay and Shelli. Johnny says not yet. James tells Johnny that just to let you know you will be good this week with them. We made sure you're good with them. Johnny says I love you! thanks and hugs James. James says just make sure you talk to Liz. Clay and Shelli have your back.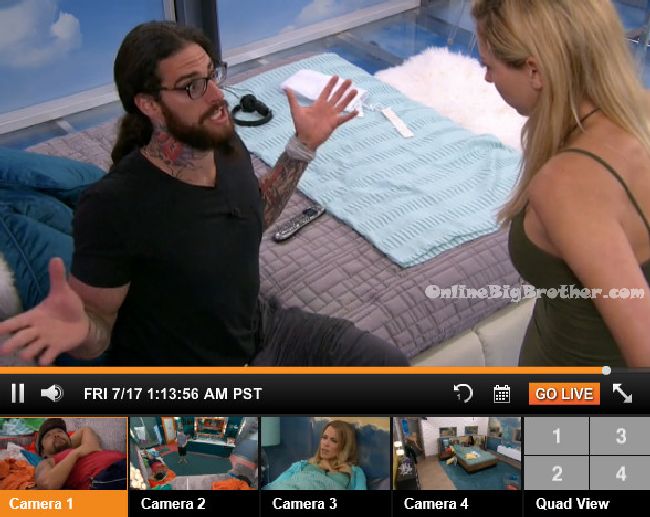 1:10am – 1:40am HOH room – Austin talks to Liz. Maybe try and make a deal with them. Especially if she isn't the full target. But don't give her any information like Shelli said. Just remember what you say and tell me afterwards. Ask them who do you think is a threat to your game right now? Tell them this, I haven't talked to anyone! Liz says well because I haven't. Austin says make it quick though so we can hangout. Liz says shut up you stayed up till 3am talking to people. Austin leaves and Jackie joins Liz to talk. Jackie says congratulations. Liz says you're a free agent now .. or not a free agent but not tied to Jeff. Jackie says I quickly realized that we weren't playing the same game. Jackie says I am not happy about Jeff leaving but I'm not mad at Vanessa. The only person I am questioning is Audrey because she was supposed to go a couple weeks ago. Jackie asks how do you feel about her. Liz says I don't want to get a lot of blood on my hands. Jackie says if you're thinking of me its okay just let me. Austin kind of mentioned it. Liz says it might come down to a pawn situation. Maybe we can make a deal, I'm all about making deals. I will not surprise you. Liz says I'm not thinking you at all but if it does come down to it I will let you know. Liz says hopefully since you're close to Austin maybe we can work together and if I don't put you up on the block you can keep me safe next week if you win. Jackie says she didn't want James to leave either so she is happy with it. Liz says I know .. If I was on the block with Austin I would cry. Liz tells Jackie I'm pretty sure you're good. You've had a hard week. Jackie says you're definitely someone I would want to work with.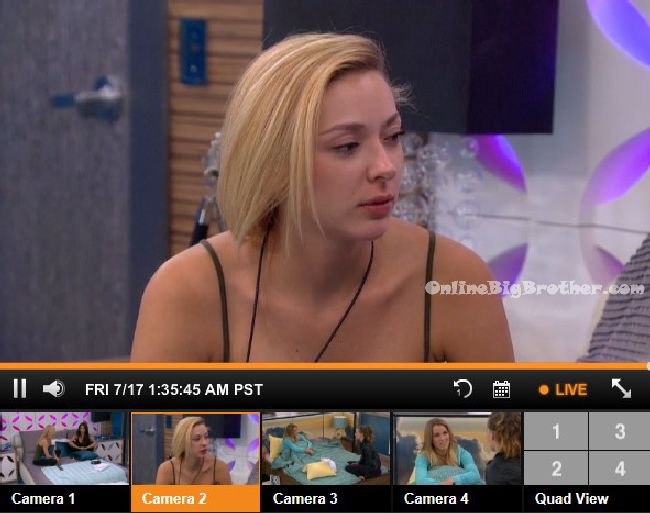 1:20pm Second HOH room – Shelli talks to Becky. Becky says that she understands if Audrey isn't the target and if she isn't then maybe I can start to change my mindset on her. Shelli says Audrey is a very strong player and is always thinking things through. I think if you were to entertain any type of conversation with her I think she would be willing to work with you. Shelli talks about how Day was a target of hers before all the stuff started with Audrey. Audrey was helping me and saving me in several situations. If she comes into power next week you need to start taking your self off her radar. Shelli says I'm not saying I can completely trust her . Becky says she thinks in a way of paranoia which helps her connect the dots but when you don't want paranoia it becomes frustrating. Becky says the twin thing I am 100% positive about and I would rather have the twins here than someone comes back that we voted out. Shelli says that's exactly how I feel. Becky tells Shelli that she voted out Jeff and wants to tell Jackie so that she's open and honest about it. Becky ask am I going on the block. Shelli says no. I need your help. Shelli asks who she should go after. Becky says she doesn't know about Steve. She suggests that Steve might have been the unknown votes each week. I don't know why he would lose tonight's comp. He knows everything about our lives but went out first in the comp because he didn't know how many dancers there where. You wouldn't be rustling feathers if he went out. Shelli says there is no way he didn't notice there were 7 dances and not 8.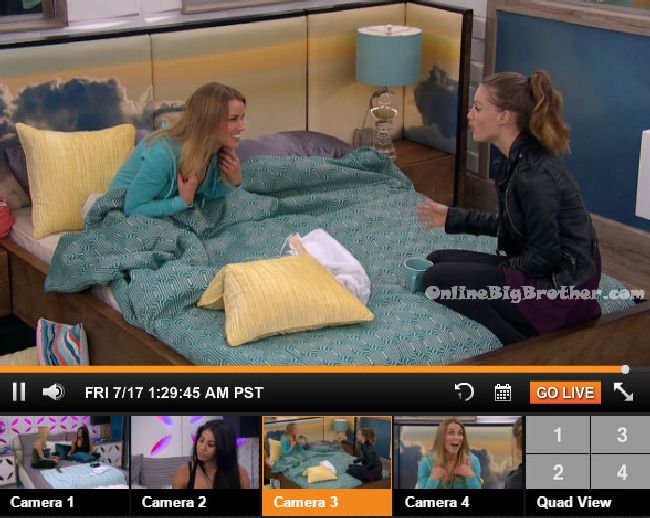 1:40am HOH room –
Becky comes up to talk to Liz. Liz says lets talk! Meg says I feel like its a blank slate now. Liz says what about that vote. Meg says it seems each week theres a strange vote. Liz says I'm not dwelling on it. It wasn't my HOH and it and what was supposed to happen, happened. Meg says we haven't talked much. Liz says just so you know I love you. You're the biggest joke and I love laughing at you. Liz says I'm not putting you up so you don't have to worry about me. I hope you do the same with me. Meg says Liz you are no where near my radar. Jason joins them and Meg leaves. Jason brings up how Steve was up super late last night talking to Jeff and how he might have been the other vote. Liz asks who do you think for my game is a threat for me. Jason says here is the thing everyone likes you. I don't know who would be a threat for you. I know how who would be a threat for me. Steve would be a threat for me. Liz says I want you to know that I love you. Jason says just so you know I won't be mad if you put me up. I'm not even mad at the other people that put me up. Liz says obviously if I don't you up I hope you won't put me up. Jason says if you don't put me up I won't put you up even if I get HOH in 5 weeks. Liz tells Jason to send up the next hoe! Liz says I think Becky is next. Jason sends Becky in next. Liz tells Becky that you didn't put me up when you were HOH and I appreciate that. Liz says you're a strong girl and I'm a strong girl.. we can win comps. Becky asks do you know who you're going after? Liz says I don't know. Who do you think is a target for me? Becky says the house likes you. The house wants you to stay. You can trust what Becky says. I speak little but when I say it! The house wants you. Becky tells Liz to not drop the name and if you do you better be locked and loaded.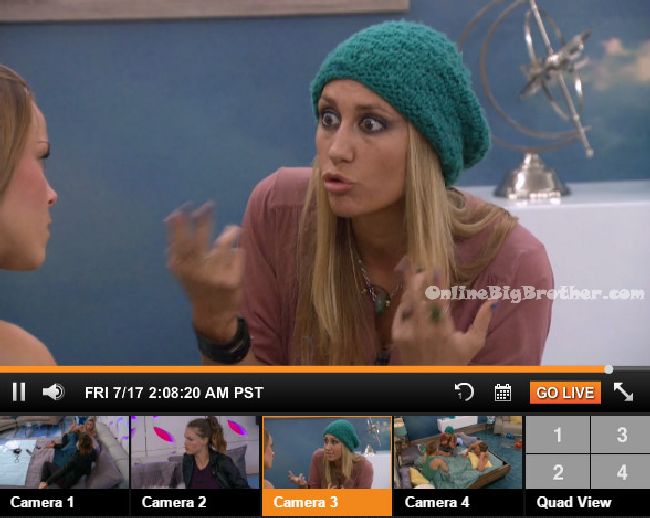 Vanessa talks to Shelli in the other HOH room. Shelli says you're the first person I like to talk to when I know anything. I just picked up two really interesting thought and information. Before you came up here it was me, Liz, Clay and Austin. We need to be careful with Austin. Austin and Liz and I were talking while Clay listened to music. I asked what they were thinking and Austin started to lead the conversation. Within that conversation Liz brought up that she wasn't that close to Jackie and might put her up. Jackie came and talked to me and I told her from my end you're good with me. She told me that she thought Liz might put her up. Because Austin had heard that she might go up and so he went straight down and told Jackie. We need to be careful what conversations we have around Austin. Shelli says that Austin was rubbing Liz's back and it was really creeping me out. Vanessa say that Austin is having a flirtmance with both Jackie and Liz. Vanessa says that Clay is really good with the way he respects you being HOH. Vanessa wonders if Austin is controlling Liz's HOH. Shelli says she thinks Becky is good with us for now. Vanessa says its going to be a disaster waiting to happen trying to keep her up on everything that happens. It's going to be chaos. You understand. That's a f**king nightmare! If you want her to do it that's fine but I'm just telling you its going to be hard. Shelli asks who am I going to put up? Steve? Vanessa says then she can do it but Austin better be there in every conversation. Shelli says Austin isn't going to be good at connecting.. Vanessa says I can sleep with Julia at night and catch her up at night. I can't hang out all day. Shelli fills Clay in on how she thinks they need to be careful about what conversations they have around Austin. Vanessa says you have no idea how many therapy sessions I had to have with him. Shelli says he could have told us he would warn Jackie and that's were the red flag is. Shelli says that she would put up Jason but isn't she who with. Would I put up Steve? Vanessa says you can if you want.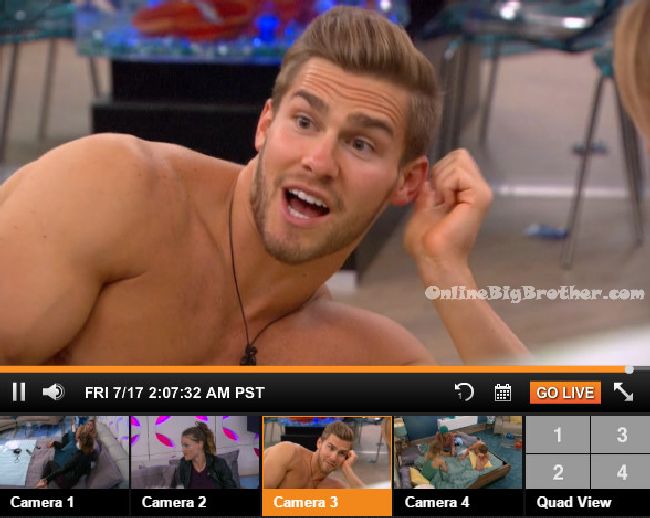 2:10am HOH room – Liz talks to Audrey. Liz says every. one is trying to digest the 4th vote. Audrey says I know people are thinking its Steve. Audrey asks are people throwing me under the bus? Liz says no. Audrey says Austin said I was fine. Liz says yeah. Audrey says I just wanted to come up so it didn't look suspicious. Liz says hopefully we can work together. Liz says the lines have obviously been drawn in the sand with the other side. Liz says I'm not sure who I am thinking but its obviously someone not on my side. Audrey says I don't know what I would recommend. I think Shelli has reason for who to go after but no one knows who you would go after. Liz says I would probably just say you two people haven't talked game with me so sorry but. Audrey says so people are saying the 4 votes were Jackie, Becky, John and Steve. Liz says yeah but no one will ever know you know. I need to put up someone who I want to go home and a pawn. Just know I will keep you safe. Audrey says I am just so happy people are talking to me and accepting me. I'm going to fight hard for your team. Audrey leaves. Austin joins. Vanessa joins them. Austin asks who do we want to keep HOH. Vanessa says honestly its better if Shelli does. How would you keep track of all the conversations?! Clay asks do you want HOH? Liz says I do, but I have a twin. Vanessa asks who do you want up. Liz says someone I want to go home and a pawn. Vanessa says you need put up a big target and a little target. Liz says big target Jason or James. Vanessa says Shelli might be putting up Jason and Steve. If she wants to put up Steve we might just have to let her. Vanessa says you should probably put up James and Jackie. Vanessa asks who scares you more Jackie or Becky? Austin says Becky. Vanessa says not you (Austin) I didn't ask you. Liz says Becky. Liz says I like her more than Jackie. I feel like Jackie would come after me but I don't think Becky would. Vanessa says then you could do Jackie and James. And Steve and Jason by her (Shelli).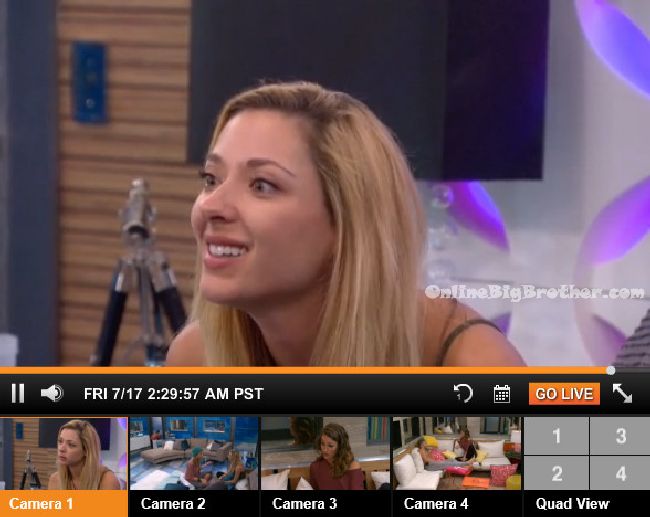 Test out the Live Feeds FREE for 7 DAYS! Click here for your: Big Brother 17 FREE Trial
2:30am Steve comes up and Austin tells Steve that people are throwing his name out there as being the 4th vote. Steve asks are you f**king kidding me?! Why am I always the one that gets blamed. Austin tells Steven he needs to talk to Shelli. Steve says I have a f**king great idea why don't I keep the guy that has been bashing me?!!?! Liz says we believe you Steve. Liz says just know you're not peoples target so you're good. Austin tells Steve he has to win HOH. Steve says that I definitely f**ked that up. Liz says you need to win the next one. Steve goes in to talk to Shelli. Steve says this house is nuts. I'm getting blamed for everything. Steve says I want to make it apparently clear to you that I voted to evict Jeff today! (Lie he voted to evict James) Steve says I am just sick of being blamed for EVERYTHING! Shelli asks who do you think is America's Player. Steve says he doesn't think there is America's Player. Shelli asks why would some do that. Steve says to stir the pot or create paranoia. Shelli says that she isn't sure what she is doing and still needs to talk to everyone. Steve asks what is your goal of this HOH? Shelli says to try and keep the blood off my hands and to get out someone who is targeting me. Steve says if you want to minimize blood put up Audrey. No one would be upset with that. Put up someone that you've already put up. Steve says you can't control BOB so you have to be prepared for either situation.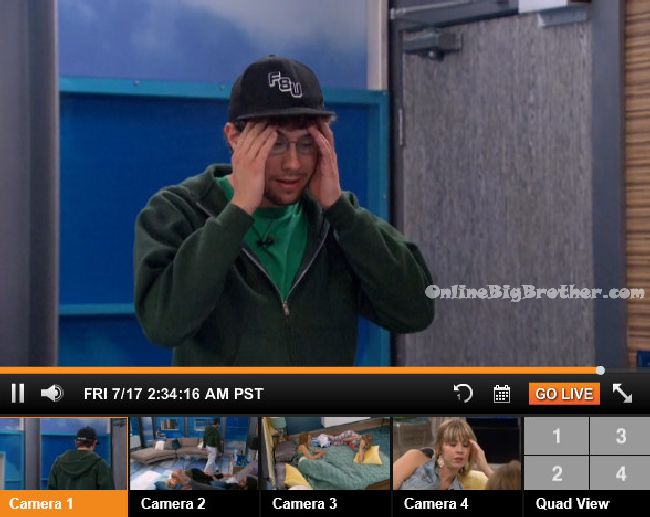 2:40am Austin talks Liz. Austin says If Shelli puts up Jason and Steve then you are banking on them to lose so she stays HOH. You need to find your big target? Austin says Vanessa doesn't want you to be HOH because your sister is coming in, in a couple of days but I'm not so sure about what Shelli & Clay will do. Austin says but if you get dethroned then we're all playing for HOH next week which is the big payoff. I'm going to try so hard to win that one for you. Liz says you're so romantic. Austin says either Becky or Jackie could have been programmed by Jeff to go after us. Maybe you go after Jackie and Johnny Mac and then backdoor Becky if it comes to that. Liz says I want to backdoor Jason though. Austin says let Shelli put up Jason. They're going to do it, let them get the blood on their hands. Austin says I would like for you to stay HOH this week. Then you could watch me like a 12th century knight fighting for you. Liz says and then if you don't win.. you get stoned! She laughs. Austin who are you thinking? Liz says I've torn between James & Jackie or Johnny Mac and Jackie. Austin says I'm guessing they're going to try and persuade you not to out up Johnny Mac.
Austin "Tickle Monster" @bigbspoilers #bb17 pic.twitter.com/oYyZnzvlzS

— Dawg (@DawgsBigBrother) July 17, 2015
3am Johnny Mac talks to Liz. Liz says I know I feel you because you've been up every time. Johnny says its stressful but at the same time you can't get backdoored. Liz says I would rather not put you up. Liz asks did you have any ties or alliance with Jeff or Jackie? Johnny says I didn't have anything official with Jackie just not to go after each other. Johnny says that Jeff was loyal to me so I had to give him a vote. Liz and Johnny Mac agree to a 2 week deal not to put each other up. Johnny leaves. Liz fills Austin in on her conversations. James joins Liz next. James says obviously I don't want to go up again after fighting for my life. James says there were two people that voted against to save James. I know it wasn't me. I hope we can possibly find out who it was and maybe go that way. You and Vanessa worked hard for me to stay. I just want you guys to trust me. Liz says I know.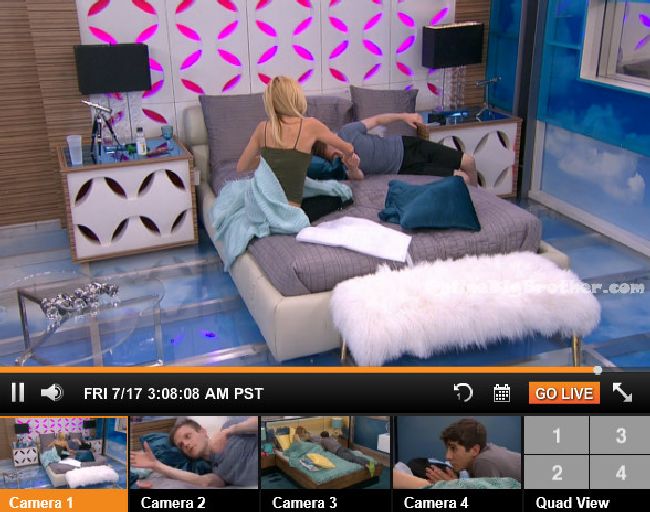 3am Jason talks to Shelli. Jason says I know I'm going to go up again but I would love to not go up. Either way it is what it is. I just would really love to not go up. Shelli asks who do you think the votes were? Jason says Jackie, Johnny Mac, Becky and Steve. Jason talks about how he Steve staying up and talking to Jeff & Jackie. Jason says that Johnny is probably like me we just expect to go up. Jason says I would pick new people but I know its better for your game to put the same people up. Like Derrick BB16 said the blood is diluted.