POV Holder:
?
Next POV
July 18th
POV Used
?
POV Ceremony
July 20th
HOH Winner Team 1:
Liz
HOH Winner Team 2:
Shelli
Nominations 1 :
?
Nominations 2:
?
Battle of the Block Winner
?
Next HOH/ Next BOB
July 23rd / July17th
Original Nominations:
?
Current Nominations:
?
Have Nots
?
10:05pm Austin and Vanessa
Asutin – I asked Liz out on a second date…. up in the HOH watching Net flix (Netflix = the HOH camera)
Liz from her mom
My darling liz, it's been awhile since I last saw you and no way to get in touch with you . This is the hardest and most trouble task of my life to not be able to see you, talk to you, listen to your stories, Laugh at you. All this removed suddenly from me. With a heavy Heart I think about you every day. I think of your laughter your spirit your love but with these thoughts I'm also grateful you have received this lifetime opportunity my child take this opportunity and run with it. Never accept the status quo challenge yourself. Work has been slow summer in Miami. You know the routine. ANgela is working parties every week (Older sister) So far the only vacation plans I have is going on a girls trip to Austin in July for a long weekend. We may go to St. Augustin in August to see Daddy's family
Liz I am the one that gave you life but you are the one that changed y life forever. I love you my daughter.
Please do not cry when you read this letter remember you are a ugly cryer.. love mom
[envira-gallery id="121954″]
Y'all
Hi mom my beautiful human, I miss you just wanted to send you a little WOOF and a big hug
I'm trying to help keep the critters out of the garden and i'm doing a good job. I try to help by not scattering my toys I can sleep anywhere I want except for the white sofa I have been eating some of my food and all of my treats. I am getting to know the dog next door I try to be nice but I don't really care for her. I am happy you are having a great adventure
I am happy you are mine I love you but you know that Love Rango
WOOF WOOF WOOF wait Squirrel and lilly your kitty says hi
[envira-gallery id="121959″]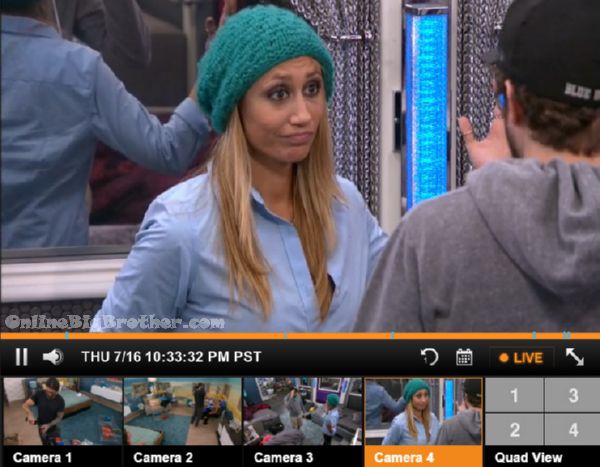 10:34pm Steve and Vanessa
Vanessa is worried about the two votes.
Steve asks her if she's got anyone in mind
Steve – Becky
Vanessa – ya I think so it's done out of loyalty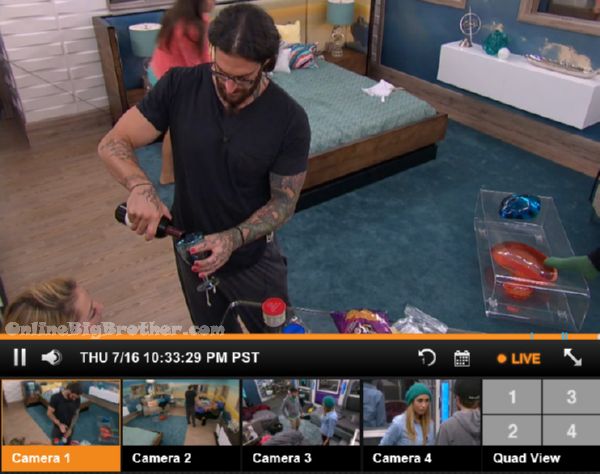 10:30pm Cracking into the wine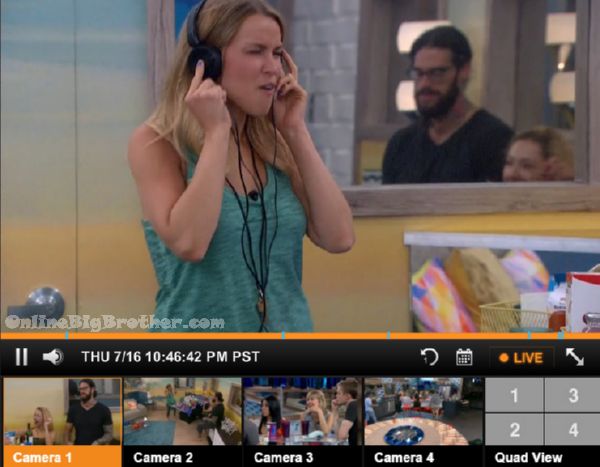 10:39pm HOH LIz, Austin, Clay and Shelli
They are thinking the nominations are tomorrow. liz says she's worried
Shelli feels freaked out because she has no idea what to do ..
Austin says the votes are too f***g sketchy they need to put up two targets they want out.
Austin – It's just weird 4 people voted for him
LIx – I think it was very up in the air
Shelli – He might have tugged at someone's heart strings
Liz pulls out a picture tells them this was Julia wonders why they would do that. Shelli says Julia comes in tomorrow.
Liz says she feels bad putting John up again .
Clay leaves.

Austin says James is vulnerable person right now and shouldn't be a target. Austin is worried about JAson he's thinking he's dangerous. He explains to them that JAson told him there were people that got out Da that are coasting that he wasn't to target.
Liz points out that Jason and Da were the ones that started the rumour about her
Austin says Johnny mac and maybe becky voted out James.
Liz – Johnnymac has been up every time i feel stupid doing it again
Austin says Johnny Mac will throw the BOB they can count on that.
Liz wants Jackie nominated because if Jackie won HOH she would put Liz up
Austin thinks Jackie is vulnerable
liz – she's nice to people in power…
Shelli – who else is on your radar
Austin – Jackie and Jason they might win (BOB)
Lz – who are the targets this week
Shelli – who are the targets
Austin – that side of the house is dwindling and there's a bunch of floaters. .
Austin wants them to try and get a read on Becky adds that Vanessa told him she can get the truth out of her but
LIz – "It's so awkward..they are shaking in their boots.. all of them will put me on the block for sure"
Liz says she doesn't have a relationship with Audrey asks Shelli if Audrey is someone they can trust, she never talked game to her or her sister
Austin – She gets paranoid very quickly and she's nervous… she needs constant reassurance but I think her heart is in the right place and if she is America's player she doesn't want it.
Austin says Audrey she wanted to keep her past a secret but CBS nixed it because she's transgender
Feeds cut
Clay comes in
Austin says that next week is the last week for the twins what should they do. Clay says Jason is the best option because they all know he'll come after them.
Clay says Vanessa is certain that Becky voted out James.
Clay – as long as we have a person from that side go home we're good
Austin – definitely separate Jason and Becky
Clay – I don't trust Jackie for some reason
Liz – "Jackie for sure"
Clay says he doesn't have a good feeling about Jackie
liz – she's never talked game to me we've never made a authentic connection, she's always nice to whoever is in power.. I'm not stupid I see it..
liz is putting up jackie she's unsure about the second
Austin thinks Jackie and Becky will be too tough to beat in the BOB (Fan Favorite 90% sure)
They agree John can be trusted more over Steve. Shelli questions why Steve would vote for Jeff he's too smart to do that.
Austin is certain it's Becky
Shelli mentions how Jeff was campaigning to the last minute, "He got Becky in the last minute"
Liz doesn't know what to do asks them for some help.
They warn liz people are going to swarm her. T
Shelli – When you talk to people you are not going to give any names..
Shelli lays it out telling Liz exactly what to say to people. Get information don't say anything you hold all the cards etc etc..
Clay – isn't it sexy when she talks like that.
Liz – how do you all feel about James.
Austin says James is a candidate they can make double deals with "I see him as someone that is look for a new side"
Liz – he's never talked game to me.. I'm realizing the people that don't talk game to me
Liz asks Clay who they should take out
Clay wants Jason gone
Austin says if Liz is going after Jason she needs to put up someone week
Liz – what about Jackie and Jason.. Jackie and Random Backdoor Jason
They agree Audrey has to be taken out during the double eviction. They do not want her in the house with time to Campaign.
Austin suggests Jason/Jackie and tell Jackie she's a pawn or Jason and Johnnyamc
Liz is sad about Johnnymac going up again
Austin says he sided with jeff and voted against them that's the price he pays.
Clay – he's been up a lot
[envira-gallery id="121972″]
10:52pm James and Audrey
Audrey says she'll be OK this week. james is worried about Steve says he'll be nominated this week.. but by sHelli's side by liz' side..
Audrey says VAnessa trust him "I think you are going to be fine.. laying low being funny and silly"
James – Jason might have to worry
Audrey – I don't know, was he the one talking about splitting Shelli and Clay
James – that was more Jeff… and I told Clay
James is certain that Jeff had a talk with Jackie telling her who to target.
Audrey says right before the votes were read out she say him say to Jackie "I hope you win"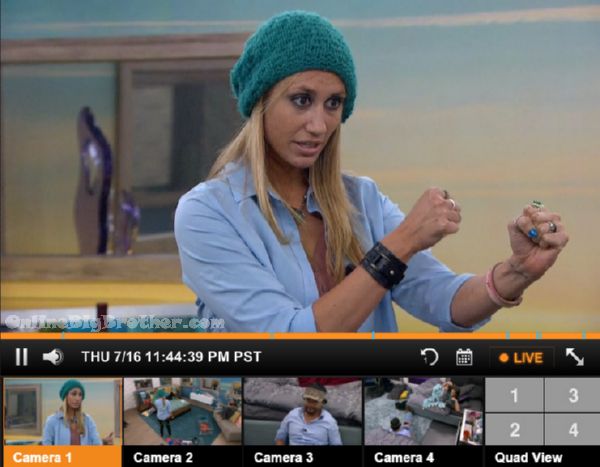 11:38pm Shelli and Clay
Shelli thinks the votes were Meg and Jason. Vanessa and Austin come in.
Vanessa says having a small pawn and a target up against other is not ideal anymore because the votes are so sketch she tells them make sure the two people they put up they are comfortable with them going home.
Vanessa about the vote says it's Steve or Audrey. (Her explanation of how she's coming to this is interesting 11:41 cam 1 )
Liz – Steve is always weird
She says when people are bluffing their heart beets out of their neck..
Vanessa says Becky and jackie are working together they are always hanging around each other. People that hang out all the time are working together just like them. She goes on explaining why Becky voted out James. (She's crazy and wonderful at the same time)
[envira-gallery id="121982″]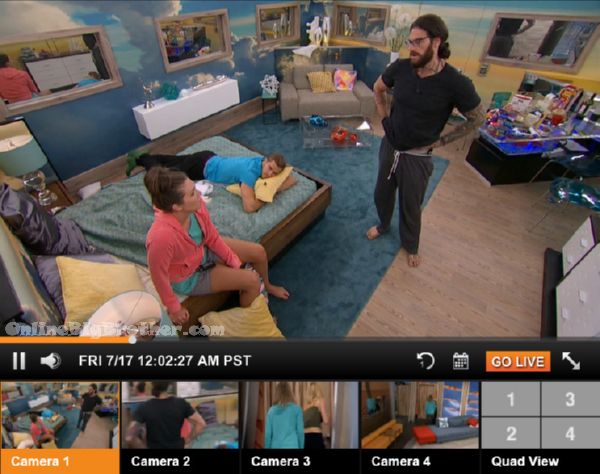 Midnight Audrey, CLay and Austin HOH
Shelli and Liz called to the Diary room (To PIck have nots)
Audrey – James was just hitting on me
Austin – shut up
Audrey – He started asking me how stuff works , does it work the same s$xually , how does clim@xing work.. am I a squ!rt$r,
Austin – No he didn't
Audrey – He asked when you c** how does it com$ out is it like how you c**.. and he asked who's sleeping in my bed tonight what kind of guys am I into
Austin – Stop
Clay – he didn't ask you if you are a squ!rty
Audrey swears he did
Austin – Ok that's too much for me James it pushing it
Audrey – maybe that's his strategy .. he did make a comment to Jeff I'm trying to expand my crown box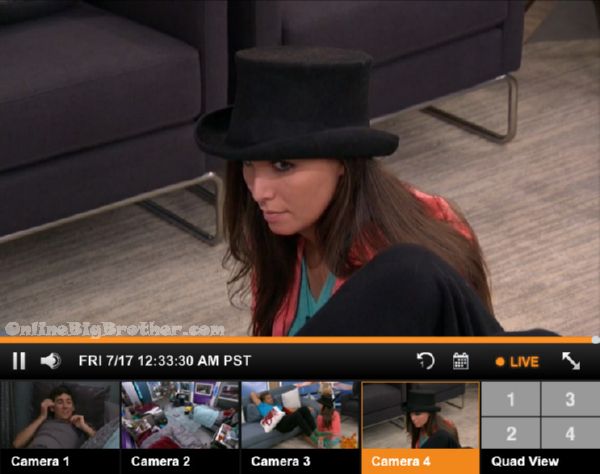 12:21am Clay and Audrey
Audrey – America is not going to pick me because I'm the TG person
She feels people in the house are thinking she's a favorite because she's TG.
Audrey – They have no respect for me not because they think I'm a brilliant player they think I'm a favorite because i'm working the Caitlyn jenner buzz.
Clay – the what
audrey – the Caitlyn jenner buzz.
Clay no
Clay says he's never heard anyone say that
Audrey says if Steve goes up He'll 'Squeal like a friggin pig, if he gets any inclination he's the number one target"
Audrey says if Steve goes up he's going to sell a lot of people out because he doesn't have the votes
Audrey – I'm telling you he's with Becky and he's with JohnnyMac
Clay doesn't think they have solidified a friendship deal
Audrey – Do not underestimate him
Clay – he clings onto power every week
Audrey is certain Steve voted out james
Audrey says Jeff whispered to Jackie Win it
Clay heard it knew Jeff and Jackie were closer than they let on. Mentions Jeff would throw JAckie under the bus.
Audrey – can you stop figner f****g the couch
Clay – It feel good
Audrey says she's going to have to flirt with james, "It's so weird."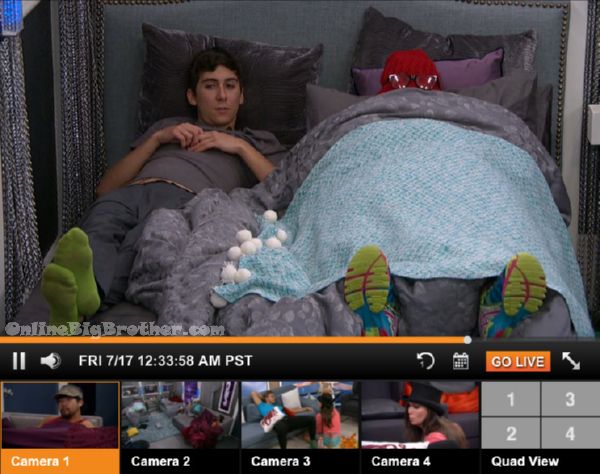 12:41am Jason, Vanessa, Audrey, Fake Audrey, James, Steve
Jason saying he jokes in the Diary room that this room is the wild room the other won is like a "Nursing home"
just chit chatting…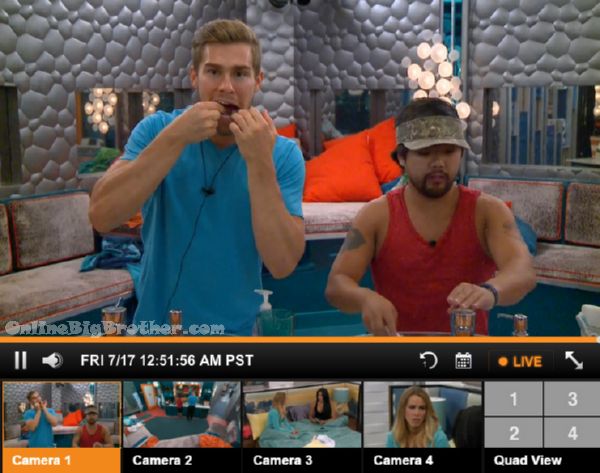 12:49am James and Clay trying to figure out the vote
Clay i'm not America's player I want to be
Clay – All this speculation sucks..
James says Audrey is pitching 'Stuff" about America's player. Audrey thinks Steve and Becky were the two off votes..
James tells him she didn't mention any of "you guys", " I would have told you guys.. she was asking me to get closer to john now that Jeff is gone."
JAmes says Vanessa was telling him she thought Audrey was America's player he just doesn't know
Live Feed subscription gives you CBS All Access thousands of archived shows. Live Shows like Big Brother, all the Big Brother Seasons, and 24/7 coverage of what is happening inside the Big Brother House. Plus there's flashback that lets you go back to any second of the feeds and rewatch what happened. Simon and Dawg will index the season just watch the parts worth watching. All this for $5.99 a month try it out 1 week free. Support our efforts and get your feeds via a link on this site. Live feed subscription Sign up
[polldaddy poll=8983592]
Share it YO!!
Tweet