3:20am Shelli, Johnny and Clay talk in the second HOH room. Johnny says my deal with Vanessa and Austin is that we won't go after each other or put each other up until 10 people are left. Shelli says I have having a hard time with what to do. Shelli asks do you think Audrey would ultimately try and target us? Johnny says oh yeah and apparently she is targeting me because she had a dream of me winning. Shelli says that's not a bad dream. Clay warns Johnny on how Audrey manipulates. Clay says we keep her close because its better to keep her on your side. Clay says we were 100% committed to Jeff but he turned on us. I know you and him here close. What we have is real and we're going to fight for you. We have your back. Johnny says I don't know if she's (Audrey) doing it to you but she is implying she is coming after me. Clay says she get so paranoid and starts throwing out situations. Do you target her directly or backdoor her?!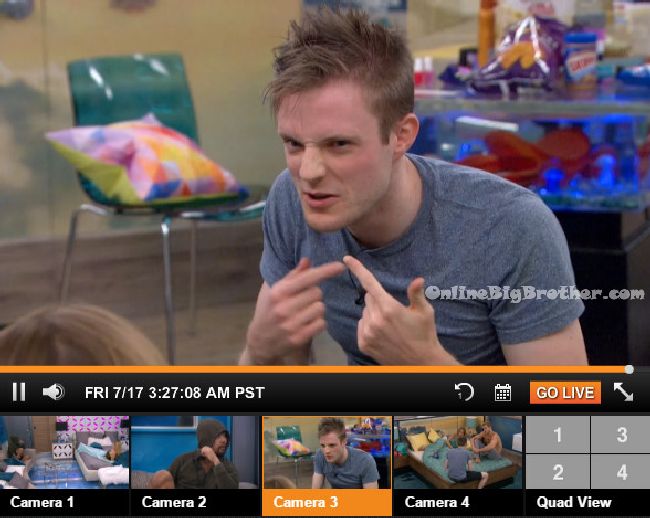 3:30am Liz, Vanessa and Austin talk. Liz says I want to talk to Shelli to see where she is at. I want to her to put up Jason. Big Brother tells Liz to not obstruct her microphone. Austin tells Big Brother to leave her alone. (LOL) Vanessa tells Liz to once you decide who you're going to up up …then go to each of the people who you aren't putting up offer then a deal that you won't put them up, backdoor them or vote against them if they don't put you up next week. Vanessa adds and they vote the way you want this week. Also make it clear that you and Shelli aren't working together. Austin says that Becky is a matrix. They talk about putting up Jackie & Becky up with James as the backdoor option. Jackie because she would have a reason to come after you and Austin for Jeff. Vanessa says when you nominate you could say The people I am putting up are the people that have invested the least amount of time in me. James comes up and tells Austin that Jackie is talking about him throwing his name under the bus. He tells Austin that Jackie is saying that you're going to try to make a deal with her but that you can't be trusted. Vanessa says well she's about to go up on the block. Liz says James needs to be rewarded for saying that. Vanessa tells Liz to tell Jackie and Becky if you go up you're not the target, the target is on the other side. Vanessa says that Jackie is coming after us. We're a poison apple to her.
4am James tells Shelli and Clay that he has their back. If he ever hears anything about them he will come tell them. He says he won't put them up. Shelli says you're safe with us. James says you're not supposed to tell me that yet. You're supposed to let me sweat a little bit.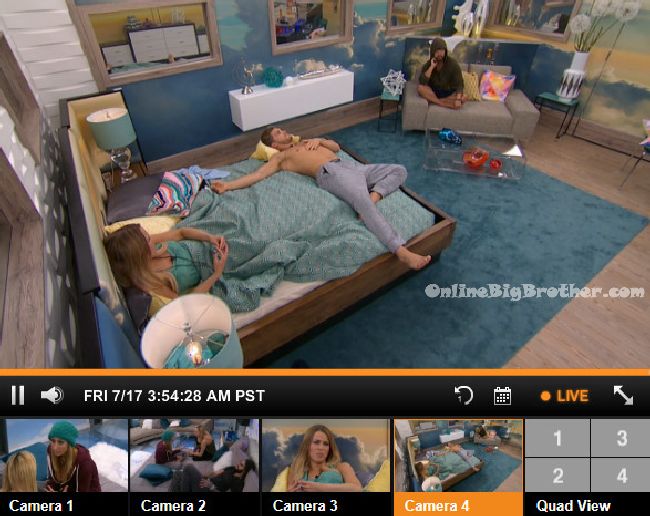 Austin tells James thank you for telling me that about Jackie. Austin thinks its because Jackie is jealous he is up here with Liz. Audrey opens the door and listens to their conversation. James looks at her and Austin asks why is Audrey listening to our conversation. James says that's what she does. She's always lurking.

James finds a hiding spot to eavesdrop:

Try the Live Feeds FREE for 7 DAYS! Click here for your: Big Brother 17 FREE Trial
3:45am
Vanessa, Shelli and Clay talk. Vanessa says that Liz is drunk. I had to help her. They drank the whole bottle of wine. Vanessa tells them that Liz wants to put up Jackie & Becky. Austin and Liz join them. Clay says shouldn't you two decide who wants to stay HOH? Vanessa says you can't put up a pawn unless you're okay with losing them. Put up a big target and a little target. If you try to put someone up to over control it.. it will put a bigger target on your back. Shelli says I put up Audrey along with a strong player (Becky). And then put a pawn on the other side to throw it. Vanessa says it would work but you would have to fill Audrey in on it. Austin asks who would you put up with Audrey? Shelli says Becky. Vanessa says other side Jackie and Jason.. and Jackie throws it. Shelli says and we would have Jackie and Becky full aware of the plan. Austin says If anything goes wrong one of them goes home which doesn't matter because they're working together. Austin says then it gets you off HOH this week and less blood on your hands. Shelli says and then I'll just win next week. Shelli says we would tell Audrey if we won veto we would use it on her. We would need to tell Jackie that she needs to lose it so that she and Jason stay on the block. And tell her that the plan is that if we win the veto we use it on Jackie. Austin wonders if Jackie would throw it if Jackie see Audrey up on the other side.
Vanessa says so:
Option 1 Easiest strategy – Liz puts up Jackie & Becky, Shelli puts up Jason & Steve
Option 2 Aggressive strategy – Liz puts up Jason & Jackie, Shelli puts up Audrey & Becky
Shelli says what if we just backdoor Audrey and just end all this. Austin says then if Jason wins veto then we do it. Shelli says I actually just threw that out as a joke. I got light headed just thinking about that. They decide to talk about it in the morning after they've slept on it.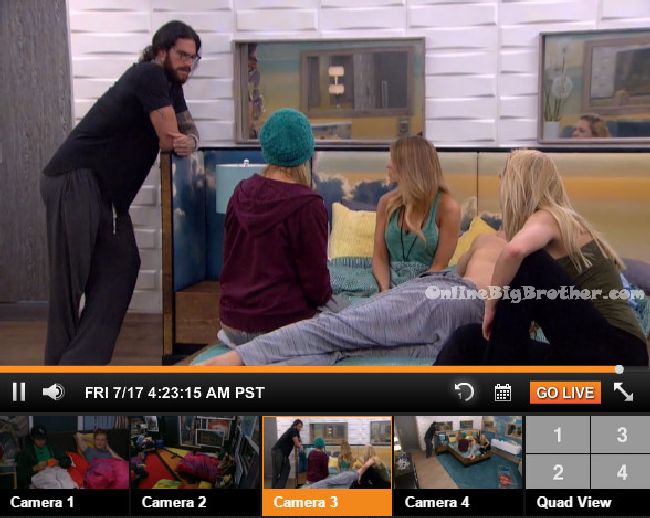 4:50am- 5:15am Shelli and Clay continue to talk out the options and go back and forth and in circles. Shelli tells Clay she wants to sleep alone so she can lay up and think about the options. Clay leaves and Shelli heads to bed.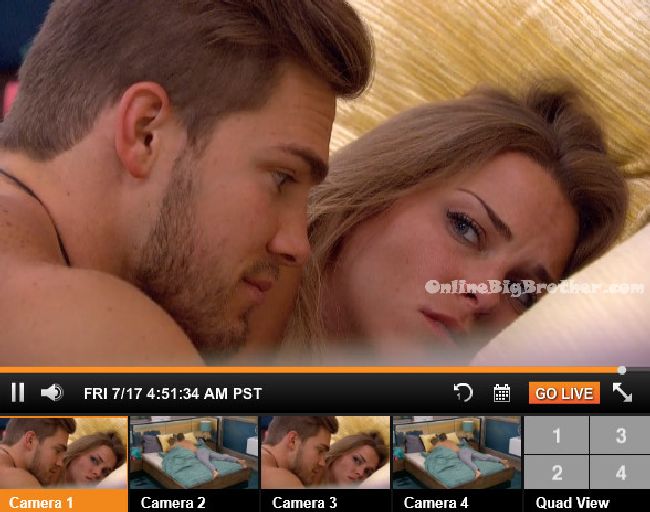 DENIED @bigbspoilers #BB17 pic.twitter.com/tpWR7bfqZt

— Dawg (@DawgsBigBrother) July 17, 2015
5:30am – 5:40am Austin says you could go Jackie & Johnny Mac and leave the backdoor open. Liz says right and then if one of them wins veto put up Becky. Liz says I don't even know if Julia wants HOH or not. Liz says I don't even want power. Austin asks you don't. Liz says I do but only if I was only playing. Austin says Audrey is always a backdoor target. Liz says her vote is a waste, it does nothing for us. Austin says do Jackie and someone .. if they don't want Jason then do him or if they do then do Johnny Mac. Save Becky for the backdoor.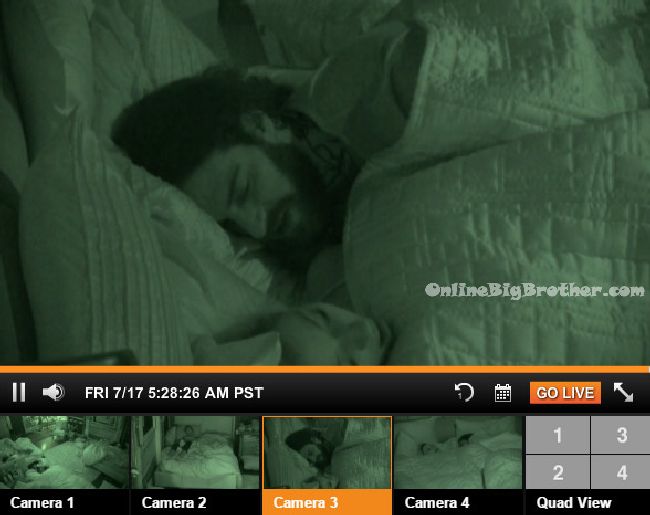 5:45am Austin and Liz go to sleep. All the house guests are now sleeping..
Live Feed subscription gives you CBS All Access thousands of archived shows. Live Shows like Big Brother, all the Big Brother Seasons, and 24/7 coverage of what is happening inside the Big Brother House. Plus there's flashback that lets you go back to any second of the feeds and rewatch what happened. Simon and Dawg will index the season just watch the parts worth watching. All this for $5.99 a month try it out 1 week free. Support our efforts and get your feeds via a link on this site. Live feed subscription Sign up
[polldaddy poll=8983592]
Share it YO!
Tweet