Finale Schedule
Sun, 9/20- 8p
Wed, 9/23– 9:30-11p Finale = Winner of Big Brother
VANESSA WON PART 1 Of THE 3 PART HOH
STEVE WON PART 2 Of THE 3 PART HOH
Part 3 of 3 – Steve competes against Vanessa (Finale)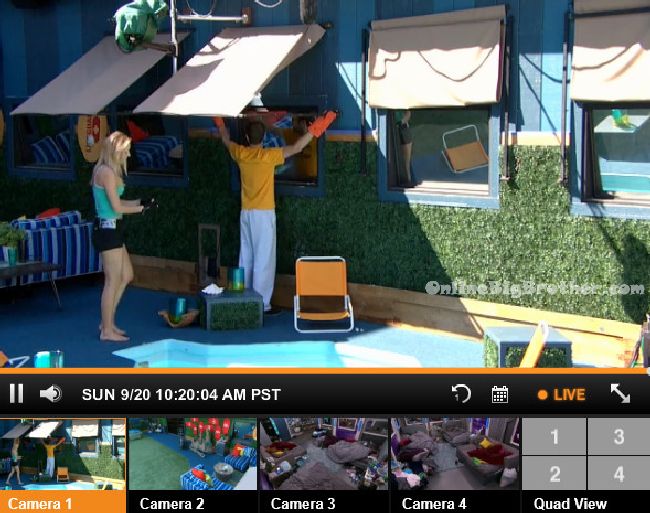 10:20am – 10:45am Big Brother wakes up the house guests. Liz complains about having to put the outside awnings down. She says they're too hot. Steve puts oven mitts on. Liz puts gloves. on. Steve says he has never heard of so much complaining in such a short amount of time. Liz says if we just stayed in side we wouldn't have to do this. Steve says its big brother that tell us to do it. Liz says she's never doing it again. Steve says we're the only two people that can do it. When they're done. Big Bother says thank you very much. Liz says that was a dig because I wasn't very cooperative. Liz heads back to bed. Steve asks Vanessa how she's feeling? Vanessa says she's 10% better again. Steve says so you're at 20% and you're going for 100%. Vanessa says MMmmhHHmm. I don't think I'll be 100% by Wednesday though. I really injured myself. Steve sits with Vanessa at the table. Vanessa starts whispering really quietly and says they (production) said to wait till Tuesday. It ruins it I guess for the feeds. Steve asks Tuesday? They didn't tell me Tuesday. Vanessa says they told me. Just please wait till Tuesday kind of like asking for a favour. Steve says okay. So Tuesday?! Vanessa nods. (About telling Liz they're not taking her to final 2. Although Steve has said talking aloud to himself that he is taking Liz if he wins part 3)

Sign up for CBS All Access and watch over 6500 episodes for ONLY $5.99! Try it FREE for a month!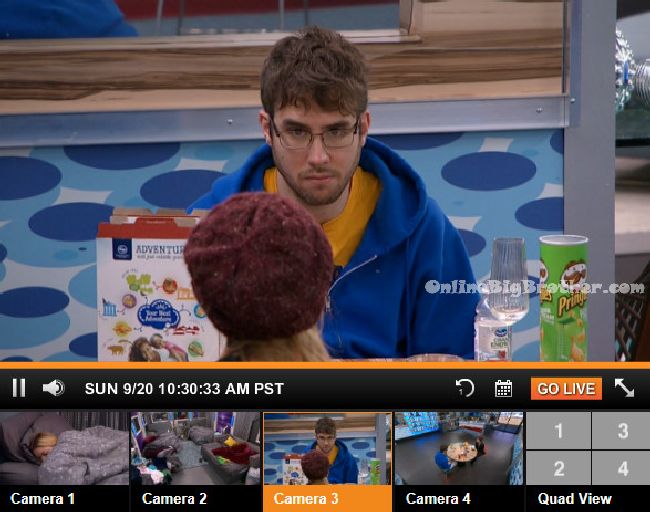 10:55am – 12:15pm Vanessa, Steve and Liz are all back in bed sleeping.
12:20am Vanessa gets a bowl of cereal and heads out into the backyard.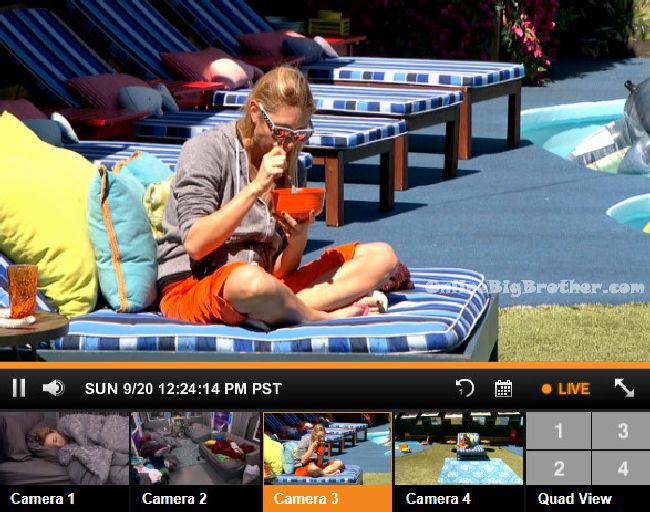 1:15pm Steve and Liz continue to sleep. Vanessa gets up to do her laundry.
1:35pm – 2pm Steve and Liz finally get up for the day. liz asks who's ready to play more cards!? I'm ready for Texas Holdem. Liz tells Vanessa her and Steve played Gin to 350 points. Vanessa tells them she'll teach them how to play poker tonight. Liz says oh my god 3 more days till Wednesday!!! Steve says I'm so scared! Vanessa tells Steve – You and me Gin right now! Steve says he'll play two hands with her.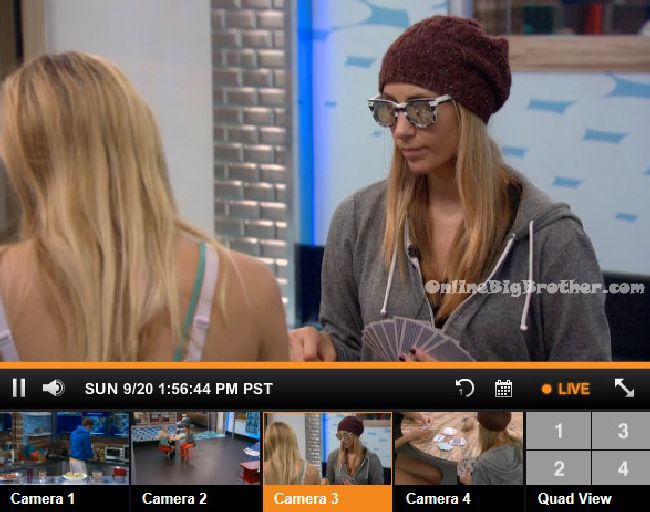 2:10pm
Steve wins the first hand. Liz plays Vanessa next. Liz beats Vanessa. Vanessa says the student beats the teacher a$$. Steve asks if we can do that literally? He goes to grab her arms and she says no, no, no don't touch me. I have bruises everywhere. When I say don't touch me I am not kidding.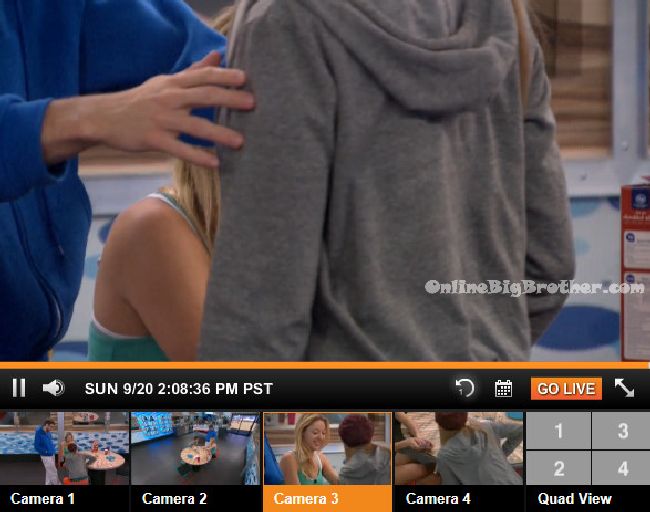 2:15pm Liz shows her finale dress.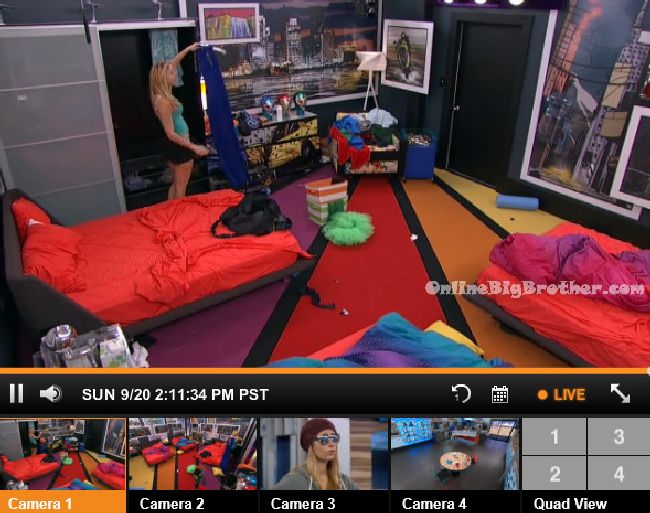 2:20pm – 2:35pm Steve asks Vanessa to do a card trick. She gets him to pick a card and then cut the deck. She then asks him yes or no questions where his answer can only be yes. (She then reads his face to tell if he is telling the truth or lying.) She asks if his card is a face card? He says yes. She says you're lying. She then removes all the face cards. She continues to ask questions until there are 3 cards left and then reads his face as she points at them. She removes one and then holds up a card and asks if its his. Steve says yes. Vanessa heads back to bed. Steve asks Liz if she's excited to meet Austin's Mom? Liz says Dad or Girlfriend .. Zing!
2:40pm – 3pm Steve and Liz start another game of Gin.

If you've enjoyed the spoilers please consider a donation using the drop down box below. Simon and I work 24/7 all season long to keep you updated on everything that happens inside the Big Brother house. This website wouldn't be possible without your support.
[polldaddy poll=9082767]
[polldaddy poll=9063299]