Finale Schedule
Sun, 9/20- 8p
Wed, 9/23– 9:30-11p Finale = Winner of Big Brother
VANESSA WON PART 1 Of THE 3 PART HOH
STEVE WON PART 2 Of THE 3 PART HOH
Part 3 of 3 – Steve competes against Vanessa (Finale)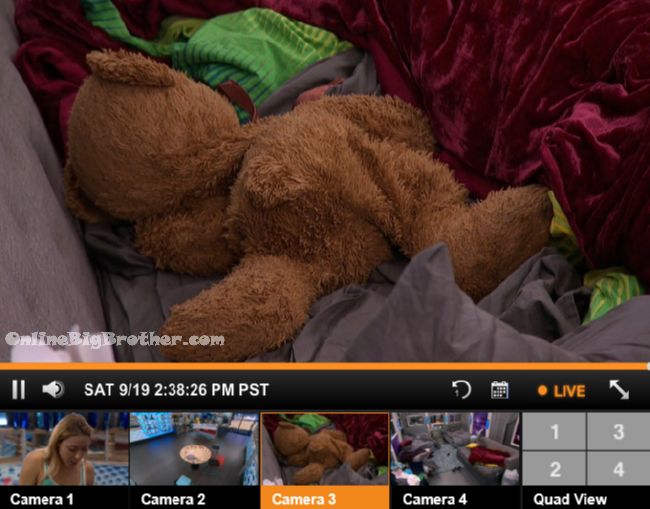 Forgotten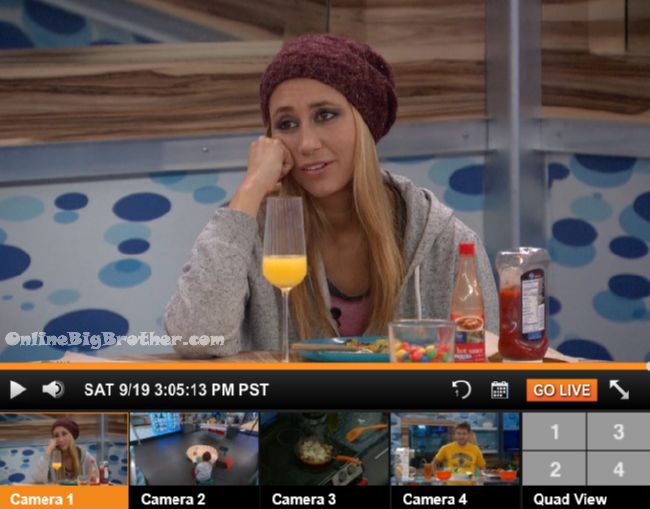 3:05pm Kitchen final 3
Steve – Ness does not look happy
Vanessa – it's not that I'm happy or sad I'm just out of it
Steve – Ness looks like she's on muscle relaxers
Vanessa – let's not make too many jokes about it, I didn't want to injure myself
They start talking about sexuality. they tell her from first impressions they never thought she was lesbian.
Vanessa – once you saw my personality you saw my dominate personality
Liz – Oh my god yeah I love it
Vanessa says she thinks 3 to 5 people in the house this year were up to "Experiment" with their sexuality.
Vanessa – we have 5 totally not straight people for sure.
Vanessa starts talking about masculine and feminine energy and she has more masculine energy.
Vanessa – A more feminine energy man would have balanced me out but I'm nor attracted to a feminine energy man.
Steve mentions a story about being "Sexually" attracted to a girl at Cornell that was ugly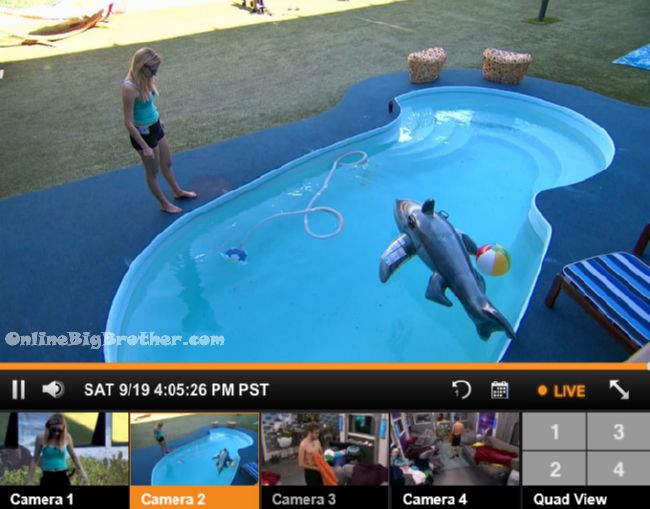 4:04pm Liz Alone
Liz – the pool is dirty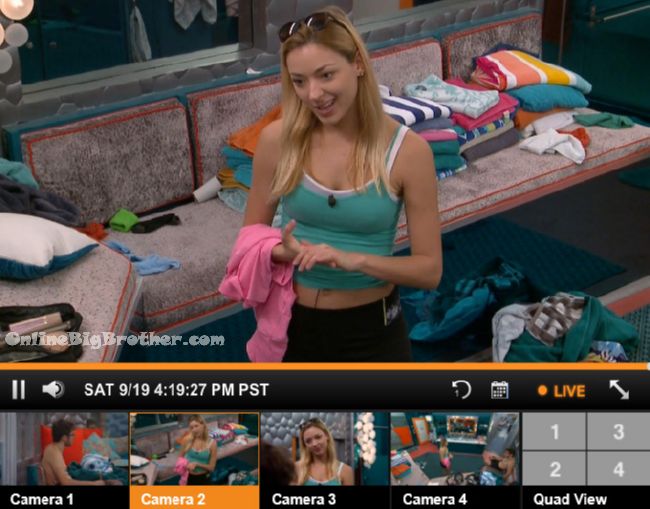 LIz _ never thought it was going to be this f******G boring
Steve – this is a wonderful wonderful wonderful problem to be having
liz – true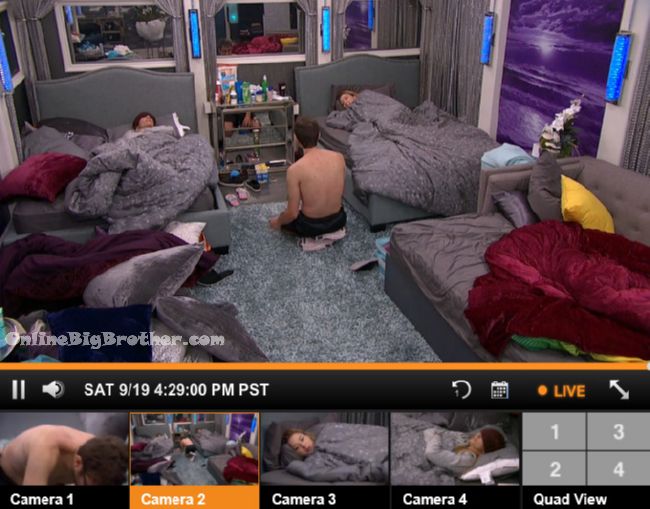 4:27pm Final 3 in the bedroom
Steve is telling them that Jmac was always a "Pseudo Goblin" Adds that after the double when Steve took out Jackie Jmac really distant himself from Steve.
Liz mentions that Big Brother told them that whoever wins Biog Brother will never have to eat peanut butter ever again
Steve points out that it must from pre Season 6 when the have nots only get to eat Peanut butter and Jam.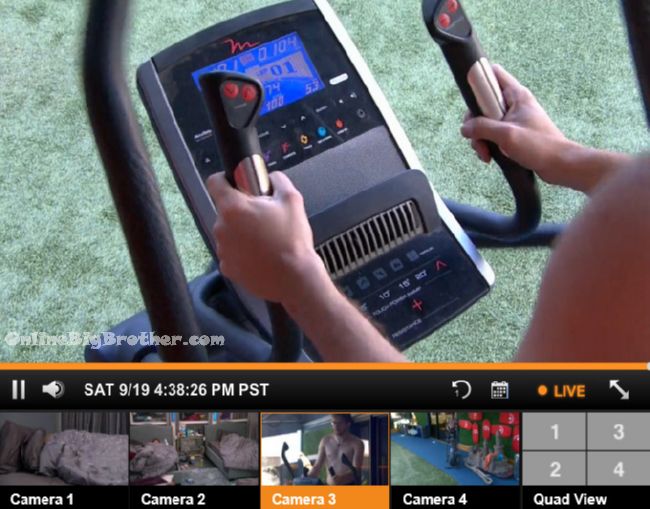 4:38pm Steve alone on the elliptical
Steve – I can't manipulate Vasnersa into anything
Steve – Let's just go for 1 mile… 1 mile is cool
Steve – I gotta write two speeches
Steve completes a mile and clocks out.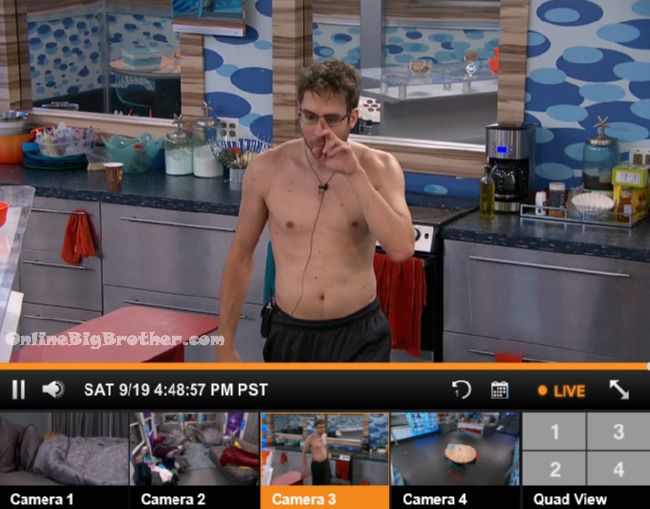 Up to no good
4:54pm Backyard Steve alone doing laundry talking about how far he got in a game that involved people skills.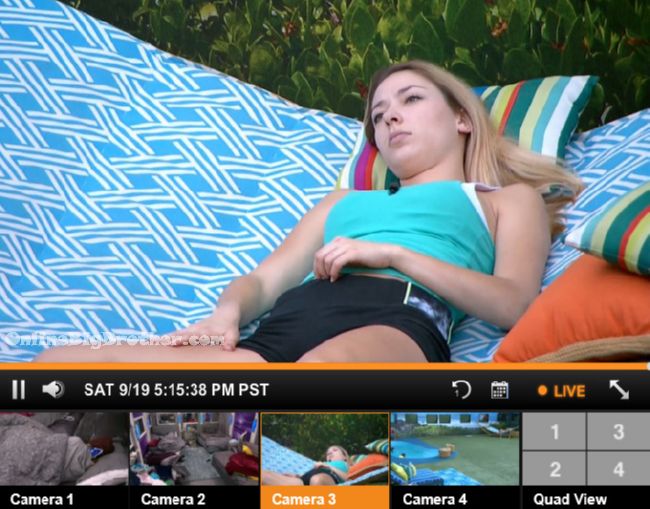 5:14pm Backyard Steve and Liz
Liz is saying that she's "Seriously" considering moving to LA because Miami is so humid, "F****k Vegas I hate that weather"
Liz – This is the perfect medium
Steve says where he lives upsate New York Everything is freezing.
5:35pm In the backyard Steve and Liz start talking politics.
Liz says she supports a particular party but she feels that there's still issues that both Parties are against that are important to her. She doesn't agree with some things and doesn't want o talk about it on the feeds.
Steve says she likes a party party A loves "oobleckS" and Party B Hates "ooblecks" but she likes party B but loves ooblecks
Liz asks him what is oobleck
Steve claims to have made up "oobleck"
(it was from Dr Seuss https://www.youtube.com/watch?v=vUjIGAValk0 .. )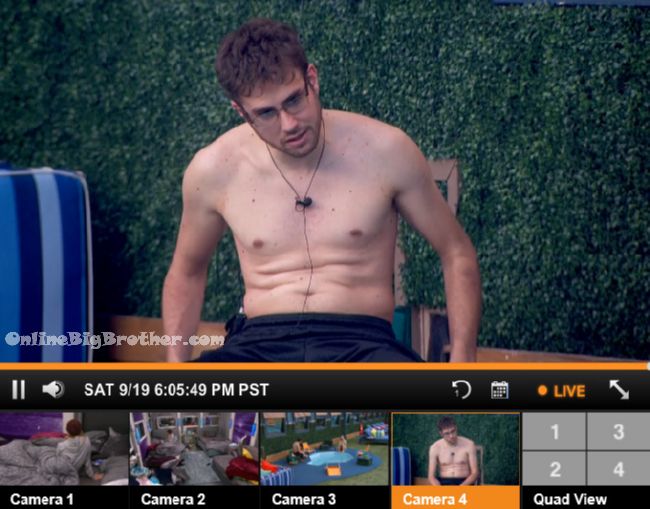 6:04pm Hot tub Steve and Liz
talking about how Jmac and Vanessa both Scum bagged Austin but Jmac was never allied with im Vanessa was.
Steve goes on about striking internet gold by doing a web show with Austin.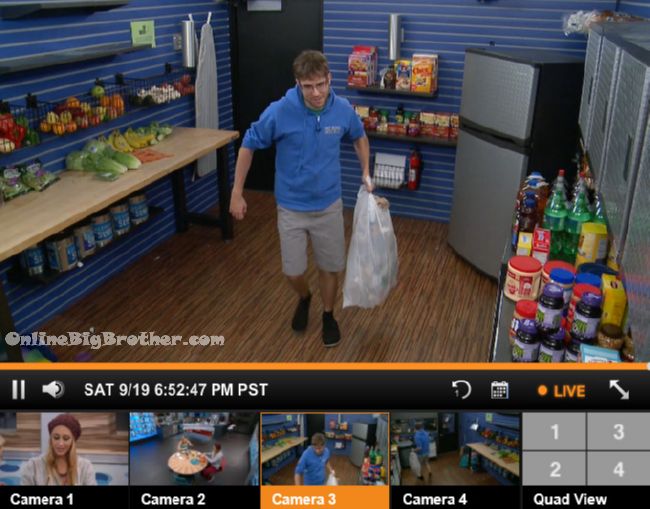 6:55pm Boy takes out the trash.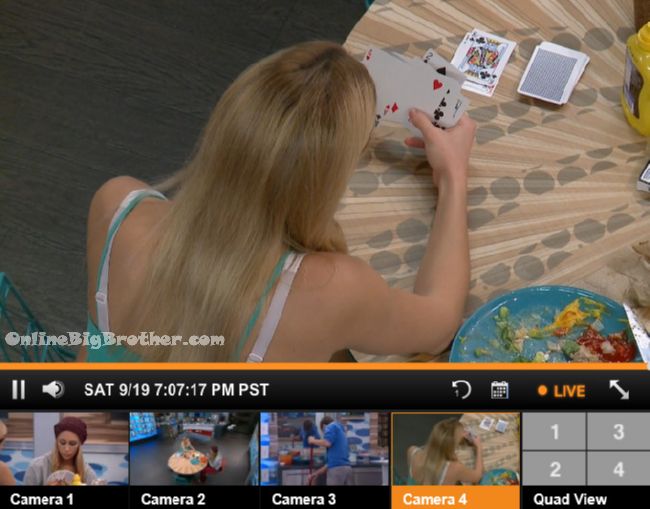 7:07pm GIN
No not the drink……. too bad…. Vanessa has a deck of cards and is showing Liz how to play, Gin.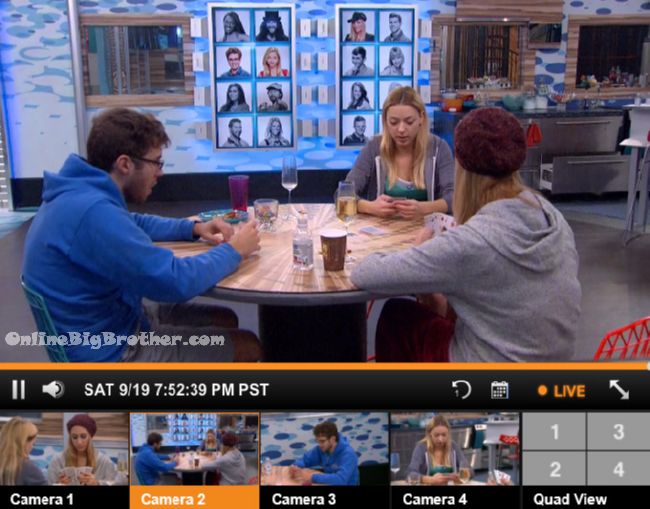 7:52pm Final 3 playing cards. Vanessa says her neck hurts.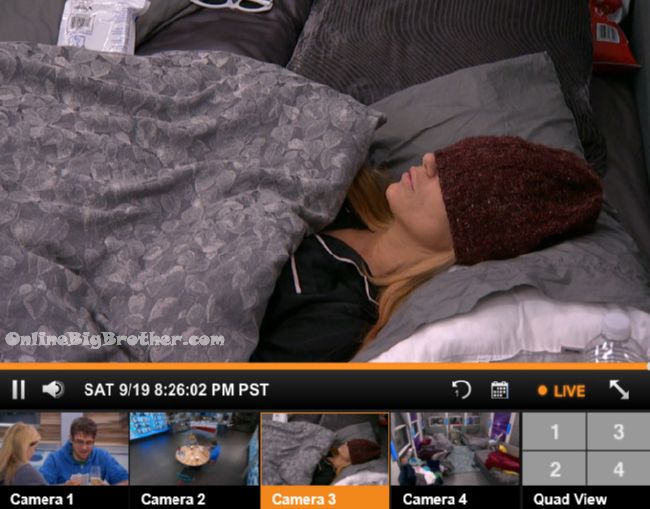 Winning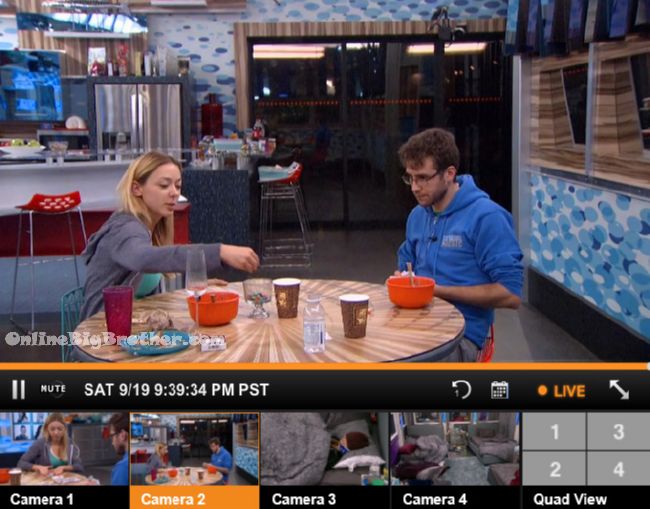 9:41pm Cards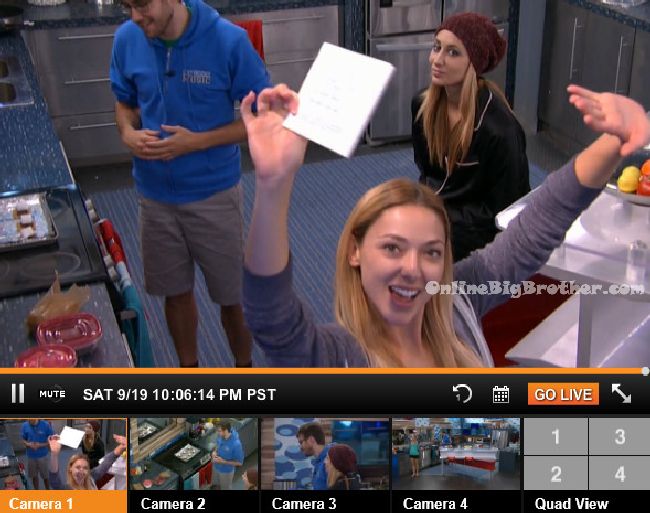 10:06pm Pop TV SMores … (Hi my name is POWPOW)
[envira-gallery id="134063″]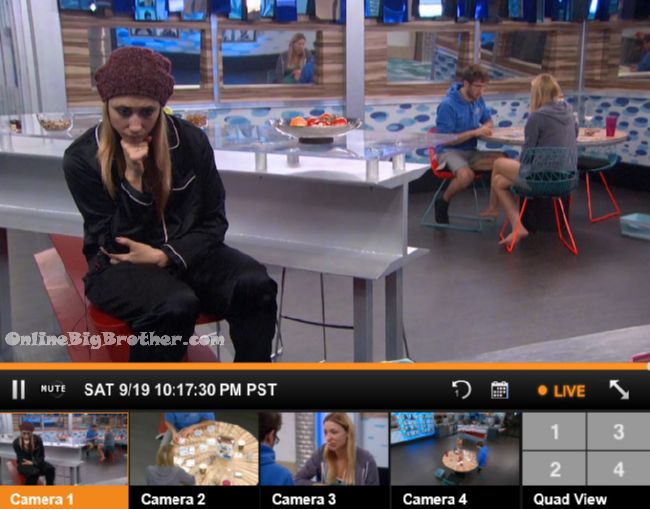 10:18pm More cards
Strategic….
10:46pm Vanessa is sleeping .. Liz and Steve are still playing cards.
Steve – I'm very Sneaky (Yes you are Steve yes you are)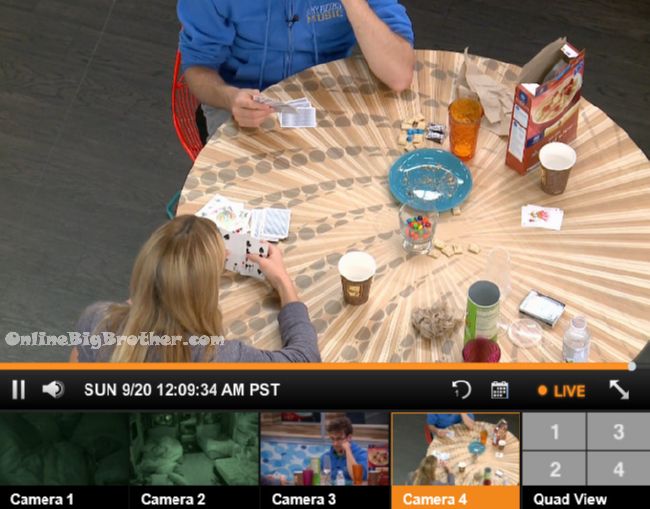 12:07am Cards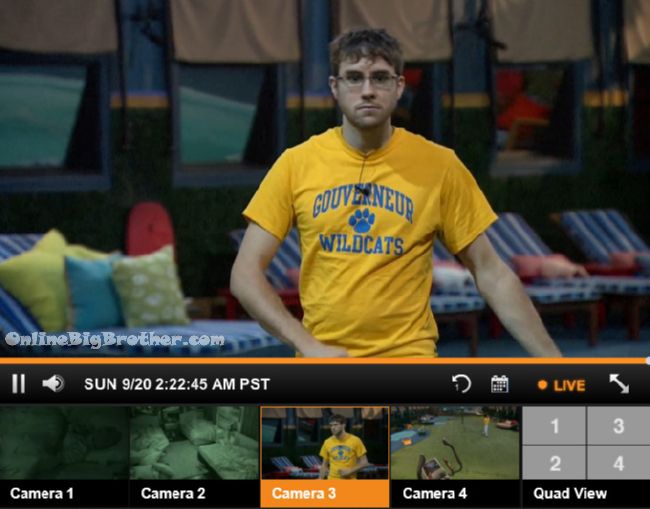 2:20am
Steve is talking to himself saying he's going to take Liz to the end if he wins the HOH. He practices his speech.
"Last year when cody stood here as the final Head of Household and decided to take Derrick to the final 2 he made a 450 thousand dollar mistake, Vanessa I love you I can't make the same mistake I vote to evict you"
Steve says Vanessa is the best female player to play Big Brother, "You are Derrick, and if you are Derrick and we have a final 2 that makes me Cody… we had an alliance you drove it"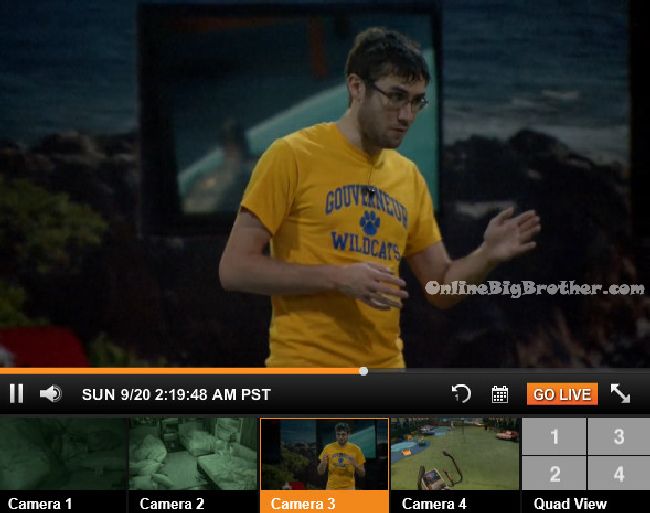 2:40am Steve heads to bed..
If you've enjoyed the spoilers please consider a donation using the drop down box below.
[polldaddy poll=9082767]
[polldaddy poll=9063299]