Finale Schedule
Sun, 9/20- 8p
Wed, 9/23– 9:30-11p Finale = Winner of Big Brother
VANESSA WON PART 1 Of THE 3 PART HOH
STEVE WON PART 2 Of THE 3 PART HOH
Part 3 of 3 – Steve competes against Vanessa (Finale)
3:30pm playing cards.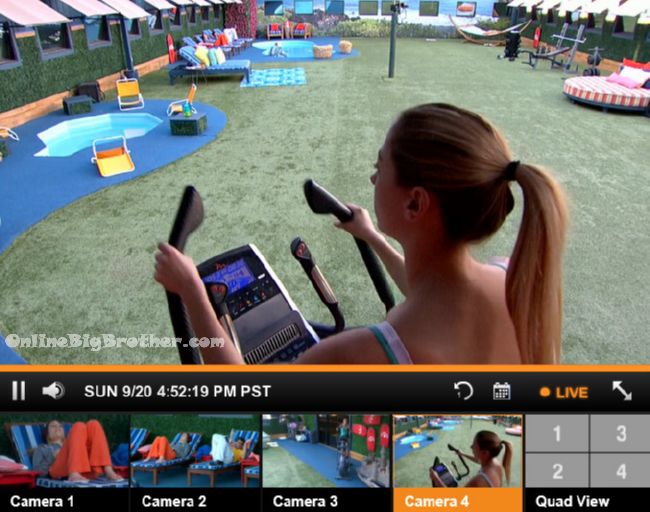 4:54pm Staying in shape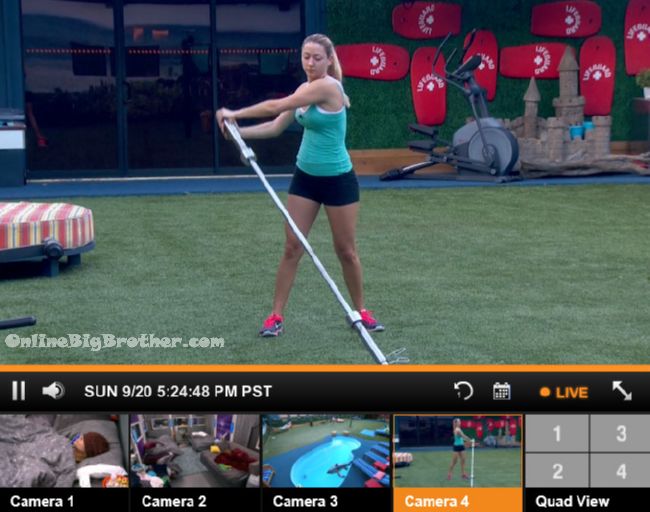 5:26pm
Austin's work out plan it will make you sweat.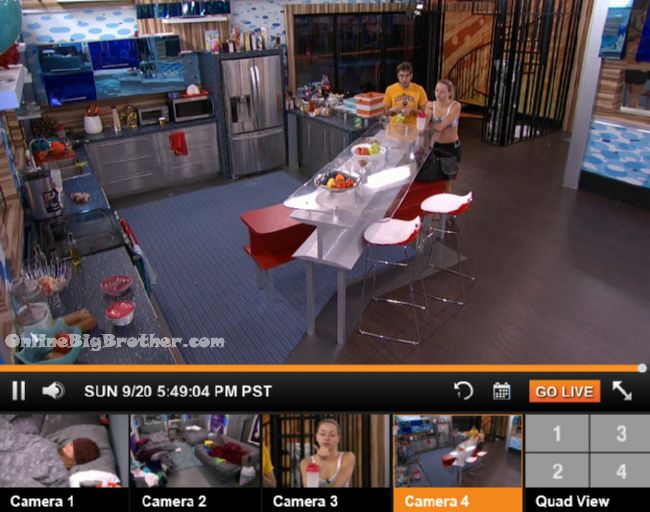 5:49pm Kitchen Liz and Steve talking about the season.
Steve – Jace couldn't keep his mouth shut
Steve – Da shouldn't have made a big deal about Shelli.. trying to be at the top of a big Alliance Day 1 is not a good idea
Steve goes on about how all the pre jury members did it to themselves.
Da was way too aggressive, Clay had his hand in too many cookie jars.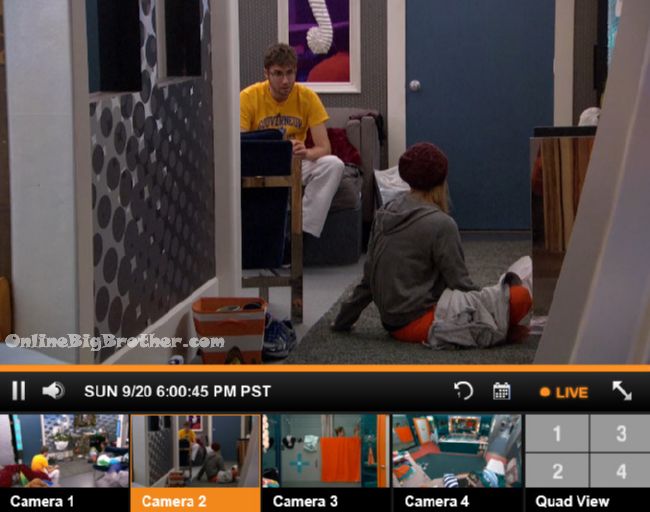 6:00pm Vanessa and Steve Speculating that tomorrow is their last day outside.
Vanessa says Production told her they should wait before they tell Liz./
Steve – I never heard that from them
Vanessa- it wasn't a direct request
Steve – Is that better for her.
Steve – OK you want to wait till Tuesday
Vanessa – ya
Steve – OK I trust to know what's best
Vanessa – I don't think you realize how out of it I am
Vanessa says they cannot use absolute language when they tell Liz.
Vanessa starts trying to talk Steve into thinking the only way they can win is against each other.
Steve says he feel she should be more worried about going into the final s
Vanessa says the Incentives line up with what they are doing
Vanessa about Liz "She hasn't said sh1t to me… that really isn't her game style
Steve – what is her game style doing nothing.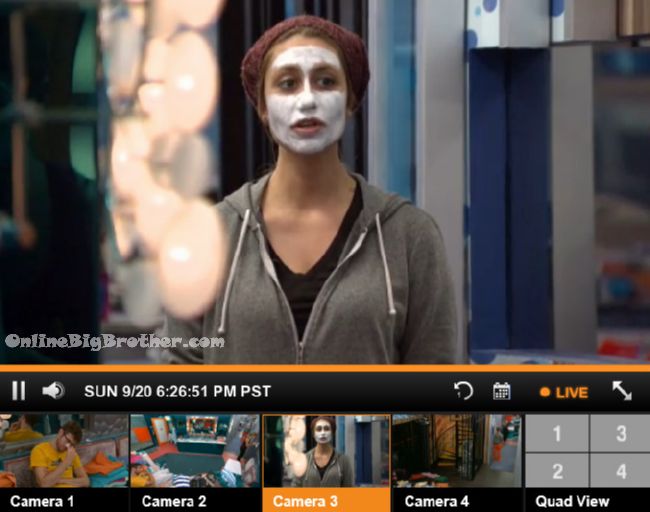 6:26pm Bathroom final three trying to figure out what to do tonight.
Liz says she will make dinner.
Vanessa – Chess, Pool and gin… tournament
Liz – screw chess
Vanessa – WHY
Liz – I'm over chess
Vanessa – WHAT DO YO MEAN, you're good at it
Liz – I Hate chess
Vanessa – you don't hate chess
Steve – you loved playing chess with Austin
Vanessa – chess is the best
Liz – Chess is boring I like cards better
Vanessa – you don't hate chess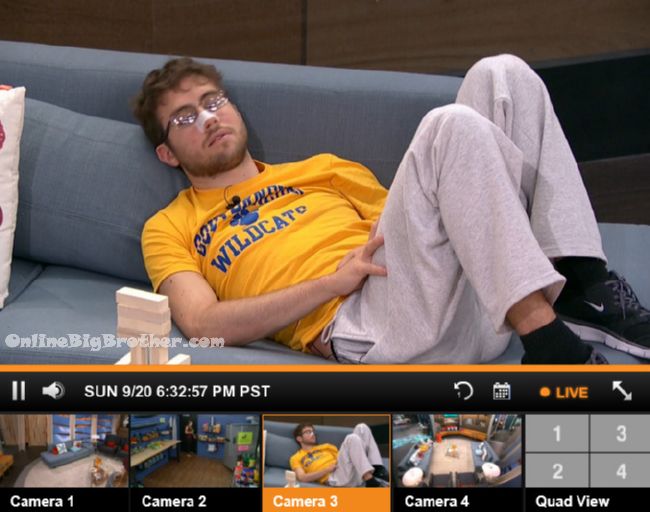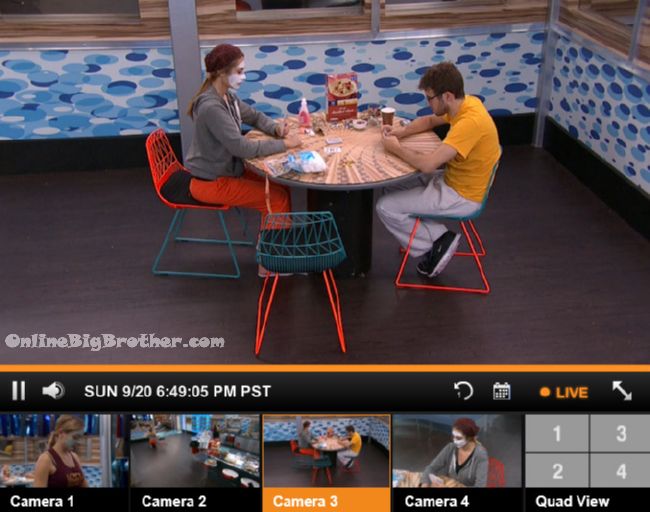 6:50pm Cards…
7:12pm Steve and Vanessa playing cards
Steve points out that when he treats Liz like she treats him she doesn't like it.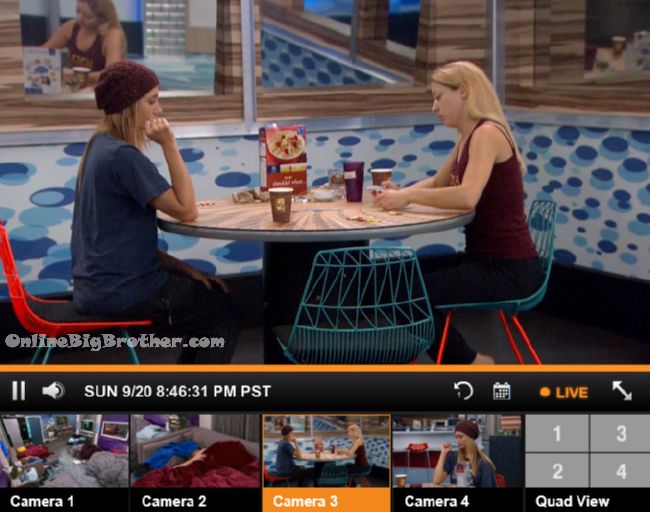 8:47pm Cards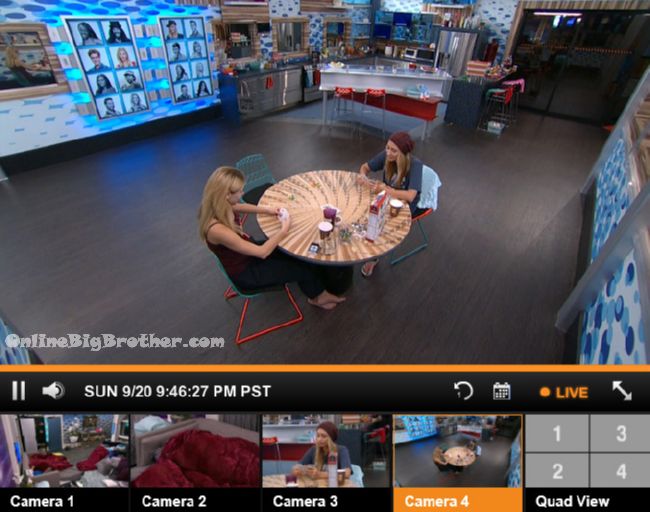 9:56PM cards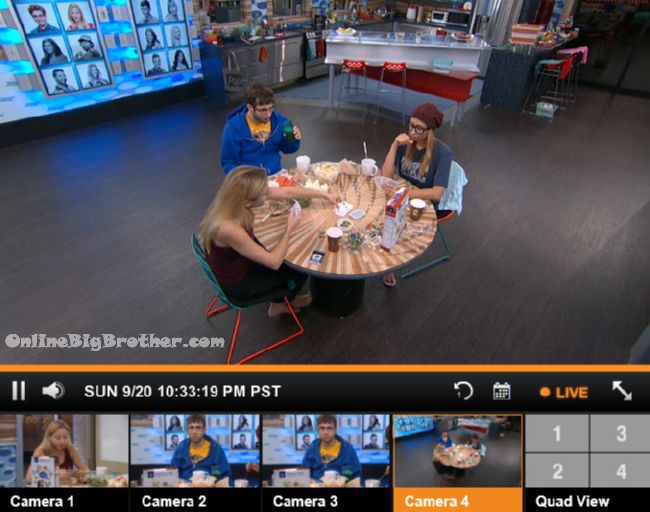 10:35pm Cards
They were also given fondue..
Liz is talking about how awesome Austin's body is. "His body is the best,,, he has the best body of a guy I ever dated"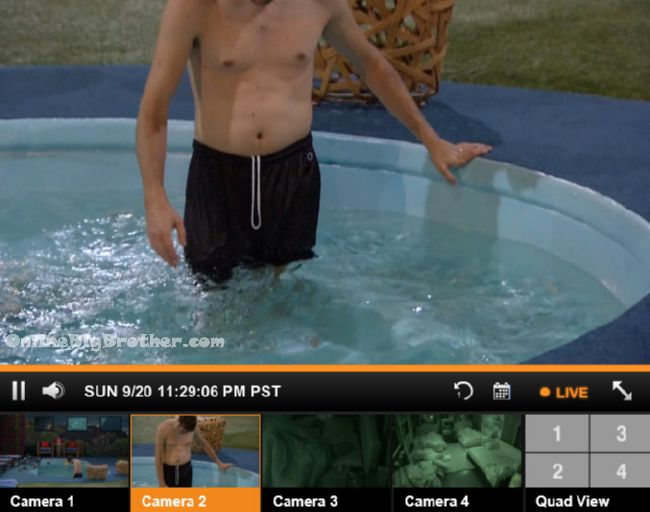 11:44PM Steve has been practicing his speech in case he wins final HOH. His plan is to take Liz because Vanessa is Derick and He is Cody.
If you've enjoyed the spoilers please consider a donation using the drop down box below. Simon and I work 24/7 all season long to keep you updated on everything that happens inside the Big Brother house. This website wouldn't be possible without your support.
[polldaddy poll=9082767]
[polldaddy poll=9063299]