Feed subscription lets you go back and re-watch everything we post here CBS All Access Live Feeds with a FREE 7 DAY trial.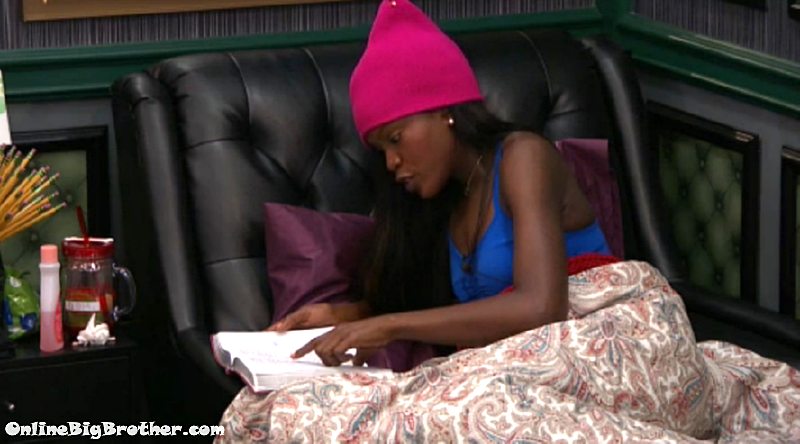 3:45pm Dom reading the bible muttering to herself..
Dom – I can do Paul or I can win veto, I can take anybody and at least one other person goes home
Feeds cut
Dom – and Raven..
Dom – mark will be easy they will vote him out
Dom – The moment I put him on that block the true snake is going to come out… ummmhmmm.. the reptile.. the cool thing Is not only to I walk on cobras I step on snakes.. I step on them..
Dom – trampled.. I trample.. little to zero return in life.. ummmhmmmmm.. a Snake.. trample all over you..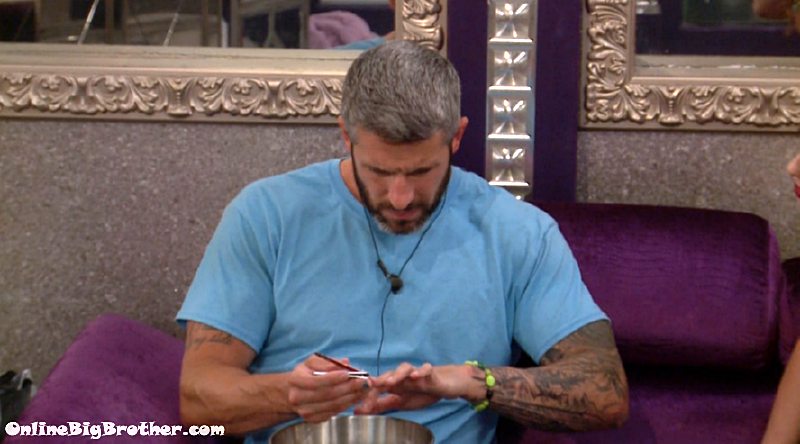 4:16pm Raven and Matt (Hard for me to hear them)
Matt – Jessica is saying stuff about you, she's got to go
Matt – Elena trust me..
Raven – good
Matt says if Dom has the temptation it sucks for everybody else's game but it doesn't hurt them.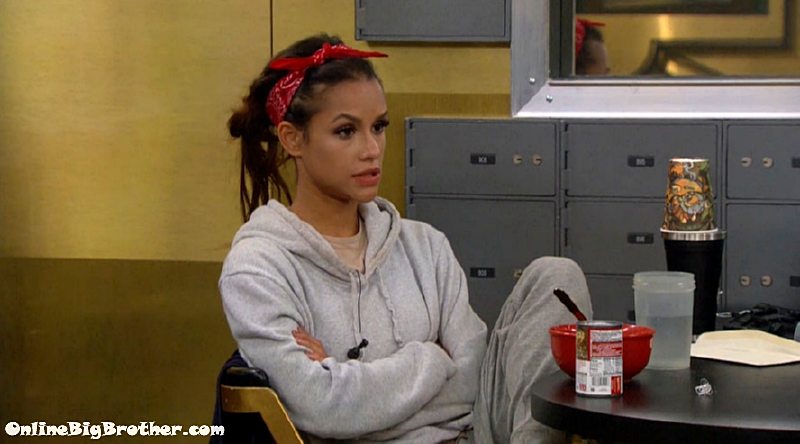 4:21pm HOH Jason, Alex and Jessica
Jessica says Paul mentioned the curse might be Cody coming back.
Alex says Dom is "kinda a dud"
Alex – she's going crazy..
Jessica – why did you put her up
Alex says she was sketching everyone out..
Alex explains Dom told her she knew the 2 people that voted out Ramses last week. Dom wouldn't tell Alex so she went up. Alex is certain that it's the same people that screwed them on the Jillian vote.
Alex going on about finding who flipped on their Jillian vote and how that f*ed them because they lost the numbers.
Josh comes in..
Alex – can you give us 2 minutes..
Alex bring sup tells Josh if he votes out Jessica over dom and screws them on another Vote he's out of here.
Jess – Matt and Raven guaranteed me their vote.s.
Jess- christmas said she'll go with the house and whatever the house votes she'll support
Jess isn't worried about Paul's vote
Alex says Jason and Kevin are voting out Dominique. The only one she might want to talk to is ramses but "He hates Dominique.. So.. "
Jessica says one of the people that flipped last week was Christmas
Alex – I think so too
Jessica – I think it was Christmas and she wanted it to backfire and blow up in Jason's face. But it blew up in Dom's face
Alex is certain that Dom didn't get the temptation she doesn't have any signs.
Alex – or if she did win it doesn't help her
Jessica is worried about Christmas winning the HOH because no matter how much they've smoothed things over she'll always go after Jessica.
Alex says she was worried about Josh winning but then there was that Beef with Mark, Even though Josh did say they squashed it.
Jessica says once the other side's numbers go down a bit parts of them will start to flip
Jason says it doesn't matter if Dom doesn't go home this week they'll just get her out next week
Alex – who would they put next to Jessica.
Jason – you're the HOH
Alex – if it's a diamond veto she gets to pick..
Jason – Christmas or Elena
Jessica bring sup Cody coming back
Jason thinks it's too early for that.
Jessica – I'm telling you now I don't have the Veto .. (meaning the temptations)
Jessica- I was hoping I would..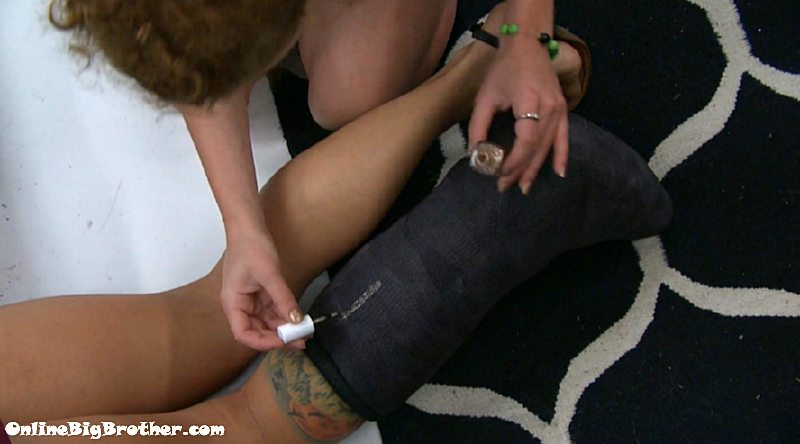 Christmas getting her cast painted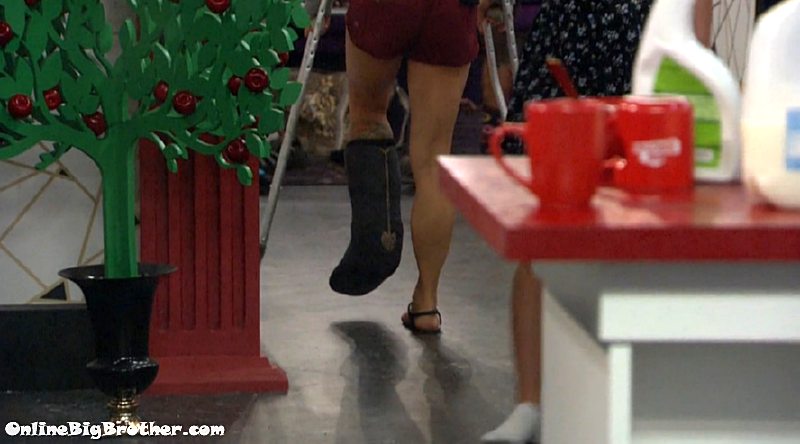 Paul and elena say it looks like a d1ck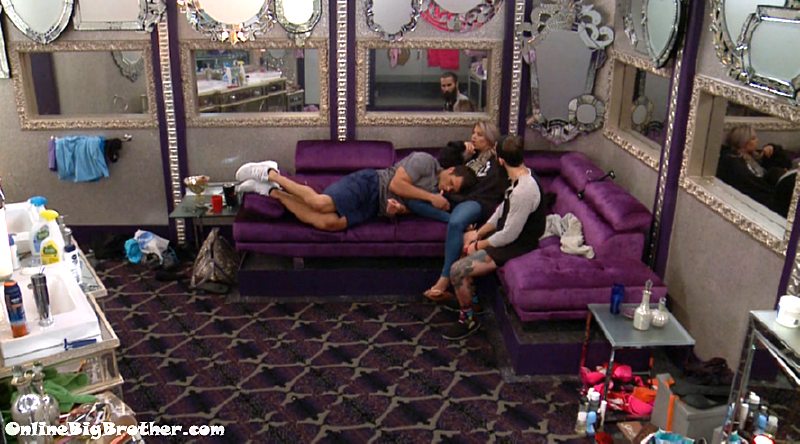 4:59pm Elena, Mark and Paul
whimpering about Dom being rude..
Paul says he's going to start to hiss at Dom every time she walks by.
Elena – being a d1ck to people is one of my favorite things to do..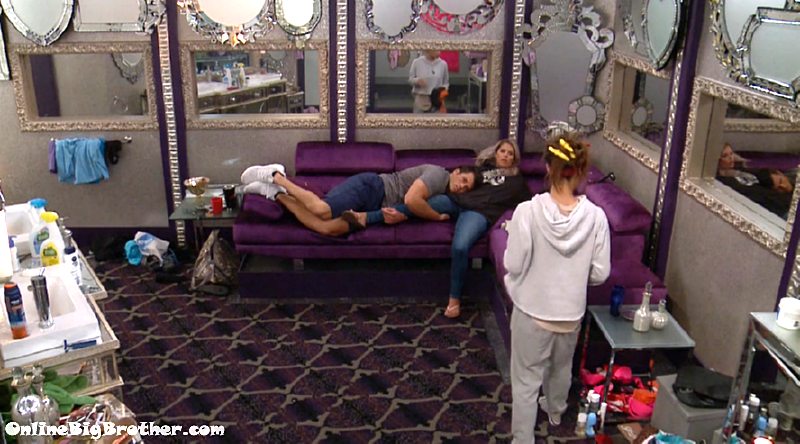 5:03pm Jessica, Mark and Elena bathroom
They tell her not to bother packing.
Jessica – I have to.. We don't know about the curse or Temptation..
Ramses in the kitchen makes the point that it's the season of temptation and they cast only 1 gay person.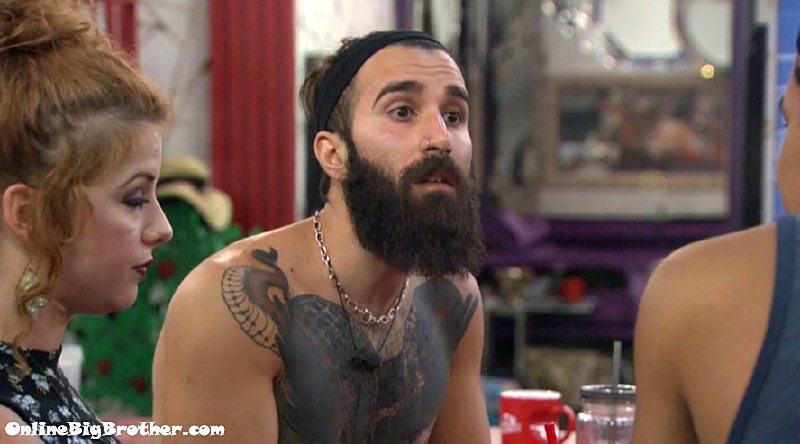 5:14pm Alex, Matt, Raven, Christmas ,Paul and Josh
Paul is all over Alex wanting to know what Jessica said. Alex says Jessica thinks paul is going to seek out an alliance with Cody if he comes back because Paul is scared. Paul scoffs at this says he wanted Cody out of the house more than anyone.
Paul starts talking himself into knots trying to rationalize that Jessica has the temptation. Paul says if he wins HOH he's taking Jessica out. He confirms with the rest of them they are still voting out Dom.
Paul comes up with a plan involving Christmas so that he can call Jessica out before the HOH.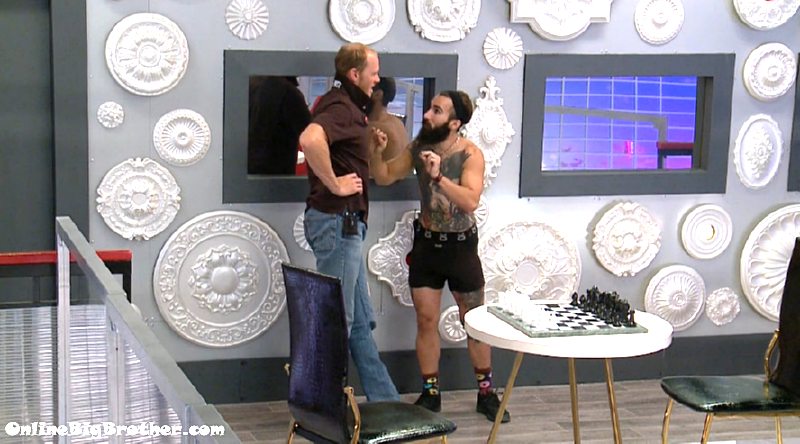 Paul runs up to to Jason to tell him his plan to razzle Jessica before the HOH.
Christmas is going to "bait" Jessica and see if she says is something about Paul and Cody. He's then going to call her out right before the HOH.
5:31pm Kevin, Ramses and Jason
Jason about Jessica – "If the d1**k* that were in h** were on her she would be a porcupine."
Alex joins them.. Ramses tells her he told Dom that he's voting her out.
"The evolution of Jessica's mood.. today" #BB19 @DawgsBigBrother pic.twitter.com/3MdkhPFijw

— OnlineBigBrother.com (@bigbspoilers) July 20, 2017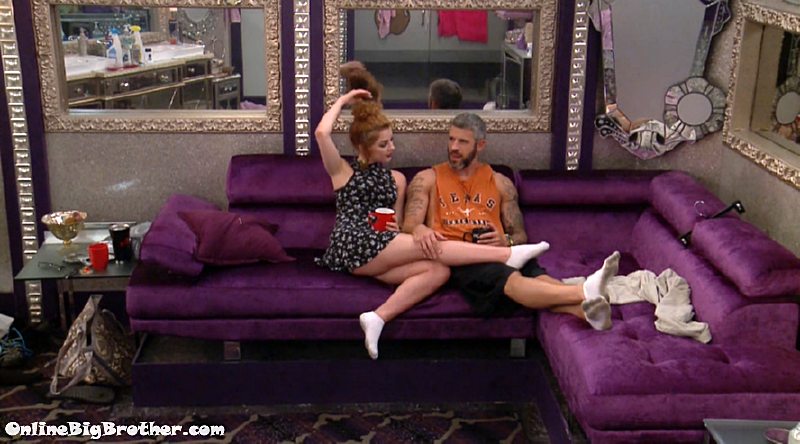 5:33pm Agreeing that they should throw the HOH to Paul and let him take Jessica out.
Links to the ranking system
Rank your house guests here
For those of you that like Statistics here are some expanded reports.