| | | | |
| --- | --- | --- | --- |
| POV: | Tyler | Next POV: | Aug 11th |
| POV Used | ? | POV Ceremony | Aug 13th |
| HOH: | Haleigh | Next HOH: | Aug 16th |
| Noms: | Kaycee Rockstar and Angela | Have Nots | |
A real easy way to support the site if you are an amazon shopper is to make your purchases through our link. You pay the exact same thing but we get a small % commission. It doesn't cost you anything and helps us out.
Amazon Canada
Amazon USA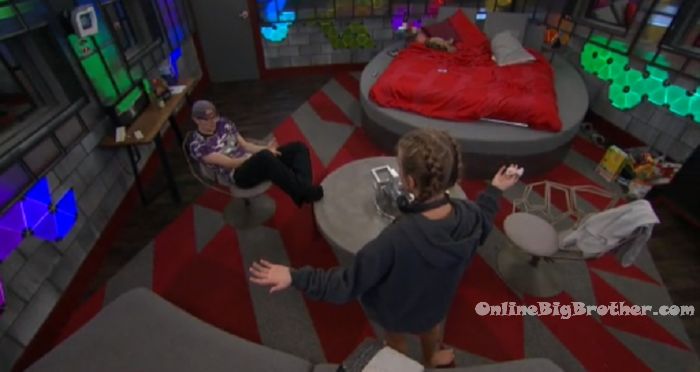 7:55pm HOH room. Scottie and Haleigh. Haleigh – he is going to take Angela down and the I will put Kaycee up. Scottie – I think it would be unlikely for him to not use it. Haleigh – he sat right here and said how we needed to build trust. And I said Tyler, I will not put you up and I will not backdoor you. Scottie – but he spent last week solidifying his trust with Angela. Granted I think that whole thing was planned. Haleigh – that was her wanting to go after Bayleigh. It had nothing to do with wanting Tyler off it had everything to do with her wanting Bayleigh up. Tyler thinks you're his number one. Even if he keeps the noms the same I would be okay with that. Please try and talk to him. Scottie – I will try but our talks never go well. Haleigh – what if Kaycee has a power? Scottie – Worst case scenario, Kaycee takes herself off. Who would you put up? Haleigh – I don't have one. I am not putting you up, I'm not putting Brett up, I made a deal with Sam. That leaves JC. Scottie – that is absolute worst case scenario. Haleigh – I could talk with Sam because she wants to go home anyways. Scottie – if I win next week JC would probably be my target. Haleigh – I would support you in that. Scottie – every time you tell someone anything it gets back to him. Haleigh – he makes Fes doubt things. JC is a liability. Fess is a good asset. but JC and Fes is not. I just pissed Fes off so he might not talk to me for the rest of the week. I don't care. Scottie – he is too sensitive. I guarantee he tells JC. Haleigh – f**k Tyler and Angela are coming after me. Scottie – when you talk to Tyler do not lay down the law with him. If you do that he will take it as a threat. Say this is what I would want to happen and lay out alternatives. Rockstar joins them. Rockstar – I have been real honest with all of you as to why I am here. Haleigh – I know, but Rock you need to stop because some people get annoyed when you say that. Rockstar – oh. Haleigh – because everyone is here for different reasons. Rockstar – oh I won't say that any more. Haleigh – people just get upset because they think you're discrediting why they're here. Bayleigh was mad about it but I guess that doesn't matter anymore.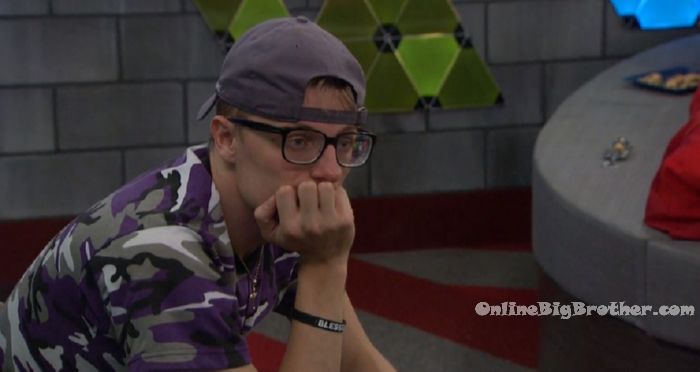 8:22pm Bedroom. Kaycee, Tyler and Angela. Tyler – its actually funny that Haleigh thinks I would do what she wants when she just tired to get me out last week. Its hilarious. She was going to backdoor me when she put me up as the hacker.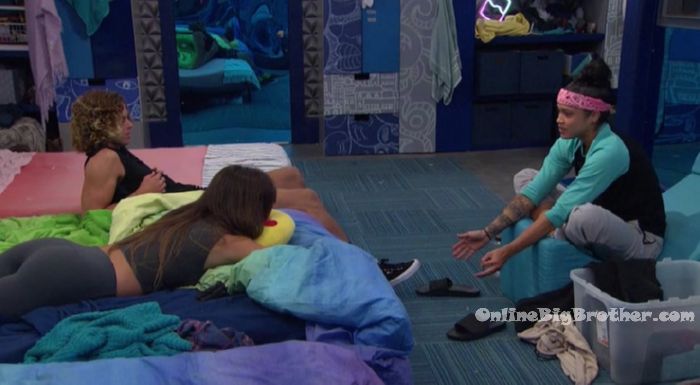 8:40pm Haleigh takes a bath and talks to Rockstar. Rockstar – I f**Ked up. Who else said something other than Bayleigh? Haleigh – JC was pissed. Well he wasn't pissed he was just like we all have something we're here for. Rockstar – JC was just in the bathroom saying he doesn't want to be here. Haleigh – well JC lives a lush life of drinking, partying and travelling. And there is none of that in here. You know what bothers me.. Sam has stopped her entire oh I don't want to be here. I think she played me. Rockstar – no, I had a very long talk with Sam last night. She was crying. It was a personal conversation .. if I was going to make an assumption .. I think she cheated on her man and that's why they broke up. Big Brother switches the cameras.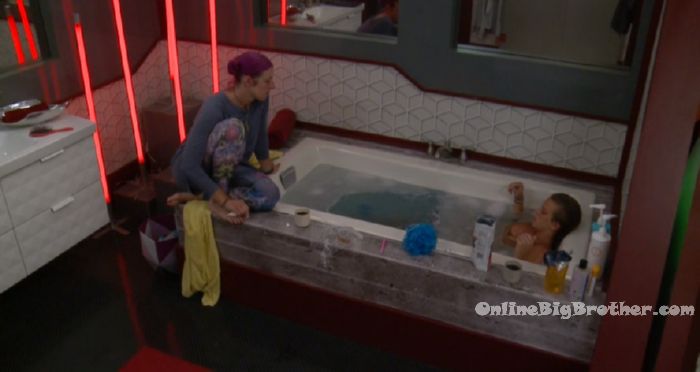 9:10pm – 9:20pm Rockstar – I didn't come here to have life experiences. It gets real frustrating that I am an easy target. People don't take the time to get to know me. Haleigh – well you're the oldest one here. They haven't gotten to know you so its easy to put you up. Haleigh – you did really good Rockstar. ROckstar – I just thought I was right. Haleigh – you did really good. You were second to Tyler. You beat me, Fes, Kaycee and Angela. Rockstar – I feel good about that. I just f**ked it up. What is Angela going to do if she gets out of here? She is going to go the jury house. She is going to take some swimsuit pictures. Go back to her LA life. Tyler whatever is between you and Haleigh. You wouldn't have even been up there if I hadn't shared my answer. I am so sorry I f**ked us hardcore! I think Tyler respects that I have a family and I want them to come out here. Haleigh – pitch that to him.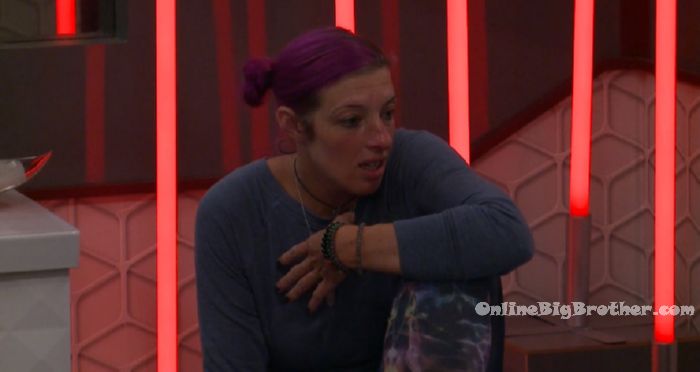 Haliegh – I would offer Tyler 3 weeks safety. Rockstar – I could offer that too. Haleigh – Fes could too. That's 3 people offering him 3 weeks safety. Rockstar – Kaycee and Angela don't really want to be here. Haleigh – you and I are fans of the show. Angela is so boring it makes me sick! She is not entertaining to watch. If I was watching this season I would be pissed that she is still on the show. Like all you do is workout and lay in the sun. F**K she makes no moves. She hasn't won anything. She is not playing this game she wants to get carried. She needs to go. Kaycee wants to float all the way and I get so pissed at floaters. I play this f**king game! Granted I think she won the hacker which means she is playing the game when she needs to. But its like what have you offered to this season!? What have you contributed to MY entertainment?! Rockstar – do you think they threw the competition to Tyler? Haleigh – I think it was an option of theirs. .. no I don't think they did. I think they just lost.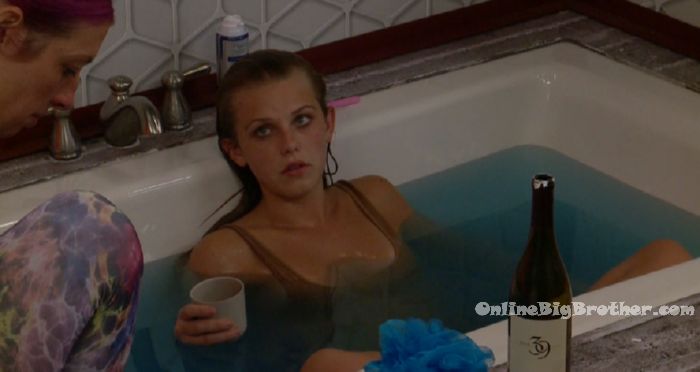 10pm – 10:10pm HOH Bathroom. Heleigh, Rockstar and Tyler. Rockstar to Tyler – I have a safety commitment to you from Fessie, Sam, Haleigh and myself so lets count because I am stupid. That's one, two, three, four people that would keep you safe if they won HOH. How many people do you have keeping you safe? Two? Tyler – maybe. Rockstar – Fess has won vetos, Sam's a crazy person on a tree, I've almost .. I am coming up on mine .. lets be real and this one (Haleigh) is sitting right here. That's four people that are guaranteeing you safety. And you can check that with Sam who never breaks a promise and Fess who doesn't break a promise. Tyler – were you the hacker? Did you put me up yes or no? Haleigh – I am not coming for you in this game. Tyler – did you ever come for me? Haleigh – possibly. Rockstar – what she did or did not do has nothing to do with me. Haleigh – I am the hacker and I never intended for you to go home. Rockstar – Angela and Kaycee run around here so f**king comfortably every single week. They haven't made any moves. I'm not even convinced that they want to be here. Tyler – yeah, I'm not a big floater fan. Rockstar – right. And neither are we. Tyler – yeah, you're out there killing it. Rockstar – well trying. And I have Sam.. what's that saying ..tame that lion. Sam talks game with me and only me. Everyone knows they can trust Sam. Haleigh – I am not coming for you. I am telling you right now if Angela comes off I am not putting you up. Tyler – well I don't think it can be because I won the veto. Haleigh – yeah right. If it wasn't you there was another plan. I am telling you, you are not my target.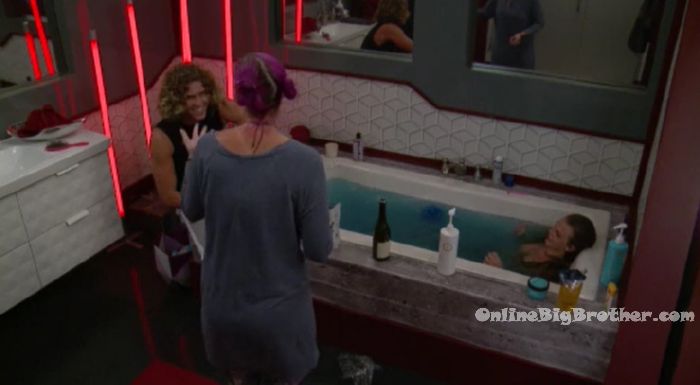 Rockstar "Angela & Kaycee run around like…"@bigbspoilers #BB20 pic.twitter.com/0Qvn5gpH0f

— Dawg (@DawgsBigBrother) August 12, 2018
10:20pm Rockstar – that OTEV lit a fire under me! If you use this on me its not just two people protecting you.. two people that who knows if you can even trust.. because their girlfriend Rachel couldn't trust them. Bayleigh couldn't trust them. Haleigh – think about your relationship with them and what it was two weeks ago. Tyler – that's why I have a lot to think about. Haleigh – I am sure they promised you the world and deals. Tyler – that's the thing they haven't. Rockstar – well there you go .. I'm telling you four people are. I fell asleep last night and got woken up to Angela fake giggling with you. I can't do that. Tyler – do you think I am going to fall for that sh*t. Twice in one f**king season!? No! Rockstar – You should have heard her talk about Kaitlyn when she was playing that game. I would never flirt my way into .. so I fall asleep to her doing the exact same thing?! The b***hy part of me almost got up and was like do you remember when you were talking all that sh*t?! Haleigh – mad sH*t! Rockstar – and I am sorry .. you are hilarious and beautiful but you're not that f**king funny. Tyler – trust me I am not stupid. Haleigh – she (Rockstar) all ways calls you a lamb. Rockstar – a gentle lamb. Haleigh – I was trying to convince Rock that her council and advisement are important to me and I think its important to several other people. Rockstar – those people offered you safety based on the importance of that council. I got Sam to finally talk game. Haleigh – which is a feat in itself.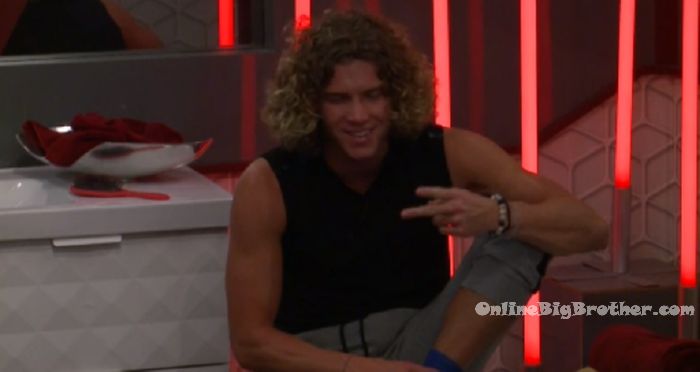 10:50pm – 11:20pm HOH room. Tyler and Haleigh. Haleigh – I am not coming after you. Tyler – you put me up! Haleigh – I don't know what Angela offered you but I can offer you more. I can offer you more people. Tyler – I just really wanted to he here. Tyler – I am going to let you enjoy your.. sober up a little bit. Haleigh – i'm a bit tipsy. Where's your eat at? Tyler – I don't have decision. Haleigh – obviously! I am offering you my life.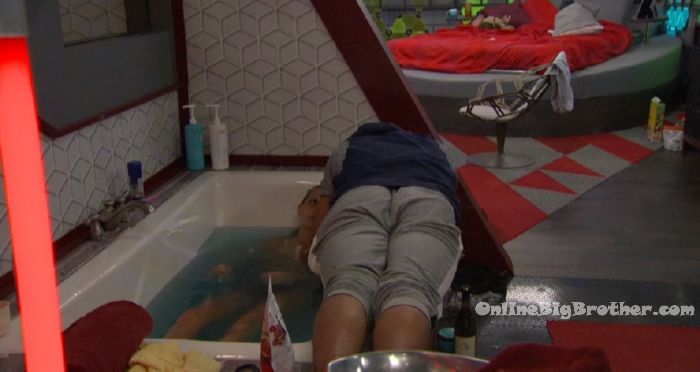 11:25pm – 12am Haleigh and Fes. Fes – 53 days later. What more am I supposed to do? Haleigh – tell me if you flipped? Fes – swear to god. I didn't flip. Hearing that makes me want. You're the only thing I think about in this house. You're going to look so stupid when you watch this. Haleigh – how am I supposed to know that …people come here to lie. Its not that I don't trust you. Just tell me if you flipped? Fess – will call a house meeting and tell everyone how I voted. Everything I do, I do for you. Haleigh – I question you and you walk away. Fes – you still question me after 53 days! Fes – I did not flip on the Brett vote. Both times I said I vote to evict Brett. Haleigh – promise? Fes – I'm not pinky promising. That is so stupid! I just want you to look me in the eye and believe me. Haleigh – so you won't pinky promise me!? WOW you're not ready to commit to a pinky promise!?? Fes – what I am saying is just because I pinky promise doesn't mean I didn't flip. Haleigh – pinky promises are a big deal. Fes – yeah they save you from vetos. Haleigh – I want to trust you but we weren't that close during weeks 1 – 4. You weren't that into me then, you were into Kaitlyn. Fess – go home you're drunk! Haleigh – you entertained her. Fes – like you entertained Brett and Tyler. Rockstar joins them. Rockstar – I wanted to tell you something alarming.. Tyler lays in bed with Angela and she was giggling. I guess your conversation didn't go so well. Haleigh – it did go well that's why I'm alarmed. Fes – it will be fine. Rockstar leaves.
Fes making moves… @bigbrothrgossip #BB20 pic.twitter.com/dty5RV4AAd

— Dawg (@DawgsBigBrother) August 12, 2018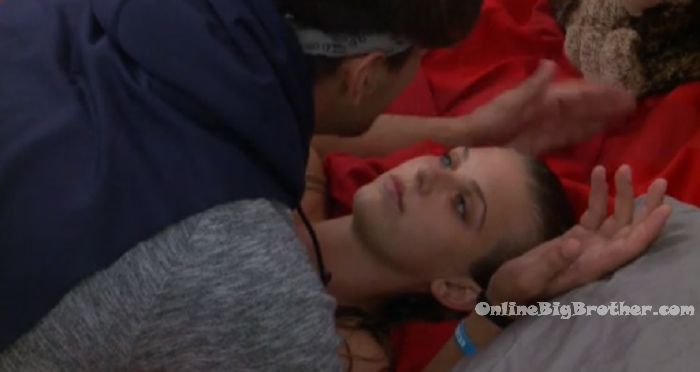 If you like our content please consider a donation
Rank the houseguests!
Easiest way to Rank the house guests use link below