| | | | |
| --- | --- | --- | --- |
| POV: | Tyler | Next POV: | Aug 11th |
| POV Used | ? | POV Ceremony | Aug 13th |
| HOH: | Haleigh | Next HOH: | Aug 16th |
| Noms: | Kaycee Rockstar and Angela | Have Nots | |
12:10am FEs, Haleigh and Rocks
Rocks and Haleigh are talking like Tyler would use the veto on ROCKS after Haleigh told the house that Tyler was her backdoor target.
Fes comments that he would like to get to know Angela outside the house "She's hot"
Haleigh says fes is just trying to piss her off.
Rocks – she doesn't have an a$$ and he likes a$$
Rocks – I think he's going to do it
Fes – I should have a talk with him too about how we share the Kaitlyn connection
H – what's that going to do
H – you do need to try and make a connection though
Fes – I have a good connection tih him.
H – then tell him to use the veto on ROCK
Fes – ok
Rock – reinforce that he has safety
Fes – he knows that
Rock and Haleigh – how does he know that..
Fes burps out something… "look bro I know with the whole Kaitlyn stuff me and yo haven't been on the same page.. "
They laugh at Fes for not making sense..
fes to Rocks "you're on the block for the third time.. you could have won veto but you told Tyler and I'm trying to help you and you are making fun of me"
Rocks – you are supposed to be my champion warrior knight..
Fes brings up Angela being the hacker
Haleigh – she would have to be a dumb a$$ to not take herself down
Fes – if you are Angela and you are the hacker.. if you take yourself off and pick yourself to play in the veto people will know you are the hacker but if you take yourself off and don't pick yourself to play in the veto yo might be a replacement nominees.. but if you take someone else off and you get to pick the player to play ion the veto you have two chances to being safe on the block yourself playing and your person you used the veto on last week..
Haleigh brings up Angela crying after Tyler won the Veto. Haleigh hopes she cries like that when she's still sitting on the block Thursday.
Fes – I think Tyler is stupid enough to think that you know what If I save Angela I have Angela and KAycee on my team now
Haleigh says Tyler is probably talking to Angela right now saying how he heard my pitch and he's not falling for it
Rocks – maybe
H – I didn't say anything that would incriminate me .. F* him
Haleigh says she told Tyler he needs to do something that show to her they can trust him. "He's like I will I will "
Rockstar – you know Tyler you would be really smart to take us up on the offer (always funny rocks)
Fes – what can Angela offer him moving forward
H – I wish this conversation had happened tomorrow night because she has all day to get her claws in him
Fes – if he uses the veto on you I'm going to die
H – if he uses the veto on you after I Completely let everyone know that he was the target this week
Fes – and Angela was the one that pulled him off ..
H – I will lose my sh1t
Fes – we should backdoor his a$$ next week
Fes – either way he's getting backdoored next week he's won 5 comps
They laugh.
Fes – he knows he's getting backdoored that is why he needs 5 people (the alliance that the HIVE is offering him)
Rock – Brett didn't promise him safety.. JC didn't promise him..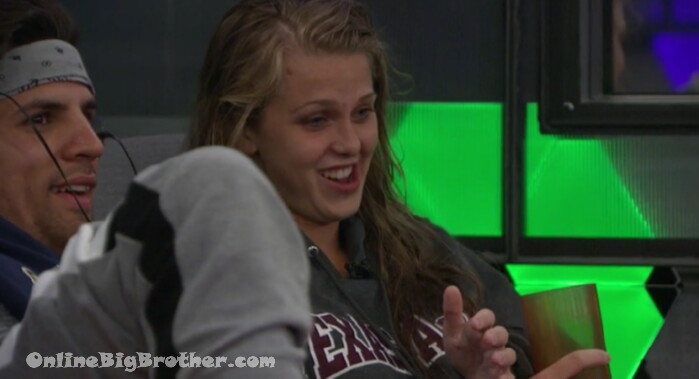 Haleigh laughs at Tyler asking her where Brett is in all this. haleigh said that Brett is 1/2 on Tyler's side. and Tyler told her "I want that" Haleigh replied good than use the veto .
Rockstar laughs
fes – this guy is dumb as f*** (XOMG_)
H – no he's not.. he hasn't done it yet
Rocks – he's just a gentle lamb.. (Good god)
H – stop saying he is dumb
Fes – he is dumb
H – if he does this I might not go after his a$$ .. for at least a week
Fes – you're on the block and you take a pinky promise over the veto
H – it worked for him
Fes – in the time you're not dumb
H – no because it worked..
Fes – you would of done it..
H – yeah.. had he done it and stayed on the block.. yes but he didn't
fes – I'm sitting here calling him dumb the only way he uses this veto is if he's dumb
Rocks – we want him to use the veto
H – stop.. you are being real negative.. I want someone that is positive.. someone bring JC in here.
Rocks – if we hold true to our word it is a smart move for him because he only has 2 people vs 4 people plus Scottie
H – I brought that ups several times and he said haleigh i'm not stupid I know the numbers..
Rock says that Tyler told her that all he wanted was a real offer because the other side hasn't given him that.
Haleigh brings up Tyler tell him all that Angela said to him was "You know I will return the favour"
H – he said an offer goes a lot further.. to sit there and assume I'm naive like that.
haleigh says her speech is going to be so good "I'm on my power trip I have begun this week is not over yet Kaycee take a seat"
H – it's a power trip now b1tches
Haleigh says Scottie hasn't been in her room which is a bit concerning.
they look at the HOh spy screen where sam is baking a pie. Rocks comments that Sam is so alien with her game talk.
Fes tells Rockstar that they got her, "who would have thought all three of us would be here day 53"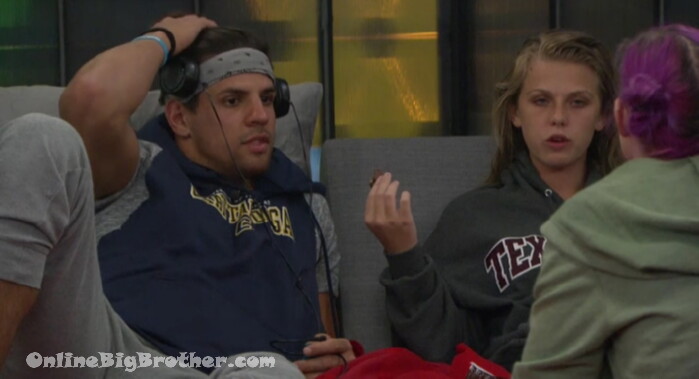 Haleigh – noone talks game like we do.. Like nobody openly speaks game with anyone else. Even Scottie and Tyler don't and they are very close it's a benefit
Haleigh – go hang out with Sam.. she's being weird..
Rocks – she's Happy..
Rocks leaves "I feel very confident"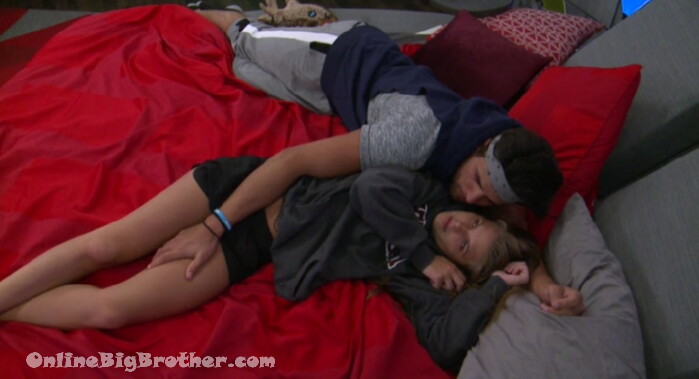 H – fes did you use my conditioner ..
Fes – just a dab..
H complains that she's running out.
Fes – what if I win HOH next week
H – I would be excited
Fes – what if I would have kissed you.. you would have been so mnad
H – No.. No I wouldn't have
fes – f*** .. if we make it to top six we should do it in front of everyone because they'll speculate it already..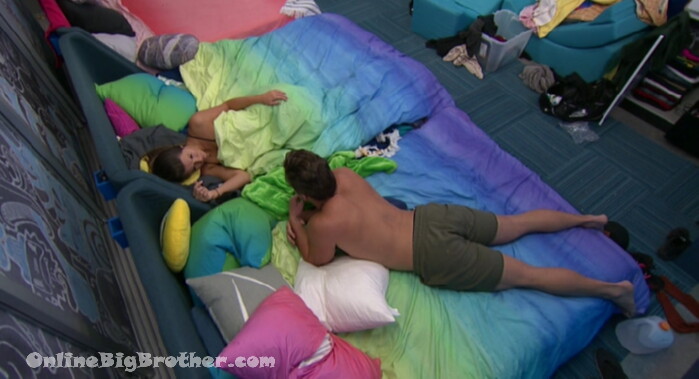 12:20am Angela and Brett
Angela would like Hayleigh to put someone up other than Kaycee to get more blood on her hands. They notice Sam has shifted back to being with them after the power has shifted to their side after Tyler's Power of Veto win.
They bring up again Sam shifting from side to side as the power shifts. Brett says half of it is strategy and half of it is really the way she is.. Brett is convinced Sam is playing the game and it's all an act. Angela – there's no way she's going to win with that strategy. Brett – she will be one that floats to the f*ing end might win and HOH here or there. Angeal says Scottie and Fes are bigger priorities over Sam.
Brett – I agree
Brett – fes has to go
Angela says Haleigh and Scottie are very close.
Brett says Fes is set in his ways he's never going to deviate from his day one plan Swaggy's plan, "Everyone else can be molded"
Brett says fes is straight up gunning for him.
Brett says Scottie and Fes aren't necessarily close they butt heads.
Angela – interesting.
They agree getting Fes out during a double would be a good play.
Brett – JC is on board with us..
Angela says the other side only see them as three right now that is why Brett has to keep his distance from them. In their eye it's only Angela, Kaycee and Tyler.
Angela – once they start seeing us as a four they will start coming .. if you can pull JC in .
Anegla says JC might tru to even out the sides and pull Brett and Scottie in.
Brett doesn't think it will be easy for JC to detach from Fes and Tyler. In jc's mind those are his 1 and 2.
Brett – he loves Tyler.. JC….
Brett goes on to say that JC has an emotional connection with Fes and Tyler, "He's not like that with me"
Angela – he might flip over to me Kaycee and Tyler
Angela – what you said is right now he's going to try to even the sides out
Brett – he'll vote Rockstar out this week.. that will put them at three and you guys at three..
Brett says that JC thinks that he's detached from them "makes me nervous in the scenario I go back on the block"
Angela says they say her and Kaycee were close that is why they went up, "She wanted to backdoor Tyler"
Brett says how weird it is that the other side is trying to pull Tyler in.
Angela – they are just bullshitting him .. he knows they are.
Angela says next week it's only 6 to 2 because this week Rockstar is leaving.
They start going over votes if Brett is on the block.
A – We have the numbers
Brett – I don't feel safe with JC.. if he thinks I am there..
Brett – Scottie told me Fes was pushing hard to use me as a pawn and Haleigh shut it down..
Anegla says Haleigh putting them up was the stupidest move none of them other than Tyler were coming after her, "and now"
Angela – Sam should have been the pawn and either me or Kaycee
A – Scottie Fes on this side is two.. (votes)
Brett says Fes' vote would be cancelled.
They count the votes for ROCKSTAR . Brett, Angela, Tyler to vote out Rocks. Sam and Scottie vote out Kaycee (assuming Kaycee is the renom)
Brett – if JC's vote doesn't go the way we want it to .. it'll go to a tie..
A – it's all on JC and Sam.
Kaycee joins them. they talk about JC playing the middle. Kaycee says Fes was threatening JC that he needs to keep Rockstar other wise he'll be on the bottom of the totem poll on this side and be used as a pawn.
Kaycee asks if she's going back up
Brett – if she's smart.. gets less blood on her hands..
Kaycee – she told em I wasn't her target.. she said kaycee you are not my target I wanted you to make it far in this game.
Angela starts talking about them getting Sam nominated because they know they can count on Kaycee's vote.
Brett doesn't think that will happen the only way she would do that is if Tyler used the veto on Rocks
Angela mentions that JC won't vote her out over Sam. "I just hate having to rely on any vote.. we are solid.. JC I feel we're solid.. "
KAycee says they are solid with JC.
Brett is going to work on Scottie tomorrow to see where the Haleigh's head is at.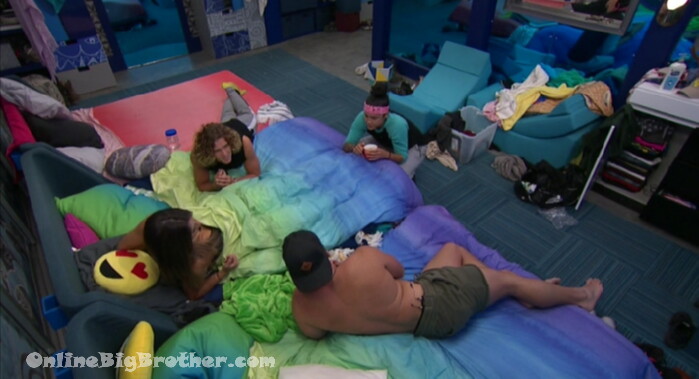 Tyler joins them.
Tyler – If I use the veto on Rockstar they will offer me safety
Tyler says Rockstar told him she has Sam .. So it's Fes, Rocks, haleigh and Fes offering him the deal. Kaycee knows Sam will vote to keep her over Rocks.
Tyler says Haleigh thinks kaycee has the power but he's thinking She;ll try to put Kaycee up if Angela goes down.
Kaycee – I'm going to act safe.. just to f* with her
Brett leaves..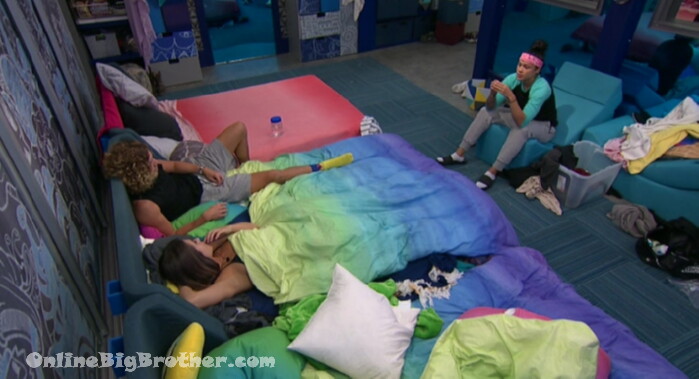 Tyler is saying that Rockstar is running the side over there now.
he mentions how it's not a hard decision for him to use the veto haleigh is making is sound like it's a possibility he might not use it.
Tyler – Angela used the veto on me last week.. and you (haleigh) put me up as the Hacker..
they laugh at the other side's attempt to pull Tyler in this week.
Tyler – the dumbest sh1t I've ever heard.. the worst pitches ever..
Tyler says they were trying to tell him that Angela was coming to him recently out of convenience. They have no idea who is working with whom
Tyler – that's the thing they have no clue about 6..
Tyler says the other side thinks Angela and Kaycee are floating..
Tyler – what do you mean she's floating she just won a HOH and veto last week..
Tyler – their whole pitch they have Haleigh , Rockstar and Sam.. if I tell JC that he;'ll be like f* and jump to this side..
Kaycee leaves..
Anegla – this week went down perfectly
Tyler says that the other side doesn't have a clue about what's going on..
Angela says Scottie has got to go she can't believe him.
Angela brings up how Sam shifts back to them now that they have power.
Tyler says he's noticed that as well..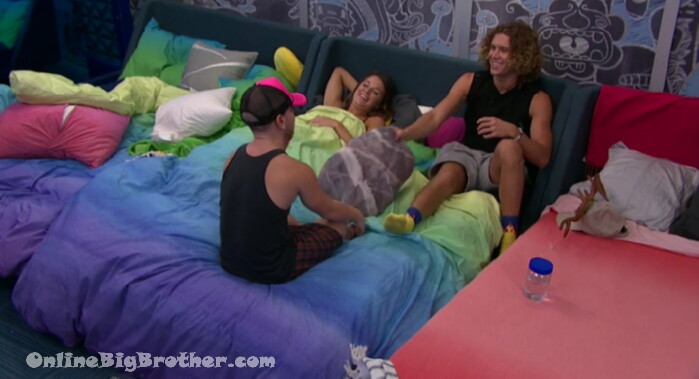 1:10am JC joins them.. teases with Angela and Tyler that they are related..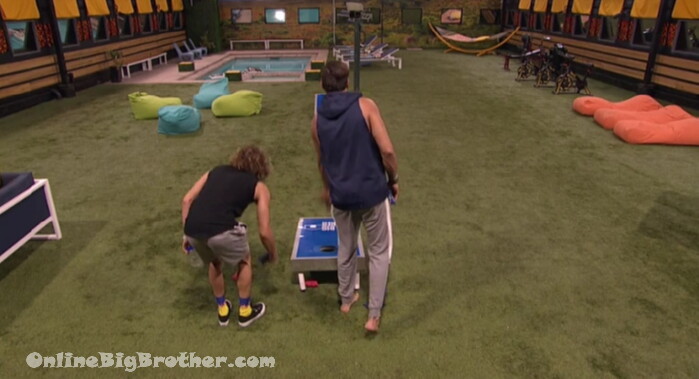 1:17am Backyard is open they got cornhole..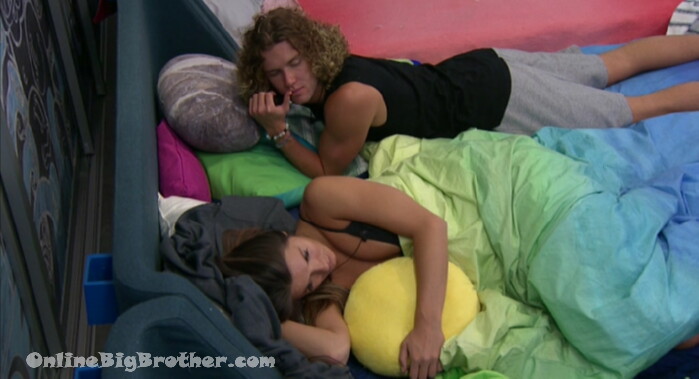 1:21am Tyler, Angela and Kaycee
Tyler says Rockstar is the one that is saying she got Sam for that side. if Rockstar is gone we got back Sam. Kaycee – when ROCKSTAR's goen tell Sam that is what they said I dunno.. if Sam heard that she would be pissed.. Angela – you can tell her on Thursday.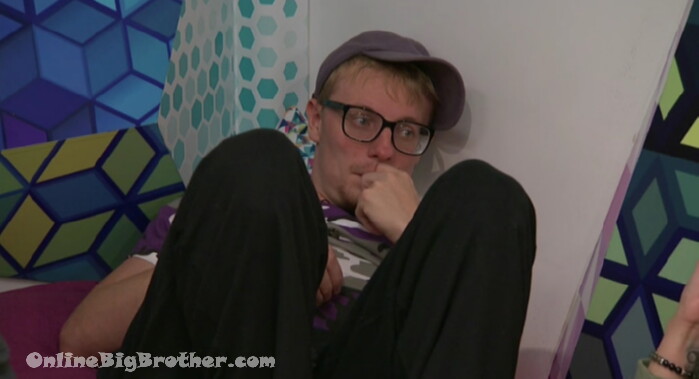 12:46am Scottie, ROCKS and Haleigh
Haleigh – my pitch was so good.. I hope I can see it ..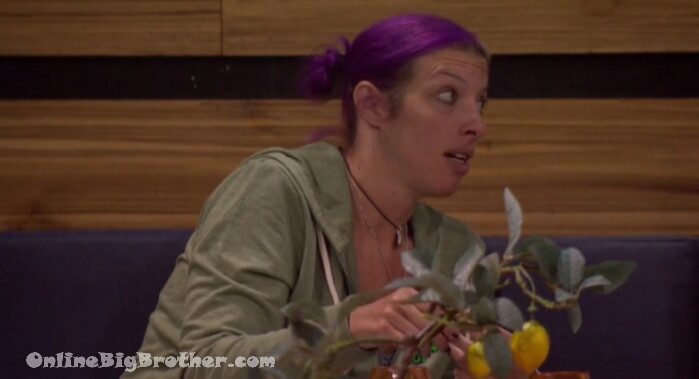 1:51am Rocks and Sam
Rocks bringing up how much she trusts Sam and Haleigh.
She's talking about some 7 person alliance she's trying to form. There's the core Sam, Haleigh and her. They Have Fes and Scottie close, Brett and Tyler moving closer.
Rocks says she's tried to work with Angela and Kaycee from the beginning but they have resisted them at every turn
Rocks says KAycee and Angela threw RAchel "under the table"
Rockstar pours scorn on Kaycee for not voting to keep baylegih after Bayleigh and KAycee were so close that week Bayleigh was teh HOH.
Rocks says that Angela and Kaycee are trying to pull Tyler in
Rocks says that Angela is doing the same thing with Tyler and KAitlyn did… she accuses Angela of flirting with Tyler
Sam tells her to keep her abreast of what is in her best interest moving her game forward. Sam adds that she can trust Sam with neutral information.
Rocks says they think Kaycee has a power so if Tyler uses the veto on Angela and Kaycee can't go up maybe JC would go up.
Rockstar says Angela is the target of Haleighs's all along.
ROcks – you're not going up.. we need to make sure it's somebody that won't go up with Angela..
Sam says they don't know who has the last power
Rocks – it could be expired..
Rocks – kaycee and Angela have refused to work with us we've tried several times..
Sam – I just kept thinking there was more with BAyleigh that she would just come back..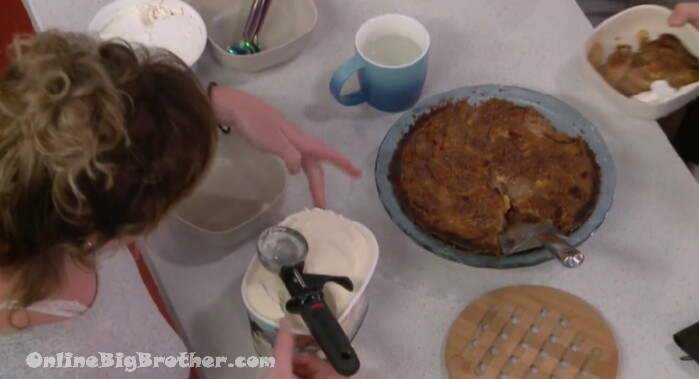 2:05am – 3:08am Sam cuts her pie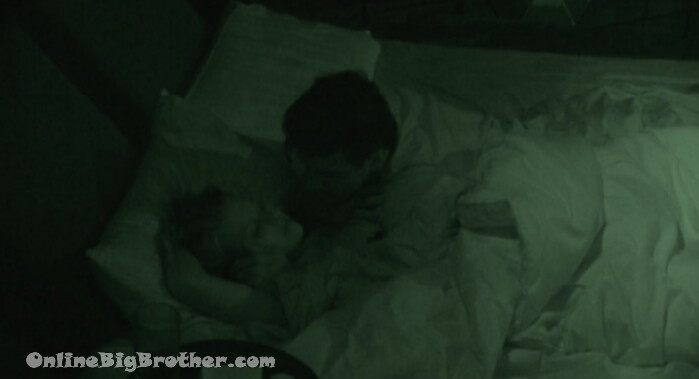 Look at the lucky boy who gets to sleep in the HOH room.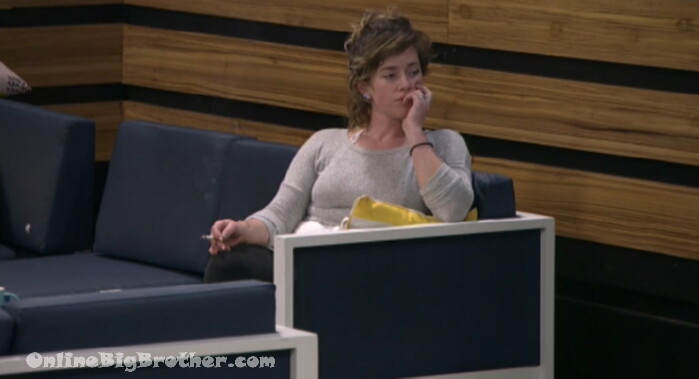 3:22am Alone.. 
10:24am they are waking up….
A real easy way to support the site if you are an amazon shopper is to make your purchases through our link. You pay the exact same thing but we get a small % commission. It doesn't cost you anything and helps us out.
Amazon Canada
Amazon USA