| | | | |
| --- | --- | --- | --- |
| POV: | Tyler | Next POV: | Aug 11th |
| POV Used | ? | POV Ceremony | Aug 13th |
| HOH: | Haleigh | Next HOH: | Aug 16th |
| Noms: | Kaycee Rockstar and Angela | Have Nots | |
A real easy way to support the site if you are an amazon shopper is to make your purchases through our link. You pay the exact same thing but we get a small % commission. It doesn't cost you anything and helps us out.
Amazon Canada
Amazon USA

Big Brother Spoilers – There was an argument in the BAthroom prior to the POV players being picked. Rocks came at kaycee …
Power of Veto Players were picked: Haleigh, Rocks, Angela, Kaycee, FEs
Hacker picked: Tyler
Host: Brett
It was the OTEV Competition.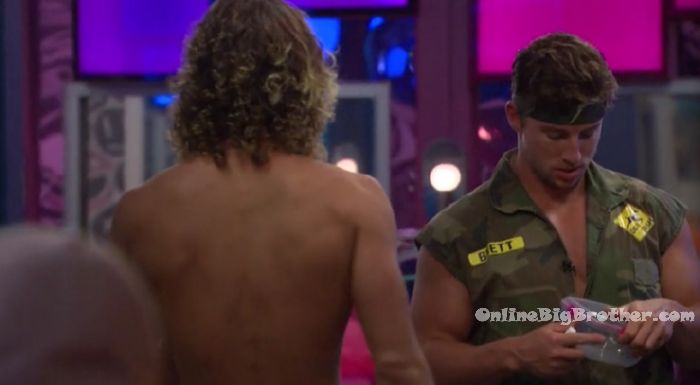 4:25pm -6:37pm Big Brother blocked the feeds for the POV competition. Fes and Haleigh head up to the HOH room. Rockstar joins them. Rockstar – I am an idiot! A F**King idiot!
Bathroom. Kaycee, Angela and Tyler. They talk about how the had peanuts in their pockets. Tyler – that's the trick! That had to be one of the craziest competitions.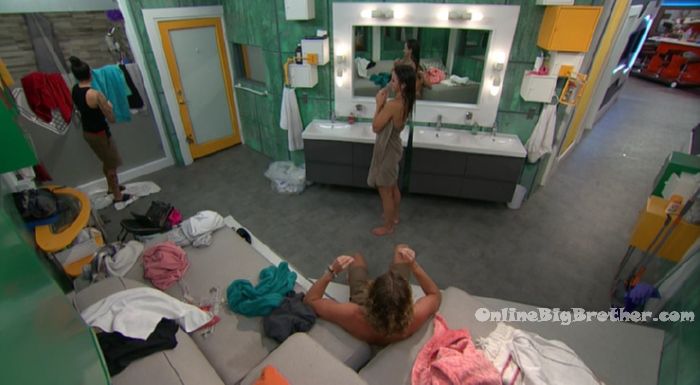 Kitchen – Sam – I am just falling in love with you guys all over again.
6:46pm HOH room. Rockstar & Fes Rockstar – hopefully Tyler is a man of his word. Fes – what did he say? Rockstar – I said he wouldn't be up here if I didn't help him. I didn't help him on purpose. Don't f**k me Tyler. Don't f**k me! He said I won't. I definitely didn't throw it, I am just an idiot! I am just a f**King dumba$$! A f**king dumbass. Fes – we'll figure it out. Worst case scenario he doesn't use it, you don't go home. Why would anyone vote you out? They will just throw you on the block next week. Rockstar – I guess. F**King Idiot!

6:50pm Storage room. Rockstar, Sam and Scottie. Sam – physical competition your killed it! Rockstar – but I didn't. Sam – you came in second to Tyler. Rockstar – the only silver lining is that Tyler wouldn't be up there had I not checked in with him and he realized he wrong, went down and so when it was just us two I said Tyler …do not f**k me! You wouldn't even be up here if I wasn't a f**king idiot, so don't f**k me. Scottie – did he say anything? Rockstar – he said okay. I said I'm serious. I mean I didn't intentionally show him the answer.. I was double checking because its your running so fast and your mind isn't like.. I mean he would have been wrong. We will see he gave me a hug and said we would talk.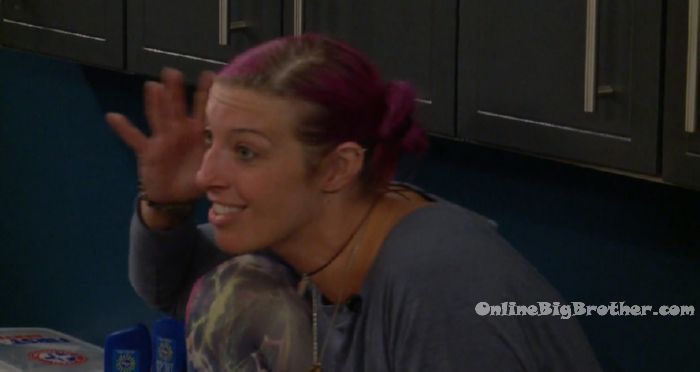 7:07pm Bedroom. Tyler and Rockstar. Tyler – that right there showed everyone f**k off I (Rockstar) will win a physical competition. So you can shut up! That's what you showed everyone right there. I have a lot to think about. She did this sh*t to me last week. Rockstar – that sh*t with Bayleigh was real complicated. Tyler – I have a lot to think about Rock. Rockstar – I guess I want you to think about how you and I have been friends. Tyler – and I voted to keep you last week. Rockstar – you wouldn't have even been there if it wasn't for me. It would have been me and Haleigh. I am not going to lie and say I did that sh*t on purpose. Tyler – we both f**ked up. Rockstar – I could have easily taken myself off. I shouldn't have been up there in the first place. And everyone in this house thinks I am so f**king weak. Tyler – you're not weak. Not a damn person thinks that. Rockstar – this is the third F**King time. I can make you promises that I can keep. That did light a fire under me. I wouldn't put you up or backdoor you. Pinky promise, handshake, blood oath. Tyler – I know, I believe you. Rockstar – I don't want to be up there for a third time and have to give another speech. Tyler – I need to talk to Haleigh. Rockstar – you can trust me. If I stay on the block and stay.. I've got the winning fire under me. I would like to have one less person .. like nope not him. Tyler – trust me I am not taking this sh*t lightly.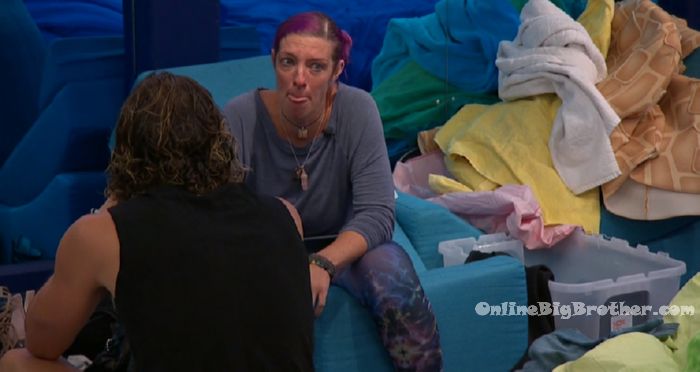 7:19pm Havenot room. Brett, Angela and Kaycee. Angela – I was going to sh*t myself. I was so scared. Kaycee – this is shocking. Brett – when Rockstar was up there I was like MOTHERF**KER! Kaycee – we have the numbers. Brett – not if she puts one of us up there. Kaycee – yes we still have the numbers. Brett – if we take Rockstar down and she puts me up there. Angela – no he is using it on me. Brett – oh gotcha. Scottie is as tight as it gets with her (Haleigh). He is tighter than Fes. So the only people that leaves is Sam and JC. There is no way she will get rid of Scottie, Rockstar or Fes. I've been up there trying to work angles. Kaycee – we have the numbers. Rockstar is going to go home on her HOH. Brett – that's the best part, there's no blood on our hands. Angela – lets just get rid of Rockstar, I am so sick of her in this house. Brett – Rockstar said that if Tyler won she was going to cry as hard as she could to get him to break. Angela – and I can be like I just used it on you last week so I hope you return the favor. Kaycee – we are safe, we are good, no one is going home. Brett – Rockstar is going home on Haleigh's HOH. Kaycee – America is going to flip the f**k out! Brett – I just love that I get to give her a goodbye message. That's all I care about as long as I go after Rockstar. Dude I am in with over there. Kaycee – Level 6 made it ..we had two of our people on the block.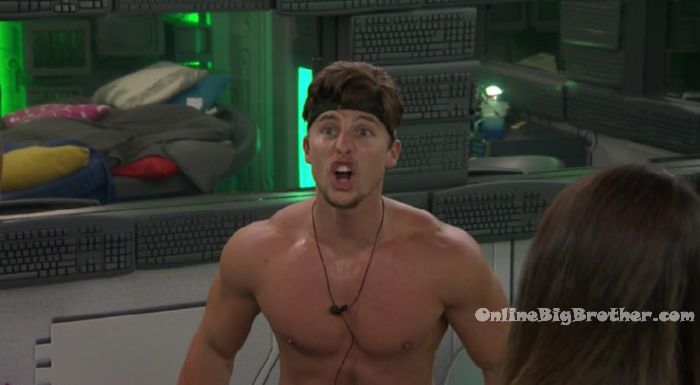 7:20pm – 7:45pm
HOH room. Haleigh – why the f**k would she (Rockstar) show him the answer. He (Tyler) is going to take Angela down. Fes – does Kaycee go home over Rockstar? Haleigh – you need to talk to him. Scottie is going to. WHY WHY! Who do I put next to Rockstar that goes home? Fes – you only have two options (JC or Brett). Is it worth losing JC over Rockstar? Haleigh – why did she do that!! Fes – We look like idiots for cheering for her. Now she is going to be up there all week. She needs to start campaigning. Haleigh – Thats what I told her. Brett said that he would vote to keep Rockstar because no matter who goes up against her they would be more of a physical threat. Haleigh – if I put Kaycee up and she has a power to take herself down .. Fes – so what they you put someone else up. You don't not do it because you think she might have a power. Haleigh – why did she show him!!?! Fes – on the bright side Tyler just won another comp .. that's 7 (wins). If she has a power who else do I put up? JC? Brett? Scottie? I trust that Brett would never put me up. We don't have an alliance or anything but. In the history of Big Brother I have never seen something so dumb! Why didn't she just show me when I got up there? They're picking us off one by one. I do not want her up here .. I can't listen to her complain about it when it was her fault. Tyler told me that if he didn't see his face up there (nom'd) .. then if he won the hacker or the veto he would do what I wanted with it. Fes – that was before he won it… of course he's going to say it. The fact that he trusted Angela that much last week that he trusted her to take him down and now she needs it this week. Fes – can we still have fun this week? Haleigh – no, my friend is going to go home again this week and its my fault. Haleigh – I don't trust you sometimes. Fes – are you serious??! Haleigh – just because .. I don't know. Fes – Why would you say that?! Are you serious? You don't trust me 53 days later?! Fes leaves the HOH room. Haleigh – Fessie come here!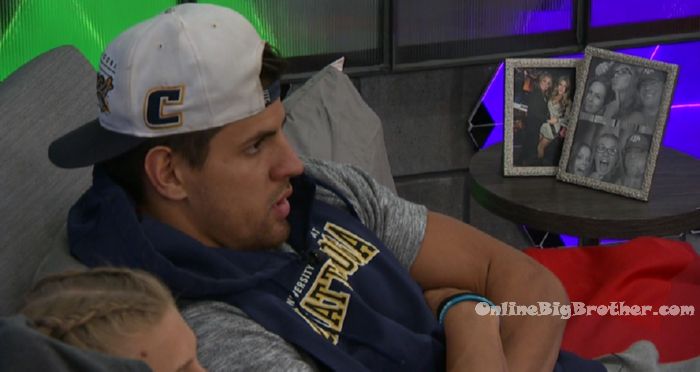 7:40pm Bedroom. Tyler, Angela, Kaycee and JC. Tyler – they were trying to make deals with me. Angela – just find out everything you can. Tyler – I did pinky promise that if I won the veto, I would do whatever she wanted me to do. JC – there is no way you would do that. Tyler – NO f**King way! Are you kidding me. Kaycee – we're good. Good sh*t Ty way to hang in there.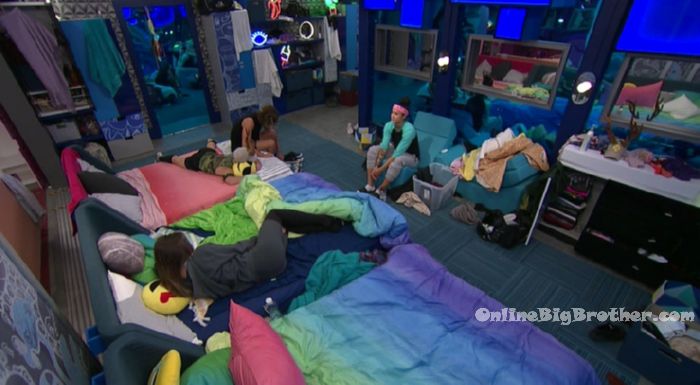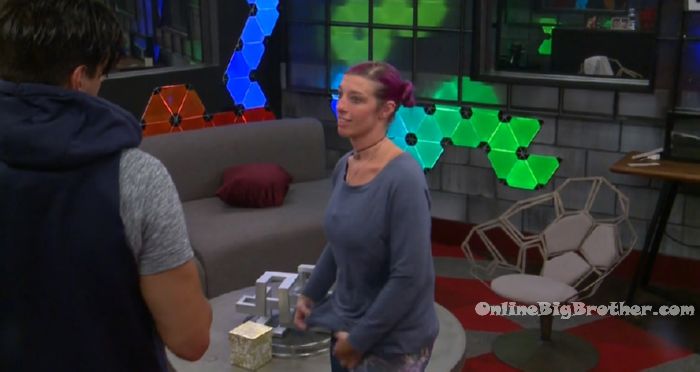 If you like our content please consider a donation
Rank the houseguests!
Easiest way to Rank the house guests use link below