Head of Household Winner – Tyler
Have nots – Bay, Janelle and Enzo
Nominations –
Power of Veto Players are –
POV Host:
Power of Veto holder –
Power of Veto Ceremony –
Safety Suite –
Live feeds —-> Grab your Live feeds here. Try it free.
Rank the houseguests —-> Big Brother 22 Ranking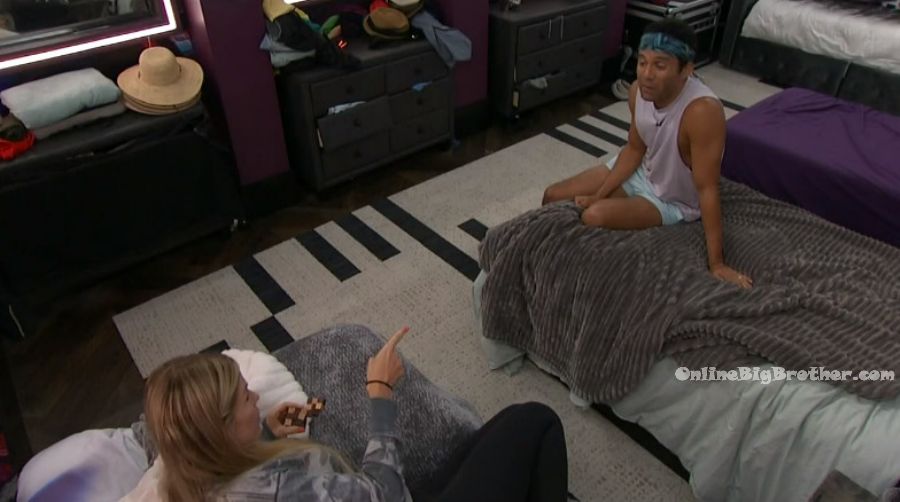 11:30pm Bedroom. Dani and Kevin.
Kevin – I wanted to know all the betrayal. She (Janelle) still sticks by her side that she did not betray NicoleF whatsoever. Dani – oh okay. But Nicole swears she did though right? Do you think it was a misunderstanding. She is a liar. I don't believe anything she says. But do you think it was an actual misunderstanding. Kevin – she really stuck to it. I said to her I am going to be honest with you.. I heard you (Janelle) were smearing my name. Dani – you? Your name!? Kevin – my name. Dani – wait, when did she do that. Kevin – because Nicole told me and I didn't want her to know that I knew. Dani – what did she tell you. Kevin – she was telling Nicole not to trust me. Dani – what did she say when you said that? Did you really bring her to front street? Kevin – I said I am going to be 100 with you because I don't give a f**k anymore. She said I heard you were trying to get everyone to come after me.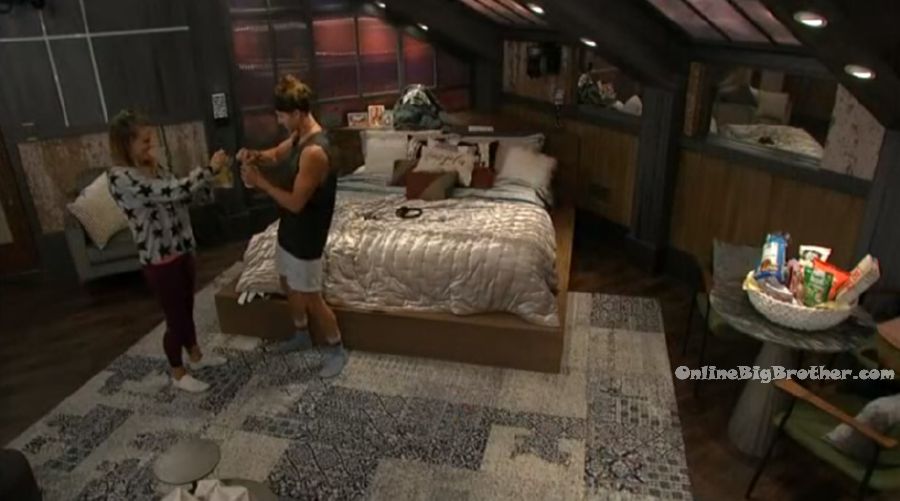 11:35pm – 12:20am HOH room. Christmas joins Tyler.
Tyler grabs two of his alcoholic drinks and they share them. Christmas – we can get Janelle out! Tyler – oh dude! Yes! Its an easy week because they were f**king saying my name the whole time. Christmas – yes! So what do you think about "Carolinas"? Because we're from the south? Tyler – YES! Christmas – I also thought of "Two Aces", "Ace in the Hole", "Two of a Kind". Tyler – I like "The Carolinas" ..I forgot about that. Or what about "North & South"? Christmas – I dig it! Tyler – what do you like better? Christmas – "The Carolinas". Tyler – okay! They agree on that as their alliance name. Tyler – So I am thinking just straight up Kaysar and Janelle (as his nominations). Nicole said that Memphis was just going to throw the safety suite. Christmas – they mentioned something like throwing but not making it look like it so Enzo could win it. I don't know who he would choose. Tyler – with me being in power .. they can kind of just chill. Christmas – in terms of veto.. Kaysar is not in great shape. Cody joins them. Tyler – we were just talking. Just straight up! Easy! Easy f**king A$$ Week! I don't give a sh*t! Christmas – you should be like do I even need a speech? Cody – I want to see what they're going to say to you. I don't think they even know. Christmas – they're disillusioned. Cody – I was talking to Ian and he just said today that he asked Janelle who she would nominate and she said strong athletic guys like Cody and Tyler. Cody – I was so f**king hyped when you got a 12! Tyler – the only issue is if one of them wins veto but.. Cody – its not even an issue because the other one is going. And I am not playing like the one that stays carries though.. no if I win I am throwing the other one up. Tyler – either of them have not made any effort to talk any game talk to me. Its probably preferable to get Janelle out this week because there is a new power next week. If there is an America's vote ..her following is massive. Davonne joins them. Tyler – easy a$$ week. The only thing that could mess this up is if Memphis won the safety suite and took one of them down.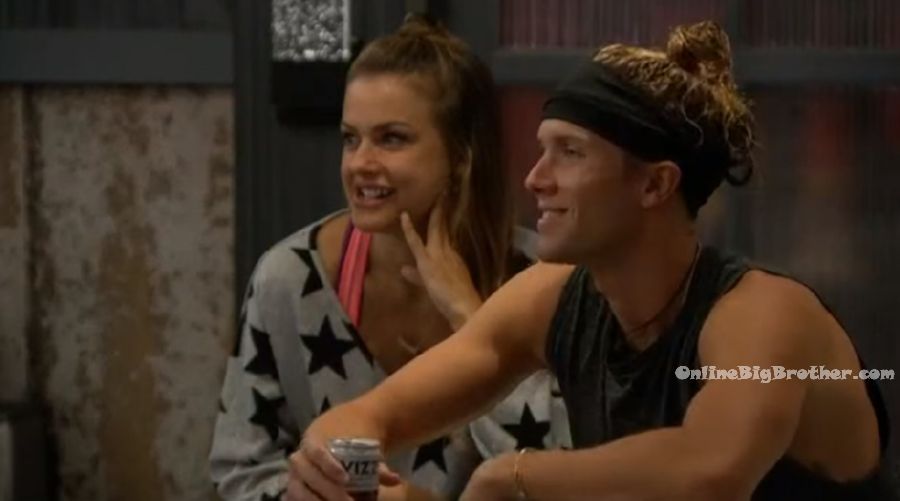 HOH room. Tyler and Dani
Dani – we have the potential to go really far. Tyler – we do yeah.. whether I like it or not because you drive me insane with your sketchy a$$. Dani – why are you so rude. Tyler – now I know it was DaVonne being sketchy. Dani – I am so glad that I caught her in a lie. She came to me and told me that Nicole told her the same thing. And I was like NO, you're a freaking liar. Tyler – then she got caught and shut down for two days. Dani – it was so obvious that she got caught. I need my beets .. no you don't you need jesus. Go read your bible. I am so glad that I caught her in a lie. Those are the things that if I didn't catch her I would have wondered about you. Tyler – and now we know how she acts when she isn't telling the truth. But we will chill on that for a bit.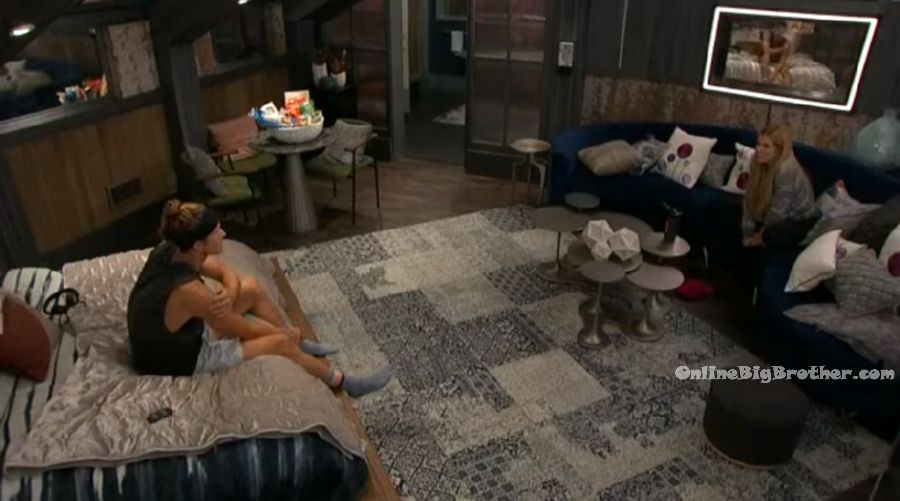 12:30am Ian talks to Tyler.
Ian – I just wanted to talk to you before. I feel like I have a good relationship with you. Tyler – I was going to try and pull you aside before the HOH competition and tell you that if I win you're good. Ian – great thank you. Obviously last week there was a lot of the stirring of the pot and we know who. Tyler – this should be a straight forward week. Ian – they were saying that you and Cody were a pair. And Nicole and I. Oh my god today with that little tiff .. I was sitting there and I am obvious involved and I was like are we sure that we're the ones that won?! Its embarrassing. I was more embarrassed by that than the whole dirk space jammer thing. Tyler – you could tell the Nicole just wanted to get that sh*t off her chest though man. I like Nicole too. Ian – yeah she is cool. Tyler – I like you too.. you're cool. I was thinking that it might be good to keep Nicole and Janelle in here because they'll be going after each other. Ian heads out of the HOH room.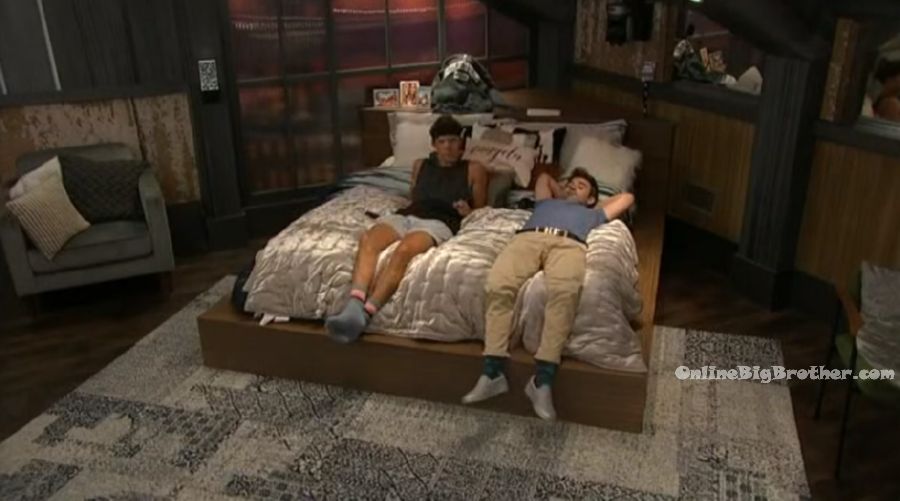 12:45am HOH room. David, Enzo and Tyler.
Tyler – it is an easy a$$ week. And they talked themselves into it. Enzo – yeah get the f**k out of here. So if I win who should I use it on? (Safety suite plus one) Tyler – just don't pick Kevin or Ian.. Enzo – okay because these are replacement nominees? Tyler – yeah. Enzo – just in case Kaysar wins the POV. Tyler – just get them to win it and use it on you. Enzo – yeah maybe I'll throw it and not even win it. David – would you want to be a havenot and have a costume? Enzo – this is in my wheel house. I don't care.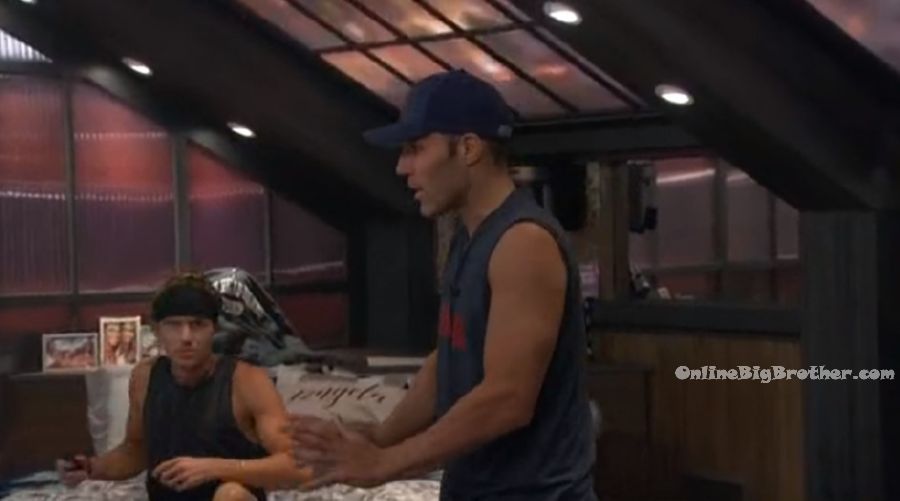 12:53am HOH room. Bay and Tyler.
Tyler – easy week. Bay – you feel good about our six? Tyler – I feel really good about our six. We could like all go the the final 6 and no one would link us all together. That is so valuable. Bay – and because we came together we can link up and take out people that otherwise we couldn't touch. Have they (Janelle / Kaysar) talked to you or asked for a meeting yet? Tyler – no, do you think I should play dumb and try and get more info out of them? Bay – do you have a target? Tyler – with next week potentially having another power that people vote on .. if Janelle is here she is getting the power. Bay – so you would rather Janelle go. We just have to do really good and we could go far. Tyler agrees.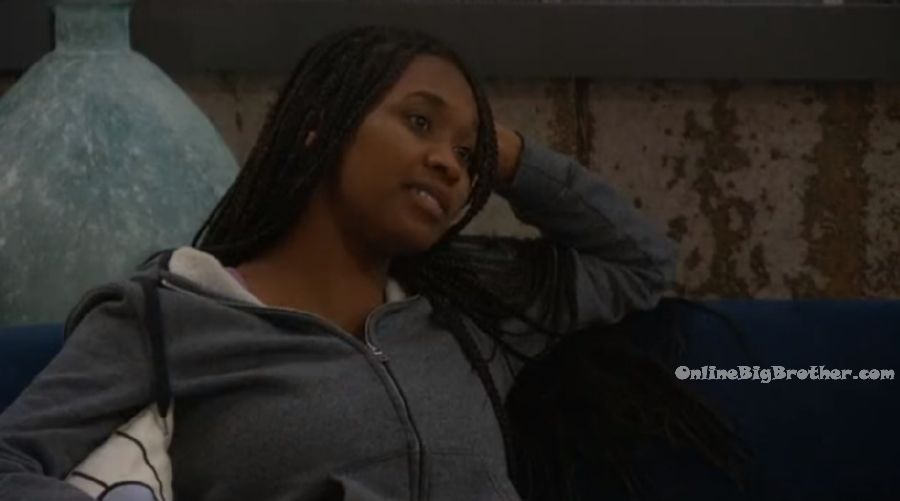 1:10am HOH room. David and Tyler.
Tyler – everyone likes you .. Cody f**king likes you, Dani likes you, all the people that are being open with me and have no idea we're this tight are just saying it out of no where. David – I am still trying to play it far. Am I doing that good? Tyler – the only thing is some people are thinking that you're not giving them enough. I know you don't want to say the wrong thing and get thrown out of here but you have to give back. David – what do you mean? Tyler – if people are telling you that they want Janelle out for a certain reason.. say it right back and give the same reason.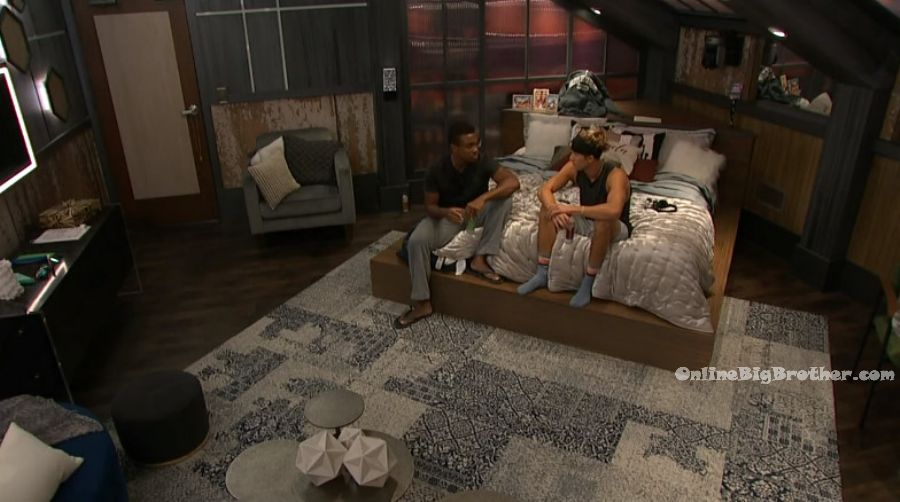 2:10am All the house guests are sleeping..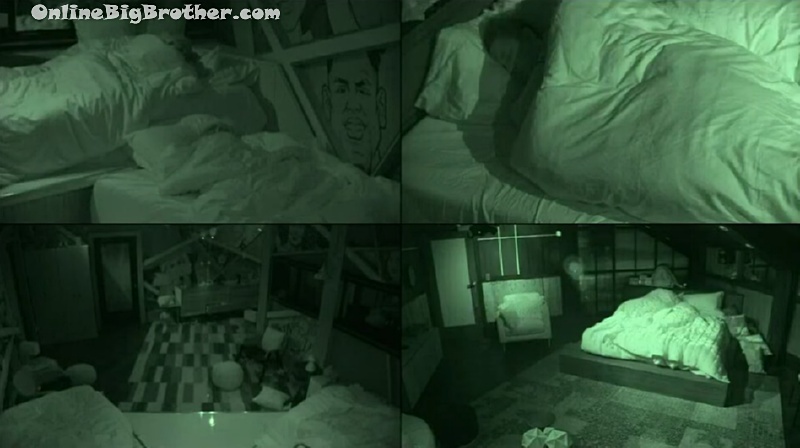 7:48 am sleeping yo