Head of Household Winner – Tyler
Have nots – Bayleigh, Janelle, Enzo yo
Nominations –
Power of Veto Players are –
POV Host:
Power of Veto holder –
Power of Veto Ceremony –
Safety Suite – Enzo wins the safety suite picks Christmas as his Plus one.
Live feeds —-> Grab your Live feeds here. Try it free.
Rank the houseguests —-> Big Brother 22 Ranking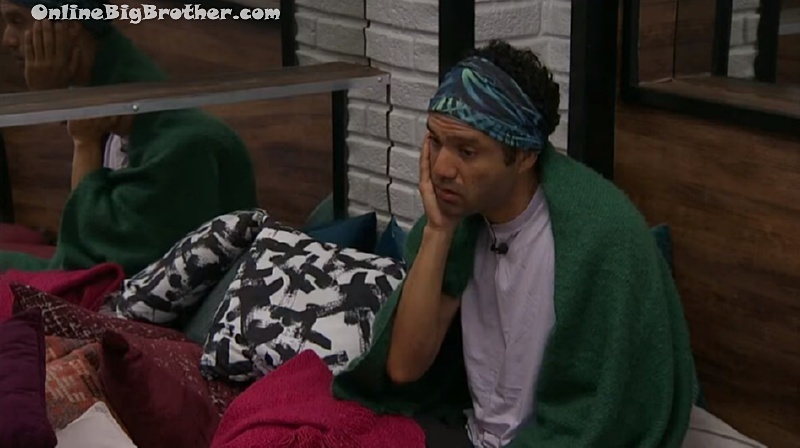 8:43 am Kevin talking to himself.. muttering that he needs to "bring David back"
Kevin talks about how people in the house have outside relations.
Kevin – they're hoping to be on the challenge together. they're hoping to be on the amazing race together.. they have this extra leverage look out for me..
Kevin says he doesn't have that "I can't be like YO when we do the amazing race together."
Kevin – Kaysar has to go, Janelle stays and make it work with the five.
Kevin says he needs to nurture relationships with Cody, Enzo, Dani, Christmas, Bayleigh and Da'Vonne
Kevin – what I can do is saying that Janelle is saying they are in an alliance so I can be like I'm looking out for you give me the information.. Say that to Cody
Kevin goes on to say he thinks Tyler will win this season. (yup .. the final three will be Christmas, Cody and Tyler)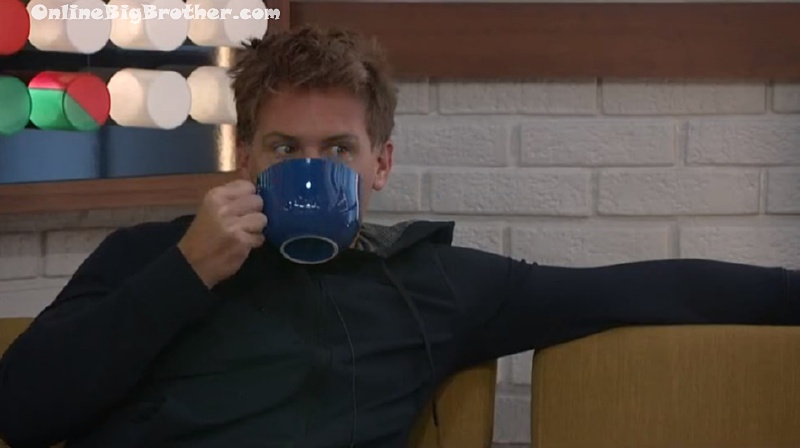 9:23 pm Enzo and Memphis
They bring up the fight last night with Nicole and Janelle.
Memphis – Nicole knows what she's doing.. attentions is drawn on Janelle if Janelle ends up on the block.. Nicole's smart.
Memphis asks who he would pick if he won the safety Suite. "Christmas?"
Enzo says he's always playing with Da'Vonne he's thinking her he'll say he wanted to see her in the costume.
Enzo says he's going to avoid a guy to deflect from the Guys alliance rumors
Memphis – Da'Vonne is easy..
Enzo – I was thinking Christmas too…
Enzo says his options are Christmas and Da'Vonne
Memphis – that little f***er he's gotta go.
Enzo agrees..
Memphis says Ian is the person if you blink he's at the end.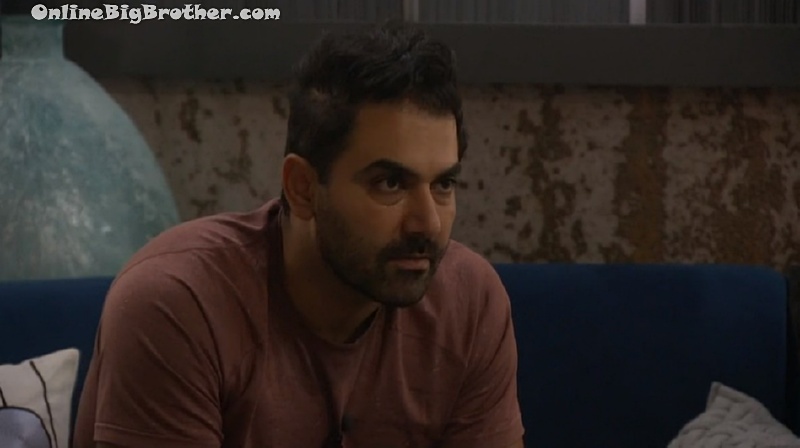 9:53 am Kaysar and Tyler
Kaysar – I wanted to come to chat with you out of respect. I don't have anything specific to talk about I respect your nominations whichever way you go..
Tyler – thank you. I feel like you and I have been closer than I am to other people in this house.
Kaysar – I don't know hat you are going to do I didn't come up here to barter beg. I figured my name is being tossed around
Tyler – everyone in the house just for the record.
Kaysar – I think you guys are putting me up
Tyler- no you guys. this shit it's me.. me and you were close.. there's alliance being tossed out there and have my name in it hurt my feelings.
Tyler asks why did hKaysar and Janelle come to him about an alliance weeks ago
Kaysar – I felt that we were being targeted.. that was the only reason
Tyler – you weren't being targeted by me I told you that man
Kaysar – I think you are an amazing dude.. I got the sense I didn't want to be stupid and be double-cross.. I didn't mean to hurt your feelings.. it wasn't personal
Tyler – its just a game.. I was so straight forward focus on people first and alliances come after .. all of a sudden I'm being thrown into alliances.
Tyler says it could have messed up his whole game because people are believing he's in these alliances.
Tyler wants Kaysar to stay in the game "you're a cool dude and you are here for the right reasons"
Kaysar – I believe you .. Maybe I jumped the gun. I felt the first week. I know it had nothing to do with you you weren't in power. I felt I was being targeted and I was told I wasn't.. I saw associations. I saw how close ou and Cody are and I jumped to conclusions
Tyler – I would have told you if your name was tossed around
Tyler says the first week he was also close to Kaysar.
Kaysar says he's not coming up there to offer Tyler something only because he's in power. "if you decide you're not putting me up and you decide based on what has happened you still want to come to a point where we rebuild that trust I'm for it"
Kaysar – BB put me with Janelle in this house I didn't know where else to go
Tyler says he swears no on in the house linked Kaysar and Janelle together. says that before Kaysar played in the safety suite they weren't targeted not by him he adds.
Tyler – you didn't have to throw my name out there I had you we were tight.. like really tight
Kaysar – LIke I said if there is a path forward..
Tyler – nothing is set in stone
Feeds cut to animals (safety suite?)
Dani, Enzo, Memphis, Nicole playing.
11:47 am Feeds still down
1:02 pm Feeds down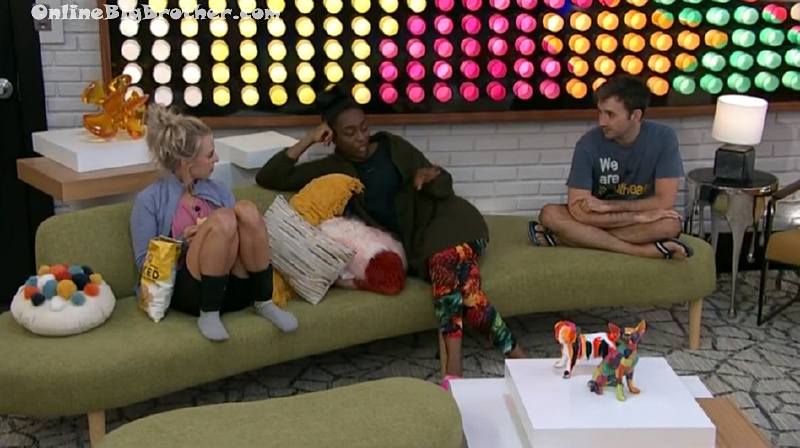 1:52 pm Feeds return
Enzo wins the safety suite picks Christmas as his Plus one.