Quick Big Brother Spoilers
Head of Household: Turner
Nominees: Brittany and Michael Ameerah and Terrance
POV Players: Nicole, Taylor, Michael, Brittany, Turner, Jasmine, (Joe is host)
POV Winner: Michael/Brittany
Veto Ceremony: Brittany/Michael us the veto and Turner puts up Ameerah/Terrance
Havenots: Alyssa & Indy
Lock your ranks in before midnight
Festie Besties:
Turner & Jasmine (She's also safe)
Joe & Monte
Daniel & Kyle
Brittany & Michael
Alyssa & Indy
Ameerah & Terrance
Nicole & Taylor
How Nominations will work: One pair will be nominated
How the Veto Player Pick will work: Turner/Jasmine, nominated pair, and drawn pair
– If one of the pair wins the veto, the other is also safe.
– If the nominated pair comes off the block, Turner would nominate another pair.
– Eviction: One of the pair on the block will be evicted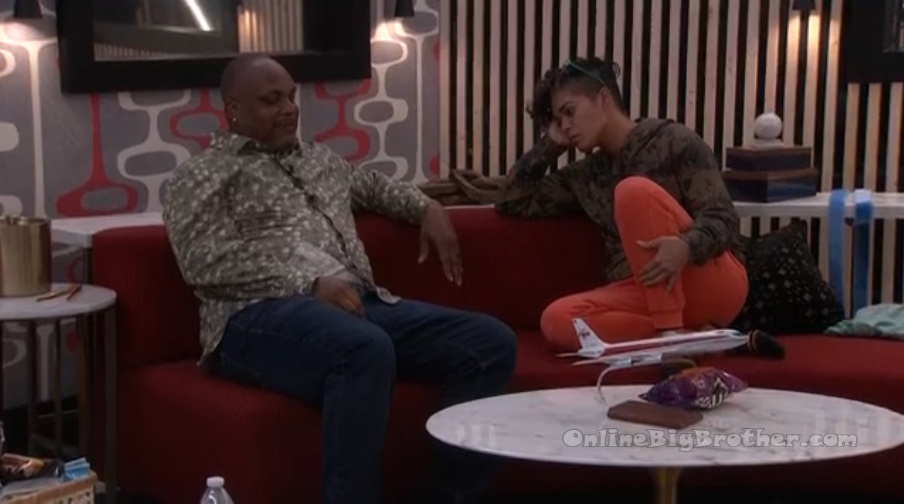 10:03pm HOH room – Nicole and Terrance.
Nicole – I love you so much! Terrance – its okay. Nicole – no its not okay! Terrance – its okay, its going to further your game. Its okay! Nicole – its not okay because the fact that like I expected you to be here the entire time and the fact that you're not going to be here anymore .. its like maybe we should have made our alliance bigger. Terrance – its alright. Nicole – I love you so much! Terrance – yeah. I felt it all throughout the day. I knew it .. it was too hard of a battle for me to.. she is a hell of a player and it is just what it is. Nicole – I was just hoping that after all the conversations you had today.. that maybe something would be different and its clear that its not. Terrance – no. Nicole – I know that Daniel and I are devastated. The way we've reacted to all of this kind of shows our cards a little bit but at the same time everyone in the house knows that I was your number one. Terrance – yeah. Nicole – and the fact that whatever she (Ameerah) has going on is way stronger than what you and I and Daniel have. Terrance – I know it's just it. Its just one of them things.. we just couldn't figure this out. This was the worst case scenario for both sides .. its like f**k. Nicole – I just wish he would have made a better decision if he were going to make the choice if he wanted to make sure he had the numbers if she really was his intended target. Terrance – right. Yeah, well .. sh*t I had fun. Nicole – I learned so much from you… you're my soulmate in this game! You're one of my best friends here. And I honestly don't know how I'm going to be without you here. Terrance – you're going to thrive and kicka$$ till the end.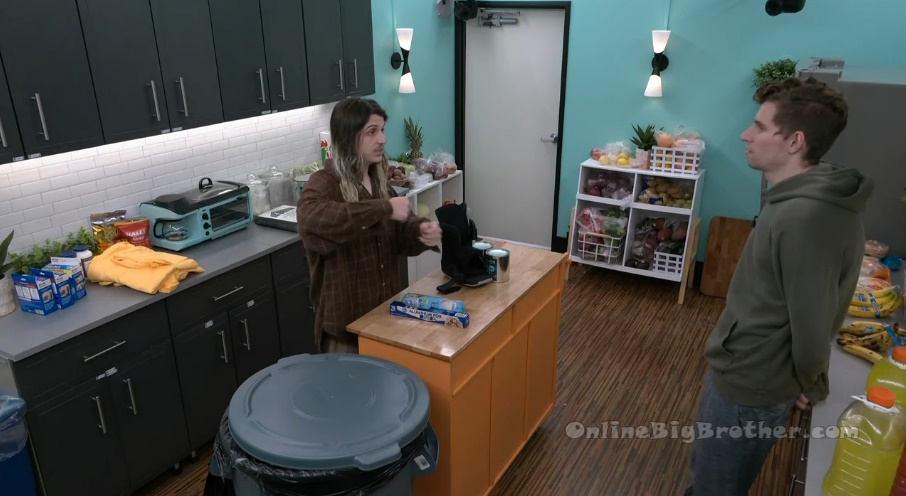 10:11pm Storage room – Turner and Michael.
Michael – Nicole wants Ameerah to stay but wants to give a sympathy vote to Terrance. So I don't know how that plays into everything.. and I think Daniel might want to do the same thing. Turner – well I feel like that is great because then almost 90% of the house will be anonymous and will give a little bit of a f**k up to their group. So if we pull a vote away and they change their mind … we're f**ked. If we just keep it like that and they give their votes… then no one in the house is going to know where the split is in the house because its going to be a split on our side and their side. It will be like an overlap and they'll be like what the f**k?! Michael – I think everyone will know that Indy, Jasmine and Alyssa were the three but those three won't necessarily know.. Turner – oh yeah that will f**k up that group. Michael – it sounds like people on the house side are suspicious of Indy.. like Indy and Monte have something secret going on. Turner – that's dope! Michael – So if they do stick to that .. like Nicole was almost in tears talking about like Terrance going home .. I kind of do what to say like after listening to you I do want to give Terrance a sympathy vote as well. Would you be okay with that? Turner – so she will think that the only vote for Terrance to stay will be you and her. Michael – I think Daniel might do the same. So in her (Nicole) mind it would be 8-3 for Ameerah to stay. Turner – and realistically it will be.. Michael – 8-3 for Ameerah to go. Turner – yeah facts! Michael – I do think she would be livid with me if I don't give her the heads up that I'm voting for Terrance to stay. Turner – yeah do that. Michael – Nicole is telling Terrance that he is going home tomorrow. Turner – really? Then he will be real f**King happy when he stays tomorrow.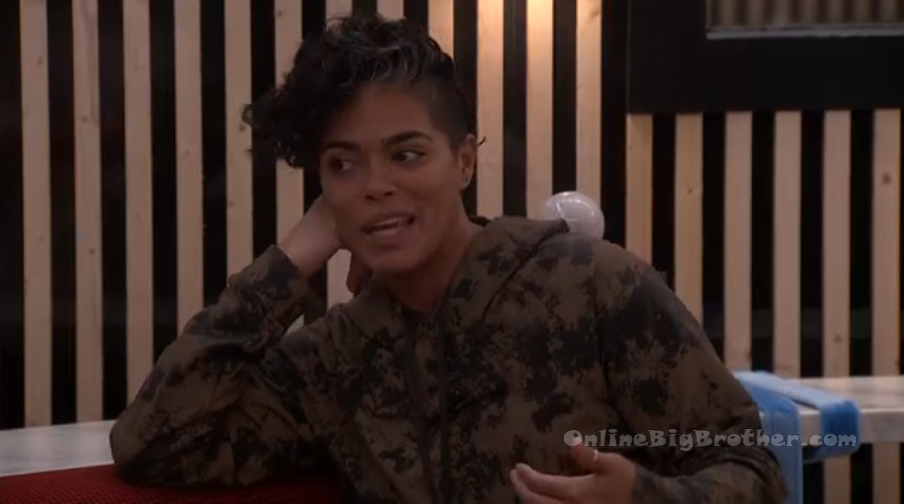 HOH room – Terrance, Nicole and Turner.
Nicole – so consensus of the house is Terrance is probably going home. Turner – Oh are we allowed to say that on Big Brother!? Nicole – well I am not saying who I am voting for but .. Turner – no, gotcha, gotcha, gotcha! Nicole – so its not going to go in the favour of you.. so I am giving you the heads up because I wanted to be able to talk to him and not give him bullsh*t. Turner – that's unfortunate to hear. Nicole – I know and Daniel and I are just two people. Turner – of course… how do you feel about that?? Nicole – it sucks because even though she is the largest target in the house .. she has the numbers to stay. Turner – as the strong player would I suppose. Nicole – correct, because she has clearly built relationships with everybody. Turner – Damn, I really don't know what to say in this instance. Nicole – that's why I wanted to tell you. Turner – very much so .. I appreciate that. Nicole – I didn't want you to get blindsided by any means necessary. And they could all be acting like a$$holes just for show and they could still flip another way. Turner – Damn.. is there anyway out of this tunnel? Nicole – I don't think there is and I guarantee anyone we ask they're all just going to say they're 50/50. Turner – are you telling other people this? Nicole – I want you to know that this stays between us. Tuner – oh yeah. Nicole – I hope that we can work together but I am a very level person so if you don't want to work with me, I totally understand. Turner – no I would want to work with you. Nicole leaves.
11pm HOH room – Turner & Terrance.
Turner – alright if I tell you something you can't say ANYTHING to anyone. Not to Nicole. If I tell you something, it will f**k my game. Terrance – I know bro! I just don't trust no body. I literally had a conversation with Michael, Brittany and Taylor and I was like Yo, there is some other sh*t going on inside the house. .. They're making me feel like I am not going to be here. They were good with me .. we had great conversations about going forward and they were like they want me here. Nicole and Daniel are shoveling me .. that no one wants me to be here and no one is voting for me and like I am sorry big fella. Turner – yeah. Terrance – so in my mind I am supposed to go out there in self defeat and be like hey thank you for having me man and so then people can be like well f**k it, I don't have to vote for him. You know what I am saying? Like you got me f**ked up! Tuner – don't tell anyone.. You're going to be here tomorrow. I know. I am the HOH, and I know where the people's votes lie. Terrance – they showed their cards. I've known their cards all day. Tuner – who's they? Terrance – Nicole and Ameerah.. with Daniel. How can you tell me that you want me to stay but I just don't have your vote. That just don't measure. Turner – oh for sure. Obviously you're going to be worried because of whatever the f**k that was …which it came from the nicest of places I am sure but BRO when I say don't stress, don't stress. And this isn't something I even said to Pooch. And he was my f**king guy .. and to him I said I am not sure. Terrance – I am not going to act on it. I trust you. I got your back 1 million percet.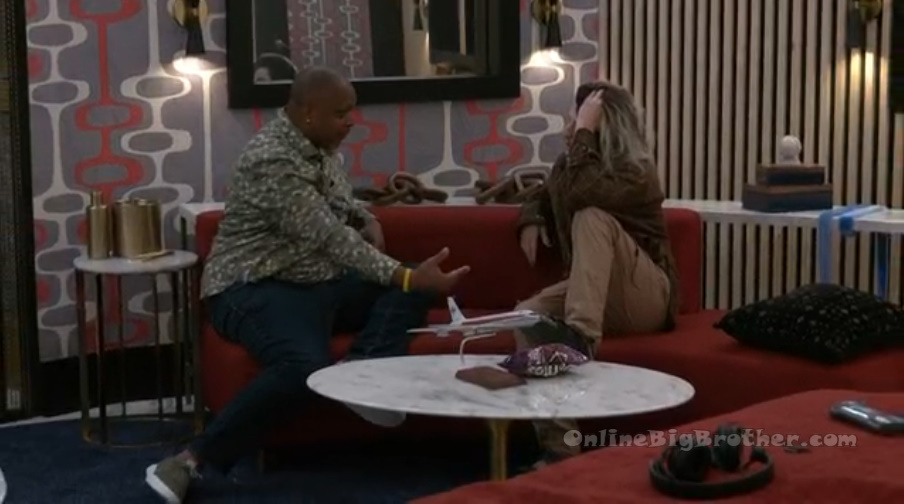 11:12pm Bedroom – Nicole and Ameerah.
Nicole – Terrance knows that the votes are leaning to you. Ameerah – okay, how is Terrance? Nicole – He knew. He had a feeling. So I talked to Monte and I was like if everyone is really on board I would really love to throw Terrance my sympathy vote but I want to make sure with you that you feel 100% okay with me doing that. Ameerah – me? Nicole – yeah. Ameerah – is Daniel doing it too? I assume so. Nicole – I assume so but he also doesn't want to defy you. Ameerah – its not about defying me .. I don't care about that bullsh*t. Nicole – I just want to make sure you have 100%. Ameerah – that's what I am worried about. Nicole – do you think anyone would flip their vote? If you're having hesitations about anyone I will not give Terrance my vote. I will vote to keep you. Ameerah – I have PO's Pack, and the girls .. the only person I think could be iffy is Brittany and Taylor so even if I lost those two plus You and Daniel .. that would be only four. Nicole – okay but you tell me. I would love to give him a sympathy vote. Ameerah – I feel safe because that's what people are telling me. Nicole counts out at least 7 votes. Ameerah – okay so as of now I feel comfortable with you giving him your vote. Nicole – you need to tell me tomorrow. Ameerah – okay. How did Turner feel? Nicole – he was like that sucks. Daniel joins them. Nicole explains it to Daniel. Daniel – if you're giving Ameerah your vote its not worth me risking it too. It should just be one of us. The way he (Turner) f**ked us over (by putting up Ameerah & Terrance), is what I wish we did to him. Its selfish but its done (Nicole already telling Turner Ameerah is staying). It doesn't matter.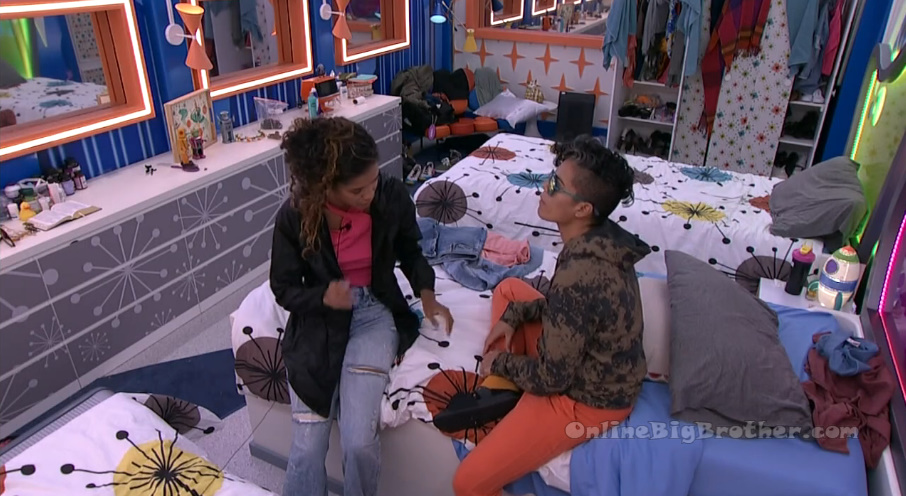 12:05am Havenots Alyssa and Indy are no longer havenots and get to eat real food again.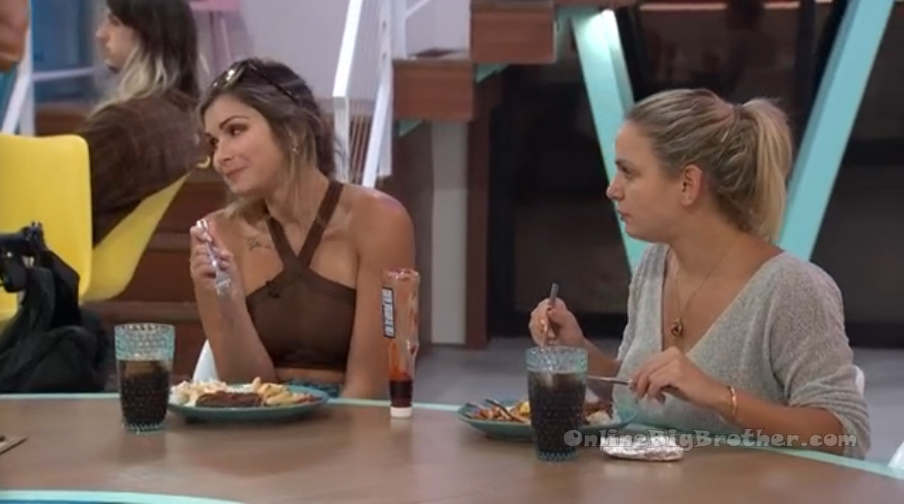 Bathroom – Monte and Joseph.
Monte – She (Nicole) was like thinking of talking to the girls and then dropping the news on Terrance tonight. And I was like whatever, I don't care. Your game is your game. Then Kyle and Jasmine were like Nicole came up to Terrance and told him that you and Nicole had a conversation about how all the girls are going to be voting for Ameerah to stay and that Terrance should be out .. and I was like?! Joseph – Nicole said that? Monte – She's playing dirty BRO! Joseph – She is! She's got to go! Monte – yeah gots to go! So to me she is target number 1 for next week bro! Joseph – stay away from her. Monte – Yeah I'm not even going to address it. I'm going to talk to Terrance and tell him how the conversation actually went so he doesn't know to not trust her for saying that. I think I am going to leverage this moment with Terrance and circle back with him to make sure he is reassured that is not how I came off. And that this is pretty much the same way they tried to get Pooch out.. creating the narrative that everyone is pretty much voting one way.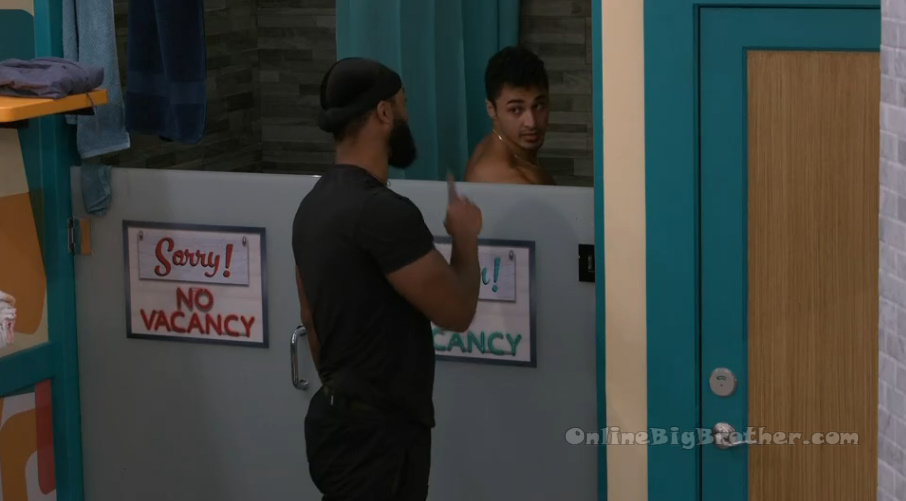 12:25am Bedroom – Alyssa and Ameerah.
Ameerah – Nicole told Turner that Ameerah probably has the votes to stay and then she told us this and we're like cool. But then Terrance came down and talked to Jasmine that Nicole told Turner … that All the Girls plus Monte are voting to keep Ameerah.. so I am going to have to vote with the house. Alyssa – I knew it. I knew it! Ameerah – she is throwing Monte under the bus. We cannot tell Monte right now. This cannot blow up right now. Alyssa – I knew she was a snake! She was probably the one that went back and said that I was the one getting information for the girls. She's an actress .. that's why everything is a lie. Ameerah – do not tell Kyle because he would tell Monte. Alyssa – I won't. Ameerah – when it comes down to the 6 we're going to get her out. Alyssa – don't tell her sh*t. And get Daniel out. I can't stand Daniel, he is so rude! Ameerah – I can't believe she did that. Alyssa – I can! I am just glad we have proof now. She needs to get the f**k out of this house. And Daniel, I would rather Daniel go first because he is just rude. Ameerah – we could probably get Nicole to go up as a pawn with Taylor and then take her out instead of Taylor. Alyssa – yeah I don't trust her at all!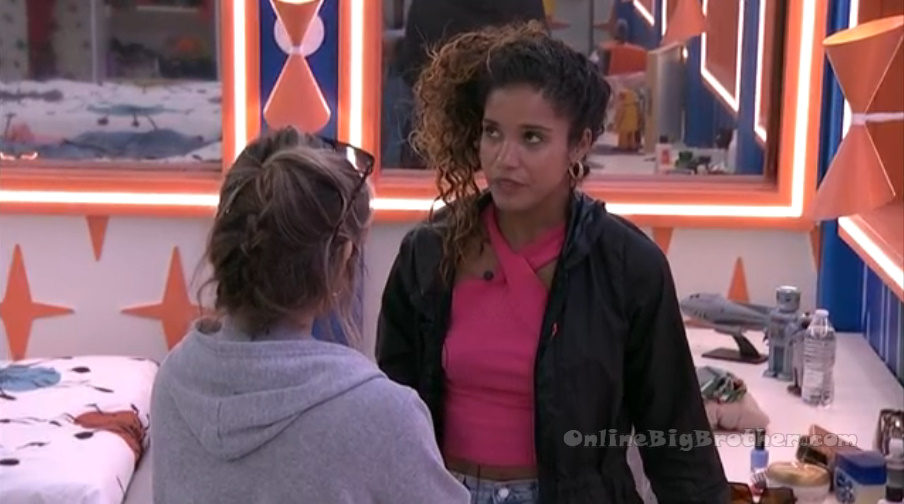 12:43am – 1am HOH room. Monte and Terrance.
Monte – I know my words have been manipulated to fit a certain agenda based off of what I just heard… but I wanted to hear it from you. Terrance – okay. So Nicole asked to talk to me. She basically said that I don't have the votes to stay. She said I've talked to the whole house and I had a discussion with Monte again and I asked him something about the girls. She talked to the girls to let them know that she is going to have a talk with me and you were like I guess you should for optics and so she was like okay cool. She went talk to the girls and said that she was going to let me know that I don't have the votes to stay. She wanted to tell me to my face and not have a situation tomorrow. Monte – yeah be surprised or whatever. Terrance – I was like okay cool. Monte – the problem is, is that conversation didn't go that way .. some of those words were said but the way she presented it to you was like I was giving you free reign because I knew some information that she didn't. Terrance – well she said that everybody is 50/50. If everyone is 50/50, how do I not have the votes, I'm confused. What I got out of it was that her and Daniel are going with Ameerah. Monte – this is how the conversate went.. .she said right now all the girls are going to vote to keep Ameerah. And I said I don't want to be on the wrong side of things .. if it is the entire house that is going that way, then I am probably going to fall in line. So she said should I go check in with the girls before I talk to Terrance. And I was like I don't want to be a part of any of this. So then I just talked to Jasmine and asked if she (Nicole) talked to her and the girls. She didn't confirm with the girls. What's weird is I thought they were going to throw you sympathy votes. Terrance – if you got me they I 1000% got you.
1:53am Alysssa – All my girls back home, I love you.