Quick Big Brother Spoilers
Head of Household: Turner
Nominees: Brittany and Michael Ameerah and Terrance
POV Players: Nicole, Taylor, Michael, Brittany, Turner, Jasmine, (Joe is host)
POV Winner: Michael/Brittany
Veto Ceremony: Brittany/Michael us the veto and Turner puts up Ameerah/Terrance
Havenots: Alyssa & Indy
Lock your ranks in before midnight
Festie Besties:
Turner & Jasmine (She's also safe)
Joe & Monte
Daniel & Kyle
Brittany & Michael
Alyssa & Indy
Ameerah & Terrance
Nicole & Taylor
How Nominations will work: One pair will be nominated
How the Veto Player Pick will work: Turner/Jasmine, nominated pair, and drawn pair
– If one of the pair wins the veto, the other is also safe.
– If the nominated pair comes off the block, Turner would nominate another pair.
– Eviction: One of the pair on the block will be evicted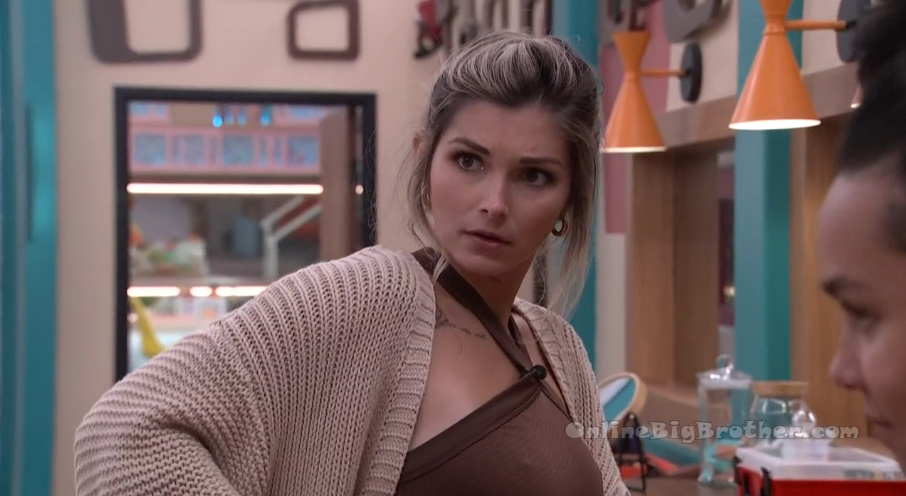 7:42pm Bathroom – Alyssa, Jasmine and Brittany.
Jasmine talks to them about how she makes money on social media. She says she has 30K followers on Instagram and makes 6 figures. She says when people approach her to make posts for them she charges 2k and 5k for a reel. Jasmine asks them what they're reason for doing Big Brother is other than money? Alyssa – well I like the show a lot and I've been watching it forever with my family. I just want to retire my mom and help our family and stuff. Jasmine – yeah I think everyone has these huge whys and stuff. Alyssa to Brittany – what's yours? Brittany – Mine is definitely the experience of it and I've been watching the show .. I've been telling people I've been watching since Covid but I've been watching since season one. I am a superfan! I love this show. I am also a people watcher. I am just really interested in people. Alyssa – I do too.. I love meeting people and making those connections.

8:05pm Storage room – Brittany and Monte.
Brittany – are you feeling good? Monte – I'm feeling great. Has anyone approached you for votes or anything like that? Brittany – Terrance has but only so many words. I think Ameerah thinks she's good. Monte – yeah like she has it in the bag. Its going to be unfortunate to see that surprise. Brittany – do you think its going to be split or do you think.. Monte – I think its going to be pretty close because Daniel and Nicole are thinking of voting for Terrance. Brittany – so its pretty much going to be Jasmine, Alyssa, Indy.. so if its 3 whatever.. Monte – its going to be more than that.. Daniel, Nicole, Jasmine, Alyssa, Indy… so that's five votes she (Ameerah) has and then our 6 (for Terrance). So its going to cause a lot of confusion on the other side which it might be good… and just let them fight to the death over it. Brittany – yeah. With me and Michael and you and Joseph we could get put up.. so hopefully they implode on each other. Monte – they would put up Jasmine & Turner or Kyle & Daniel… Brittany – and we could save them. Monte – yeah and hopefully we just win HOH and then we're golden. Brittany – just think about it, if they win HOH and they're mad at each other and confused there might be an HOH were we don't even see the block. Monte – we have to walk very gingerly afterwards. At first I thought there would be a narrative that we would push but na its better to not. Brittany – taking a step back will.. Monte – let it fester in their own way. I am feeling pretty good. I think everybody.. next week Nicole and Taylor could be options… and Kyle & Daniel. I think one of those two has to go next week. Brittany – I definitely think so. They talk out scenarios for HOH / veto next week. Daniel joins them and the conversation ends.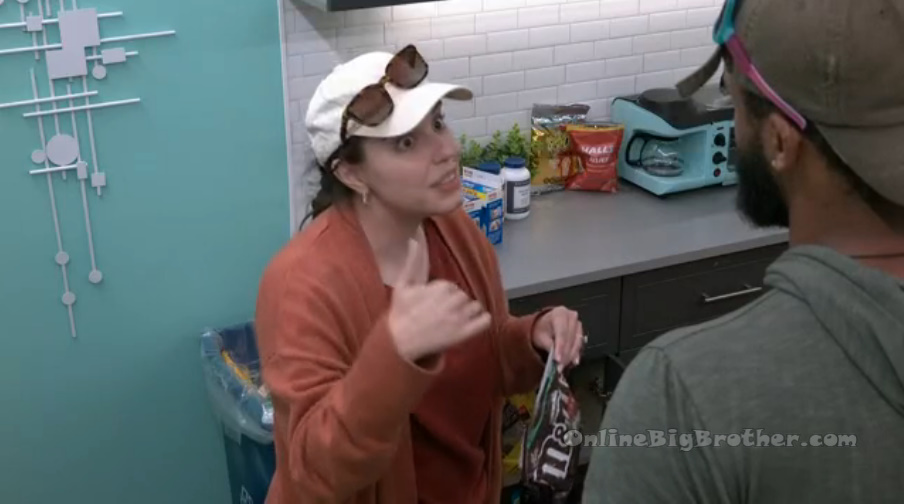 8:33pm Bathroom – Brittany and Taylor.
Taylor – how are you doing? Brittany – I'm good. I think everything is going to be okay. Taylor – just got to keep Ameerah comfortable. Brittany – I was talking to Monte .. we just need to fade into the background whenever sh*t goes crazy. Taylor – yup. Brittany – and best case scenario they'll fight each other. There might even be an HOH were one of them wins and they might even target each other. Taylor – We still need to try and win because then we'll get all the "Tea". Brittany – and of course that one. Taylor – And no matter what happens we have the numbers. Brittany – yeah. But you still have to think about me and Michael, Joseph and Monte. Taylor – yeah. And tomorrow .. oh my god! Mind (blown)! Brittany – and the girls are definitely keeping her (Ameerah). I've been in enough conversations. Taylor – if all the girls vote its 6-5.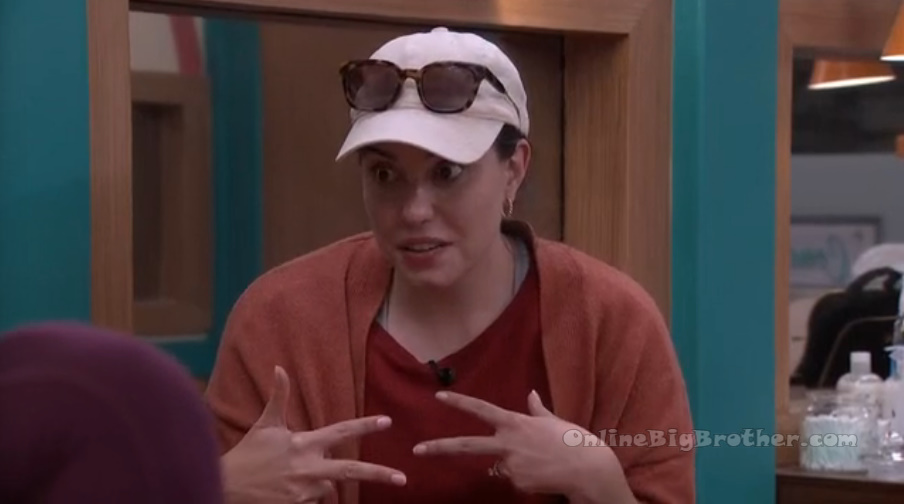 8:49pm – 9:05pm Bathroom. Kyle, Taylor and Brittany.
Taylor – I very quickly told Terrance that he has my vote. Kyle – cool. I think that makes sense. The goal is to take the target off of Monte, Joseph and you. So whatever we need to tell them after the vote .. like that is the goal. Kyle – how are you with Daniel? Are you on speaking terms? Taylor – yeah we're on speaking terms. Kyle – how about Nicole? Taylor – yeah, yeah.. we've acknowledged in the game we're business only and personally I'll hug and mean it.. and have conversations and mean it. Kyle – yeah. Taylor – I know after tonight's episode the world will not be kind to Daniel and I don't want that for him. I told him outside of this and inside of this .. like we made amends.. like we're okay and outside of this he has my support and he knows that. Kyle – I was sitting next to him when it was announced and it was crazy. Monte joins them.
9:15pm Havenot room – Nicole and Michael.
Nicole – so I am voting to keep Ameerah but a lot of people are giving me the run around for who they're voting for and its pissing me off because it tells me either one they don't trust me which is fine because it is what it is. But I've been very clear with Ameerah and Terrance that I don't know what I want to do because this is the hardest decision that I've ever had to make and I never thought they would be on the block. Michael – I know, like of all the scenarios for how this week has played out I was not even considering they would be a pair that was up. Nicole – no, and for me it is worst case scenario because aside from you and Daniel they're the other two that I am closest to in the house and want to play this game with and so now I have to choose and I literally just decided that.. like today. What are your thoughts? What are you thinking? Do you trust everything that is going on? Michael – who know. Ummm.. I .. Ameerah is acting so calm this week.. do you think she has anything else? Nicole – like do you think she has something to do with going on the block with Terrance? Michael – like maybe that or are there other thins set up? Nicole – I felt like yesterday she was so confident. Michael – like even Terrance was having one on ones with people and I asked her if she was and she said no, no I'm good. I don't know .. like I don't know how you can be on the block and not have one on one's with people. Nicole – yeah. She hasn't had one on ones at all .. I mean she did with me. If she hasn't had one on ones at all what has she been doing? Michael – maybe she just feels like she has my vote. Nicole – maybe she is just thinking out alliance is her vote to stay and then she has all the women. As far as something else .. I don't think so. Like do you think something else is in the works. Michael – I've been feeling a little off .. like we haven't checked in. Nicole – I get that we're not trying to put ourselves out there and expose ourselves but I talked to Monte for the first time in over a week.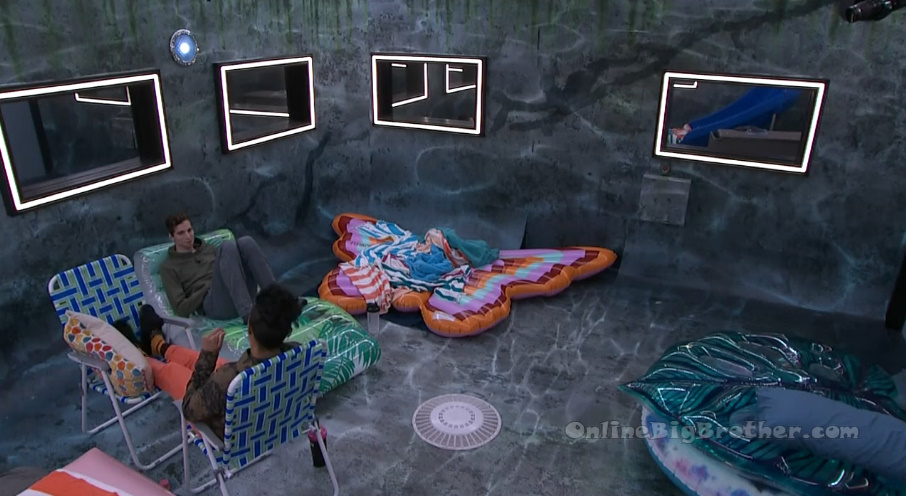 Michael – and I don't know if its just me being paranoid like the alliance is just in case I win HOH. Obviously I will vote to keep Ameerah but looing at the overall house dynamics putting aside the alliance.. Terrance staying is better for me. Nicole – Terrance staying is better for me. Michael – if Ameerah stays I will probably sill go up on the block. Nicole – No you're not going up any more. Michael – if Ameerah were to leave that would shake things up. Nicole – so she (Ameerah) is super confident the six is a six. I am also in a place where I have all the integrity in the world and I trust you and I trust her (Ameerah) but I don't trust Monte and I don't trust Kyle 100% and Alyssa has a big mouth. Michael – do you think she's said anything? Nicole – she's slipped on so many things already. The Indy thing. She slipped this morning… she told Terrance she was going to miss him. These are big things. I can't trust her. I can't tell her anything any more. She can't hold water. How do we not know she is telling Jasmine everything. How do we not know that Jasmine knows about our six. Michael – I've been thinking that too.

9:23pm – 9:40pm Michael – so if she doesn't have Monte and Kyle. Nicole – if we're all (PO's Pack) voting her (Ameerah) out, I want to f**king know. Michael – if they vote her out where do the numbers fall? Nicole – lets look at definite votes to evict Terrance. Indy, Jasmine, Alyssa.. those are for sure, for sure locked. Joseph is really weird because he's basically been telling me that he is 50/50 but he is still trying to get information out of me and I am not giving him anything. He sounds like he is pointing more towards Ameerah so there's another vote so that's four. If you count me and you, that's six. Then Daniel, Monte, Kyle, Brittany and Taylor. Taylor told Ameerah to her face, I am voting to keep you so that is seven so even if the boys decide to just give Terrance their vote and to save face with Turner .. unless Monte has some power over Indy and will convince her to vote otherwise. That is the only way the vote will go the other way .. unless you are voting with them. Michael – no. I thought Taylor and Terrance were close? Nicole – yeah but Taylor said she does not want to vote out a black woman. Kyle joins them. Kyle – how are you feeling? Nicole – I've decided I want to keep Ameerah but the problem is .. are we all on board? Kyle – yeah. Of course, I just wanted to check because you're the tightest with Terrance. Nicole – once I tell him that I am not keeping him.. he is going to know that he's going home. Have any of you told him that you're not voting for him? Because when I tell him he is going to know he is going home. I think we need to all get on the same page.. because Alyssa already messed up and told him she will miss him. I don't want to tell you how to do your game but you should probably tell him tonight because he shouldn't go into tomorrow thinking he has a life in this game when he doesn't. We were just going through the numbers .. and so if you guys want to throw Terrance your votes, you can.. there are enough votes to keep Ameerah in the house.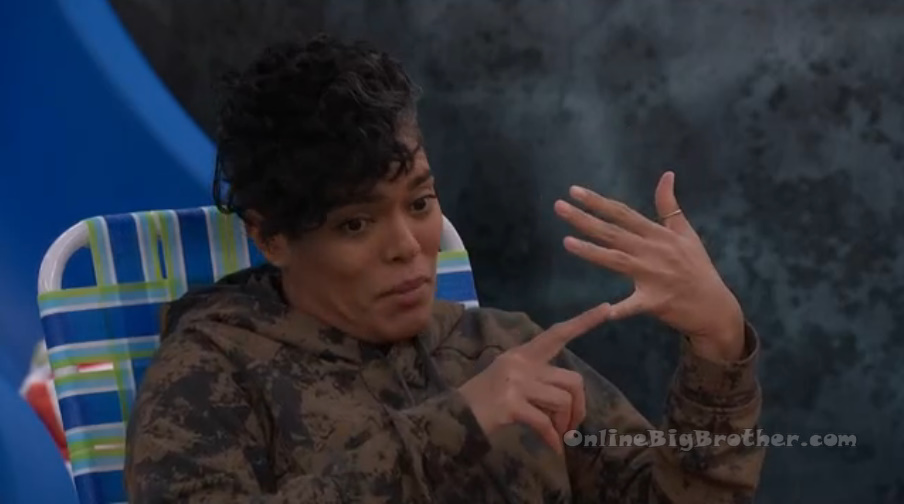 9:42pm Bathroom – Michael and Kyle.
Kyle – that would just be an obvious sign to the girls that Nicole and Daniel flipped. Michael – how do we cover our bases with Nicole… she is going to be pissed especially after the meeting. Kyle – she is going to know PO's Pack betrayed her. Michael – if people are okay with it I might tell her that I want to throw him (Terrance) a vote too. Kyle – and then have it be like .. what happened? Kyle – its hard like do we start throwing votes for Ameerah to stay to almost like even it out? Michael – I almost thought that but I don't want to take that risk in case… Kyle – the last minute they flip back. Michael – Terrance may tell them vote me out. Kyle – I think we just play off Nicole. She is going to vote to keep Terrance and Daniel. Michael – I am going to try and talk to her before the vote tomorrow and if she is like we're still going to throw a sympathy vote.. I am going to tell her that Brittany is 100% voting Ameerah and plan to throw a vote for Terrance too. Kyle – and then after I can be like yeah after what you said last night I threw Terrance a vote. Kyle laughs. Michael – she is like Alyssa has such a big mouth she's slipped up in front of Indy… Kyle – I want Alyssa gone next week. Michael – yeah.