POV Holder:
Peter
Next POV
April 6th
POV Used
?
POV Ceremony
April 8th
HOH Winner:
JILLIAN
Next HOH:
April 11th
Original Nominations:
ALEC & PETER
Current Nominations:
?
Last Evicted Houseguest
GARY
Have Nots
No havenots this week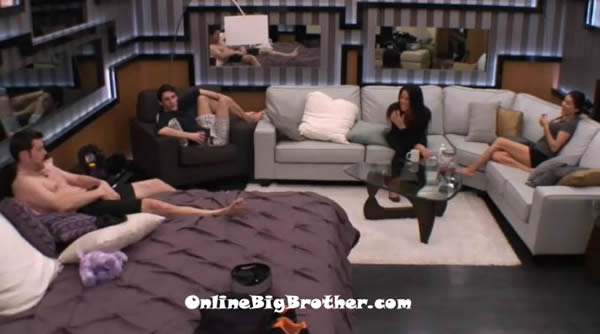 12:55pm – 1:25pm Up in the HOH room are Andrew, Peter, Jillian and Talla. Jillian and Talla go into the HOH bathroom to talk. Jillian tells Talla about how Topaz wants her up on the block. Talla says she is not okay with going up as the pawn. Jillian tells Talla that once Peter and Andrew leave they have have a discussion to talk about all angles and then talk to Topaz. Jillian and Talla are excited about the position they are in. Jillian comments that its the same thing that the guys doing. Jillian and Talla join Andrew and Peter again. Andrew keeps freaking out about not being let outside. He says I just want to jump in the pool naked with just a sock and a smile. Jillian talks about how she isn't happy with her body. Andrew says that's why I am getting Emmett to whip me with his love stick.. that doesn't sound right! Andrew heads down stairs. Emmett comes up and tells Jillian she has to go to the diary room. She gets up on the bed and asks to jump to him. She jumps and he catches her. The lay on the bed and kiss. Talla says AWKWARD! Jillian gets up to go and says oh we're releasing a $ex tape when we get out. Peter yells to Jillian and says she's an educator!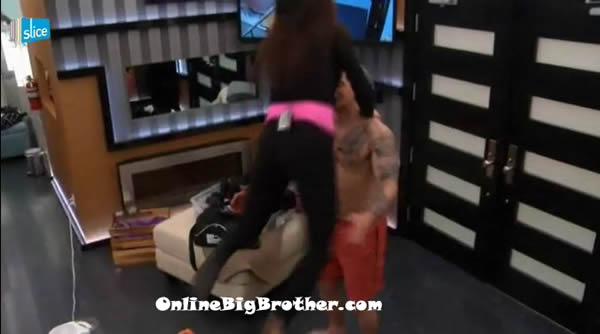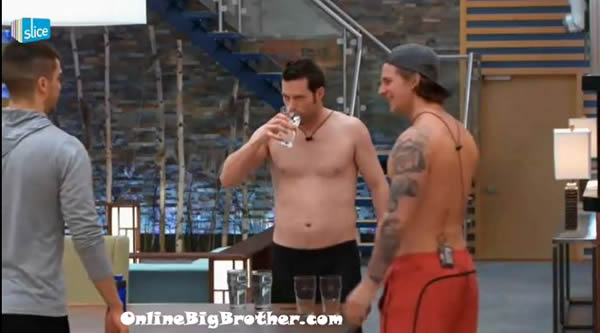 1:25pm – 1:45pm Down in the kitchen: Andrew does the 5 glass challenge, where he tries to drink 5 large classes of water. Emmett gets him the garbage can just in case he throws up. Talla asks him why he would do that. Andrew replies why not! Andrew doesn't feel too good. Talla asks him if he wants a glass of water. She laughs. Andrew asks and what do you like to do for fun .. throw up. Andrew says and this is why we need to DOOR OPENED! Emmett is laughing watching Andrew in pain. I think you're a good sport ..that's awesome. Emmett asks when did you feel like it was too much. Andrew says after the second one. Andrew then sticks his fingers in his throat and throws up. Andrew says lets do it next with olive oil.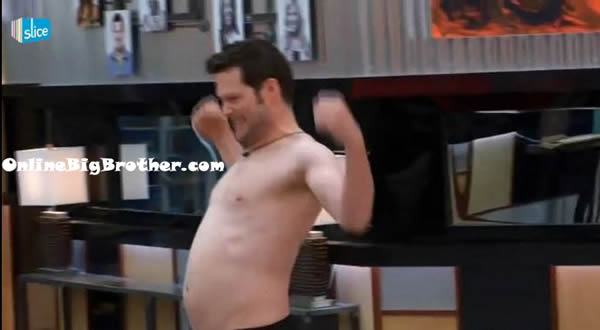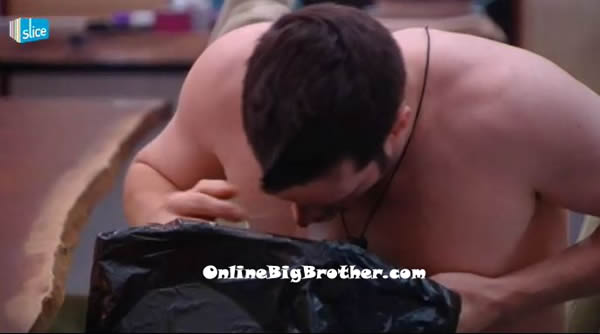 1:55pm – 2:15pm Big Brother opens the door. Andrew and the others head outside. Big Brother switches the live feeds to the hush, hush screen. After about 15 minutes big brother turns the live feeds back on. Alec is working out in the backyard. Andrew and Emmett are in the kitchen making lunch. Talla asks what happened outside nothing? Peter says you might want to go out and look at the hot tub room .. no spoilers. (Big Brother put a black moose head above the fire place in the hot tub room.)
2:20pm – 2:35pm Alec and Peter are out in the backyard talking. Alec is telling Peter about what he told Jillian. Peter tells Alec to have an honest conversation with Jillian and Andrew. Peter tells Alec to push how you saved Andrew. Peter tells Alec to stop pushing for Talla to be put up on the block ..because it is pretty set from the conversation I heard up in the HOH that Topaz will be going up with you. Alec thinks he will tell Jillian that he will throw the next HOH and POV competitions. He says he will tell her that she will see me sit down right away cross legged right in the beginning of the competition. Alec think he will talk with her after Topaz is nominated. Peter tells Alec to be fun, be happy, be relaxed. Alec says honesty is the best policy and that's my best option. Peter says Dan said last year "you may not have power but you have information." Peter says if you win over Emmett you will win over Jillian. Peter and Alec head inside. Peter talks to Topaz about the black moose head and thinks it will be for something that happens today or tomorrow.
Video of Alec and Peter talking: Alec's plan to save himself from eviction.

2:45pm – 3:10pm Emmett, Jillian and Andrew are up in the HOH room. Jillian tells Andrew her conversation with Topaz. Talla joins them.

They finish up their conversation and head out to the hot tub room. Jillian climbs up on the fire place to look at the new moose head. Big Brother cuts the live feeds to tell her not to. Andrew asks Emmett if he is going to take Peter under his wing now. Emmett says that he will talk to him. They talk about how Talla is going to make it to the end and win because she is a power jumper. Whoever is in power next week she will jump to them. The conversation turns to talking about the POV competition.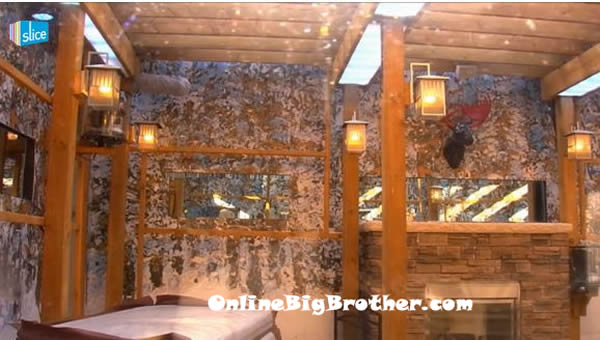 3:45pm – 4:10pm Topaz, Talla, Emmett, Andrew and Peter continue their random conversations out in the hot tub. Meanwhile Jillian does her stretching and yoga out by the pool. The camera pans over to watch the bird that is now trapped inside the big brother house. It flies over by the pool and start drinking the pool water. Talla says eww thats dirty don't drink that! Talla says aren't they not clean animals.. its not an animal never mind, fail! Andrew asks what do you mean its not an animal? Topaz asks what, it's an animal. Talla says no its a species. Andrew and Topaz tell her a bird is both a species and an animal.
There's a NEW #BBCAN HOUSE GUEST in the Big Brother HOUSE! @bigbspoilers – goo.gl/TKgOF – twitter.com/DawgsBigBrothe…

— Dawg (@DawgsBigBrother) April 7, 2013
4:15pm – 4:50pm Jillian continues doing her stretching / yoga. Jillian, Emmett and Andrew head up to the HOH room.
5:10pm Emmett keeps talking about how hot it is in the house/HOH room. Big Brother tells them to stop talking about production. Emmett says we're not talking about production, we're talking about how hot it is. Andrew says we can't talk about that. Emmett says that's stupid we can't even talk about how hot it is in here! Big Brother cuts the feeds. Emmett and Andrew head down to the bedroom. Jillian joins them. Jillian leaves. Andrew and Emmett talk about how they need to win next week. They can't believe Alec gave up in the POV competition. Andrew comments on how it's crazy we are part of the final 6! Andrew says that it is now day 46: Peter is on the block for the first time, he won his first competition and hosted a competition. Andrew says I just don't want to see a Talla or Topaz in the final two.
OnlineBigBrother.com
Stay connected and interact with other Big Brother Fans on our Facebook page.
And Follow: @BigBspoilers and @Dawgsbigbrother on Twitter for the most up to date spoilers.