POV Holder:
Emmett
Next POV
March 30th
POV Used
No
POV Ceremony
March 25th
HOH Winner:
Alec
Next HOH:
March 28th
Original Nominations:
Aj & Suzette
Current Nominations:
Aj & Suzette
Last Evicted Houseguest
Tom & Liza
Have Nots
No Havenots this week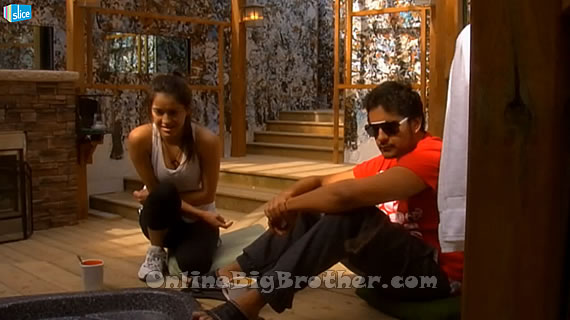 11:28AM Hot Tub Room 3Stooges
They briefly chat about Kat and how they
Talla is worried about the HOH comp on thursday because Emmett's toe is getting really bruised and swollen, "Thats not good for us" Andrew agrees but is unsure if the HOH will be physical again. Andrew says that his knees were messed up a couple weeks ago and it was his reluctance to go to Production and ask for help that made it worse. Andrew: "Look i'm not going to be a leg model now" Andrew adds that Emmett has broken a lot of bones in his life and he knows the condition his foot is in.
Andrew says Emmett can ask Jillian to do whatever and she'll run off and do it they need to start playing that showmance down. Talla points out that Jillian and Emmett sometimes acts like it's just them in the house.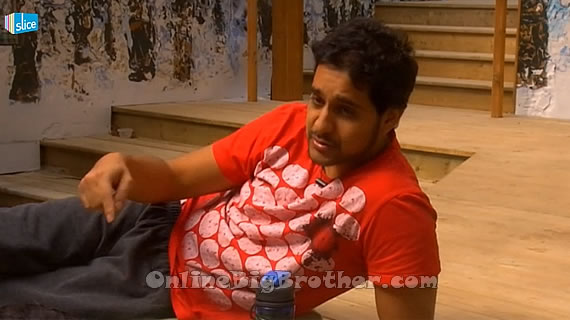 11:42am hot tub Emmett, AJ and Andrew
Emmett saying if they give him enough pills he can handle the competitions, "I don't give a sh1t i'll run on it". Andrew questions him if sitting in the hot tub is good for his toe. Emmett doesn't know. Emmett: "I'm just hoping it's my toe and not my foot.. " Emmett comments that it's starting to swell around his foot and that has him worried. Andrew: 'Ya that is scary.. don't be afraid to go in there and ask for help "
They start talking about Topaz and all the sleeping she does. AJ: "Clearly in her life she's not sue to being told what to do.. "Andrew hopes they keep ringing the buzzer until she wakes up he wonders if she will freak out when she gets nominated. Andrew: "What do you think Emmett?" Emmett: "I don't know but we'll find out pretty soon though"
Andrew jokes about Topaz being nominated and looking surprised she'll say "But I haven't done anything" Andrew and Aj : "Bingo"
They start chatting about Suzette just accepting her upcoming eviction. She really has made no effort to stay in the house. Andrew wonder if production will step in again and save her. Aj thinks that will be ridiculous, "Why are we even playing the game than if they are making these big decisions"
They are speculating that another twist is coming this weekend. Emmett thinks that would be stupid, "My as well call this game twists" AJ: "As much as we hate it in here the people out there love it" Andrew isn't sure he thinks that the pure fans hate it. AJ mentions that more people just watch the show and they are wanting non stop drama. (For every feed fan there is 1000 casual TV fans)
Andrew points out if production saves her again it'll be the same thing next week Suzette will be on the block.
Jillian joins them tells him to get his foot out of the hot tub because it'll inflame it.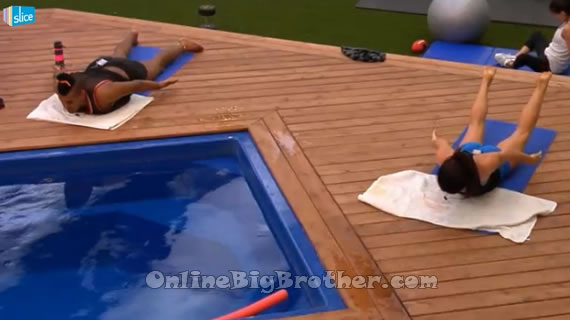 11:40AM Gary and Jillian still doing Yoga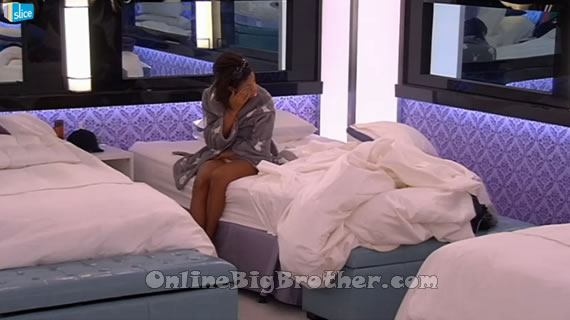 12:20pm Topaz and Suzette
Topaz is complaining that they do not let her sleep.. it's so boring in the house why don't they let her sleep.
Topaz: "I'm legit tired.. I don't want to do anything until i'm well rested.. everyone is awake looking busy.. everyone else is doing things so why not let me sleep.. why do they want to see me grumpy"
Topaz :"My fans are probably complaining because all I do is sleep"
Topaz falls asleep again and they get buzzed, she starts complaining that production should at least give them a warning about when the fans are watching so they can sleep during the off time. Topaz wants to know why Andrew can be napping all the time and she cannot. Suzette thinks they are trying to get under her skin. Suzette also suggests that maybe Topaz is really popular and people want to see her.
(The off time is between midnight and 8am.. instead of chatting with Gary and kissing Alec until 3am maybe you should go to sleep)
12:32pm
Big Brother: "Attentions all houseguests in 30 minutes the backyard will be off limits"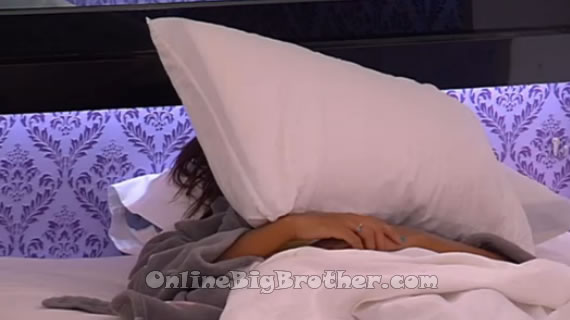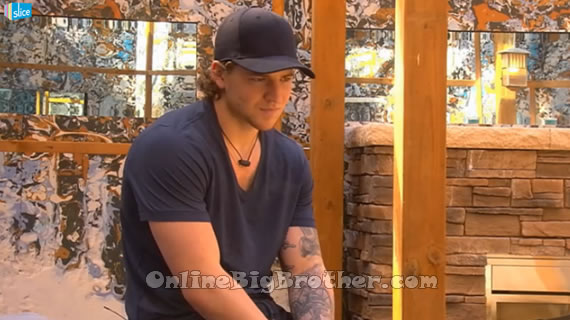 12:45pm Hot tub Andrew, Emmett and Peter
Chatting that Topaz is the "Sleeper" Andrew: "She's a true Sleeper". Peter says this week is a bit dry so production needs something to fill in the shows. They joke about Suzette getting a power, "Super power of Veto". Andrew asks them if he gets put up against AJ if he would stay. Emmett and Peter say yes for sure.
They start joking around about Big Brother Season 2, "Every week a twist it doesn't matter who you vote for.. " Doesn't matter who is nominated twist Big Brother

(Video Uploading)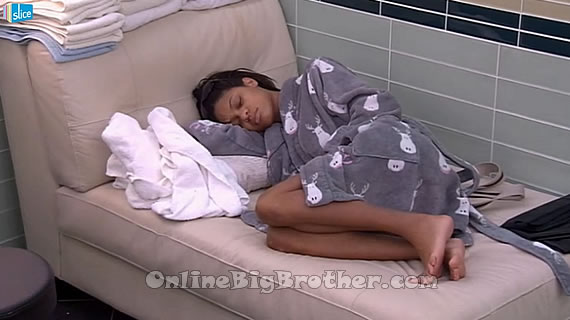 1:00pm Still sleeping
1:33pm HUSH HUSH
2:00pm Makeup Gary and Suzette
Gary: "I'm so happy Tom's gone.. don't have to hear his voice"
Suzette: "I'm not made at Alec for putting me up.. at least he's honest.. he told me straight up"
Gary: "It still hurts.. unless it doesn't"
Suzette: "He told me that he did it for his own personal game he didn't want to burn any more bridges"
Suzette starts complaining about Jillian and Emmett apparently all she had to say was the nicest things about them in teh Diary Room, "I think it's a perfect time to leave.. for me I'm going back to Vancouver get my nails and hair done" (I didn't catch why Suzette is mad at Emmett and Jillian the video is uploading. Somehow Alec dodged any heat for nominating Suzette but Emmett didn't by not using the POV. I think Emmett dislike for Suzette got back to her)
Suzette says that Danielle is 1/2 native so Suzette is going to try and get Danielle some paid gigs, Suzette jokes (?) "She's probably in LA right now.. got a agent"
Gary: "Probably"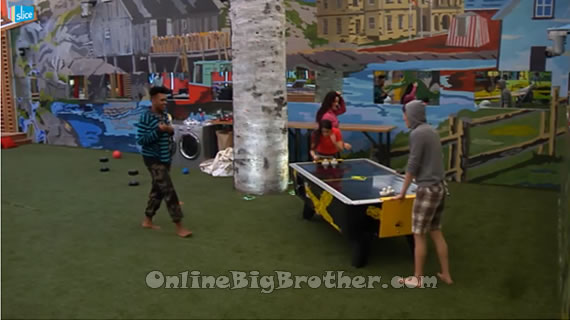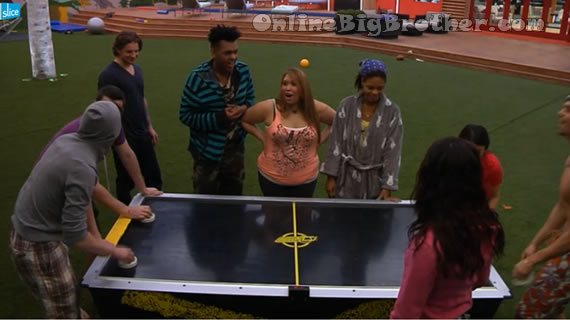 2:22pm Houseguests get a air hockey table
(Video uploading)
Stay connected and interact with other Big Brother Fans on our Facebook page.
And Follow: @BigBspoilers and @Dawgsbigbrother on Twitter for the most up to date spoilers.
[polldaddy poll=6985048]
Share it YO!!
Tweet