POV Holder:
Emmett
Next POV
March 30th
POV Used
No
POV Ceremony
March 25th
HOH Winner:
Alec
Next HOH:
March 28th
Original Nominations:
Aj & Suzette
Current Nominations:
Aj & Suzette
Last Evicted Houseguest
Tom & Liza
Have Nots
No Havenots this week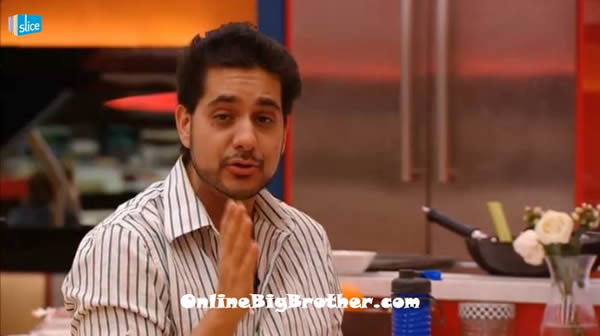 2:50pm – 3:30pm
In the kitchen: Alec, Aj, Talla, Andrew and Suzette are talking about random things. Talla asks everyone if they could push in their chairs when they are done like what you would do at a restaurant. Andrew tells her that he will push in her stool. They all laugh. Talla doesn't get it. Peter says that Andrew is offering to have an@l $ex with you. Andrew says that he wasn't meaning like that. Alec then challenges Talla the self proclaimed "five star champion" a game of air hockey. Andrew comes out to watch. Talla score right off the bat. She yells WHAT?! WHAT?! Alec wins by stopping the puck and knocking it in her goal. He yells and knocks over the stool. Talla screams he cheated! They start a new game. Alec wins. Andrew then challenges Alec to a game. Andrew says that Aj is a wizard at air hockey… but he has diarrhoea. Jillian asks if Aj is okay. Talla says to go check on him. Andrew says that he isn't going to go check on his drooly bum.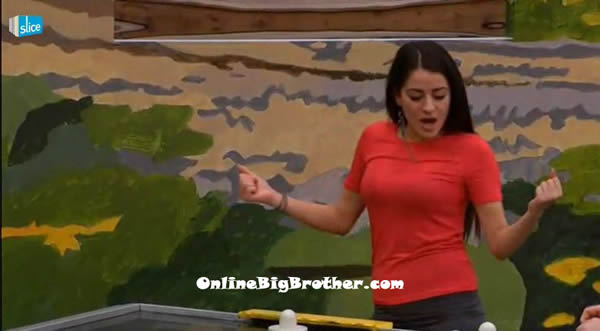 3:30pm – 3:45pm Jillian and Emmett are out in the hot tub room talking and kissing. Jillian wants to climb up onto the rafters but gets told by Big Brother to stop that! Talla joins them. They discuss how Topaz got all of their napping privileges taken away because she continually defies the rules. They head back inside.

3:50pm Big Brother switches the live feeds to the hush, hush screen.
4pm – 4:30pm The live feeds come back. Alec, Topaz, Jillian, Emmett and Peter are laying on the living room couches. They discuss how they wish they had gotten a pool table instead of the air hockey table. Peter says that pool is just way more versatile, you can play so many different games with it. Jillian says that air hockey stresses her out. Jillian looks up at the memory wall and starts reciting all of the house guests first and last names. Alec helps her when she forgets or pronounces them wrong. The conversation turns to talking about possible twists.. like Jillian's Jill-bot robot switched with her. They ask Jillian what the meanest thing she has ever said to anyone. Jillian says the meanest thing she has ever said ..she said to day to Aj. Aj has no clue what she said. Jillian says she said Aj make yourself useful and make yourself a pot of coffee. They all laugh at how that't not even mean. Peter says that he asked Aj is he could read and write… that's mean. Talla bring out a bottle of ketchup from the storage room and gives it to Jillian. Jillian says thank you big brother you are the best ever! She says that she is in a showmance with ketchup.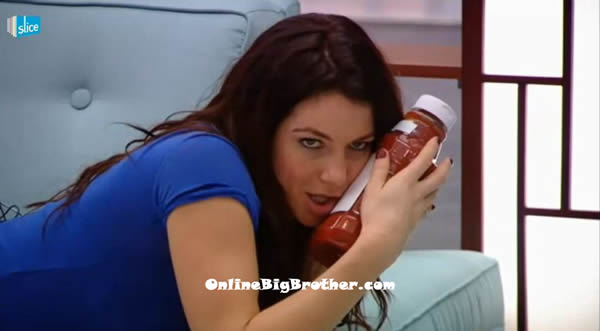 4:55pm Topaz comments that the heart necklace is from a the Italian guy she was dating outside the house. Topaz, Talla and Jillian go to kitchen for girl talk. Topaz comments that Alec told her the necklace is nice one day. Topaz laughs. She says that she cares for Alec but that it makes it easier that he lives in Vancouver and not in Toronto. She says that she likes Alec more and more each day but that she closes herself off from it because he lives so far away. The conversation turns to talking about Andrew. Jillian says that she is into Emmett but that he thinks Andrew is attractive and a really funny guy. Talla brings up how when Andrew and her were getting really close in the pool he said he liked her but that it was more to make Topaz jealous. Talla says that Andrew is an attractive guy and he has grown on her more and more .. but that she won't do anything in the house with him. She says that she envisioned herself making out with Andrew but then started thinking about someone else. Jillian says that she is equally attracted to white and black guys but not that attracted to Asian guys. They breakup their conversation.
(Video is uploading)

5:10pm – 5:35pm Alec, Andrew and Peter continue to workout. Alec says that he wishes his friends had sent him secret messages in his HOH letter. Like don't trust Monaghan (Andrew's last name). Talla and Topaz play a game of air hockey while Suzette watches. Andrew heads inside to the kitchen. Andrew discusses with Jillian that she needs to start thinking about who she will take to the final two because Emmett is a strong competitor. You need to think about who you would win against. Jillian says that he makes some valid points. Andrew tells her that he would rather take someone who is deserving of it but not someone who could win it. Jillian agrees and says she wouldn't want to take a floater. They talk about how Gary is constipated and Aj has diarrhoea.

Jillian and Andrew head to the bathroom. Jillian asks how Gary is doing. He says that he is having really strong pains. Jillian says that she is in a very similar situation as he is in.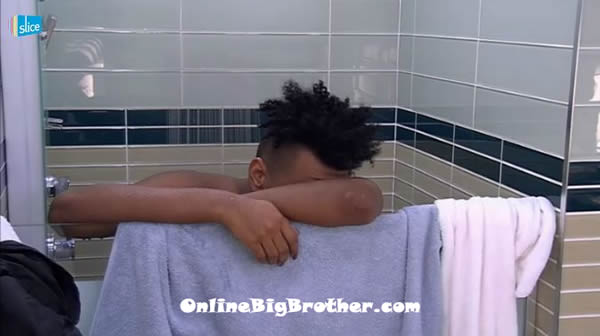 5:40pm Jillian and Andrew talk game in the living room. Andrew wants to make a more concrete deal with her and Emmett. Andrew talks about how its obvious Alec and Peter have an alliance. Andrew says that he wouldn't pick Peter and Alec over Emmett and Jillian because they live in the same area and want to hang out after. Jillian tells Andrew that she would feel a lot safer in the house if Gary was gone. Andrew agrees and says that has to happen. Emmett and Alec join them and the conversation turns to talking about wishing they had a pool table.

OnlineBigBrother.com
Stay connected and interact with other Big Brother Fans on our Facebook page.
And Follow: @BigBspoilers and @Dawgsbigbrother on Twitter for the most up to date spoilers.
Share it YO!!
Tweet