POV Holder:
Emmett
Next POV
March 30th
POV Used
No
POV Ceremony
March 25th
HOH Winner:
Alec
Next HOH:
March 28th
Original Nominations:
Aj & Suzette
Current Nominations:
Aj & Suzette
Last Evicted Houseguest
Tom & Liza
Have Nots
No Havenots this week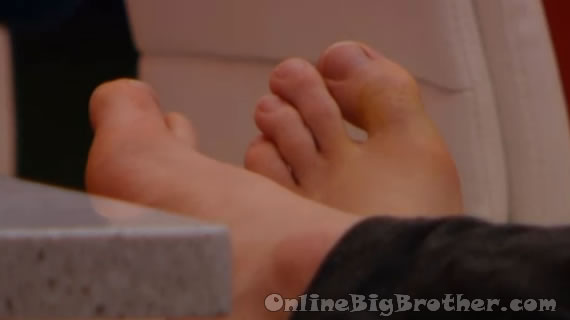 9:30am Emmett cannot walk on his foot he needs to hop from place to place. Everyone in the kitchen is giving Emmett advice about his toe, Andrew mentions that maybe there is a air cast they can out on it. Alec doesn't think it's broken isn't sure if there is much Emmett can do. Production has given Emmett some "Pills" and told him to stay off it and keep it elevated. Emmett says as longs as the competition isn't endurance where he has to stand he should be OK. He's adds how fortunate he is that the competitions are all close together so he can get them out for the way and rest his foot for the remainder week. Jillian: "You know what being on slop has done to me.. made me absolutely hate coffee.. because I had to drink it black "
Peter: "Why did they name their alliance the quack pack.. "
Peter and Alec start chatting about last season of Big Brother US. Alec says he started to like Frank near the end because he was so oblivious about what was going on. Peter starts to tell them about Franks dad Sid vicious. Emmett and Peter cannot understand why people in the house didn't' like Frank (Didn't peter watch the feeds?) Topaz thinks people didn't like him because he kept winning all the competitions.
(After having some food Emmett is able to walk to the bathroom)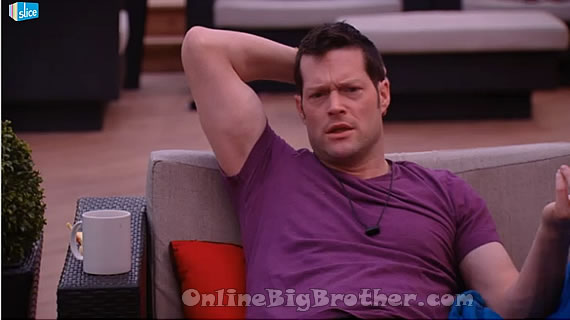 10:05AM Backyard AJ, Talla and Andrew Andrew is saying that Gary is a strong player in the game, "50% of this show is Gary.. He's gotta go" Talla: 'If you win HOH will you put him up" Andrew: "Ya" Andrew tells them they need to win the HOH first before they can do anything. Talla says that Gary is trying to run "sh1t" now just like Tom did. Andrew starts to explain how difficult this game is getting once Suzette leaves because they are going to start putting people they know personally up. Andrew presents a scenario to Talla, what if it's the 3stooges and Jillian/Emmett left in the house. Talla wins HOH and nominates Emmett/Jillian but Emmett wins POV what does Talla do? Andrew: "You have to put one of us up"
Andrew says that
AJ: "Gary and a pawn.. and i'm leaning towards Peter as a pawn.. I'm not going to win HOH too often but I need to take out a big player"
Talla: "Gary and another person from their side.. topaz or peter"
Andrew: "I will put up Gary and Topaz"
Talla: "If Gary pulls himself off.. "
Andrew thinks the best thing is to put up Gary with one of the other "4" (Topaz, Alec, Peter)
Andrew: "Lets just leave it like that I like our little combos" (Everyone's nomination plan)
Aj says that Alec has already pointed out to him that Emmett's smartest move would be to put him and Peter up. Aj: "If Alec is already thinking about that he must be planning something"
Andrew: "I would take out Topaz over Alec right now.. cause she hasn't won any competitions"
Talla: "Why.. the reason I would say Alec is because he is the glue between Topaz and Peter, you take out Alec and they become floaters.. Liza taught me that"
Andrew: "You see that is why we need to have a serious conversation.. Look if you guys think Alec and Topaz need to go up then Alec and Topaz need to go up"
Aj: "Emmett and Jillian are not working with Alec and Topaz"
Talla: "Jillian is a competitor.. she doesn't respect Topaz' laziness"
Talla thinks that Jillian and Emmett had a deal with Alec, Topaz, Gary and Peter for one week to get rid of Tom but are not working together now. Talla had no idea Gary was working with Alec and Peter but now it's clear to her that they are.
(3stooges finally have some accurate intel.. all they need to do now is win a HOH and perhaps a POV so they can make a move)
10:50AM Kitchen Talla, Emmett, Andrew, Alec, AJ
Andrew brings up the story Gary has been telling everyone about his D1ck slip, Andrew emphasizes Gary saying that his "Dong is long" and slips out of his shorts. Aj mentions that Gary is now wearing 2 pairs of underwear to keep his "Dong" in place, "Long dong glitter".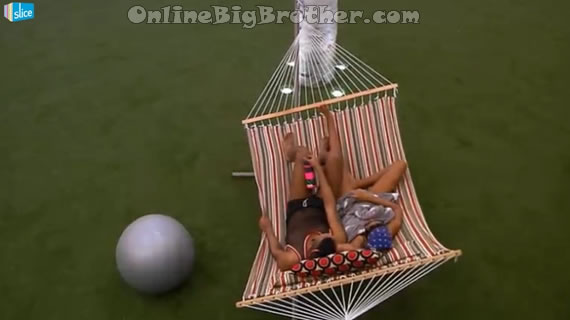 10:541AM Hammock Gary and Topaz
Gary wants to plan something fun for the house to do before Sue leaves.. Proposes a men strip show.. "Ladies Night"
Gary: "Peter can be really creepy at times.. right now he's creepy as fuc*.. then Alec cannot even function without scanning the room trying to think about what people are doing.. Dude chill out not everything is about game"
gary says Alec has been scanning them now that they are alone on the hammock
Topaz: "I'm surprised he hasn't come out before"
Gary: "He's putting out his social seeds"
Topaz: "Good he's on our side"
Gary: "He is but he's not"
Topaz: "until Final 4"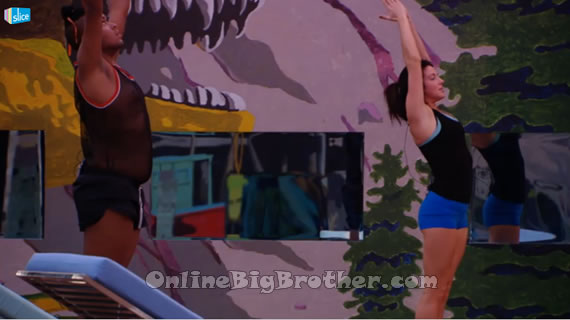 11:01AM Gary Jillian doing Yoga, Alec lifting weights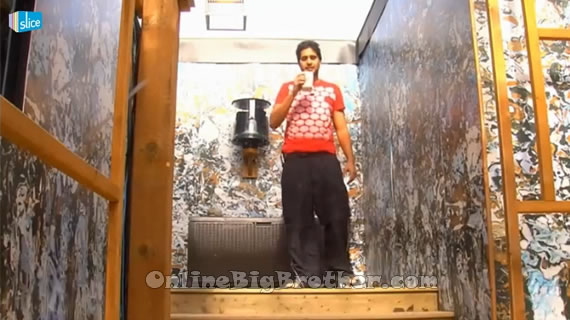 11:03AM Smoke Hole Aj talking Game with himself. Aj is saying if he does win HOH he's got to make a HUGE move. He isn't going to win many comps so when he does it'll have to be worth it. From the sounds of it AJ is highlighting Alec as the biggest threat in the game.
AJ: "I have to do it.. Alec i'm sorry it's a game.. i'm not going to win much anyways.. Alec will respect that.. He's a strong strong player.. Huge physical layer.. HUGE social Player.. if Alec or Emmett are in the end they are going to win"
Stay connected and interact with other Big Brother Fans on our Facebook page.
And Follow: @BigBspoilers and @Dawgsbigbrother on Twitter for the most up to date spoilers.
[polldaddy poll=6985048]
Share it YO!!
Tweet