POV Holder:
Hayden
Next POV
Aug 2nd
POV Used
?
POV Ceremony
July 28th
HOH Winner 1:
Frankie
HOH Winner 2:
 Zach
Battle of the Block Winner
 Nicole/Christine
Next HOH/ Next BOB
July 31/Aug 1
Original Nominations:
ZACH's Noms (Christine & Nicole) Frankie's Noms (JOcasta & Victoria)
Final Nominations:
?
Have Nots
Nicole, Caleb, Christine, Derrick
POV Players
Frankie, Victoria, Jocasta, Donny, Hayden & Christine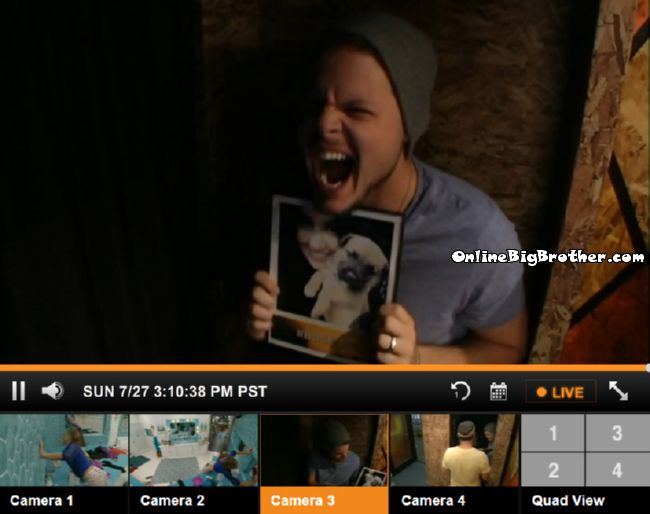 3:09pm photo booth time
Rewatch any moment on the live feeds with a subscription Try It Free! Get 24/7 access to the house PLUS more for 48hrs before you decide!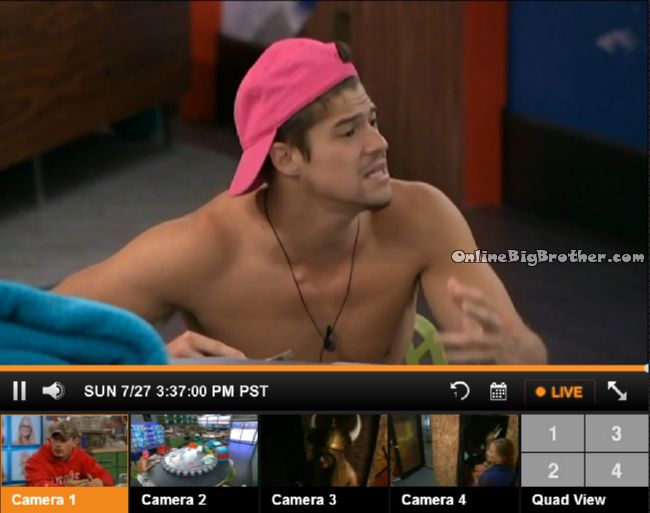 3:30pm KItchen Zach, Caleb, Derrick and Frankie
General chit chat. Caleb keeps singing more rock rap tunes. Caleb hears Amber yell DOnny and Cody. Caleb starts saying "Donny.. Donny.. Donny.. Cody.. Cody Cody"
Caleb can't wait until Amber is in that orange chair
Zach – "Caleb Caleb save me What happened"
Caleb and Zach impersonate a conversation post Veto Ceremony in the HOH
Zach as Amber (see image) "Please Caleb Caleb please how did this happen can you save me again Caleb please please caleb ..I'll do anything please"
Caleb "Hi.. What's your name again I'm caleb … Dang I didn't know there was such a pretty girl in this house.. Is this a twist did they just put you in here. "
Caleb is going ignore Amber when she comes running back to him, "What's Your name again, who are you, you want me to save you, I did it once for you not twice. "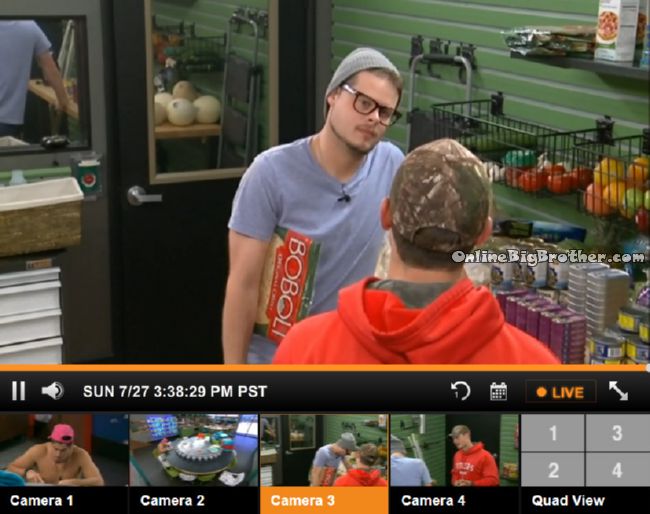 3:38pm Storage room Derrick and Caleb
Caleb saying that Amber told Zach a bunch of sh1t about him last night. She only went on the date with me to not hurt his feelings.
Derrick – WOW
Caleb – she's saying she's the main reason Devin is gone she also said she doesn't need Caleb She said "i'm playing my own game i've been playing my own game since day one"
Derrick – OH it had nothing to do with you.. ok .. ok .. wow she's a beast.. (A beast for making it so far on her own)
Derrick says it's disappointing Amber said that about Caleb.
Caleb – it doesn't hurt my feelings it's on TV
Derrick – she's going to look like a schmuck.. it's wrong
Caleb – She's going to be the one on the CHopping block
Derrick – WOW dude you'll have the last laugh.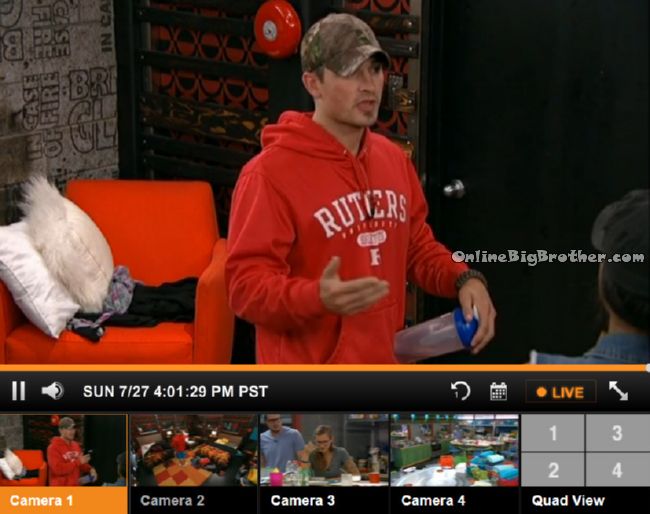 4:01pm FIREROOM Caleb and Jocasta
Caleb says Amber said she really didn't want to go on the date with him and only did it so Caleb feelings wouldn't be hurt. Jocasta tries to defuse it suggest maybe AMber meant she didn't want to do it so the house wouldn't clump them together and think they were in an alliance.
Caleb says the things Amber were saying in the date made him thinks she wanted to be there. Jocasta says AMber told her the date was nice and it was great conversation. JOcasta "She said Me and Caleb always have great conversation" Caleb adds that Amber Supposedly said she doesn't need him in this game, "Not just one person has told me not just one person"
Caleb says Amber didn't really try to talk to him even though she keeps saying she did.He says walking by someone and asking a questions isn't talking.
Jocasta tells him he needs to vent but make sure he doesn't do it in front of the wrong people because they could use it on im.
Caleb says he stayed up until 7 last night that was him venting, Jocasta – That's being one with the lord baby ..that's being one with the lord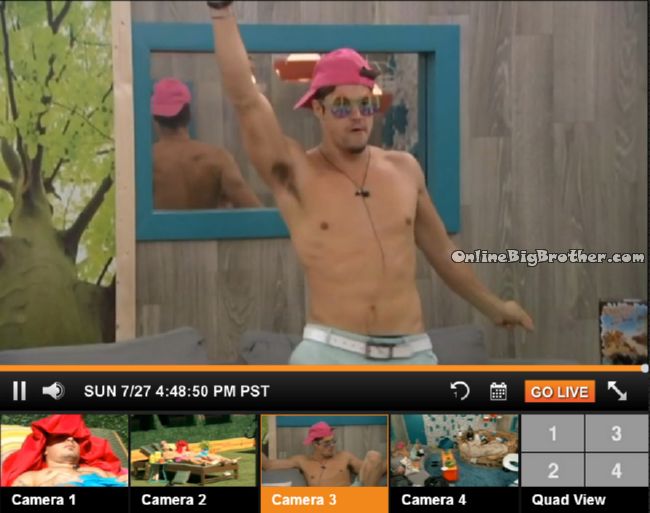 4:12pm HOH Cody and Zach
Cody tells him he guarantees that Frankie and caleb have a deal. Zach say Frankie has a final 3 with Caleb.
Zach says Caleb told Frankie he doesn't trust him. Cody thinks now that they have DOnny and Jocasta they don't need Caleb. Cody wants Caleb gone next week.
Zach brings up the things Amber told him about Caleb.
Zach told Caleb – She has no feelings for you she doesn't like you and she only went on that date with you so she wouldn't hurt your feelings
Zach – last night.. he was crying in the hammock all night
Cody F***** bro (Frankie comes in)
They talk about how extreme of a blindside this is going to be when Amber goes up. Zach "Caleb said I can't wait to put her in the hot seat"
Frankie warns all it will take is one conversation to fix those two back up
Frankie says once the nomination ceremony is over they are cutting Zach loose on the house
Zach "you're taking my leash off"
Frankie is going to say to Amber trust is a big thing in this game and there is one person that keeps questioning their trust and that means they don't trust him. Once that is done Zach is going to get up and pulverize Amber and defend Caleb.
Frankie – he's going to love you
Frankie heads into the bathroom.
THey suggest Zach doesn't plan his speech too much because he's choked before when he over prepared.
Zach agrees, Cody – Dude you guys are going to get in an argument she'll fight back.
Zach – Dude we're in a great spot.. couldn't be better especially you and me
Zach brings up pulling DOnny into the storage room and he told him he'd go his back. They all thanks Zach for handling this caleb play Cody – I didn't know Zach had it in him.
Frankie says once Amber goes up they will tell her this is a test if she doesn't blow up the bombsquad they will tells her she's safe if she does blow up the bombsquad she's evicted. Frankie adds Christine will tell Caleb Amber told Nicole everything about the alliance.
Derrick comes in. THey tell him about the plan to let Zach loose. Frankie adds that Caleb wanted his speech when he nominated Amber to be about Caleb but his is going to be about Amber and Zach's is going to be about Caleb.
Zach – "From the first day you walked in this house you lied through your teeth..Beast mode cowboy has gone to the moon and back for you 5 thousand times.. he straight up ate a pickle for you girl.. when you were freezing in the have not room who gave you two extra blankets who do you thanks no one thats right. he put his d!ck on the line for you countless times day after day after day and you show him no thanks.. you spit in his face and rub in it in the dirt"
Zach will end " The only question I have left is what do you have to say about that. "
Zach wants them to be closer to Hyden than Christine.
Derick doesn't want to bring anyone else in the alliance. Zach was thinking they got rid of christine if she found her way on the block.
Frankie thinks Hayden is a strong player they don't want to have a competition beast competing against them in final 5. Frankie adds they have been together for a long time they've built relationships with each other that they don't' have with Hayden.
Zach – She doesn't do anything
Frankie – great good she's got good brains she does what we tell her shes a vote. They agree Hayden's allegiance is with Nicole and Christine.
Derrick says Zach has created a character now he's got to roll with it. Zach says he would rather people hate him.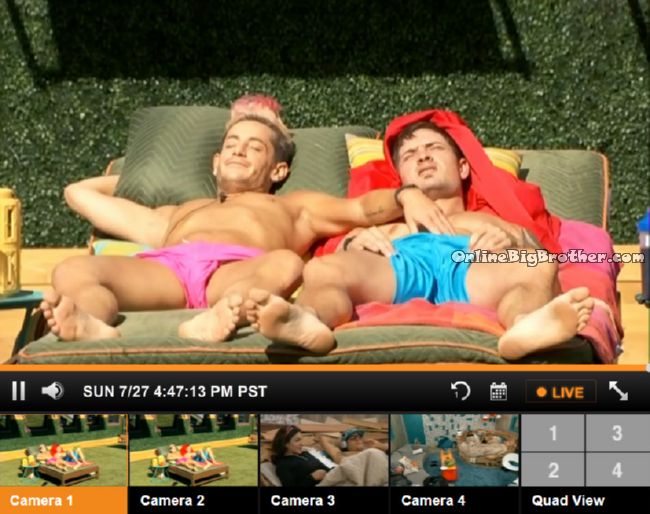 4:48pm Backyard Frankie and Caleb
Frankie asks him if he's doing ok. caleb say he's doing great.
Frankie – I smelt you on my HOH robe.. makes me happy.. it's like if you went off to battle I would keep it smell it at night and I wold think of you"
Alliances
Zankie = Frankie/Zach
The Detonators = Derrick, Frankie, Zach, Christine, Cody
Final 2 Deal "The HITMEN" – Cody & Derrick
Trilogy = Nicole, Christine & Hayden
Team America = Donny, Derrick, Frankie
Old timers = Jocasta/Donny
Nicotine = Christine/Nicole
(Defunct or unknown status)
Bomb squad = Caleb, Amber, Frankie, Derrick, Cody, Christine, Zach, Hayden
Not a showmance= Hayden/Nicole
Los Tres Amigos = Derrick, Cody, Zach
The bottom Feeders = Derrick/Nicole
We hate Devin = Christine and Zach
Outsiders = Brittany, Victoria, Jocasta, Donny
Stalker = Caleb/Amber
Quad Kings = Derrick, Zach, Cody and Hayden (still being built)
One way to support this site that doesn't cost you anything extra is making your Amazon purchases through the links below Amazon.com OnlineBigBrother Link
For Canada use link Amazon Canada OnlineBigBrother
More polls here https://www.onlinebigbrother.com/big-brother-compendium/big-brother-16-polls/
[polldaddy poll=8207784]