POV Holder:
Hayden
Next POV
Aug 2nd
POV Used
?
POV Ceremony
July 28th
HOH Winner 1:
Frankie
HOH Winner 2:
 Zach
Battle of the Block Winner
 Nicole/Christine
Next HOH/ Next BOB
July 31/Aug 1
Original Nominations:
ZACH's Noms (Christine & Nicole) Frankie's Noms (JOcasta & Victoria)
Final Nominations:
?
Have Nots
Nicole, Caleb, Christine, Derrick
POV Players
Frankie, Victoria, Jocasta, Donny, Hayden & Christine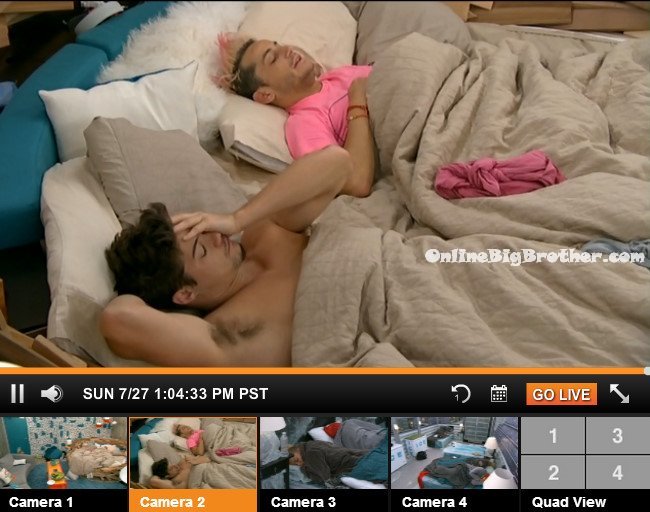 Take Advantage of the FREE 2 day Trial to watch all the drama!
1pm Big Brother blocks the live feeds. When the feeds return. Derrick, Victoria and Zach are awake. UP in the HOH room – Zach asks so Caleb doesn't believe what I said is true? Frankie says like we think he would do, he has convinced himself that what you said is false. Zach says right. Frankie says because you're not the most trustworthy person to him and he wants to believe that Amber isn't capable of any of that. Zach says right ..well I feel bad for him. Frankie says yeah I mean I would just stick with him when he is awake today and then… Zach says he just needs to get over himself. That's what it is. Get over yourself. Frankie says exactly, but you can't say that to him. Zach says right. Frankie says he needs to realize that he has been fully denied… but it's going to be hard for him to grasp. Frankie says I was in the diary room for 90 minutes last night at 3am. Frankie asks did they ask for the HOH and the 2 nominees? Whatever it will take me two minutes to get ready. Big Brother tells Victoria to please put on your micrhophone. Frankie says it should be Victoria please put on your make-up.
1:10pm Out in the backyard – Donny says today will be an unknown. Whatever is said today is doesn't matter. The only person you need to talk to today is Hayden. Later this evening, I would talk to Hayden and I would only talk to him once. You don't even need to talk to Frankie never again this week. One person you need to talk to and everyone else you don't need to say anything to. I would just rest today and if someone comes up to you I would just say you've got a stomach ache and run to the bathroom. Be friends with everyone and talk with them, just don't talk game with them. The more things you say it won't even matter right now. Jocasta says it sucks to be up on the block but I like participating in the game .. in the competitions.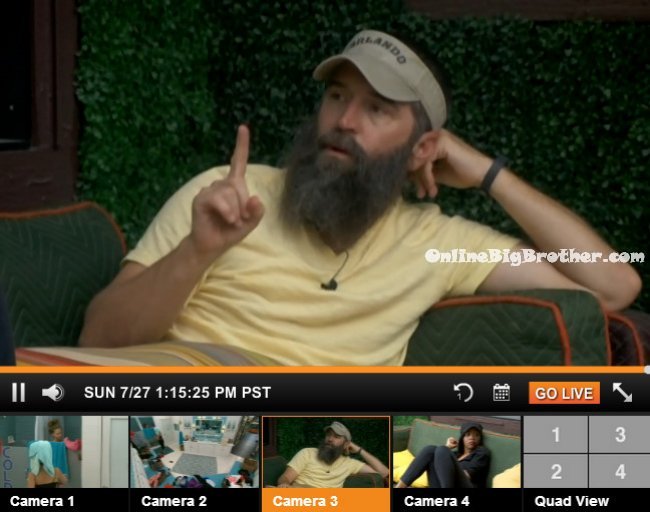 1:25pm In the living room – Derrick and Hayden are talking. Derrick asks what's your plan for today? Hayden says probably get talked to a lot. People were already talking to me about it last night. They talk about Jocasta is going to come talk to him some time today. Hayden says I have told everyone that I don't know what I am doing with the veto but obviously I know exactly what I'm doing with it. Derrick says so Jocasta is definitely going to talk to you because she still thinks its up in the air. Hayden says she is already campaigning assuming I'm not using it. Everyone is assuming I'm not using it, which is great. Its perfect. Caleb's plan ..Oh my god! Derrick says yeah. Hayden asks did he talk to you about it or did Frankie? Derrick says yup because he got me to get Frankie because he wanted to talk to him about it. Hayden says that's perfect! Wonderful! Derrick says yup!
See what they can't show you on TV! -Try the Big Brother 16 live feeds for FREE!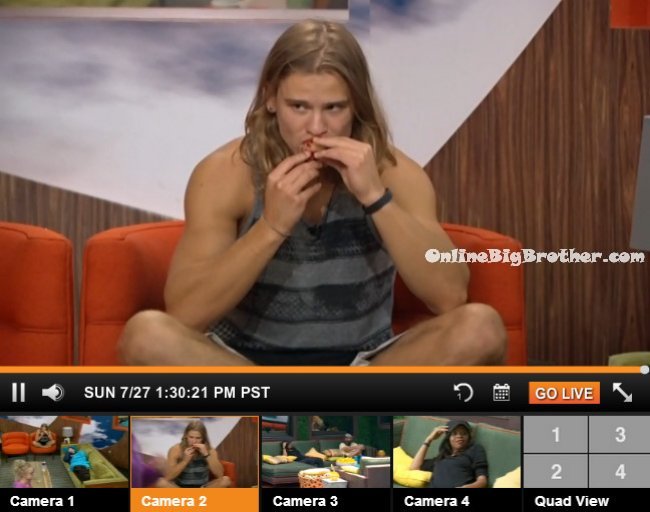 1:35pm – 1:45pm Hayden heads outside and apologizes to Donny for being loud last night. Donny says he didn't hear a thing. Hayden says oh that's great because when were causing quite the ruckus.. we were slapping each other with fish and everything. Cody comes out and then Nicole comes out. They ask her if she is feeling fishy today?
1:50am Jocasta heads into the hive room with Hayden to talk to him about the veto and whether or not he will use it. Hayden says that he is going to do whatever is best for his game and make as least amount of people mad. I don't know exactly what I am going to do with it yet. What are you thinking? Jocasta says obviously I would like you to use it on me. You aren't a target for me and I want to stay as long as possible. Of course I would use it on you if I won it. My word is my bond in this game. Hayden says I feel like you're definitely not a target. I don't think you would go home if I use it or if I don't use it. I feel pretty positive about it. I stil need to talk to a few other people about it. I don't want to say either way what I am doing with it. If you are still up there after tomorrow then its because you're up against a bigger target in the game or that I don't feel like you would go home. If everyone is coming up to me telling me to use it on you, then I would. Hayden says I truly believe no matter what you're not going home. I love you and want you here in the game. Jocasta says thank you. I appreciate that.
Take Advantage of the FREE 2 day Trial to watch all the drama!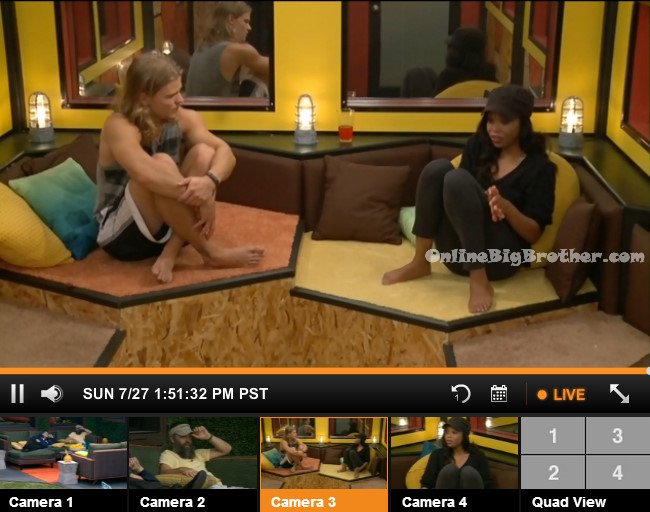 1:50pm – 2:15pm In the backyard – Donny and Derrick are talking about the team america mission. Donny asks if Zach would start up with Caleb? Derrick says Zach is afraid of Caleb. Donny says Zach was on Caleb a lot yesterday, he almost pushed him over the edge. Donny says he's seen that at work, people teasing and saying one more thing that pushes a person over the edge. Derrick and Donny say they will get up early tomorrow and prime Zach before veto meeting. Derrick says that it's a long shot but Amber's the only person who would respond now that Brittany's gone. Donny says Amber will be hurting if she finds herself sitting next to Jocasta. Donny and Derrick agree that they don't know who Hayden's using it on. Donny says that he worries about Frankie's replacement nominee. Derrick says that Frankie won't put up either of us because team america is too important. Derrick and Donny agree that they need to win as much Team America money as possible because we aren't even guaranteed the 50K. Donny says the next mission must be easier because this one was extremely hard. Derrick says if this one goes according to plan that I would like to talk to you about working with you. Donny says I would like to do that but its too early at this point to do that. Derrick says I would like to see Jocasta in the end too because I think she's here for the right reasons. Donny agrees.

2:15pm – 2:40pm Derrick says that he thinks that Amber is a better competitor than Caleb. Donny agrees and says that she is much smarter ..her brain controls two people. Caleb can't even think for himself. Donny brings up how Caleb has only won one competition. The only competitions Caleb can win are the brute strength one like the first HOH. Donny says if Frankie puts Amber up and Caleb turns against him then Frankie has us and the rest of the house to back him up. Derrick says that he likes Zach and says that its good to have him in the house because he's a bigger target. Derrick says that he doesn't know where Christine stands in the game. Donny says that it made him nervous when Christine picked him and Jocasta to go against each other in the last HOH competition. Donny says I made my selections without thinking much. Donny says that Derrick's letter said he was playing a great game, which was a nice outside perspective. Donny says I feel better about having you as an ally. Derrick says I'm playing on the up, buddy. Hayden joins them and the conversation ends. Nicole joins them and is all dressed up for the photo booth. Donny says don't get me turned up! The talk about the wake up songs being country. Hayden says all the lyrics were the same about Dogs, trucks, dirt roads ..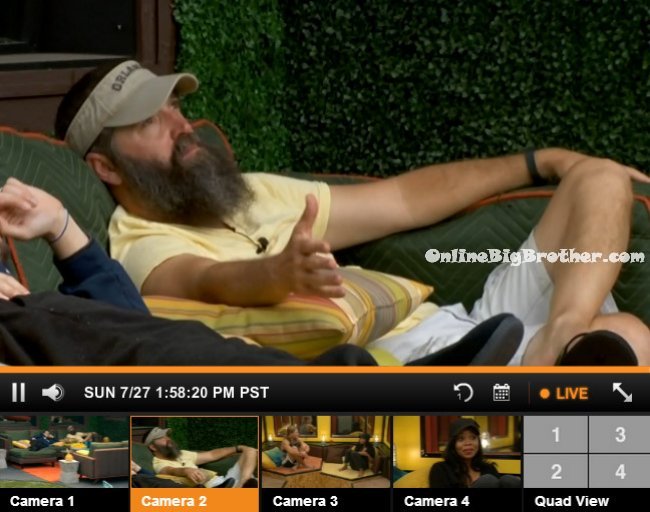 2:50pm – 3pm In the kitchen – Cody, Nicole, Jocasta, Christine, Frankie are eating and talking. Out in the backyard – Hayden, Donny, Derrick, Amber are lounging on the backyard couch talking about random things. The conversation turns to talking about Devin and how much he ate. Donny wonder how much in chicken breast he ate. Amber says I don't know what to think about Brittany after hearing what we heard after she left. Hayden says she definitely mixed up her stories. In the bathroom – Nicole is talking to Christine. Nicole says she is very confident, she thinks she (Victoria) has the votes to stay. She said she has 6 votes. Christine says in this house you never know.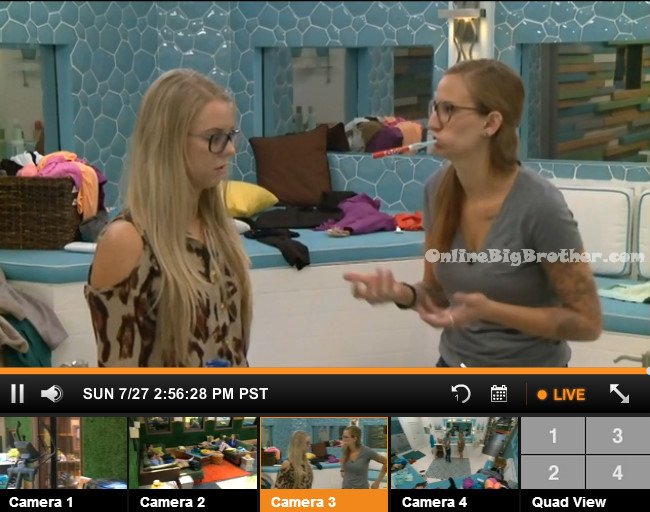 Alliances
Zankie = Frankie/Zach
The Detonators = Derrick, Frankie, Zach, Christine, Cody
Final 2 Deal "The HITMEN" – Cody & Derrick
Trilogy = Nicole, Christine & Hayden
Team America = Donny, Derrick, Frankie
Old timers = Jocasta/Donny
Nicotine = Christine/Nicole
(Defunct or unknown status)
Bomb squad = Caleb, Amber, Frankie, Derrick, Cody, Christine, Zach, Hayden
Not a showmance= Hayden/Nicole
Los Tres Amigos = Derrick, Cody, Zach
The bottom Feeders = Derrick/Nicole
We hate Devin = Christine and Zach
Outsiders = Brittany, Victoria, Jocasta, Donny
Stalker = Caleb/Amber
Quad Kings = Derrick, Zach, Cody and Hayden (still being built)
One way to support this site that doesn't cost you anything extra is making your Amazon purchases through the links below Amazon.com OnlineBigBrother Link
For Canada use link Amazon Canada OnlineBigBrother
More polls here https://www.onlinebigbrother.com/big-brother-compendium/big-brother-16-polls/
[polldaddy poll=8207784]