Head of Household Winner – Cliff
Have note are: Tommy, Christie, Jackson, Kat
Nominations are: Jack and Jackson
Powers in the game
Jack – Chaos
After chips have been drawn for a Veto player draw, Jack could force a re-draw for the players. This power could only be used once and is able to be used until there are six players left in the game.
Christie – Panic
At any of the next four Power of Veto Ceremonies, Christie can turn the Golden Power of Veto into the Diamond Power of Veto and allow the current veto holder pull someone off the nomination block, but instead of the Head of Household naming the replacement nominee, the veto holder names the replacement.
Grab your live feeds —-> BB21 Live Feeds Subscription Link
Rank your houseguests —-> Big Brother 21 Ranking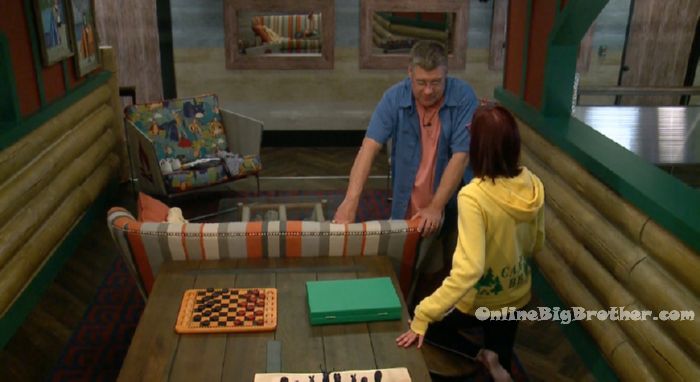 8:25pm Cliff and Nicole. Cliff – how are you feeling. Nicole – I'm good. Cliff – that was kind of a gutsy thing I did. I just feel like we were going to get cut down one by one. Nicole – 100% but I just feel like I have to defuse the peoples.. Cliff – I know, it pulls you in a difficult spot. Hopefully, we're still working together. Nicole – absolutely.. that's what's scary .. Jess came to me and said control your man up there. Cliff – really, well we'll figure it out. Nicole – this is the only thing I feel comfortable with faithful in. Everyone else, no one is going to take me with them. Cliff – that's the thing I know the six flipped and gave you the votes but if it hadn't gone that way I think I would have only gotten an extra couple weeks out of here. So I just have to hope that Jack doesn't win veto and if he does and Christie uses her power on him then that could be rough. Nicole – yeah. Cliff – if she did, he would probably put up Nick and Bella. We would just have to go with it and try and avoid the collateral damage. Cliff and Nicole head into the HOH room. Nicole – its difficult because its the six of them. Cliff – if we can make this work and get Jack out .. from a competition standpoint there isn't anyone on that side that can give us much competition.. except maybe Christie. But on our side we've got me, Nick, Sam.. Nicole – and Jess has gotten close. Cliff – I think we could win enough to maintain balance. Its me and you and Nick and Bella and Sam but we don't really have anyone where we feel like we're at the bottom of the pecking order. Even though it was risky.. Nicole – I don't want to be this middle person snake, manipulative person but I like that's kind of where I landed. Cliff – we all have our rolls. I just hope we're tight. Nicole – we are. Cliff – I talked about how you and I disconnected through Ovi. So people aren't looking at us as this tight alliance. So continue to keep track of them and I will keep track of this side.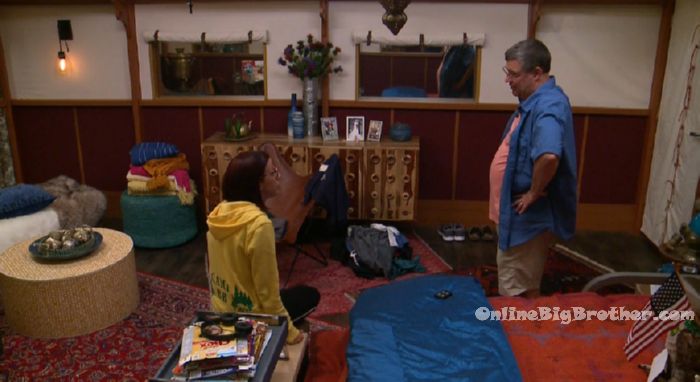 Tommy and Cliff. Tommy – I just wanted to say that I am sorry that I was emotional before. I really mean it, thank you. I talked to Jess and I really mean it when I say that I support your decision. I understand, I really do. Cliff – I am trying to do the best gameplay. Hopefully, I've proved it to y'all having not picked y'all. Tommy and Cliff hug.
8:36pm Boat room. Tommy and Jack. Jack – if its Jackson and I on the block .. because if comes down to a vote they have to be cool with me. Tommy – its not volunteering .. this is what was going to happen anyway. If Cliff wants to call it volunteering that's fine. Jack – that's bullsh*t it was happening anyway. Tommy – its going to be a tough week but I've got your back. Jack – I just realized that I have to still talk to him. Ultimately if it comes down to a vote I know I've got you, Christie and Sis but at the same time I'm a bigger threat. Like Nick and Bella are going to want to send me out. Tommy – I love Jackson but I've heard whispers that he is really aggressive towards Kat. The way he talks and sometimes that rubs people the wrong way. Not to say that I don't love him but that's in your favor. People like you more and want you around more. Jack – and the fact that he is on slop and I get to cook for everyone. I am going to win it tomorrow.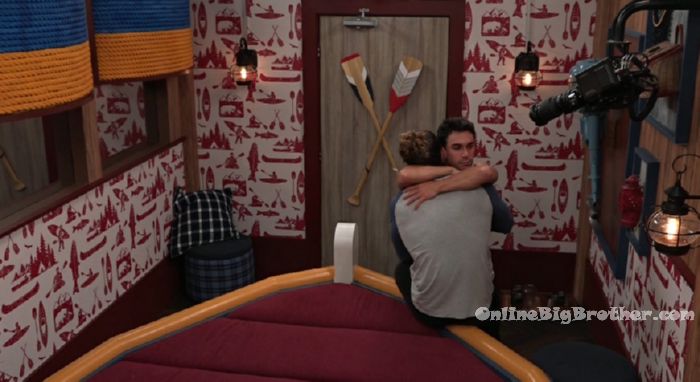 8:50pm Slop balls are ready.. Christie – Its not like there are more of them. We will put tinfoil on them and a death threat.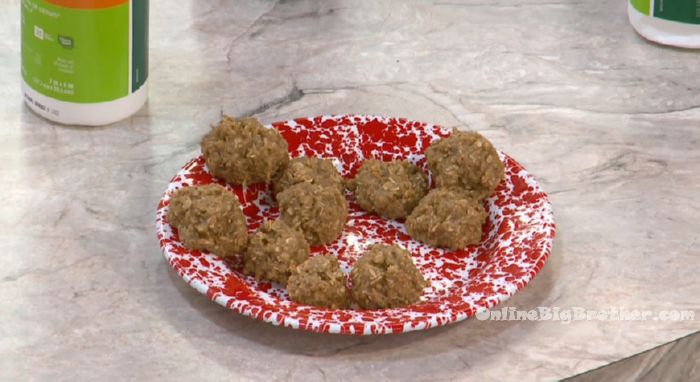 9:07pm – 9:40pm Bedroom. Tommy and Sis.
Tommy – Today, I'm not talking to anyone. Tommorrow is a new day, I'm just trying to think about what to do moving forward. What if next week we say to Nick.. here is the truth.. you guys did this, you guys did that. If we can sweep it under the rug and join back up together, we can get rid of Cliff. And that brings us back together again. Sis – I just feel like no one would trust each other. Tommy – if we put everything out in the open. .. we need each other. Jack joins them. Tommy explains his idea to Jack. Tommy – the only way Nick would be on board is if we convinced him that he wouldn't be on the bottom of the pecking order. Nicole joins them. The conversation turns to chatting about random things. Cliff, Christie and Jess join them.
Jack's going balls out this week..#BB21 @bigbspoilers pic.twitter.com/Ak3Gib8lCp

— Dawg (@DawgsBigBrother) July 20, 2019
Jack giving zero fucks #BB21 @bigbspoilers pic.twitter.com/3au7tjE8EA

— Dawg (@DawgsBigBrother) July 20, 2019
9:46pm – 10apm HOH room. Bella and Cliff. Bella – if Jack comes down who would you put up? Cliff – Maybe ..either Holly or Tommy. I don't know it would just be someone on that side. And it could be Christie because she has to decide whether she wants to use it or not. Bella tells Cliff that in order to keep Kat on their side Nick made an alliance with Kat including us call the misfits. Sam – what if Kat runs and tells Jess.. then Jess and Nicole will know they're on the outs. Cliff – as long as she doesn't say anything then I don't have a problem with it. Sam – is annoyed with Bella.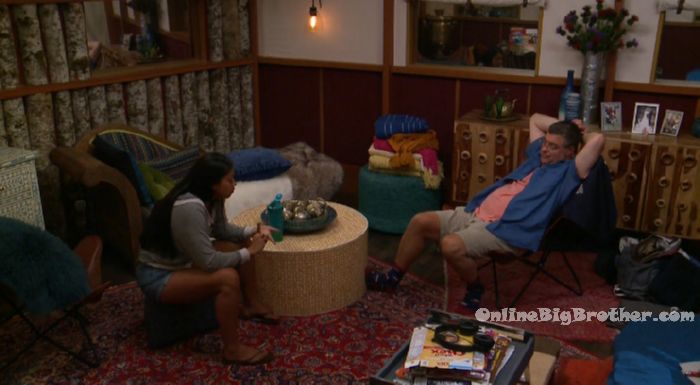 9:50pm – 10:10pm Tommy tells Christie about his idea of getting back with Nick and Bella and go after Cliff and Sam. The way I play this game Nick has no reason not to trust me. Christie – Sam and Cliff are the better players. Christie – and then what we're here with 3 couples? Like we don't stand a chance with couples. I love Jack and don't want him to go anywhere. Tommy – I think one of our six are going this week. It might be Jackson. Christie – I would much rather it be Jackson over Jack. I don't want Jack to go. Tommy – if we band together, then we use each other to get farther in the game. Christie – I don't trust that they won't take the first shot at us. How do you trust someone who keeps burning us. Tommy – I trust Nick, because he never burned us. He burned them. Jack joins them. Christie – can I be honest, I can't play for another second with Bella.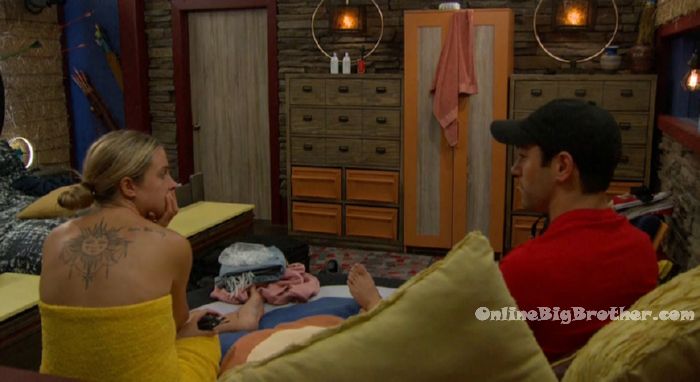 10:20pm – 10:35pm Tommy and Christie. Christie – its going to be a really complicated week. Tommy – I want to keep Jack safe, I really do. I want to find a way to save Jack because Jack is good for both of us. Jack loves us and will fight for us till the death. I know it. Christie – I still think Jack is just a smooth-talking sketch bomb. If someone is using the veto on Jack .. I have to use the power because if I don't Cliff would probably backdoor me. Like I don't want to use my power to save Jackson. I will only use it to save jack.
10:40pm Bedroom. Nick and Bella. Nick – I don't understand why she (Christie) would not use it (her power). If they got me out it would be so good for them. Just like the same way we're thinking if we get Jack out we're so good especially if the vote is crazy. If its 5/5 Cliff will break it. I'll make a speech .. I'll be like we are very low on the pecking order and we'll get stabbed. If we get Jack out we have a great chance to get to five or six together. All we need now is this veto. Christie's power is annoying. Bella – if Jack stays its not going to be a fun rest of the season. He is just going to walk through.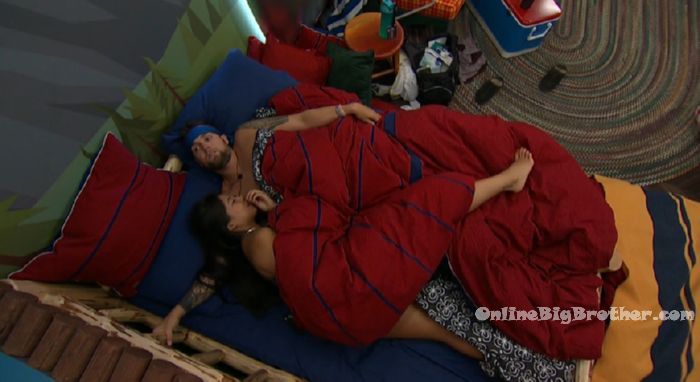 (Jack tells Tommy, Sis, and Jackson about his Chaos Power)
11pm – 12am Camp Comeback room. Jackson, Tommy, Christie and Sis. Jackson – can I just ask do either one of y'all have a power? Tommy – no I don't have it. Jackson – because I am just asking on my game .. I don't have a power .. if Holly has it then Kudos to her for keeping a secret. If Sam has a power .. there are only 5 people that could have it four of which are in this six. Jack smiles. Jackson – you f**ker! Jack – I finished that motherf**ker in like 7 seconds. Jackson jumps on Jack. Jack – its nothing that great though. Christie – its still good though. It doesn't even matter that you have it, it matters that they don't. Jack – its called the Chaos power.. I am able to switch the veto player picking. Jackson – that's big this week. Jack – that's why I am confident going in this because we have two veto powers. Jackson – this is big! Jack – my thought process is this .. if two out of the three players are from six shooters then we ride with it. If not then we'll re-draw. Christie – one of us has to win it.. if Kat is in it ..get her to throw it to one of you. Christie – Nick I feel like we could still work with … Bella needs to eat sh*t! I don't like her. I cannot play in this game with her. She's a conniving evil, immature, little mean girl, pit bull, reckless bomb! Nick has a heart inside and with out Sam and Bella he needs us. Kat joins them. Kat – I'm a bit of a veto champ .. if any of you get house guest choice .. you can pick me. Christie – I have a serious question .. if you win it and use it .. I am going to activate my power… then you would have to nominate two people. Kat – OHHHHh… I would rather throw it to one of y'all. Christie – perfect. Who's side is Sam on? Tommy – he is playing both sides. Christie – he is not with us.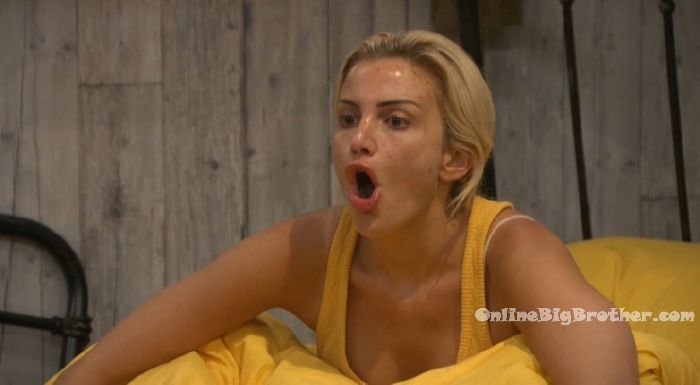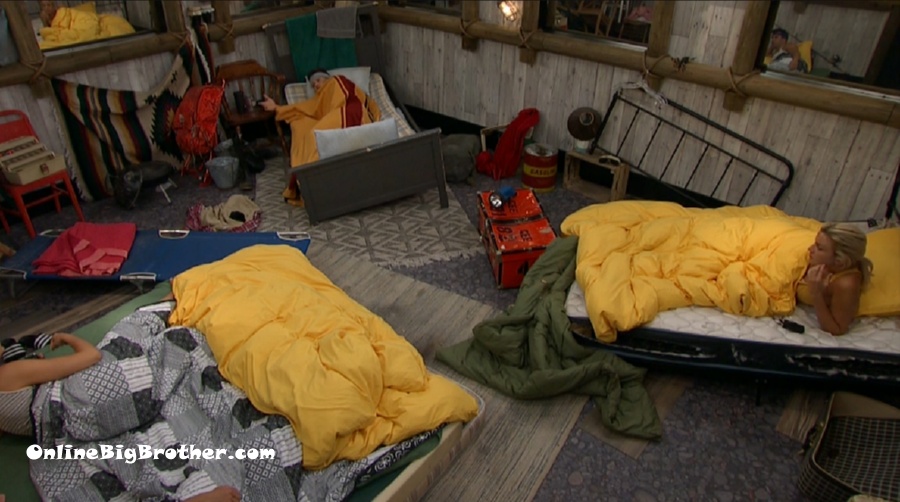 1:23 am Have nots
Discussions on how to get Belle on the block.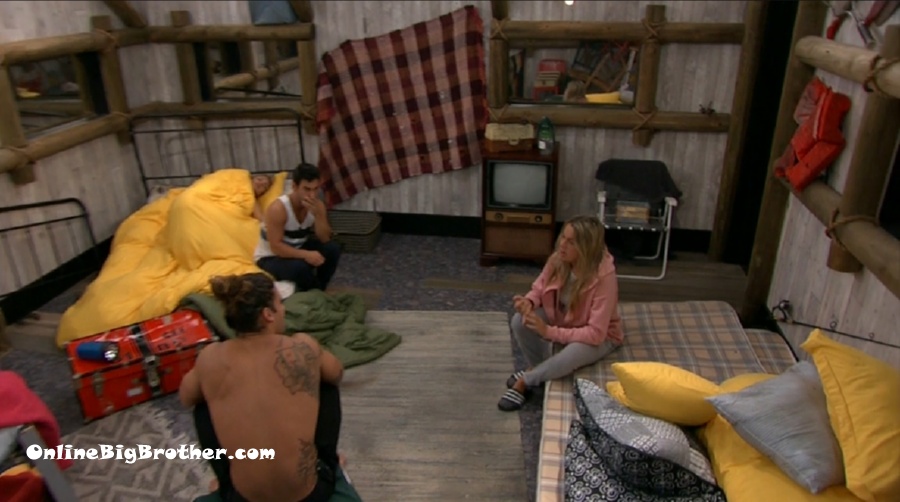 8:18 am Tommy, Jack, Kat, and Christie
Christie says Bella is after her "big time" so she'll use her power to get Bella on the block using her power. Says that she knows Jack wants Sam but she's not confident about the votes.
Christie – Cliff doesn't mind that she gets out .. he just doesn't want to get his hands dirty.
Christie – I can tell Bella to f* herself and she doesn't go to jury
Jack – Bella deserves to go
Christie says Bella is toxic and has screwed every single person in this house and now she's running around the house telling everyone she wants Christie gone
Christie – I want to send her home to the home she doesn't have (ouch)
Tommy says Cliff may try to campaign to keep Bella because he sees her as a number for him right now
A little something EXTRA for those who Tip / Donate:
If you are one of the generous people that donate to help keep the updates coming, we're giving out a bit more this year. Check out this page for more details: OBB Members