Head of Household Winner – Cliff
Have note are: Tommy, Christie, Jackson, Kat
Nominations are: Jack and Jackson
Powers in the game
Jack – Chaos
After chips have been drawn for a Veto player draw, Jack could force a re-draw for the players. This power could only be used once and is able to be used until there are six players left in the game.
Christie – Panic
At any of the next four Power of Veto Ceremonies, Christie can turn the Golden Power of Veto into the Diamond Power of Veto and allow the current veto holder pull someone off the nomination block, but instead of the Head of Household naming the replacement nominee, the veto holder names the replacement.
Grab your live feeds —-> BB21 Live Feeds Subscription Link
Rank your houseguests —-> Big Brother 21 Ranking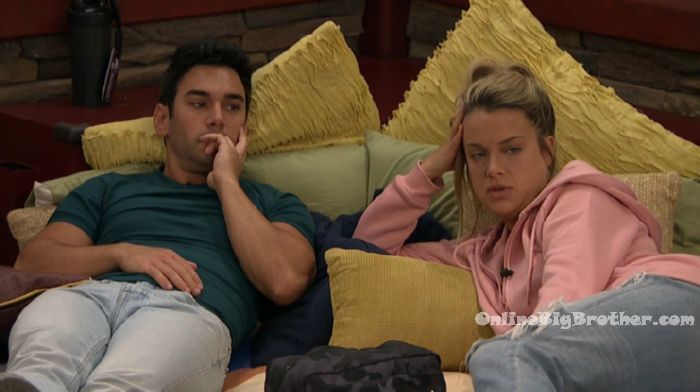 5pm Bedroom. Christie, Nick and Tommy. Christie – if I decide that I want to use it (her power), I talk to the person (Veto holder) before and let them know that I'm using it. Oh no, I'm sorry! I lied. If I decide I want to use it, I go in the DR 11am the morning of the veto meeting and claim that I want to use it if the veto is used. Nick – okay. Christie – if the veto is then used at the meeting.. Tommy – it activates. Christie – alarms will go off and then it will say that the person that holds the veto now has to pick (replacement noms). Nick – it depends on who has the veto. Christie – yeah, if Cliff won the veto it would defeat the purpose. Nick – well yeah because then.. Christie – he would be naming them anyways. Sam joins them. Sam – Jackson is throwing away all of Cliff's cereal boxes. Tommy – Jackson or Jack? Sam – Jack. Christie – Jack is throwing away all Cliff's cereal boxes? Sam – yeah, that's kind of sh*tty. Christie – why would he do that? Tommy – that's kind of petty. Sam – he's tearing them up and stuff. Christie – what?!!? He is so stupid!! Cliff literally just said he can't wait to build his rocket ship and helmet for the 50th anniversary of the moon and everything. Tommy – that's going to look bad to America too. Christie – Like that is so dumb! Who does that!? Nick – and out of everyone you know its not personal with Cliff. Christie – its not he was almost crying with his wife's rose in his pocket. Nick – I know it was cute. Christie – I almost lost it when he walked out. Tommy – I am going to go try and stop him. Sam – no, don't because now it makes it look like I ran in here like a rat. Tommy – a lot can change. That was the big game move of the season that everyone was scared to make .. and f**king Cliff did it. Christie – because he is a MAJ PLAYER. He isn't f**king around!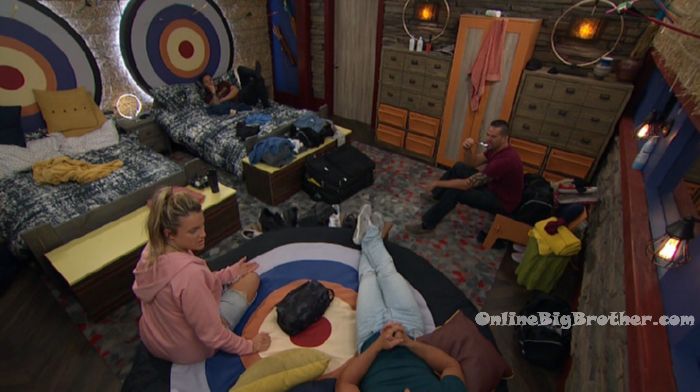 Bathroom. Jackson, Holly and Kat. Jackson – its big brother. Its big brother, he wants to play .. lets play. Kat – they're assuming its a plan to backdoor Nick or Bella. Jackson – that's what they're going to say. Kat – isn't that the plan? Jackson – no. Kat – what is going on. Jackson – its big brother and its Cliff's HOH. He's doing whatever he wants to do. This is the exact opposite what we wanted to happen. There's going to be two of us playing in the veto. Kat – well they (Nick & Bella) think its a plan to backdoor them. Jackson – they're going to say that. Kat – I am so f**king confused. Jackson – they're going to say that to keep transparency and neutrality in this house. This equals bad. This equals not good. Kat – if I win the veto I will take you off. I'm confused because Cliff said he doesn't want you to go home. Jackson – the goal was to keep me and Jack off the block but he wants to take his shot at Jack. But if he wants to f**k with Jack, he's f**king with me too. Kat – think this might be a plan to backdoor someone. Jackson – if it was he wouldn't have put me and Jack up. He is drawing a very clear line in the sand. Jackson – you might as well take a shot a me too. Don't mess with me or mines. Cliff wanted to work with Nick and Bella. Kat – no he wants to work with you. He told me.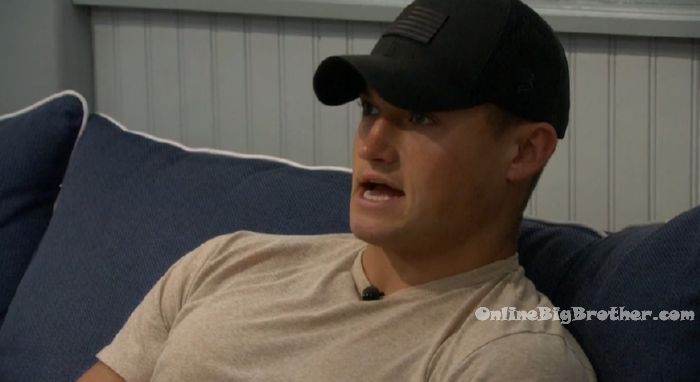 Christie and Nick. Christie – what the f**k is he (Jack) doing? Nick – are you actually going to use it (her power). Christie – no. Nick – well let him keep doing this then. Christie – that's why I am doing nothing. Keep your mouth closed, don't say a word to anyone. According to us nine, I have the power. This is how I am going to get out of having to use it. They know how much I feel about being bullied by a guy and being told this is what you have to do. So when they start… you have to use it, you have to use it, you have to use it. That's when I am not. Nick – did you know that you and Tommy are the only ones that didn't go up there and tell him (Cliff) to put me up because them four did. Christie – I would never. Nick – I don't even know why they don't like me. Bella joins them. Christie tells her how they are going to put so much pressure on her to use it and that is going to be my reason for not using it. Jack joins them. Christie – the only people who cannot win it are Jess .. she would not use it .. and Cliff cannot use it. The odds are in our favor. This is our game. Christie – if one of us wins veto we put one of them up ..stragglers. We still have the votes. That straggler is going home. We are not going to act like we're down and out. Nick – Jackson has a bum foot too ..which is unfortunate for him but a good thing for you. Christie – I am going to use the power ..as long as the veto is in the right hands because they could put up another one of us up. Nick leaves. They (Nick & Bella) seem fine. Jack – if we don't get a good pick (veto player pick) I will just use mine (jack's power).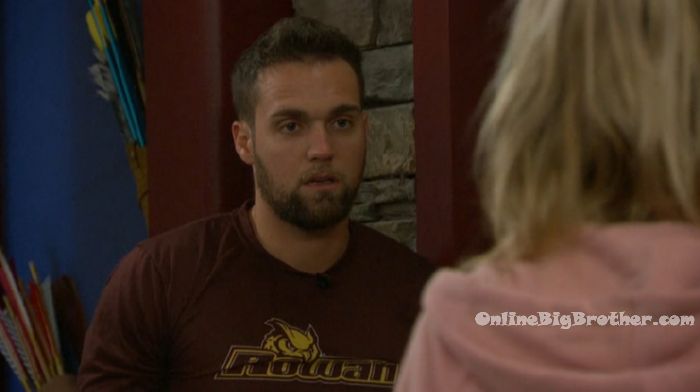 5:30pm Jackson and Holly making out in the bathroom. Jackson – I came here to play. I don't want to sit here with my thumb up my a$$. I want to come here and risk things and gamble and have fun. I don't want to sit here and just float. If he wants to draw that line in the sand.. do it and I'll finish drawing the picture. If I wanted to be safe I should have won HOH. Jackson – I don't want to see Jack go. Rather him than me. Holly – but of the six of us I don't.. Jackson – well then vote me out. We can't play scenarios that aren't in front of us.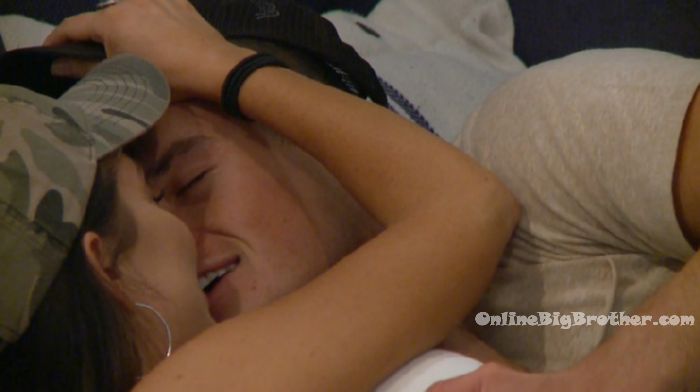 5:37pm Nick and Sam in the boat room. Nick tells Sam what Christie told him about how she isn't going to use her power and use them bullying her to use it as the reason why she won't use it. (Christie told him not to tell anyone) Nick – the lines are drawn.. its me you and Bella against the six. I only trust you and Bella. Sam – be careful with Bella. Nick – what do you mean? Sam – just like I tell you not to say anything to anyone .. don't tell her everything. Sam – as long as one of them goes. Jack has to go.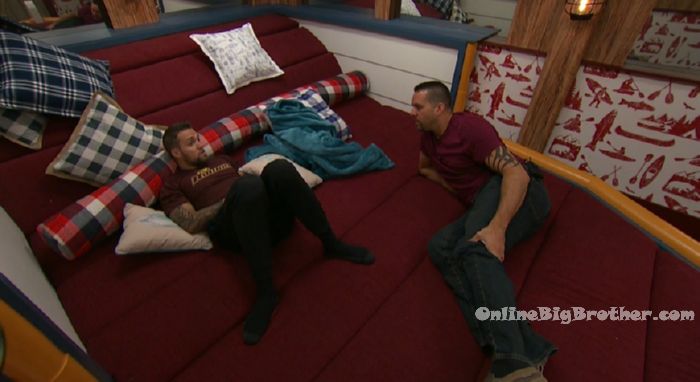 Holly, Jackson, Jack, Tommy and Christie.
Jackson – I volunteered to go up to keep people in our alliance safe. He put me up on the block against Jack .. whatever. It is what it is. I am not fixing to let you go up on the block by yourself. I would do it again in a heartbeat. Christie – if its Nick, Bella, Sam, or Nicole or Jess win the veto.. I am not using it (her power). I am not using my power if Nicole wins the veto. Jackson – we just saved her and she owes me too. Christie – she doesn't owe anyone sh*t. I have to be honest, I am not wasting my power to risk her putting me up. Me and its mine! We all saved her because he was the bigger threat. We didn't save her because we trust her. It has to be one of us that wins it. It has to be one of the six that win it. They all agree that they trust Nicole for a vote. Jackson – I would rather die on my feet than die on my knees. Sis joins them and tells that that Nick said if he wins the veto he will use it on either one of them. They all don't believe that for a second. Jack – there is so much lying .. I'm about to walk out there and say you're f**king lying, you're f**king lying, you're f**king lying ..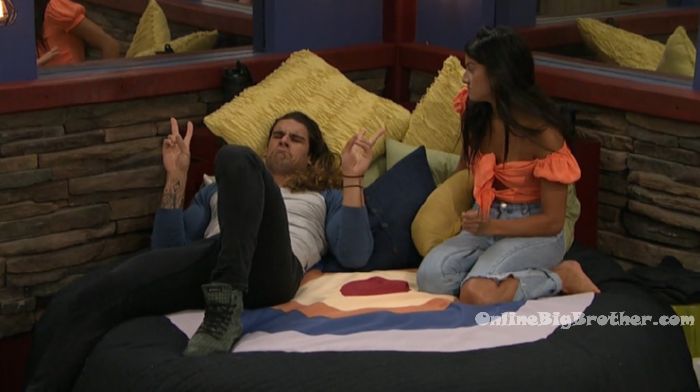 6pm Camp comeback room. Cliff and Christie. Christie – I just want to say thank you again. Cliff – I hope that carries some credit. Christie – more than credit. Cliff – you know where I'm at with this. It was hard. Christie – I know who is dangerous and who's not. I want to keep a low profile. I am close with both sides. I almost didn't want to win it so that I didn't have to decide. Cliff – trust me I didn't want to win it but I felt like I had to after everything. Christie – I want to stay in communication with you. Noms are noms and anything can change with the veto. I want to know if you have a set target. Its going to be a tough week for me because everyone obviously knows I hold this power. Literally I've had everyone come up to me after noms saying well you have the power.. you're using it right? And while yes of course in a perfect world you would use what ever you have in your back pocket to save a friend. How do I know I don't waste a potentially really valuable thing for me ..for someone else to lose that next week.
Cliff – its silly for me or anyone else to tell you what you should do with your game. Tommy joins them. Cliff – You're a strong individual and I don't want you on the wrong side of me. I love Jack and to watch his face was hard. And Jackson too. Its just hard. Its stressing me out incredibly. Tommy – it was a.. honestly if it was me I would do the same thing.

6:15pm Nick, Bella and Sam. Bella – I think that most people would put me up to not get you pissed. I was telling Kat this .. that its actually really comical that they keep trying to get me out .. that they really don't like me and I'm still here. Nick – this is the thing we need to put all our chips in a basket with Kat, Cliff and Jess. Sam – eggs. Nick – we don't have a choice.. we already got burned by one side. If they burn us too ..then we're f**ked.
6:30pm HOH room. Cliff and Nick.
They talk about Christie's power and what would happen if she used it. Nick – if Jack won the veto and she gave it to him, he would probably put up me. But I don't think she will use it and it doesn't matter .. we just have to win it. Cliff – I made my shot… whether it sinks us or not. Nick – we don't have a choice.. their group might look like the better group but what have they done? Me, you and Sam have all won sh*t. They haven't won anything. You've won three things .. banishment, that thing and the HOH. And Sam's won two vetos. I've won a comp. Bella is due and Jess is got two seconds. And Kat killed that f**king puzzle. We're like the misfits… that should be our alliance name. Did Sis ever say my name? Cliff – I don't think so. Holly did. Nick – I don't care about Holly .. she will just do whatever Jackson wants. I f**king hope I get picked… Honestly, me, you and Bella get picked., because then they have to win it. Cliff – if Jack wins the veto .. and she doesn't activate it (her power) can I put her (Chrisie) up. Nick – she has to activate it before. Cliff – Michie is pissed. Nick – they voted you out .. they can get over it!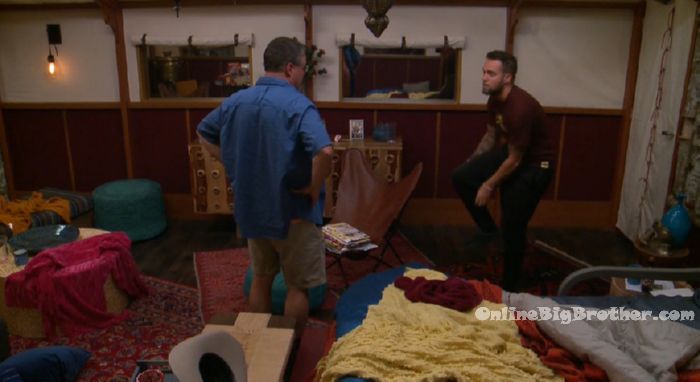 7:30pm Kitchen. The havenots are making slop creations. Cliff is at the kitchen table making a cereal box helmet. (I guess Jack didn't destroy all the boxes)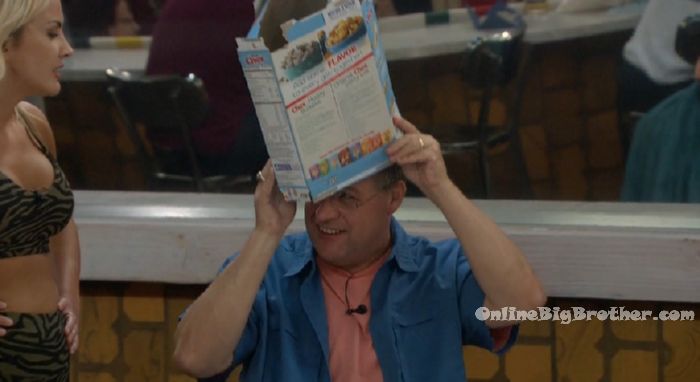 Sam – are you going to campaign against Jack? Jackson – No, I'm not going to campaign against him. I would rather let the chips fall where they may knowing that the house decided what it wanted. I am not going to say a single word to anyone saying why they should keep me around. Sam – I hope no one is on the block next to me .. because you're F**KED! Jackson – I'm throwing you under the bus motherf**ker! No, I don't think I would play dirty actually. Jackson – I couldn't do that to him. Sam – its also too early. Jackson – people are going to vote how they're going to vote. I came here for way more than 500k. I came here to be uncomfortable. In my life I am constantly looking for things to make me uncomfortable. I am uncomfortable right now and I love it. It doesn't look like it but I am f**king happy on the inside.
A little something EXTRA for those who Tip / Donate:
If you are one of the generous people that donate to help keep the updates coming, we're giving out a bit more this year. Check out this page for more details: OBB Members