Head of Household Winner – Nick
Nominations – Jessica and Cliff
Intentions – Nicole or Cliff
Power of Veto Players are Nick, Jackson, Jessica (picked Christie), Cliff, Kat
Power of Veto winner – Kat
Powers in the game
Ovi – Nightmare (Dead unless he comes back?)
During the night, Ovi could secretly wake up the house and call a new Nomination Ceremony, with the Head of Household naming two new nominees. The original nominees would have immunity for the week. The power is able to be used for the first six Nominations.
Jack – Chaos
After chips have been drawn for a Veto player draw, Jack could force a re-draw for the players. This power could only be used once and is able to be used until there are six players left in the game.
Christie – Panic
At any of the next four Power of Veto Ceremonies, Christie can turn the Golden Power of Veto into the Diamond Power of Veto and allow the current veto holder pull someone off the nomination block, but instead of the Head of Household naming the replacement nominee, the veto holder names the replacement.
Grab your live feeds —->  BB21 Live Feeds Subscription Link
Rank your houseguests —->  Big Brother 21 Ranking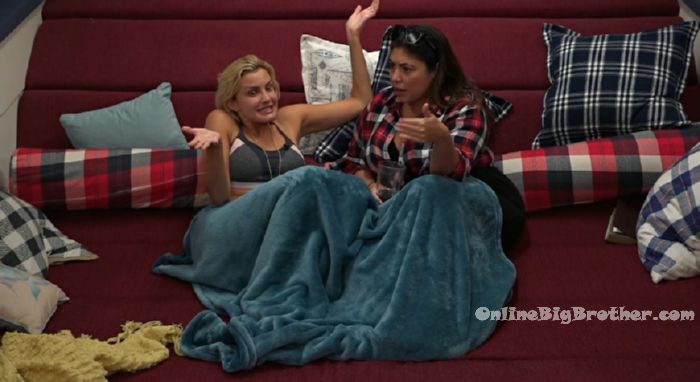 9:23pm Boat room. Kat and Jess. Kat is telling Jess about a situation that happened between her and Jackson where Jackson was yelling at her. (This happened earlier when the feeds were down.) Kat – I was like hey, I just heard that you said that I'm always running my mouth. Because I don't want him (Jackson) saying that because it makes me look bad. Jess – then he knows that it was me. Kat – he thinks it was David because David said the same thing. And instead of talking to me like a normal person he yelled because you f**king are! I said I'm not mad, I just wanted to hash it out. But like he was yelling at me and it was embarrassing. He was very aggressive. Jess – how did Holly view it? Kat – Holly came in and I was like dude, I'm not going to make you look bad. Jess – so she was worried about what you would say about her? Kat – she is just having a lot of anxiety about how she is perceived by America. Jess – why what is she doing wrong? Kat – I know they can only make you look like what you've been. Like they can make me look like a nice person or an emotional person because those are the two things that I've been. They can't make me look like something that I haven't been giving them footage for. I am sorry that she's concerned about. Jackson went off on me and it was embarrassing. He was saying that I've run my mouth and I haven't run my mouth at all. I said I've said things in the DR that are personal and I have a right to do that. And like he was just yelling at me and it was really mean. Its the fact that he yelled at me so aggressively. Holly is very embarrassed about how she is perceived. Jess – if that's the case then stop messing around with him. Kat – its not my fault if that's what you're worried about being perceived. So I don't know, I feel bad. I would never say anything about Holly on tv to make her look bad. And Jackson just came at me, I don't need to say anything about him to make him look bad. Jess – Jackson is running his mouth right now saying that you're saying things just to get air time. Kat – I'm not. I'm not going to stop being who I am. I don't give two sh*ts. Jess – you just need to stay clear of him because this puts you on his target list. Kat – the second time in there he was saying I ruined his game. How dare I run my mouth. And how he helped me. Jess – this really blows. You are perceived as coming here specifically for air time. Kat – we're on a TV show. Everyone is here for air time. Jess – with all do respect you're poking a bear. He is not the type of bear you should be poking. If you win HOH then you can put his a$$ up but we're not there yet. IF he wins he might put you up. There is a lot of F**king aggression in him.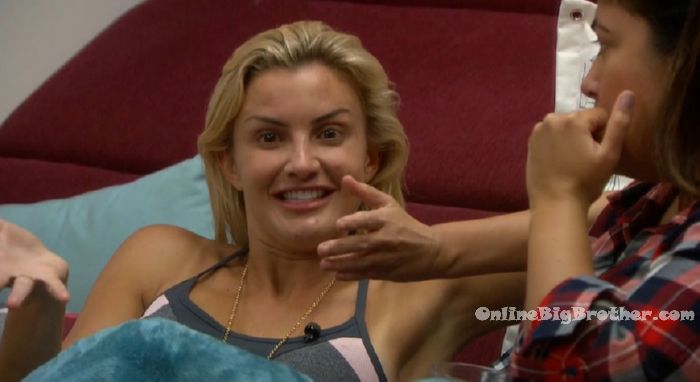 Christie & Tommy join Kat and Jess. Christie – I don't know what it was all about. I just heard that he's saying that you've been running your mouth. Kat – he said that I was ruining his game and running my mouth. After that setup I went to the DR and vent.. I am so stupid I mentioned to someone that I had done that. Big Brother blocks the feeds. Tommy – he got a warning that penalty.. Big Brother blocks the feeds again. Kat – it was scary to me because I do care about him. Even whatever happened, happened and it could be an awkward situation. I will admit that I throw out some jokes about it. I am just afraid that I shot myself in the foot and made myself the target. Tommy and Christie both say no. Kat – I know he has a lot of friends and I don't want him to. Christie – well you have a lot of friends too. He had a moment, let him cool down. Kat – I just don't want him to put me on the block. Christie – well he can't, he's not HOH and he couldn't even convince Nick to.. not to mention you have the veto. Kat – my way of coping with things is troll humor.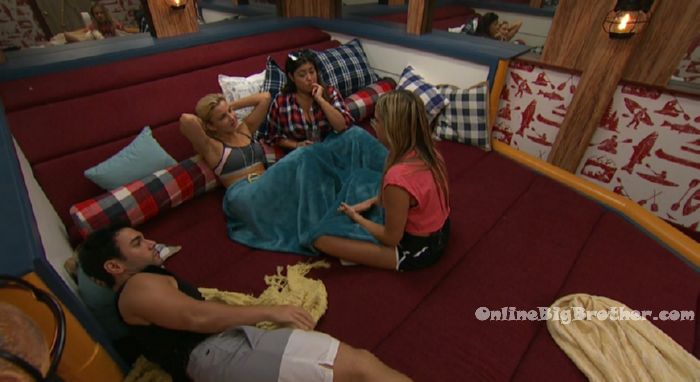 9:52pm Camp Comeback room. David and Kat. Kat – what happened with Jackson outside after .. Jess told me you were calming him down. David – he was just saying something about National TV. He wasn't giving me details and his point of view I was just like hey you should stop. Kat – Jess said that you were sticking up for me so thanks. The whole thing with the joke in the bathroom yesterday .. I thought it was funny but Holly didn't find it funny. I guess its been bothering her. She is concerned about how America is going to see her. And I said I'm more worried about how America will see him. He took that the wrong way thinking I was talking sh*t about him. He was very aggressive at me and it made me cry. David – my thoughts are if you're concerned about how you're viewed on tv .. then why are you here?! Kat – exactly! David tells Kat to win HOH. She tells him she hopes he comes back. I'll be upset if you don't. David puts his arm around her.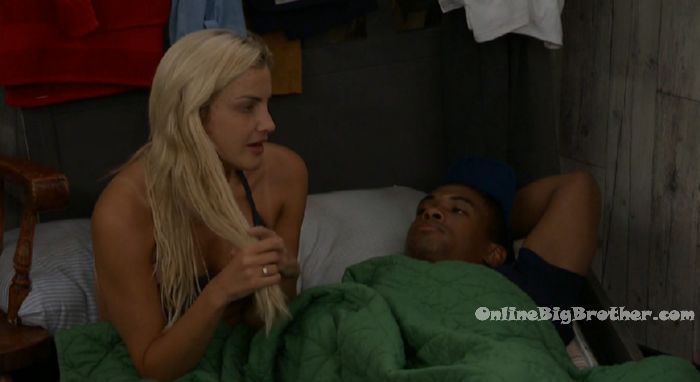 10:09pm Bedroom. Sis and Tommy. Tommy – what's my honest opinion about flipping the votes. Sis – for my game and for the rest of the six I think that its really good that we get him out. I love Nick .. well not like love ..me and Nick are so close. I mean I don't know if he is talking sh*t about me. Tommy – no. He is obsessed about you. Sis – we are so close and it really really hurts me to turn against him. I don't want to believe that he was telling people to put me and Holly up. I think it was more Bella. Tommy – he admitted it. Sis – he did to me too but said it was more filler. Tommy – no. Sis – Nicole said it was me and Holly too. Tommy – I think he was saying you and Holly because he was jealous when you and Jack started hooking up. I think that he is obsessed with you. I think he was jealous when you and Jack were seeing if something was there. Tommy – say we vote out Cliff. and we tell Nicole we believed you all along. First of all I think America would like that. If Ovi comes back we wouldn't have to worry .. he has the power so we would just get him out next. If we take this shot now then, Nick, Bella and Sam are going to become our priority. And Camp Comeback or returner .. hopefully we can convince them to work with us. So we just added two numbers (Nicole & camp comeback returner) for the two we lost. (Nick & Bella) Nicole would trust us. There are things that don't line up. We got lucky that we were able to find a common enemy and its not her (Nicole) its them (Nick & Bella). I walked into the boat room that day and I know for a fact that he did bully her but I can't say that because he's HOH. I know for a fact that they're lying and Nick knows that I know.. but I have to make it look like I am still sticking up for Nick. I think that they're (Nick & Bella) are getting numbers .. Cliff, David and Ovi were up there talking. They are f**king planning an army. They're building an army. Sis – do you think that Kat is working with them? I don't trust Bella. She could be making up things. Tommy – the flip side if we keep it the same .. then Nick thinks we are still working with him.. but we still have Cliff in the game and Nicole is gone. I think its going to be a big move but I think its time. Sis – I think whoever comes back I think we could get them to work with us.. except for David. I don't know where he is at.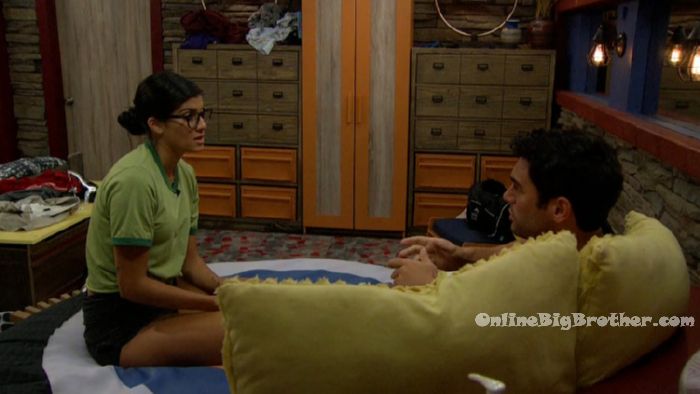 Sis – he said that he has my back. Tommy – he does from a personal standpoint. Rewind to when Bella and him were just starting to get together. He said Sis just said that she would kiss me. And he was like she just said she would kiss me! And I was like how do I say no to that she is perfect. Sis – he is so nice. Tommy – because he really likes you. To be honest I think it would have been better if it was you and him in this game. Bella is bringing him down. Sis – I know. Tommy – but they were already into it so he was like F**K! F**K! What do I do!!?? Sis – I am so confused. Part of me is like go away from Jack and part of me is like.. Tommy – I think go away from him honestly. In the Six shooters .. the only couple left is Holly and Jackson. And I am all about First and Final. Sis – so am I. Tommy – if someone is going to take a shot its going to be at the couple. I think its better for you if you're not a couple later in the game. Sis – I have noticed that it is fading away. I'm just so confused. People still associate us together. Tommy – time will change that. If anything Christie will be associated with him (Jack) more. Tommy – I have your back 1000, a million percent. Sis – I wish I could go back to how I started this game. Tommy – don't even go there you are playing an amazing game. Sis – I see you winning this whole thing. But everyone sees you winning this whole thing. You're playing the most amazing game. Tommy – Sam is 100% putting me up. Sis – no way. Why do you say that? Tommy – because we are on to each other.
10:43pm Nick h*mps Tommy.
When Bella isn't watching… @bigbspoilers #BB21 pic.twitter.com/hd3PBpWV0U

— Dawg (@DawgsBigBrother) July 15, 2019
11:25pm Boat room. Kemi and Sam. Kemi – at what point in the game did you identify the Bella situation? Sam – what situation? Kemi – Bella playing both sides. Sam – early on before the Nick thing. I knew Bella was on both sides and even still is now but she wasn't tied down with Nick like she is now. Even now she still plays both sides but they're all in cahoots now. Kemi – yeah because they won HOH.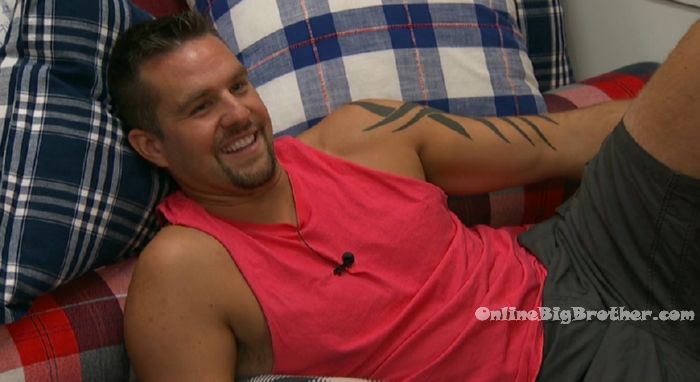 12:05am Kitchen. Bella – I am still the odds are champ! The hot dog one and mayo was way worse.
12:13am Bedroom. Tommy, Jess and Kat. Tommy – Fake Life. In the big brother house all your problems go away and you get a whole new set of problems.

The other house guests gather in the bedroom for "Jess-e-Kat" chats.
1:15am Nick gets the HOH snap chat sunglasses he goes around snap chatting the other HGs.
Nick challenges Holly and Jackson to kiss for a snap chat..
Holly and Jackson kissing@bigbspoilers #BB21 pic.twitter.com/k1Qq5Zx0fV

— Dawg (@DawgsBigBrother) July 15, 2019
1:57am Bedroom. Jackson and Sis. Jackson – ..she doesn't care how she gets it. I am not about to give her (Kat) fame at my expense. Not cool. Sis – oh my god I can't. Jackson – this is my life, my reputation. Sis – and you're going to have to deal with sh*t when you get out of here. Jackson – because of a girl like her. Nope, not happy about it. Sis – I'm sorry. She is just so annoying. Jackson – she is just so obnoxious. She doesn't wear underwear, she doesn't wear a bra, everything she does is just to make it on tv. Just to get feed views. Its disgusting! Its just so disgusting how vein someone can be. Its so unattractive to me. Jackson – she is 5.5 almost 6 years older than me. Sis – she acts like a 14 year old. Jackson – Holly told me some of the stuff that Kats been saying. I was in the kitchen and Kat comes in.. Big Brother blocks the feeds. Jackson – she says so I heard you're going around saying all I do is run my mouth. I said yeah I did. I said its bullsh*t that I did everything I could to keep you here. And exert 240 hours to keep you here and you didn't care about it.
2:30am – 3:20am HOH room. Sam and Nick. Sam – I am extremely worried about Jack and Michie (Jackson). Nick – when we get to nine we're going to have to put up on of the nine. It depends on who wins that. If I win at 10 I would put up Kat and Holly. Sam – and then we get out Kat. Or if we wanted to get out Holly we could. Nick – I told Sis.. I've got her back. I would never put her up. Sam – if Christie wasn't doing it we could send her home before Sis. Nick – I don't think I could beat Christie in the final chair. I don't think I could beat you either. I honestly think I would crush Bella. Sam – you might get more HOHs by then too. Nick – I think our social game will keep us off the block. Nick – I am pretty sure that Jack, Jackson, Holly and Sis have had talks about getting us out.. because if we're thinking it, you know they are. Jack should be wanting to get me and out because we're his biggest threat to his game. Sam – how would he not see Michie (Jackson)? Nick – he would slaughter Michie. What has he done? Bella – make chicken. Sam – put too much seasoning on it.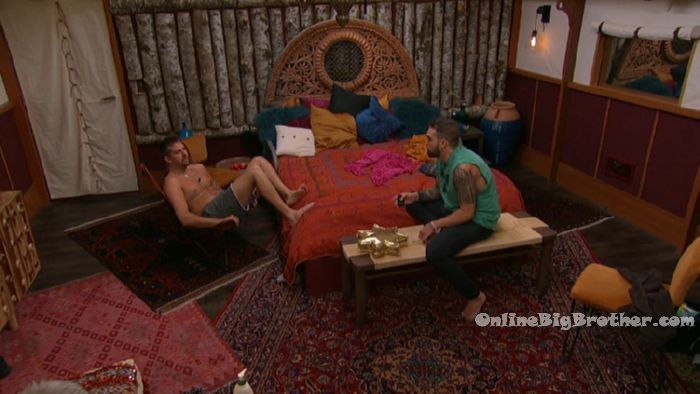 3:50am All the house guests are sleeping..
BECOME AN OBB MEMBER:
If you are one of the generous people that donate to help keep the updates coming, we're giving out a bit more this year. Check out this page for more details: OBB Members