Head of Household Winner – Nick
Nominations – Jessica and Cliff
Intentions – Nicole or Cliff
Power of Veto Players are Nick, Jackson, Jessica (picked Christie), Cliff, Kat
Power of Veto winner – Kat
Powers in the game
Ovi – Nightmare (Dead unless he comes back?)
During the night, Ovi could secretly wake up the house and call a new Nomination Ceremony, with the Head of Household naming two new nominees. The original nominees would have immunity for the week. The power is able to be used for the first six Nominations.
Jack – Chaos
After chips have been drawn for a Veto player draw, Jack could force a re-draw for the players. This power could only be used once and is able to be used until there are six players left in the game.
Christie – Panic
At any of the next four Power of Veto Ceremonies, Christie can turn the Golden Power of Veto into the Diamond Power of Veto and allow the current veto holder pull someone off the nomination block, but instead of the Head of Household naming the replacement nominee, the veto holder names the replacement.
Grab your live feeds —->  BB21 Live Feeds Subscription Link
Rank your houseguests —->  Big Brother 21 Ranking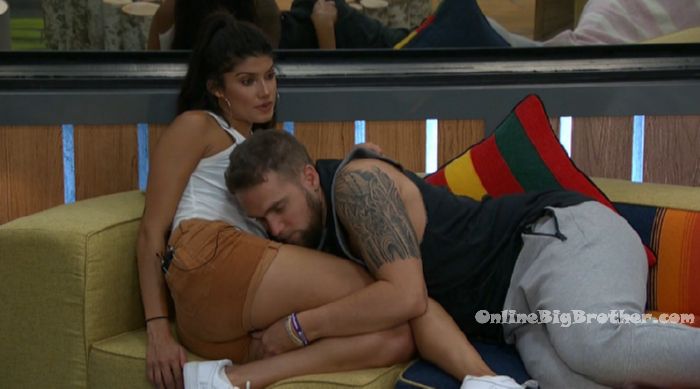 5pm Living room. Nick and Analyse. Nick smells her and tells her she smells good.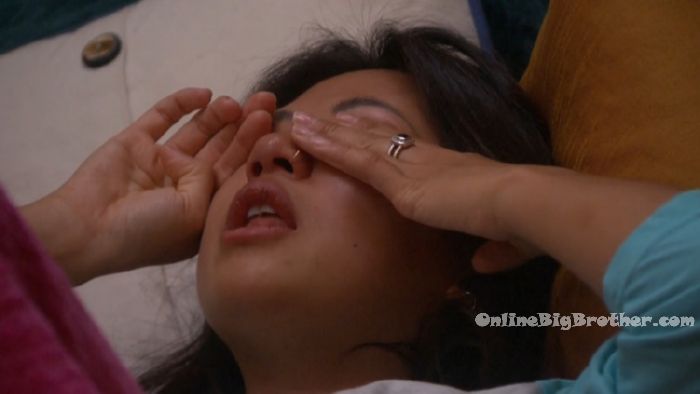 5:40pm HOH room. Tommy, Bella and Sam. Bella is crying because she's been watching Nick cuddling and smelling Analyse on the HOH spy tv. Bella – I feel like every time I trust someone I feel so stupid for it. Tommy – no. Bella – I thought like Nick understood when I told him and now it seems like he clearly didn't and I just feel so stupid. I feel stupid for crying. I feel stupid for telling people in the first place. I feel like there are reasons why it is so hard for me to trust people but I still really do trust people and it always bites me in the a$$. I am just so tired of it and I just don't want to do it anymore. Like I want to play the game and I want to be known for Isabella and not Nick and Isabella. I don't like how people talk to me and ask me what Nick is going to do. I'm like talk to Nick and ask him yourself. I'm not his caretaker! I don't want to be associated with someone if this sh*t is happening. Sam – do you want to just break it off? Bella – well I like Nick but.. Tommy – but not with this? You like everything about him but not with this. (Nick cuddling with Analyse even after she told him that it bothered her and asked him not to do it.) Its not worth it when it comes with this. Bella – yeah. And like this has been going on for maybe 30 minutes. And I think what sucks is that looking stupid because of the trust thing that I have is… Tommy – did you want to just break it off? Bella – I don't want to make him uncomfortable and have to choose. Like if he doesn't care about me. Tommy – he's obsessed with you. Bella – like I don't really care if he's not, I just wish I knew before hand. Tommy – he is obsessed with you and he's just been locked in a house for 6 days being a stupid immature boy. Sam – he has no idea. Tommy – he has no idea. He is like cuddling with her right in front of Jack. Like obviously he wouldn't be doing it if he thought it would bother him. He is just doing what feels right. Sam – and Sis doesn't think anything is wrong either. Bella – I don't know if thats what he's like in real life with his friends.. I'm not trying to be like this bothers me when really its just his personality. Sam – just talk to him again tonight.
6:07pm – 6:35pm HOH room. Nick and Bella.
Bella – you're making me look very stupid. You made the first move and I agreed to be in a showmance and stuff and I feel like we're going backwards because all you do is flirt with Analyse. And you make a lot of comments in front of me. It just makes me feel like you don't want to .. whatever. I just wanted to let you know that it makes me upset. Nick – but I haven't been since you told me about it. Bella – I just literally watched you on the tv for 30 minutes cuddling with Analyse. Nick – I was just laying on her. Bella – I am just letting you know that if you don't want to its okay.. Nick – we were talking about you. I was telling her how much I like you. Bella – I just don't like the cuddling. Nick – that wasn't even cuddling. Bella – I thought I was wrong and I talked to Tommy … I just feel that its unfair because I already expressed to you that I don't like it. And you make a lot of comments like this morning you said oh Sis would never give me the time of day. Nick – that's not me flirting, that's me being honest. Bella – I just feel like you seek her out a lot. Nick – I'm friends with her. And I literally stopped talking to her because of you. Nick – I was talking to her about my ex and how you remind me of all the good things about her. I knew you could see me. I understand the cuddling thing. If I wanted to be with Sis I wouldn't even try with you. Bella – I don't want to be that person. Nick – I really like. you. Bella starts crying again. Nick – Early on in the season I had a talk with Tommy because I started liking you a lot and then Sis started flirting with me. I said she just needed to be with Jack because I was confused. I told Tommy, I like Isabella and who the f**k am I to be… Like I would be blessed to be with either one of them. I like Isabella, I like her personality more. I said this is confusing for me that she (Sis) keeps flirting with me. I really f**king like you. I was laying there on the couch and said I hope no one thinks anything of it. Bella – I just don't like it. Nick – okay, well I will stop it. Do you really think I would leave you for someone else? Bella starts crying more. Bella – I didn't want to say anything and figured I would just start sleeping downstairs. Nick – when you told me you didn't like it I stopped. Bella – and then you went backwards. You always make little comments and gestures that make me.. Nick – feel good enough? Bella – yeah. I don't like when you kiss other girls on the cheek. Nick – but its just Christie. Bella – Like I didn't want to constantly bringing up things like this. Nick – I thought I was being respectful of what you were asking. Bella – I wish I didn't have feelings for you. Nick – but I feel like I've done everything to show you that I like you. This isn't just a game …I really really really like you and think that this could be something after. I get everything that you're saying. Bella – when you do things like this it just seems like you would rather be with Sis. Nick – I am sorry that you feel this way. Knowing your history I should have respect that. I will stop. Bella starts smiling and hugging Nick. Bella – I wish you were meaner so I could tell you to go f**k yourself.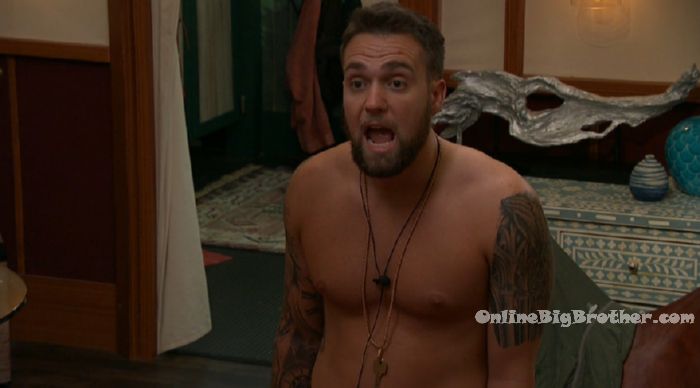 6:42pm Nick tells Sis that Bella was mad that he was cuddling with her. He tells her that he's going to stop. He says that he's not going to stop being friends with her (Sis) though.
Analyse heads to the living room and talks to Holly and Jackson about it. Analyse – I knew Bella was going to get mad because we were sitting like that. Why is she so jealous. I dare that B***h to come at me! Jackson – You need to be careful. you need to keep your distance. Right now the people up there make the decisions and they determine our fate. Right now you're in the hot seat. You're stepping on her territory. She will snap at you. Sis – was she that mad? That's hilarious. Jackson – he is the one with the key. She is the one with mouth in his ear. Sis – pshyco! Bella doesn't scare me. Jackson – in real life she wouldn't but in here you should. Sis leaves and says she is going to talk to Bella even though Jackson tells her not to. Jackson to Holly – Sis is being stupid. She will be the first to go of the six.
Living room. Jackson and Holly. Jackson – you me and Tommy are going to be the only ones that don't spiral in this game. We're the only ones that will be strong enough to last 100 days. Holly – I love Sis but she.. Jackson – is naive. Holly – and has a pretty sh*tty attitude. I am trying really hard not to absorb it. All she talks about is how she hates everything in here.
7:25pm Jackson, Ovi, Nick and Jack working out. Bella and Sis running. Cliff, Sam, Kat, Christie, Holly and Jess chatting by the hammock.
7:35pm HOH bathroom. Jack, Jackson and Tommy. Nick talking about how Bella got upset at him for cuddling with Sis. After Tommy and Jack leave. Nick – I would literally never do anything to hurt Bella especially not on TV. I'm going to show her that I really like her.
7:47pm Bedroom. Holly and Kat. kat – I don't want it to be awkward because I literally don't care. Its totally fine and if I say something about it, I am literally joking. Its not malicious. I am sorry if it makes someone uncomfortable. I deal with things in a troll humor type way. Its just me.
8:10pm HOH room. Bella and Jess. Bella – growing up I wasn't allowed to cry. I always had to just get over it and for me getting over it was ignoring it.
8:39pm Bedroom. Holly and Kat.
Kat – I will.. like .. truly like ..if we were in final 3, I don't care who the other person was I would absolutely take you. No guy can come between that, no girl, no thing. Holly – yeah, same. Kat – if you weren't in final 3, I would take Jackson. You're my number one and I would never do anything to make you look bad. Holly – I am trying to find a good balance of acting like I don't like you.. not that I don't like you. I've never acted like I don't like you but acting distant. Kat – I just don't want you to ever actually be distant. Holly – I wish we could do DR's together. We should ask.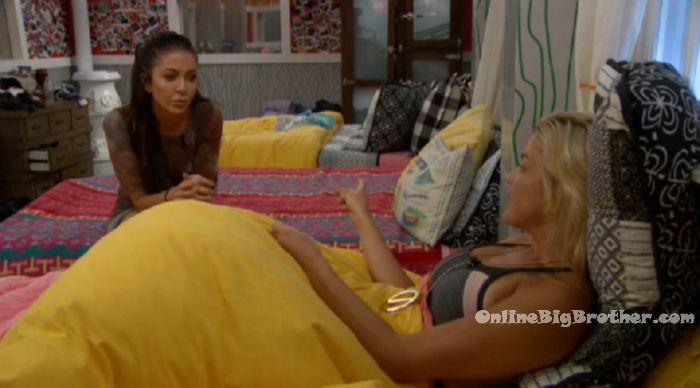 9:09pm Hammock. Jackson, Holly, Analyse and Christie.
Jackson – lets pause for a second.. in the past 24 hours since Nicole has blown up Nick and Bella we have now walked in on Bella having conversations with 3 outsiders. Analyse – Shhh..Nick is right there. Jackson – 3 outsiders… Cliff for hours, David and Jess. Christie – do you think she is planning some backdoor sh*t. Jackson – I wouldn't put it past her. Analyse keep your distance. You're playing with fire! She is just like a black widow .. she will sleep with you and then cut you head off and kill you. Holly – Nick and Bella think they have Kat in their back pocket. They think they have 6, but they have five.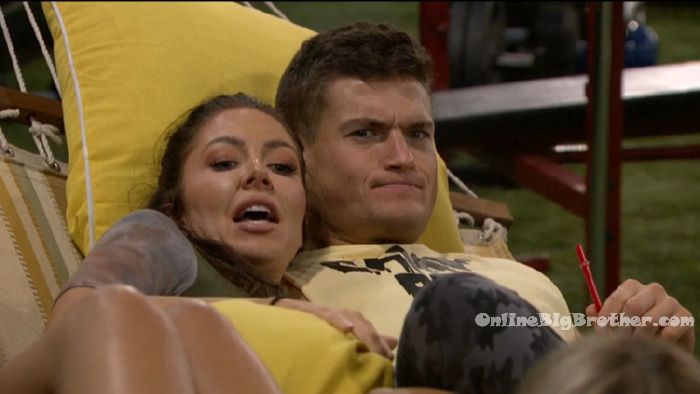 Bedroom. Kemi and Nicole. Nicole – what happened? Kemi – I can't hear her saying anything but I can hear her whispering to someone and then she looks up out of the corner of her eye obviously talking sh*t and then (laughs) you're such a b***h. Like I will f**king tongue David down in your bed in front of your face just to shut you up. She is so f**king annoying. And I can't say sh*t. Nicole – I don't understand why she would say things about you though. Kemi – I don't f**king know. She needs to use better judgement. She is a growna$$ woman. Like I am so annoyed. Nicole – I think that's why Jess keeps talking to her to make sure she's good.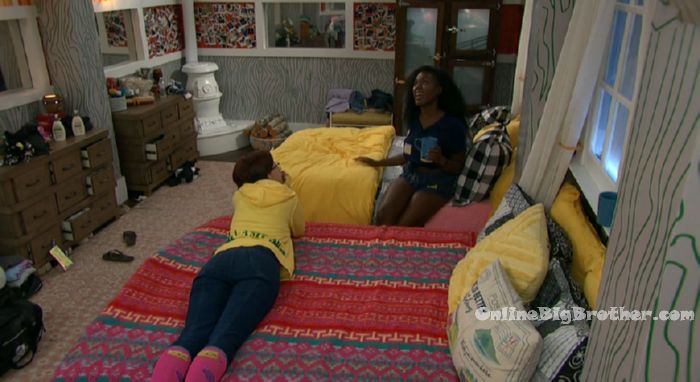 BECOME AN OBB MEMBER:
If you are one of the generous people that donate to help keep the updates coming, we're giving out a bit more this year. Check out this page for more details: OBB Members