POV Holder:
Chrsitne
Next POV
Aug 2nd
POV Used
NO
POV Ceremony
Aug 4th
HOH Winner 1:
Donny
HOH Winner 2:
Nicole
Battle of the Block Winner
 Caleb/Victoria
Next HOH/ Next BOB
Aug 7/Aug 8
Original Nominations:
Donny's Noms (Victoria & Caleb) Nicole's Noms (Zach & Jocasta)
Final Nominations:
Zach & Jocasta
Have Nots
Frankie, Cody and Hayden
POV Players
Nicole, Christine, Jocasta, ZachAttack, Caleb, Victoria,
5:25pm HOH Frankie and Christine
They are trying to figure out what to tell Caleb and Hayden in the case where Zach blows up the detonators. They figure they should tell Nicole, Hayden and Caleb that Zach came up to them last night really late and wanted to form an alliance called the detonators. Frankie will talk to Derrick about it.
Frankie wonders if he should wake up Thursday morning give Zach a hug tell him he loves him and he owes him a vote. Explains that Zach use to always say he just wanted to do is get to Jury and if he does he'll give him his vote.
Frankie – "He looks up to me as an older brother.. or a lover.. I don't know it's bizarre"
Frankie – is Nicole planning on playing this game..
Christine – no .. she's literally not trying.
Frankie – she's just going to try and win challenges
Frankie – I think he really wants to go home .. don't you get that sense
Christine – ya I do..
Frankie – last night he cried.. and talked about his family and golf
Christine – maybe he won't get that upset then
Frankie thinks nobody else in the house is playing the game like they are he believes they run the house.
Christine calls Victoria the biggest floater she has ever seen in the game, "She's this years Spencer" She can go on the block there will be no blood on your hands.
Frankie says Donny will put up Victoria and JOcasta or he might put up Cody, Caleb, Nicole the three HOH's that put him up.
Frankie tells her once Zach put Christine up he knew Zach had to go. Frankie is going to tell Zach "you screwed up you know you did..You have no one to blame but yourself.. I love you .. you owe me a vote… now get out there with a smile on your face"
They agree getting Zach out this week is the best because theres no blood on their hands.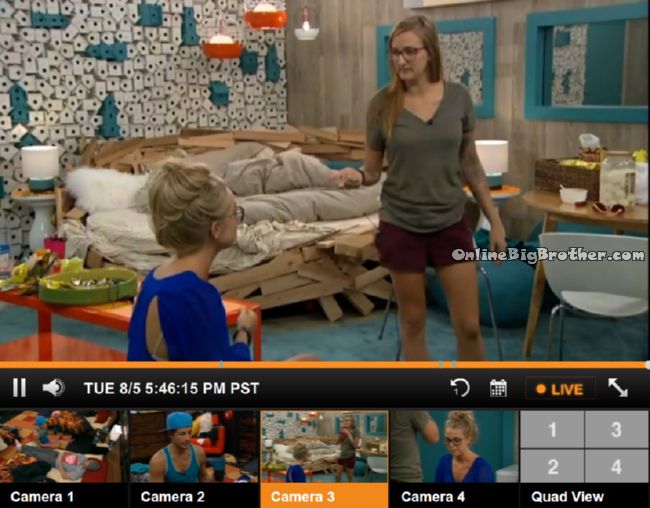 5:45pm HOH Christine and Nicole
Christine says Zach tried to start an alliance with them last night called the detonators . Zach wanted to get Hayden and Caleb out next. The alliance called the detonators was going to be composed of her, Zach, Frankie and Cody.
Christine adds Cody and Derrick were there at the time.
Christine says Victoria and Frankie are voting out Zach.
Nicole – Wow
Christine says they are all keeping it quiet from Zach it's operation Brittany.
(Nicole playing up being clueless)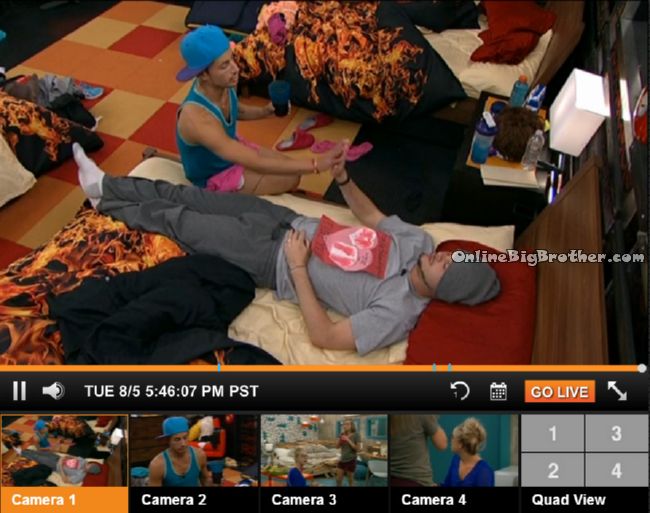 5:56pm FIREROOM Frankie and Derrick
Frankie says they should tell Caleb, Nicole and Hayden that Zach tried to start an alliance called the detonators.
Frankie – We're going to green light it with Nicole I'll let you know with Caleb,..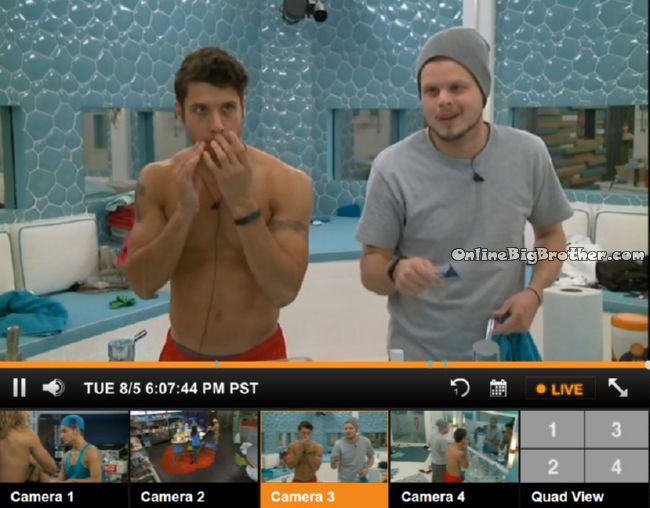 6:07pm Bathroom Cody and Derrick
Derrick says Frankie/Christine are going to tell Nicole that Zach came to them last night and wanted to form an alliance called the detonators. It's a way to cover them all if Zach blows it up. Derrick wants to make sure they talk to Nicole before CHristine or Frankei can.
Derrick thinks even if they were not down wit this plan Christine and Frankie would have told Nicole anyways.
Notice Caleb's slippers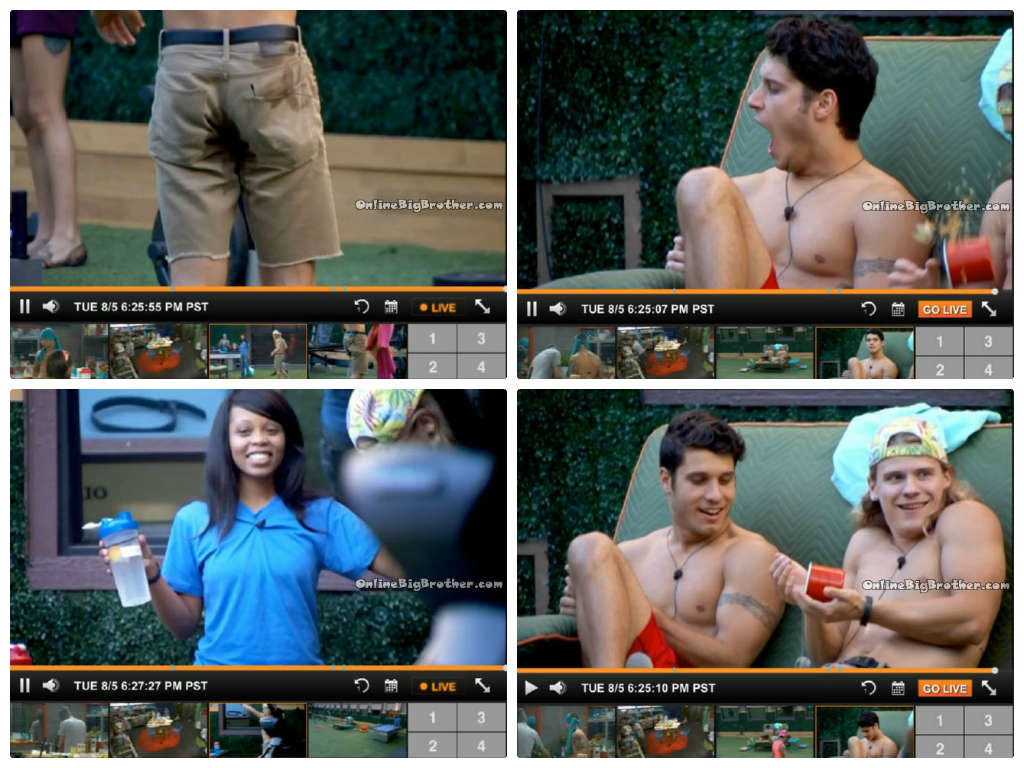 6:24pm Jocasta sneaks up to Hayden and scares him he spills his tea all over his pants it looks like he peed himself.
6:30pm Have nots Hayden figures out how to change his underwear with out take the one pair off first. (Yes there was a D1ck slip flashback or check out out tumblr site. )
Frankie – "hayden's got a new trick"
Hayden's – 'got a new trick it rhythms with d1ck'
6:42pm Cody and Nicole
Cody tells her last night Zach came up to them and wanted to start an alliance. He wants to target Hayden and Caleb. It was Cody, Derrick, Zach and Frankie around the pool table super late last night. He wanted to start something.
Nicole – Was Christine there
Cody – No she went to bed
Nicole explains that Christine told her Zach wanted to form an alliance with.
Cody says that was just Frankie filling her in.
Nicole – Christine was not out there
Cody – No .. he never mentioned a name that clown.
Nicole – Oh she mentioned a name to me
Cody – I'm so sketch out by it..
Cody says when Zach told him he laughs "you're f**g yourself really bad"
Cody getting ready for a run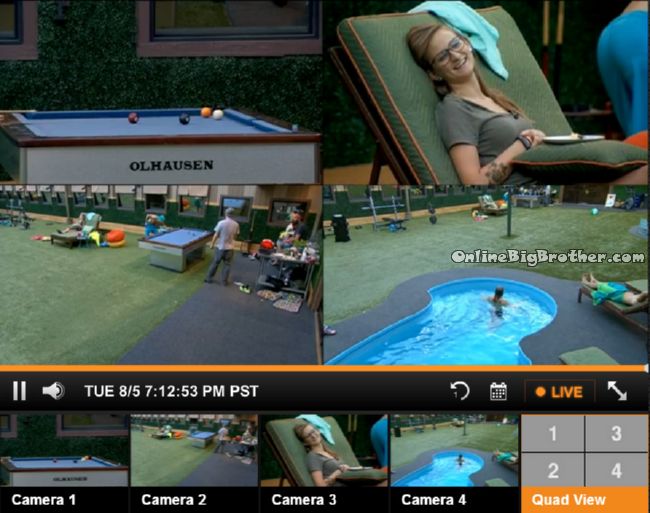 7:15pm CHIT CHAT
Where the Vote is..
Zach going home..
Alliances 
The Rationale = Nicole, Derrick, Hayden and Cody
Zankie = Frankie/Zach
The Detonators = Derrick, Frankie, Zach, Christine, Cody
"The HITMEN" – Cody & Derrick
Trilogy = Nicole, Christine & Hayden
Team America = Donny, Derrick, Frankie
Old timers = Jocasta/Donny
Nicotine = Christine/Nicole
bottomfeeders = Derrick and Nicole
More polls here https://www.onlinebigbrother.com/big-brother-compendium/big-brother-16-polls/