POV Holder:
Ramsey
Next POV
March 26th
POV Used
Yes
POV Ceremony
March 28th
HOH Winner:
Tim
Next HOH:
March 31
Original Nominations:
Dallas and Ramsey
Current Nominations:
Maddy and Dallas
Last Evicted Houseguest
Paige, Sharry, Christine, Kelsey, Loveita
Have Nots
No havenots this week
Want to watch the Big Brother Canada 4 live feeds but live outside of Canada?
Bypass the geoblocking with HideMyAss VPN and be Canadian Anywhere: VPN Help Guide
ALLIANCES IN THE HOUSE
There will likely be a lot of alliances during the season – keep track, read our alliance help guide.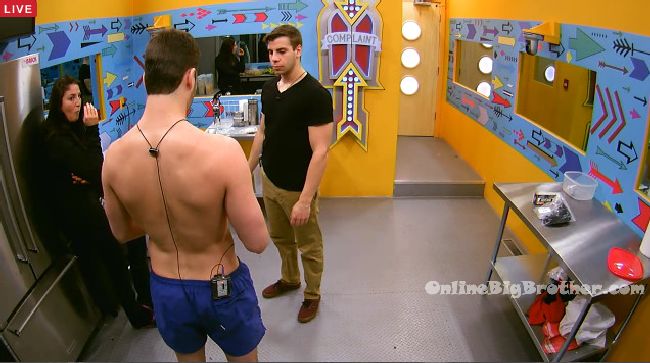 12:40pm In the storage room – Cass tells PHil that Jared was pissed off at me and your brother. Your brother was saying the pros and cons of both. Your brother said as of right now Dallas is going. Phil says no he didn't. Cass asks were you there for the conversation or was I? Phil says he wasn't. Phil goes to grab his brother. Phil had it confused and thought that Cassandra said Nick said Dallas was staying to Jared. They clear it up and Phil tells Nick to leave. Phil tells Cassandra that Nick doesn't know what's going on. I don't tell him anything.
In the storage room – Dallas tells Phil that Jared talked to him and said if you stay he is willing to work together. Phil says thank you for telling me because I saw you guys talking by the pool and I got SUSS'd out. Dallas says he is getting nervous now. He's scared. Dallas tells Phil that if I stay I give you my word I am looking out for you/Nick, Tim, Nikki and Cassandra. Dallas says his targets are Jared and Raul.
1:15pm Jared, Raul, Phil and Cassandra are in the hot tub room. Jared is talking to Phil about how Dallas says whatever anyone wants to hear. Phil asks if Dallas stays what are you going to do? Jared says I'm still going to go after Dallas. I just don't like liars in the house. Cassandra asks who's lying?! Jared says Dallas. Cassandra says Maddy lies too. I'm still voting Dallas out. Cassandra tells Jared to stop being a jacka$$ to her. Phil asks if Maddy wins HOH and puts us up … same as if Dallas wins HOH and puts you (Jared) up .. you aren't going home. Raul says whatever you do I will respect it.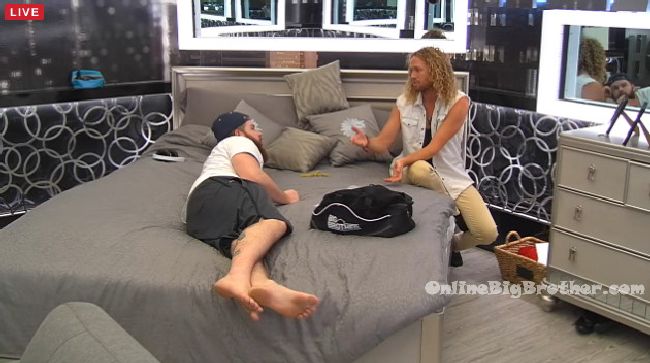 1:40pm HOH room – Dallas tells Tim this is my dream scenario. Dallas says with you, me, Cassandra, Nikki and the brothers. Tim ask you want Nikki to be in there too? Dallas says I figured it came with the territory. Tim says she wasn't there for the conversation last night but if you want her thats fine. Dallas says he talked to Nikki and she'll going to do what you want. Dallas says I would love to be with you in the final 2. Tim says I wanted Cassandra and the brothers to come to me and say they needed you in this game. Big Brother isn't just about the money its about playing and making smart moves. For me its about letting the game change them in a positive way. Dallas says I have a lot more fight in this game and I can be used as a tool. Tim says I want the winner to be able to describe how the game changed them. I don't think Maddy is learning from her mistakes. Dallas says exactly. Tim says I respect the game and respect how you're playing the game. Tim says Maddy is like a loaded gun and she doesn't know how to aim. The problem working with Jared, Raul and Kelsey is that they're the same. Big Brother is about diversity. When you have three the same they're weak. Dallas says they have flaws. Tim says I am more than happy to be a pawn. Dallas says I don't want you to be a pawn. Tim says I'm okay with it, if its a strategic move. If you break your word there are bond to be 3 of us in jury and then you won't get those votes. Dallas says this shows me you will have my word to the very end. If we send Maddy out this week .. then it will be Jared or Raul. No one is looking at Mitch and I'm willing to do it like this (moving Mitch up the line to get out). Dallas says I'm willing to listen to the group. Tim says all we have to worry about is if Jared, Raul or Mitch win next week. Dallas says the one guarantee is that I would be one (of the nominees). At this given moment I'm the underdog of the house and people want to see a good story. Dallas says that Maddy made the comment that it sucks she has to pack her bags when she knows she's staying. Tim says I would love for it to come down to a tie and for her to think she is staying. Tim talks about fighting to win at the end if he gets to the end with Jared, Mitch, Raul, Joel… and I'm still waiting to see Cassandra's strength. Dallas asks Tim if he can tell the brothers about this conversation. Tim says yeah they know about it. Tim says you've got 4 votes and I promise you I am keeping you (with a tie vote).

Watch the Big Brother Canada 4 Live Feeds anywhere in the world with HideMyAss VPN.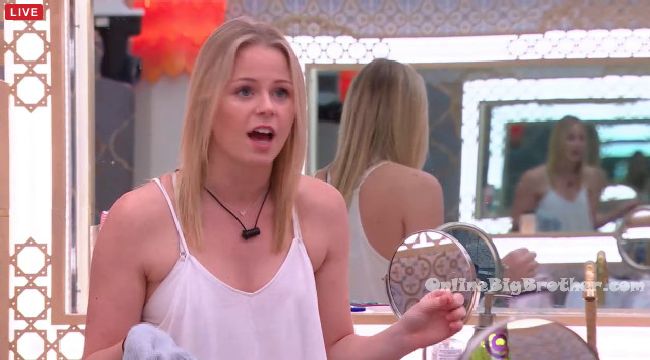 1:50pm – 2:30pm In the bathroom – Maddy tells Phil/Nick that if she stays and wins HOH she is going after the people that vote against her. I have nothing against you, unless you vote against me. I don't care if you vote against me you can do that its your game. Just like I would do what I want. I don't have anything against you unless you vote against me. That's all I have. Phil and Maddy head to the bedroom to talk. Maddy says I'm not sitting here comfortable but I am staying this week! I have 5 people who are not changing their minds. Maddy says I have Jared, Raul, Ramsey, Mitch and Tim if its a tie. Everyone knows where Tim stands, he's not changing his mind.
3pm Backyard – Dallas says as long as I'm in the house Jared is going up if I win and if he wins I am going up. I am trying to stay as loyal as I can. Dallas says Tim said the brothers and I are deserving to win. Phil says we're keeping you even though Jared doesn't want us to. Dallas says all the positives to I gave to the opposite team I am willing to give to us. I honestly think you guys have an influence on Ramsey. I know I've Joel. We need to keep him close. Dallas says you've got my word and I swear to god on my testicles. Dallas says what if you had me in your f**king utility box and you could pull me out.. the opposition doesn't have that. Phil says I'm giving you my whole trust. Dallas says and I'm going to hold it in my hands and not drop it bro.
3:35pm In the bedroom –
Maddy asks Nikki if she knows what she is doing? Nikki says it keep changing Maddy. Maddy tells Nikki that she should do what she wants to do. And no matter what you do I will still like you. I think that I'm staying regardless. Nikki says well Tim is avoiding me so I don't give a f**k. Well not avoiding me but staying with Cassandra so I don't know what is going on. I think I will just have to come to my own decision.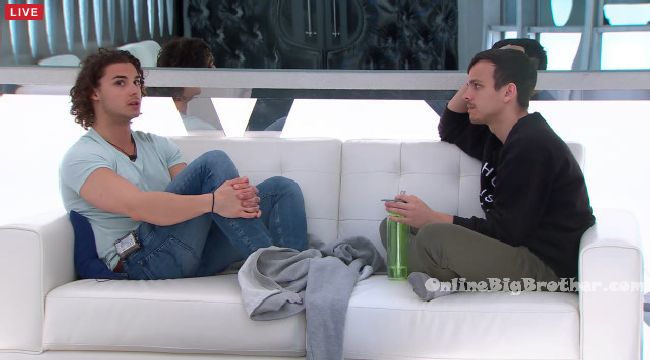 3:45pm – 4:15pm By the high roller room – Jared tells Mitch that he thinks Nikki could be swung but she doesn't like game talk so it would have to be a last minute thing. I honestly believe if Dallas stays I am going to be the first person he's going to want to work with. Dallas is a better competitor. I went in the pool with him to prove a point to them (the brothers) that Dallas can't be trusted. He says she wants to work with them and then he comes and tells me if he stays he wants to work with me. I'm going to have a talk with Cass tonight too. Mitch says my worry she is kind of flaky. Jared says its so hard you can't push that girl. I'll say we have a connect being from the same city and that the brother can't protect her like how I can protect her. You need to smarten up. (Right like how he protected Kelsey?) Dallas is going to be Dallas you can't trust that kid at all. Joel is going to do whatever the majority does. Mitch says he thinks Joel is closer to that side with Dallas so I think he might go that way. He is afraid of Raul. (Because Joel put Raul up on the block) Jared says its going to be close. They just don't get that we need to be strong right now. We might not get another chance to get out Dallas. Jared says I think we can do this. Mitch says I think we can too. I think the brothers can be swayed. They risk losing our trust.
4:40pm Raul and Mitch take all of the toilet paper out of the bathroom and hide it in the pink bedroom. He keeps two rolls for him and Mitch to use.