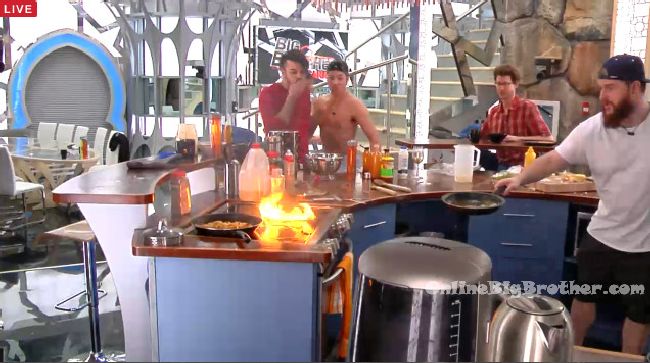 In the kitchen – An oil fire starts. Someone yells for water and others say no not water. Raul blows on it and make it bigger. Big Brother blocks the feeds and when the feeds return the fire is out.
FIRE! @bigbspoilers #Bbcan4 pic.twitter.com/ElEx47q7hc

— Dawg (@DawgsBigBrother) March 30, 2016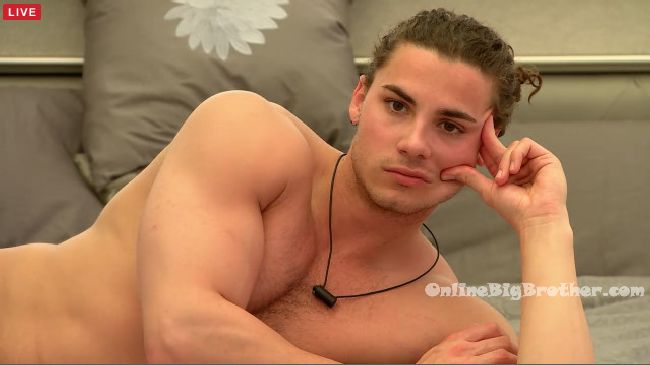 HOH room – Jared asks Maddy if he can talk to Tim alone for a minute. Maddy leaves. Tim says that if it does come down to the four I don't have a problem breaking the tie. Jared says I don't think Dallas would even come after me, I don't want to break trust with our group. Tim says I think late tonight or tomorrow morning the decision will be made. And I don't think people will say what they will actually do. Raul joins them and talks about how Maddy made said why am I packing right now when tomorrow I'll just have to unpack. Tim says I'm just going to think in the event of a tie what I will do but hopefully it will be a 5-3 vote.

5:30pm – 5:30pm In the kitchen –
Mitch tells the brothers as it stands now its potentially a split vote. In terms of this vote isn't good for any of us. If you became the 5th vote it would be a way for you to prove that you weren't after Maddy. And that Cassandra, Nikki and Joel are the targets. I know you have concerns about Maddy but with this outcome it puts you behind other people and protects your game. Phil says the only person he needs to talk to is Tim. Mitch says if you want a way to make your own game that is the way to do it. Phil says I know how I'm going to make my decision. Mitch asks and how is that? Phil says through open discussion with the head of household. Nick says its a hard vote. Mitch says its not a hard vote, you only think that because you think Maddy is after you. Mitch says you look upset Phil. Phil says I'm not upset, its my thinking face. Jared says I just don't want us to start going against each other. Its too early for that. Phil says just because I decide to keep Dallas doesn't mean I'm working against you. Jared tells Phil that he knew he (Phil) was around the corner when he was talking to Dallas to prove that he was playing both of us. I'm not an idiot bro!

In the bedroom – Dallas is talking to Joel and Cassandra and tells them they have his loyalty for the rest of the game if he stays. And if I get HOH its bang, bang, f**king BANG! Tim joins them. Tim says its about taking someone mean and ungrateful out of the game. Joel says that he doesn't like how when Mitch talks game with him he is very vague.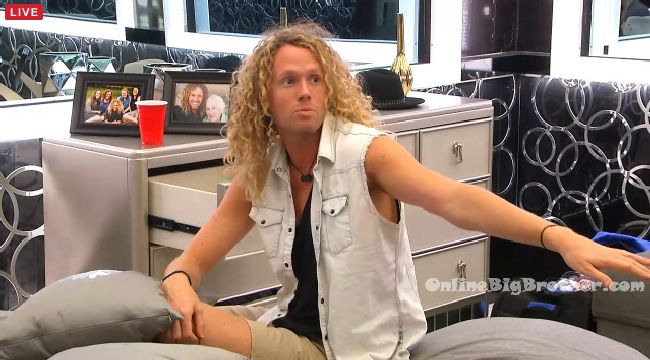 5:45pm Big Brother blocks the feeds.. When the feeds return – HOH room – The brothers are talking to Cassandra and Tim about the conversation they had with Jared. Tim reassures them everything is fine. It's going to be a big night tomorrow. I came here to make sure the best person wins Big Brother, one deserves to be here and one doesn't. Goodbye Maddy. If they wanted something different they should have won HOH. Phil warns them to watch what they say around Mitch. Tim says I don't talk any game with Mitch.
6pm -6:50pm The house guests are playing a game where they blindfold one person spin them around and have them count to 15 and say freeze b***hes! All of the house guests scatter and have to freeze where ever they are. The blindfolded person then has to try and find one of them. The person that's found is the next person that is blindfolded. When its Nikki's turn most of them hide on the stairs.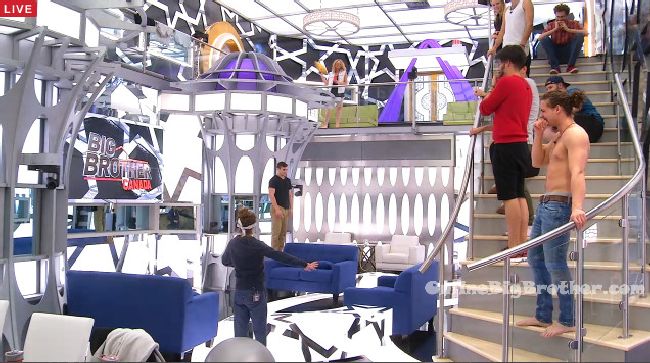 7pm The house has quieted down.. then the jackpot goes off.

HELP keep the spoilers coming. Show your support by donating a tip :)
Use the Hide My Ass VPN and watch the live feeds on your mobile phones and tablets. One subscription pays for all. It works on any device. Including internet enabled TVs and games consoles. You can even use it on two devices at the same time. HideMyAss VPN
Share it YO!!
Tweet