POV Holder:
?
Next POV
March 12th
POV Used
?
POV Ceremony
March 14th
HOH Winner:
Loveita
Next HOH:
March 17th
Original Nominations:
? and ?
Current Nominations:
? and ?
Last Evicted Houseguest
Paige, Sharry
Have Nots
?
Use the Hide My Ass VPN and watch the live feeds on your mobile phones and tablets. One subscription pays for all. It works on any device. Including internet enabled TVs and games consoles. You can even use it on two devices at the same time. HideMyAss VPN
ALLIANCES IN THE HOUSE
There will likely be a lot of alliances during the season – keep track with our alliance help guide.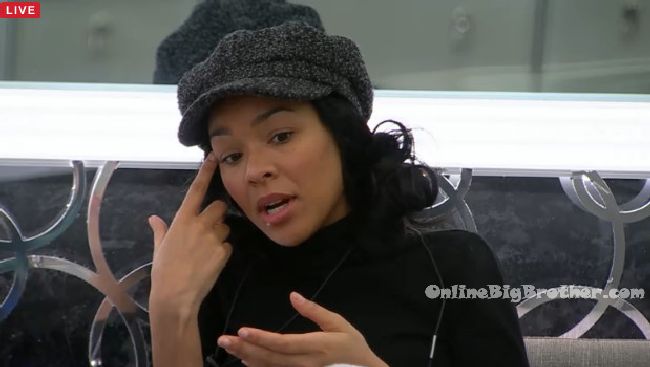 Help Support Online Big Brother
Show your support and appreciation to help keep the updates coming: Support OnlineBigBrother.com
9:30am HOH room – Loveita tells Raul that she doesn't like people that talk out of both sides of their mouth. Raul tells Loveita that he wants to work with her. Loveita says that right now she has to hear everyone out. I don't know if jared talked to you. Raul says yeah that you're willing to work with us. Loveita says after she talks to everyone she'll talk to him again. I don't think anyone would ever think that we would work together. Raul says I like where this is going. Loveita says trustworthiness. If there are people in the mix that can't be trusted. It can be a hindrance. Like are all these people good? Raul leaves. Loveita rolls her eyes. Loveita goes to sit outside the HOH room. Nick joins her. Loveita says I know so much now. Phil joins them. He says its obvious the people that are working together. Loveita says its week 3 do I rock the boat? Because I need a week where I don't rock the boat. I need to keep the peace. I don't have anyone, I'm a lone ranger. Phil says there are people going after you. You have Joel, Mitch, Nick and me. Don't say you don't have any friends. Loveita says something needs to happen. Something in fair game. What gives me the right to.. Phil asks has anyone bullied you? Lovieta says yeah all last week. I did hear someone says "AWww.. this F'n B*** again!" Phil asks what!? What?! WHAT?!
9:35am By the high roller room – Jared, Cassandra and Mitch are talking. Jared says I got the message that she didn't want to put me up. Mitch says I can't tell if she's trying to make a big move or trying to take out someone in the middle. Jared says he thinks she might nominate Christine, Maddy or Dallas. Cassandra says I think secretly she's still on the Kelsey thing. Its a girl thing. All she asked me is if I'm working with Jared and Kelsey. I said that I trust them. Jared leaves. Cassandra and Mitch continue to talk. Mitch tells her if you continue to be the same she'll see that. Whereas people like Maddy that have never talked to her.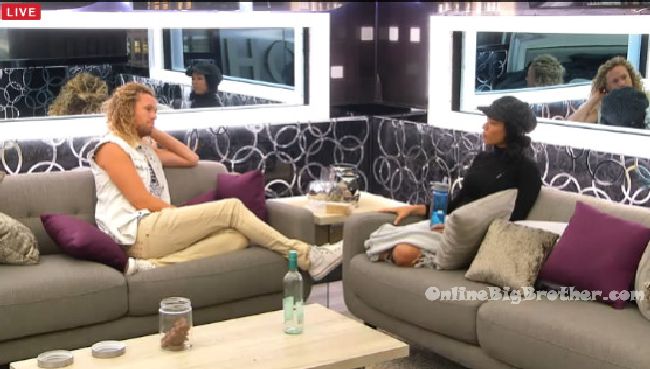 10:10am HOH room –
Tim is talking to Loveita. Loveita says that she is hesitant to make a big move or not. Tim says you have to make a big move to prove you're serious. I love a redemption story. Would you do anything with the POV? Or is that just too hard to control. Loveita says I compete in the POV. Tim asks so would you want to backdoor someone? If you're giving your word to someone and then it just means nothing to them. Loveita says its like when you have a sandwich and there's one bad ingredient. People can see people together but not know who's leading. Loveita says I know who I have in my corner now. Tim says I think once you escape one eviction, you're more likely to escape the next. People have much bigger targets than you. If I was you, I would target two on one side. If you target one on each side then you piss off the whole house. Loveita says that's what I was thinking. Loveita says Kelsey has turned this place into high school. She is like the mean girl. Loveita says that Maddy already hates Kelsey. Loveita says I would like to strip him of.. Tim says I think he got into some in the beginning and got stuck with leaches. (Raul & Kelsey) If you walk into a game with people that already smell of sh*t, you will too. Tim says thats the way turds are they go with the current. Would you put Kelsey and Raul up? Or Raul and Dallas? Loveita says that's two sides of the house so I wouldn't do that. I don't think I would put up Raul.
Want to watch the Big Brother Canada 4 live feeds but live outside of Canada?
Bypass the geoblocking with HideMyAss VPN and be Canadian Anywhere: VPN Help Guide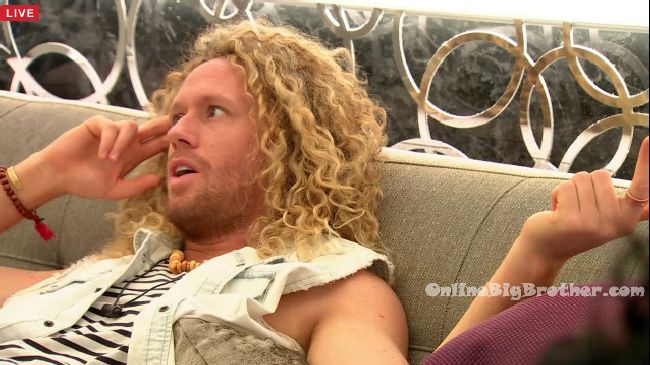 Tim asks what about Christine? Loveita says she is angry and has a lot of opinions. She doesn't like me. Tim says I think if you put her up, you wouldn't be rocking the boat too much. Loveita says there's someone else that would ensure she goes home. Tim asks Cassandra? Loveita asks isn't she your home girl. There are some people that are distinctly stirring the pot. Tim says don't think for a second if you put up Cassandra, that I would go against you. I don't work that way. Even if you were to put up Nikki. I wouldn't go against you. They talk about how after Loveita won Cassandra was beside Kelsey and said "Awww that f'n B***h again!" Loveita says loves Nikki. Tim says even if they put you up next week, you wouldn't go home. Loveita says I don't know what I'm going to do. Tim asks if you weren't you, what would you do? Loveita says get Kelsey out. Tim says you've got a lot of security with people that are genuine that haven't picked a side. I think its quite obvious what you need to do. Its just whether you go for the top, the middle or the bottom. Loveita says that he gut is telling her to keep Jared, Kelsey and Raul safe. She says her nominations would be Christine and Cassandra. Tim says that he thinks no matter what the Veto will be used. Loveita says she need to have more conversations to figure it out.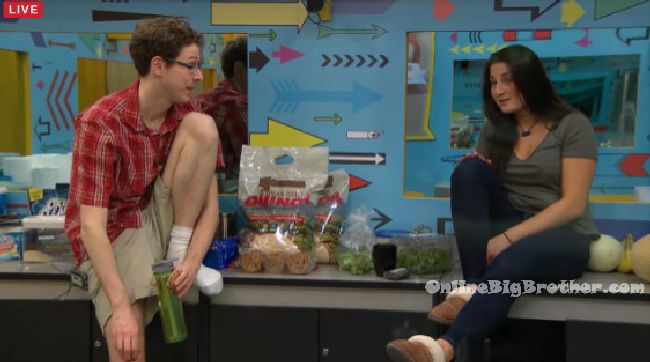 10:30am – 11am Storage room – Cassandra and Joel are talking. Joel says that he is worried that Raul would come after him and Loveita. Cassandra says that they're after Dallas. Cassandra is trying to convince Joel that Loveita shouldn't target Jared, Kelsey and Raul. Cassandra says that she is going to try and convince Loveita to go after Dallas.
11:08am – 12pmBig Brother tells all the house guests to go to the head of household room for a lock down. Big Brother then blocks the feeds. In the bedroom – Maddy talk to Dallas and Nick about how Kevin from last season lied about being a professional poker player. Tim joins them. Tim says I can't wait for the nomination ceremony. I think sh*t is going to go down. Not you guys. I don't know, I'm just guessing. You deal with the cards you're dealt. Tim says just because you're a loud group (Jared, Raul, Kelsey).. they don't have the numbers. But it might not even be them. Tim says I am just worried if they get to her before nominations do you think she will change her mind? Nick says yup. Tim asks should we just keep her busy. Dallas says you can send my best friend home.. and I would be coming back for vengeance.
Share it YO!!
Tweet