POV Holder:
?
Next POV
March 12th
POV Used
?
POV Ceremony
March 14th
HOH Winner:
Loveita
Next HOH:
March 17th
Original Nominations:
? and ?
Current Nominations:
? and ?
Last Evicted Houseguest
Paige, Sharry
Have Nots
?
Use the Hide My Ass VPN and watch the live feeds on your mobile phones and tablets. One subscription pays for all. It works on any device. Including internet enabled TVs and games consoles. You can even use it on two devices at the same time. HideMyAss VPN
ALLIANCES IN THE HOUSE
There will likely be a lot of alliances during the season – keep track with our alliance help guide.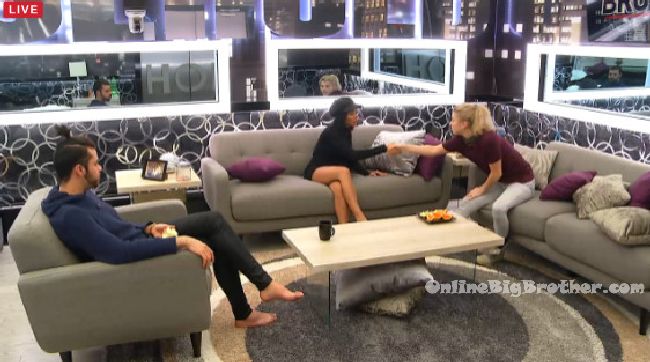 Help Support Online Big Brother
Show your support and appreciation to help keep the updates coming: Support OnlineBigBrother.com
1:10pm HOH room – Loveita says to herself. Love and forgiveness always wins. Love, Loyalty and Forgiveness Aways wins. Kelsey and Raul join Loveita. Loveita tells them I have to be honest I don't know if you are going to be true to your words. If you are HOH will you put me up. Raul says I can't keep talking in circles. I've come to you three times now. Loveita says I talked to Jared and I want to make a jury deal. Kelsey doesn't know what a jury deal is. Raul explains its the people you work with to get to jury. Kelsey says she is happy with making a deal. And with Cassandra and maybe Mitch. Loveita says I need to know I have your word. I'm not going to go against it. Kelsey says Jared and I are playing honest and open. We are willing to work with you and we've said it so many times. Kelsey says I don't even care if Maddy doesn't like me. I want Dallas out. Loveita says okay good. Raul says we want the strong players out that aren't helping us. They shake on it. Loveita says she doesn't want to make the decision on her own on who will go up since we're all working together. Kelsey asks who are you thinking? I think Dallas. Loveita says I'm not sure, I'm thinking of getting out the people who aren't playing. Loveita asks to talk to just Raul. Kelsey leaves. Loveita says we've been in this game for 3 weeks do you trust the people you're with? Raul says the people that I'm with I trust 100%. I will know if someone is going to f**k me over. Loveita says I just don't know if I trust you guys. I don't know if I trust your word. Raul says I don't want to keep going back and forth. We need to trust each other and start getting some people out. I don't want to keep begging. You just made a deal with us to jury and now you're uh, uh, uh.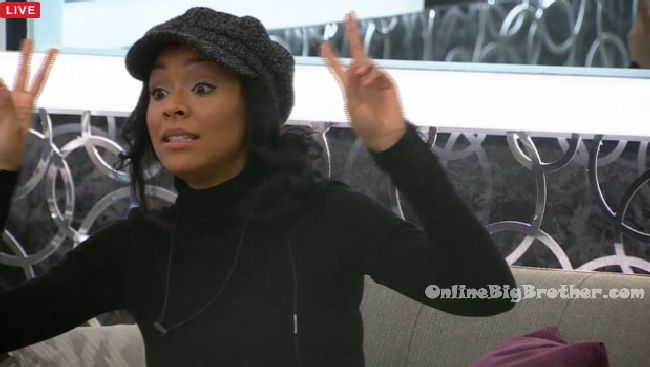 1:25pm HOH room – Mitch and Phil talk to Loveita. Phil tells her she is safe in his books. If I win you're not going up. We're all cool and if I win you're not going up. Loveita says we're cool you can leave. Phil leaves. Loveita tells Mitch that Kelsey seems so fake. I made a deal that we would all keep each other safe. Kelsey has such a nasty attitude. She is such a terrible person. Something about her she is just not real. I wanted to get to know her but she just so fake. Loveita says maybe they will keep me safe but I just don't know. Right now I've made this deal where I'm protected. Mitch says you're taking a gamble if they're going to stand by their word. Who do you think would put you up? Loveita says Kelsey. Mitch says then that's what you have to do. Loveita says I just don't like them in this house. Mitch says that Nikki and Tim would put up those three. Nikki hates Raul. Loveita says Kelsey to me is not a real person.

1:40pm HOH room – Dallas talks to Loveita. She asks him why he hasn't talked to her. Dallas says I gave you my word I would vote for you to stay and thats what I did so I figured were good. Are you thinking of putting me up?! Loveita says nope. Dallas says don't think I'm trying to throw any shade your way. Loveita says she wants some time alone. She says she thinks its weird Ramsey hasn't talked to her. Dallas says I think he just figures we're good. Dallas leaves. Tim, Joel and Nikki join Loveita. Loveita says she isn't sure what she wants to do. Nikki says its your privilege you do what you want to do. Loveita says the emotional side wants me to put up the mean people. The other side of me says to put up the floaters. Nikki asks who do you think dampens your time here? Tim says they don't vote like that in this show. Nikki says I don't care, that's how I'm going to vote. Loveita says I should put up Kelsey and Christine. Joel says yup. Loveita asks or do I just put up Raul and Kelsey. Joel says I don't trust Raul. Loveita says I don't trust either of them. The conversation with them was insincere.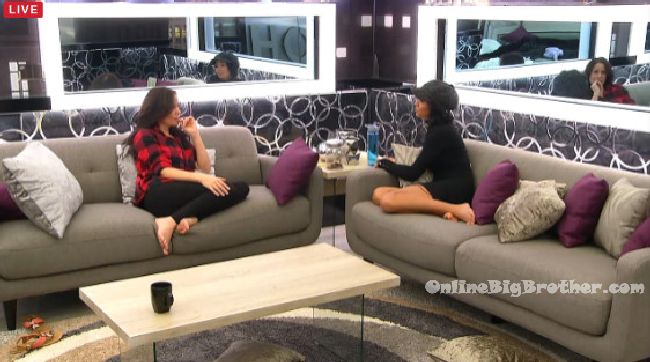 1:55pm HOH room – Loveita talks to Christine. Christine asks where's your head at? Loveita says I don't know. If I were to put up… Christine says I don't have an alliance in this house. I'm taking it day by day. Loveita asks are you going with the house or doing the flip a coin thing. Christine says I'm going with what I think with who's up. You don't have to like someone to go with them to the end. Loveita asks if you were HOH would I be someone you would put up. Christine says I don't even know who I would put up. You wouldn't be at the top of my list. You're not a target of mine. Loveita says that's what I wanted to know. Christine says Whoever has the most numbers are the ones I would assume are the most dangerous at this stage. Loveita says she's exhausted.
2pm HOH room – Loveita talks to Phil. She tells him she doesn't know what to do. I know I can trust you. Phil says you're in a great spot but a tough spot. Loveita says I could make a big move. Phil says that he and Mitch were talking and Jared would understand if Kelsey left. Loveita asks would you vote with me? Phil says he would this week. Who's your target? Loveita says she doesn't want to say. Mitch joins them. He tells her that the big targets are a good move but not necessarily the safest move. If you're going to do it you have to put up two of them. Mitch says after the veto if there is still two of them on the block they're going to make more enemies because people are going to have to pick a side. Mitch suggests she could also go with the safe bet and then given the opportunity backdoor someone. Mitch says of the big threat its better to go after the showmance because that's a twosome within a threesome. Loveita asks Phil if Christine would be mad if she was a pawn. Loveita says she can't decide what to do. She says self-evicting and then laughs. Mitch says if you think there's bullies in the house I think you should go after that.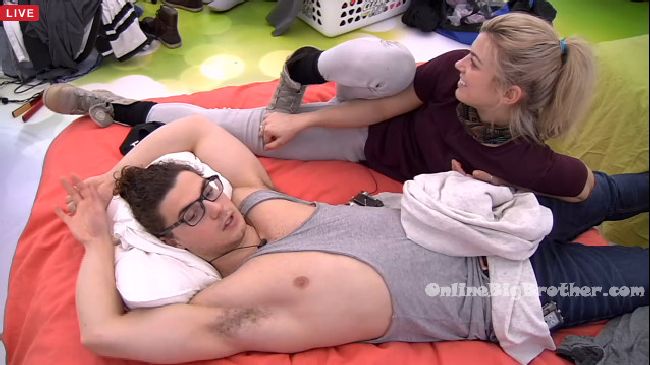 2:20pm – 2:50pm In the bedroom – Tim says regardless of what she chooses this week, we backdoor one of them next week. Kelsey says shook on it. Tim says she is going to break that. Kelsey says for me its just hard I've had that conversation with her a million times. Jared tells Kelsey to just relax. She wants you to get upset. Tim asks if he should plant the seed about the backdoor? Nikki asks what's that? Tim says if there's a person like Dallas that you want to get rid of, you put up two pawns and then use the veto to take one of them off and put the person up that the house doesn't like. That's the idea of how to get rid of Dallas this week. Tim says that Loveita is testing Jared/Kelsey/Raul in their reaction. Kelsey says if she puts me up I will!!! Jared says you can't react. Tim says I don't think she will, I think she'll put up the floaters. Tim and Nikki leave. Jared says one of you will likely go up, probably Raul. Raul and Mitch join them. Jared tells Raul that realistically its probably you or Kelsey going up. Raul says f**king b***H! Jared says you can't be like that and if you are I will vote you out. Jared says if you do go up, you have to be nice. We have to convince her to use the veto to backdoor Dallas or Maddy. We can't blow up and be angry because then she'll think she made the right decision. Jared says your life in this game depends on your reaction in the next few days. Raul says its just so dumb. Jared says both of you are so sassy! You can't play with your emotions. Raul says if she does put me up, I'm going to shove that tongue up her a$$!! Kelsey says I could talk to her again. I'm just transparent. Jared says no, don't. Kelsey says why doesn't she just put up Maddy and Dallas. Kelsey and Raul leave. Jared tells Mitch I just need these two idiots not to react. (Kelsey and Raul). I think she (Loveita) likes me and you. Mitch agrees.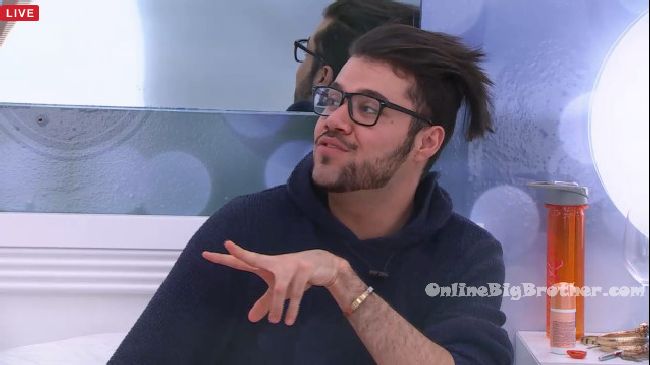 2:35pm – 3pm HOH room –
Tim tells Loveita to test Kelsey and put her up. If she blows up then you know you made the right decision. Loveita says that in her speech she is all about love and peace and that she's in a bed of weeds. She says she is then going to say she is self-evicting. Nikki starts getting scared and tells her no!! You can't! Loveita then laughs and says she's joking. Tim tells Loveita to put Dallas against Kelsey. Loveita says she doesn't want to put up one from each side. Tim says two nights ago I would have said to put up Raul. Loveita says he is a mean person I don't want to make decisions with him. The reason I don't want to put them up is to show them forgiveness. Tim says I think you have to put them up to see how they'll react. Loveita says that Cassandra isn't trustworthy. She talks to everyone. The first week everyone made fun of Cassandra. NO one talked to her. Tim says if Kelsey goes, Cassandra will be the new Kelsey. (Meaning Cassandra will fill her spot and they'll be three again – Jared, Raul, Cassandra) Loveita says exactly. Do I be safe and just put up Christine and Cassandra? Tim says it was a stupid move for Cassandra to move in with the three. She didn't need to do that. Loveita says I would have been loyal to her. Tim says I would vote for her to go. I don't want to fall in love in here. I'm just worried she's going to get under my skin. I don't want to play emotional.

3pm – 3:15pm Tim tells Dallas, Maddy and Cassandra that it will be a very interesting night no matter what happens. Tim leaves to go help Joel with making dinner for Cassandra. Cassandra talks about how Joel asked her on the date out of the blue. Dallas says you gave him a lap dance and got his noodle wet. Thanks for the booze big brother.