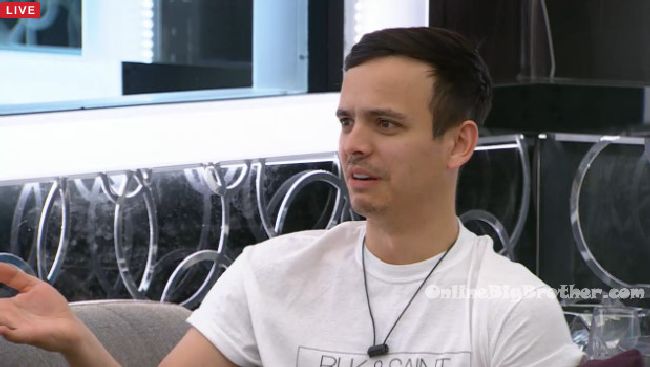 HOH room – Loveita and Mitch are talking. Loveita says my heart only feels like I can trust Jared. Mitch says he feels the same way. He is more readable. Loveita says I would like to take someone out of his sandwich. Mitch asks how do you do that because you don't want to keep flaming that war. Mitch says once we get down to ten having a solid three is not good. Loveita says Kelsey is emotional so if one of her three go up.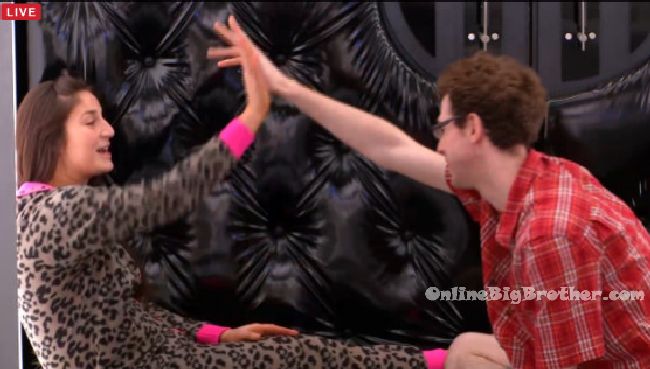 12:15pm By the high roller room – Joel asks Cassandra if she would be willing to help him out and go out on a date with him tonight. (Sounds like a Marsha the Moose task to me) Cassandra says yeah I would be down with that. She tells him she will help him how to find a girl. He asks her what meal she would like. Cassandra says No mac&cheese, No eggs and no ketchup. Cassandra says I'm hard to get but I'll teach you what girls want. Joel says he's nervous. Cassandra tells him not to be.

Joel heads up to the HOH room and asks Loveita if he can have the HOH room for the date. Loveita says yes. They start talking about the nominations. Loveita talks about how she thinks Kelsey is the one making the decisions. Loveita tells Mitch and Joel that she would like to make a deal or alliance with them. Mitch says he would be happy to commit to work with her. Maddy joins to go to the washroom and then tells Loveita Nominations are today – its up on the screen. Maddy leaves. Loveita says that she is thinking of talking to Jared to see who he is closest to and who he is willing to sacrifice. Mitch says you either put up one side or the other. Mitch says if you do put up Kelsey and Raul and the veto is used you would probably have to put up Jared who you seem to like. I think Jared would use the veto on Kelsey but not Raul. Loveita says that she wants to talk to Jared.


12:35pm
The fire alarm starts going off. Big Brother blocks the feeds. The feeds return after 5 minutes. Loveita talks to Cassandra and tells her that she likes her as a person. I need to know that I can trust you. When I ask you who do you think I should put up? Cassandra says from what I've heard Jared said that he is not going after you. Joel and I were rallying votes for you last week. Loveita says I just need to know that you're not being flighty with me. Cassandra says I am not being flighty with you.. if I win HOH you would not go up. Loveita says I know why you made that comment. Cassandra says I am sorry I made that comment. Whatever you decide to do, I will stand behind you. Loveita says everyone is trying to talk to me and clouding my head. Just know we're good.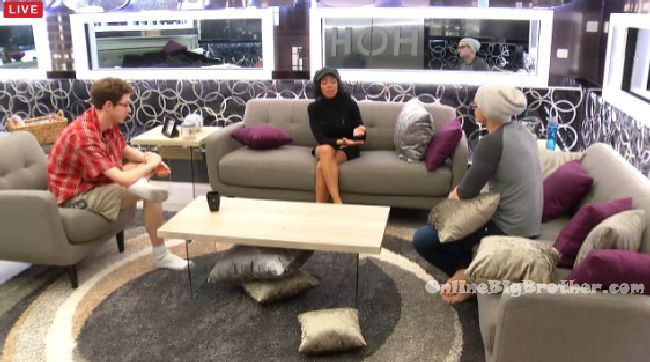 12:50pm
Loveita heads back to the HOH and talks with Joel and Mitch. Loveita says that she (Kelsey) will hold a grudge till the day.. Mitch asks so who would you put up with her Raul? Loveita says Christine. That would pit her against Kelsey. I could then talk to Raul. Loveita tells Mitch to go grab Jared. Loveita tells Joel this is a risky move. I want to stay in the house as long as possible. Jared joins them. Loveita asks him I am assuming you're here to play the game. Out of the two people Raul and Kelsey who do you value more? Jared says its a tough decision. I haven't really seen what Raul can do. I would kind of prefer Kelsey to stay. Why is it between the two? Loveita says I gave you my word the first week and you put me up and I lost my friend. Loveita says I'm not going to get blood on my hands to save you guys. Its a game. I have to make a decision with the vast majority being comfortable with. When people see where power is and that you three are together. Jared asks so what are you thinking? Are you going to put her up? Loveita says I'm not sure. Jared says I'm a little confused because of our conversation last night. Loveita says its hard unless I want to throw my game in the garbage. I've had people tell me I can trust your word. But they can't say the same for other people. Loveita asks do you honestly think I can trust Raul, Kelsey and you. Jared says they like to think with their emotions a bit and it leaves me with having to make an adult decision. Loveita asks if someone is an emotional player .. will their emotion override their word. Jared says I don't want to keep doing this back and forth stuff. It takes a good deed to stop things. Loveita says there's a fear in my soul and that's what's bothering me. Can you give me your word that if you, Kelsey or Raul wouldn't put me up. We need to cut a big deal. Loveita says I am holding you at your word. I can talk to everyone and get them on my side. Jared says we need to keep this between ourselves so feelings don't get involved. Loveita says if I'm going to do this what do you think I should do. Jared says Dallas has been back and forth. I know you don't like Maddy that much. Nikki and Tim are good players, I like them. The brothers, I know they have secrets. I do like them. Cassandra did campaign for you a lot. Loveita says I'm not touching her.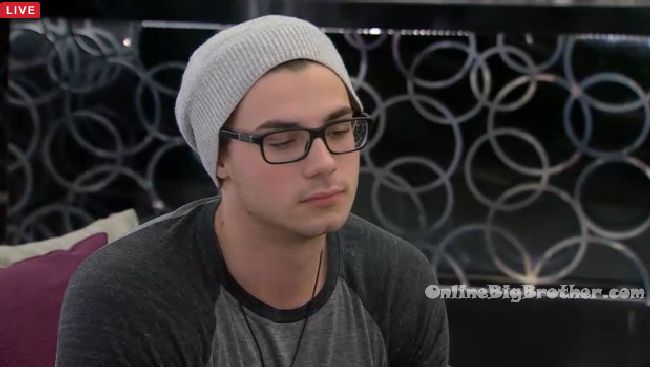 [polldaddy poll=9341582]
Share it YO!!
Tweet