POV Holder:
?
Next POV
March 12th
POV Used
?
POV Ceremony
March 14th
HOH Winner:
Loveita
Next HOH:
March 17th
Original Nominations:
? and ?
Current Nominations:
? and ?
Last Evicted Houseguest
Paige, Sharry
Have Nots
?
Use the Hide My Ass VPN and watch the live feeds on your mobile phones and tablets. One subscription pays for all. It works on any device. Including internet enabled TVs and games consoles. You can even use it on two devices at the same time. HideMyAss VPN
ALLIANCES IN THE HOUSE
There will likely be a lot of alliances during the season – keep track with our alliance help guide.
Help Support Online Big Brother
Show your support and appreciation to help keep the updates coming: Support OnlineBigBrother.com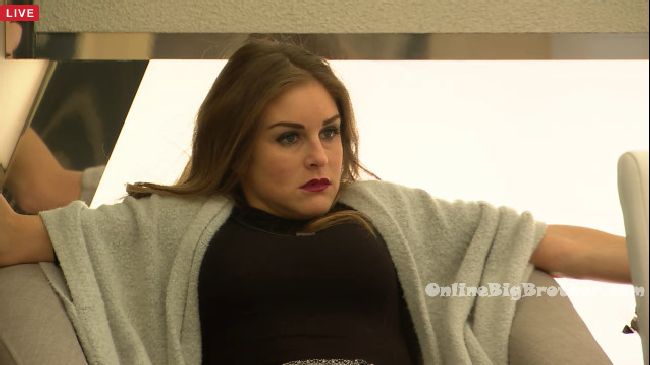 9pm The Live Feeds return to most of the house guests sitting around in the living room. Loveita and Nikki are sitting in chairs by the kitchen. Christine comments on how Nikki looks really pouty. Nikki says nah. Nikki says its so weird to think we're in the big brother house. Its so great you get a letter. Nikki comments on how its nice Loveita gets to watch a shomi show. Loveita says she didn't get to watch one the last HOH.
Ramsey says its funny how quick Cassandra became her friend. Joel says you're up one minute and down the next.

9:40pm Cam 3-4 Kelsey and Lovetia
Kelsey says she keeps her word 100%, claims she's not in a showmance with JAred but they like each other. Kelsey says raul, JAred and her are not targeting Loveita until further weeks down the road.
Loveita tells Kelsey she's not coming after her. Loveita is not trying to break them up. Points out that they have each taken a shot at the other side. If they keep this up other players will Linger on by.
Kelsey wants to be cool, "Be smart with people like MAddy"
Loveita -"Let's actually hangout… just hang out laugh talk"
Kelsey – let's be normal
Loveita – thank you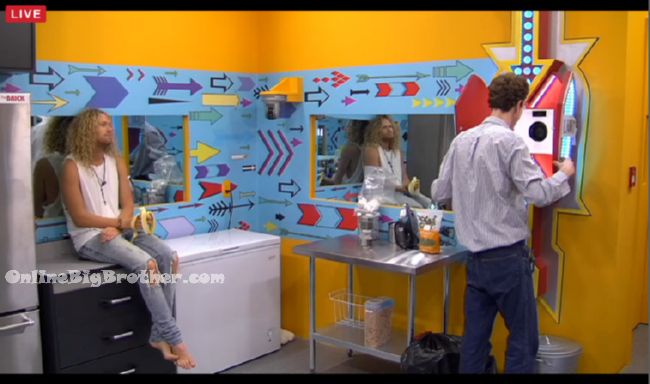 10:00pm cam 1-2 storage room Joel and Tim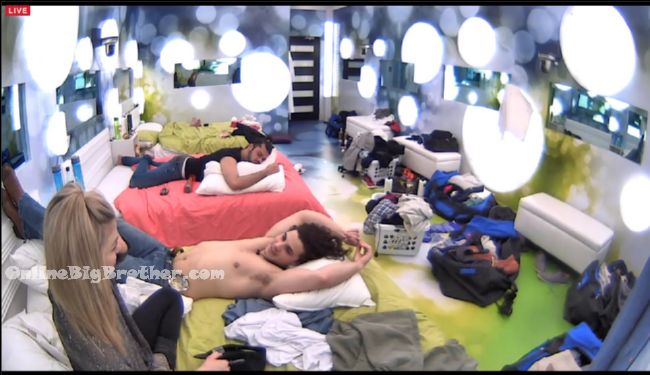 10:00pm Cam 3-4 JAred, Kelsey and Raul (sleeping)
Kelsey relays the conversation she had with Loveita. Kelsey says it was Loveita that started the conversation with her.
Kelsey admit to trash talking Maddy and Dallas to Loveita. Kelsey points out how Maddy is attached to Loveita's a$$.
Kelsey – F*** I hate this game sometimes… I don't want to deal with this sh1t
Jared – hopefully we get by this week
Kelsey – We're fine this week
Jared leaves Raul and Kelsey. Kelsey is afraid that Lovieta is going to want to break the three of them up.
Kelsey – I'm sweating my balls off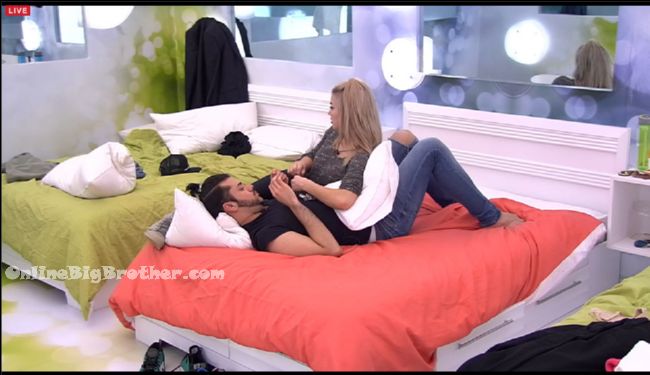 Kelsey – Sometimes I just wanna like tell you things but I can
Raul – What do you mean tell me things, About what
Kelsey – Production
Raul – Niki
Kelsey – ya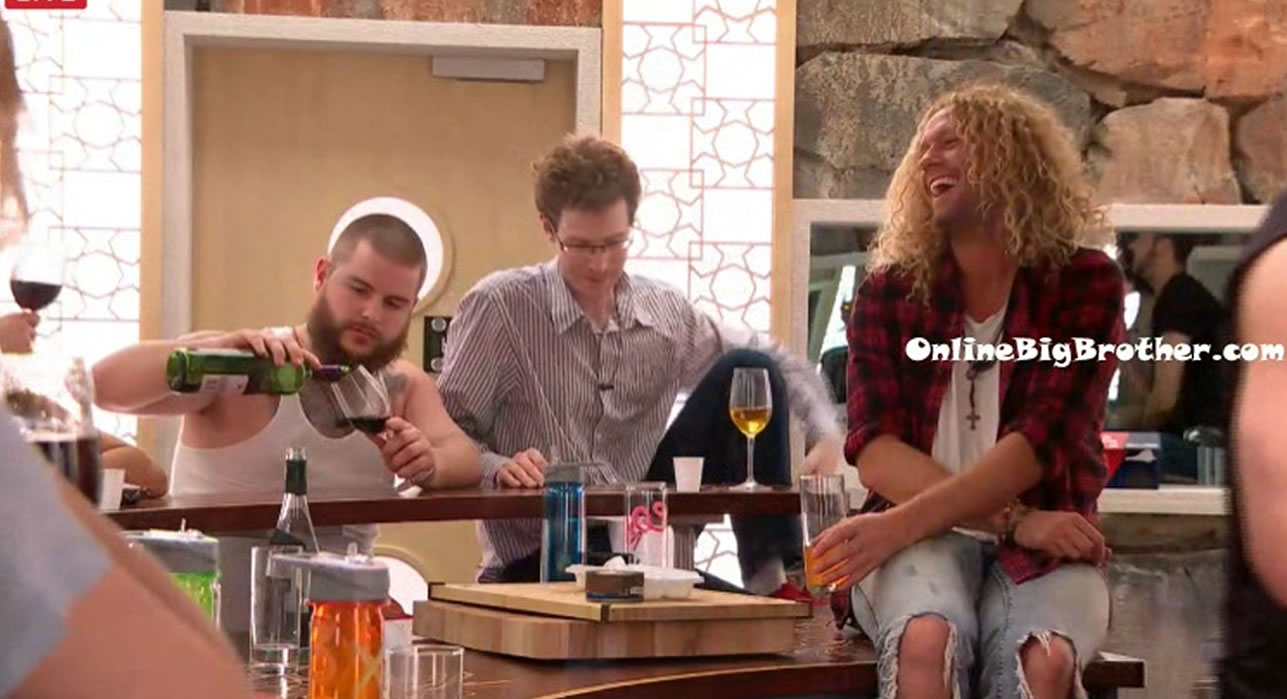 10:30pm Drinks for the house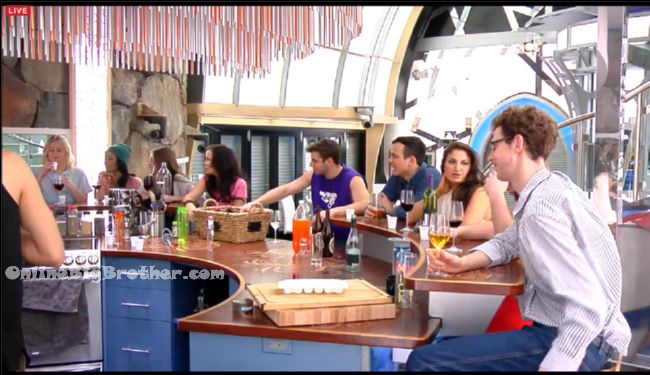 11:30pm Cam 1-2 Maddy and Ramsey
Maddy – If she puts me up I'll f*** lose it
Maddy – Kelsey is kissing her a$$.. Kelsey is literally ki$$ing her a$$
Ramsey – she said she was going to put up Raul and Kelsy
Ramsey – I hope 1 of the 3 go
Maddy – they must
Maddy – we have to get Loveita's ear.. otherwise she'll put up someone like Mitch and Joel
Ramsey – This is the best thing that could have happened to us.. this is good.. for the first time in the whole game I feel hopeful
Maddy – safe
Ramsey – ya fully safe
Rasmey – I full trust you.. I put all my trust in you.
Ramsey adds he trust Maddy more than Dallas
They are both trusting Christine less and less
Maddy trusts Ramsey and Nick.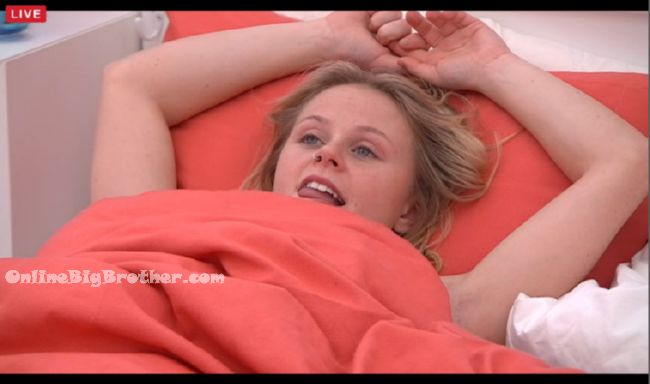 11:40pm Cam 1-2 Maddy and Nick
Maddy is stressing, she's trying to talk to Loveita but isn't having any luck. She's worried Loveita is going F**8 this up.
Maddy – I slept naked the first night
Nick – yeah you're t!ts were out
Maddy – you haven't seen them
Nick – Full on I've seen them.. turkey basters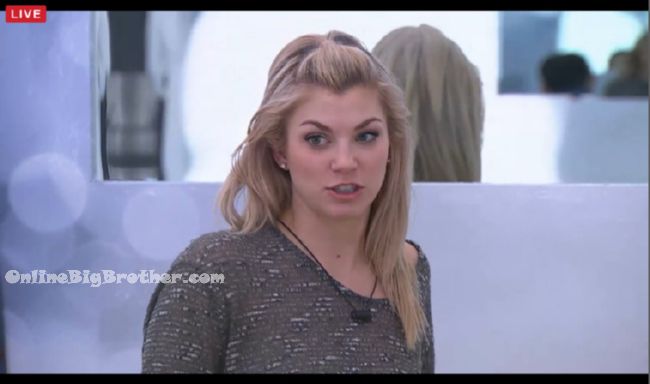 11:50pm Kelsey, Raul and JAred Cam 1-2
Kelsey says Loveita has been telling Niki that she's been talking about her. Jared is stressing they do not freak out, "You have to be nice"
Kelsey – F*** shady little f***
Raul – just until tomorrow
Jared – no the whole week
Kelsey – THE WHOLE WEEK…. F**** Loveita is my the target… I told you guys I needed Lovetia out before Sharry
Jared – what do you mean I told you guys in the washroom about this What would happen if she stays we would be going on the block and look at what happened. UGHRGH
Raul – She's a shad b1tch she's a liar and a manipulator
Kelsey thinks they could have gotten Loveita out this week. Raul doesn't think they could have.
Kesley "Your telling the alcoholic British chick that I'm talking sh1t about you"
Jared – you guys gotta lose the F*** attitude towards this girl.. this attitude can't leave this room.. I get it.. if you guys want to stay in this game you guys have to smarted the f*** up and not bring emotion into this game last week didn't go as plan.
Kelsey – tomorrow's the eviction
Jared – yes (what?)
Jared says he's going to talk to Loveita tonight.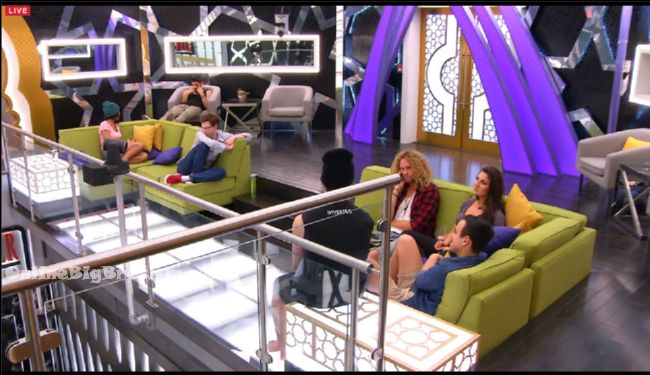 11:50pm CAm 3-4 Tim, Joel, Ramsey, Cassandra, Mitch and Phil
Phil says he has a crush on Niki. He gets nervous when he's around her. He's going to take her on a date.
Tim – "I'll give you some advice.. crazy in the head crazy in the bed"
Tim offers they will ask Niki for a cuddle. Cassandra Brings up taking her on a date.
Phil – I need hep
Tim – Niki is my friend my sister in this house if you play with her heart
Phil – I like her too much to do that
Cassandra suggests he makes out with her.
Tim – Is there chemistry
Phil – I don't know

12:00am Cam 3-4 Loveita's HOH room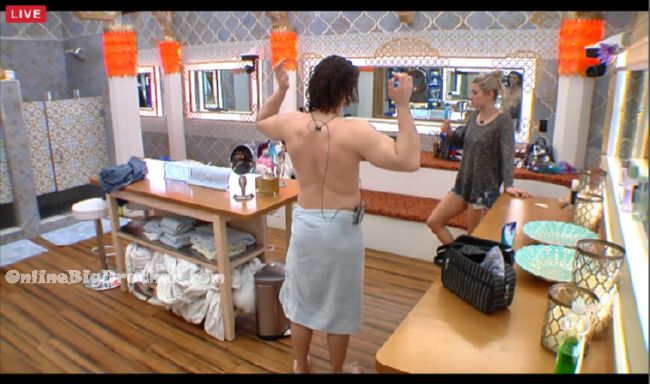 12:11am Cam 1-2 Bathroom Kelsey and Jared
Kelsey still going on about wanting to get Loveita out instead of Sharry.
Jared – we f*** up big time and we're going up.. and you owe me a back rub
Kelsey says she can't work with Loveita because she doesn't like her, "UUGRGH I can't"
12:15am HOH Loveita and Cassandra
Loveita brings up asking Kelsey if she should trust Cassandra and she said yes.
Cassandra – last week I had your back till the end..
12:22am Jared and Loveita CAm 3-4
Jared says he's working closely with Kelsey and Raul and claims it was Kelsey and Raul who flipped the house to keep her safe. It was him that was on the fence but after he had "that" conversation with her he changed.
Jared says day one he wanted to work with RAmsey and her but Ramsey betrayed him and Loveita put 2 people he trusted up.
Jared says he'll understand if she puts him up.
Loveita – I'm not putting you up.. i'm not playing that game.. that's not wisdom
Jared says if he goes up this week she'll go up the following week "we're smarter than that"
1:25am Mitch and Loveita HOH
Mitch wonders how strong the relationships Kelsey/Raul/Jared have with other houseguests.
Mitch points out how the house wants Maddy and Dallas out. They agree they want those type of players in the game to keep the target off them.
Loveita says Christine told her she wanted Mitch out
Loveita – She's kinda on my radar because I don't want you gone.
Mitch – She's smart
They want the "Good people" to make it in the game.
1:37am Joel and Phil
[polldaddy poll=9341582]