POV Holder:
Paulie
POV Competition
July 1st?
POV Used
Yes
POV Ceremony
July 3rd?
HOH
Paulie
Next HOH
July 7th
Roadkill Competition Winner:
Victor
Original Nominations:
Paul, Bronte and Tiffany
After POV Nominations:
Bronte, Tiffany and Victor
Have Nots
Da'Vonne, Paul and Zakiyah
Sign up and watch the 24/7 Live Feeds: 1 Week FREE Trial!:
Big Brother 18 Alliances Help Guide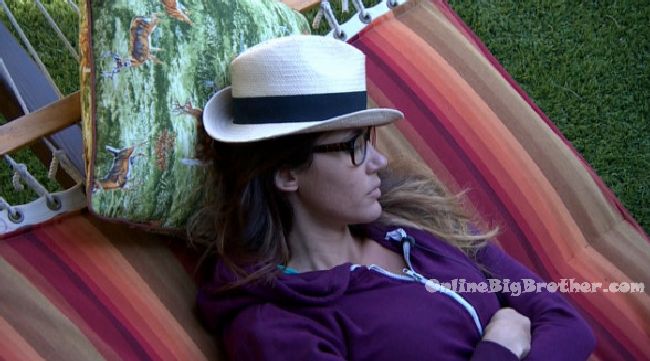 5:15pm Backyard – DaVonne and Tiffany are talking on the hammock. Tiffany asks do you think it would be funny… or not funny a good idea for me to go to him and say I want to work with him .. in the short term? DaVonne says no that would tip him off. I almost want to win HOH so I can guarantee him going up. DaVOnne says but we don't have the vote. Tiffany says I think I could get one of the other girls .. Bronte. DaVonne says we only have one shot to get out. If you could win HOH and make it happen, but he can't go up initially though because that gives him time to campaign. I want to see where James' head is ..to see if James will vote him out. Tiffany says no, I don't think so. DaVonne says when we do talk to them .. don't say well why didn't you tell me! Don't! That was a conversation, like when you exploded people were like what do we do if we hear something. You've got to continue like you've been acting like you did before this conversation… until us 5 meet up. Tiffany says okay. DaVonne says I want you to understand how Frank works. …when we get up from here .. Frank is going to have a conversation with you .. not about the game .. about life outside of here …just to see if your tone has changed. Tiffany says I can act. Nicole joins them. DaVonne says I had a breakthrough. DaVonne explains how she was talking to Tiffany about how not to react. Nicole says we all get a little emotional. Nicole leaves. Tiffany says I'm just going to keep reminding myself its just a game. Telling myself that makes me less paranoid. DaVonne says some times things worry me too .. like you and Paulie. Tiffany says don't even worry about Paulie. Tiffany asks you don't think I need to campaign to anyone? DaVonne says no, not one person. Frank comes in asking where his comforter is.

5:35pm Bedroom – Michelle and Nicole are talking. Michelle asks Nicole do you want to vote Frank out too? Michelle says its too soon. Michelle says that's how I feel too. Nicole says I don't even want the words to come out of my mouth. We're going to have a meeting tonight the Fatal 5. I've heard things… I don't know what's true and what's not true. That Frank has been making final 4 deals with different groups of people… because if I'm not included that sucks for me. If that's true about Tiffany .. she could have used my name. If feel like if I don't agree with going after him .. she will say I said something. Nicole says I just feel like there's a lot going on that we don't know about. Michelle says apparently Frank has a deal with those 3 girls. Nicole says I don't know who to believe. Michelle says he wants our team to win the next HOH for safety. Nicole says yeah he wants me to throw the next 2 HOH's.. that's a lot to ask. Nicole says if your team wins you need to take it. Michelle says I just don't know if I could send Tiffany home. He as saying to put up Bronte and Paul .. with the Roadkill putting up Tiffany. Nicole says he (Frank) is putting his needs before everyone elses though. DaVOnne, Tiffany and Zakiyah join them. Michelle says I want to have an eight pack meeting. TIffany asks but do you think they have my interests in mind. DaVonne says its Vic going home. DaVonne says 2 more people go before jury starts. Michelle asks how can they even have 3 people on the block. DaVonne says I think we'll be fine.. .we just have to ride this out. DaVonne asks if we were to band together for 1 week.. what guy do you think they would vote out? Nicole says I don't think Natalie would vote out James. She's more influenced by him. DaVonne asks what guy do you think we should vote out? Tiffany says Frank or Paul. Nicole says I just don't know if I feel good talking about it. Michelle says we have to be careful Frank is the king of vetos and campaigning. Nicole asks what if we planned on the week after next week?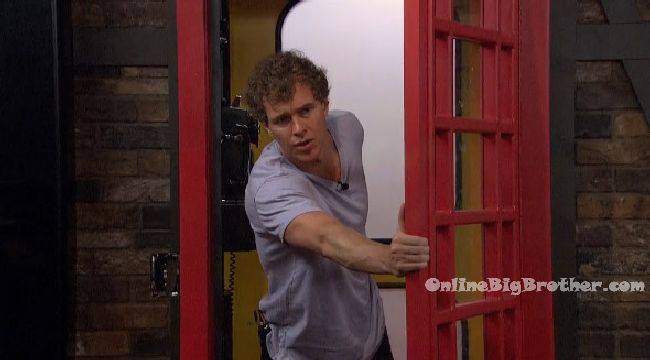 6pm HOH room – Corey tells Paulie that Frank is going around telling everyone that he is going to Day and Z saying lets go to top 3. He's gone to Nicole & Michelle. He went to me. He kind of said it to you and I. Supposedly Day and Nicole are wanting to get Frank out next week. But Day made up that whole thing with Tiffany. To get Tiffany out. And Day also said that Nicole and James are up to something .. she could see them as final 2 ..so she wants them out also. Paulie asks who told you he is making those kind of deals? I thought it was only you and I. Corey says Frank also came out and asked me who else I wanted.. he said Nicole and Day would be good at those question comps so I don't want them at the end. Z would be good. Then he was like what should we do about Paulie. I told him I trust you 100% and think it should be me, him and you. Paulie says I said to him I see us 3 (Frank, Corey, Paulie) and that I really trust Nicole and Z. Corey says he's been pushing me to throw the comp (HOH) and Nicole is telling me not to. Paulie says that he thought Frank was a lot smarter from his season than to make deals with everyone. Corey says he thinks he was doing it to protect himself from the roadkill. Paulie says you don't do it by making deals you do it by being friendly with everyone. Corey says I don't think I trust Frank. Corey says keep it between ourselves right now .. and I'll talk to Nicole and we'll all talk.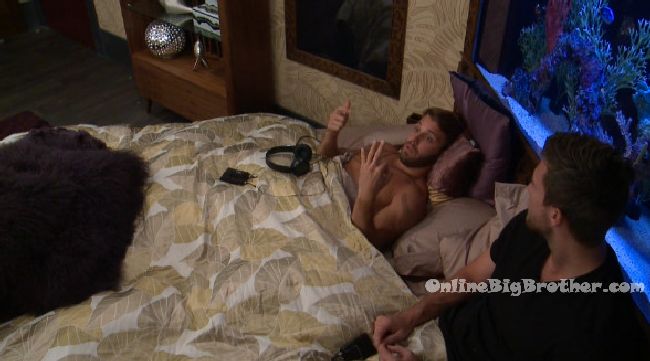 See what they can't show you on TV – CBS All Access: 1 WEEK FREE Trial!
Frank tells DaVonne are talking in the havenot room. DaVonne says Bronte is coming for Nicole.. that's one person. Tiffany is coming for two people but people aren't hearing that. Frank says if we continue to get a worse feeling about it.. we will sit Nicole down. Frank and Davonne agree to play it by ear. Frank says I could toss it to Michelle too.
6:25pm – 6:35pm Paul is crying by the pool. DaVonne joins him and tells him to take some time for himself. You know who else is good to talk to .. the DR. She tells him to remember why you're doing this. I know its Zakiyah's birthday but we need to get you a letter. DaVonne leaves. Michelle asks is he crying about his Mom too? DaVonne says yeah he misses home. Frank joins Paul and tells him its like the hunger games in here. Paul says I don't lying and deceiving. Frank talks to him about how its hard coming in being friendly with everyone and then have to vote them out. This isn't life. You're a good guy.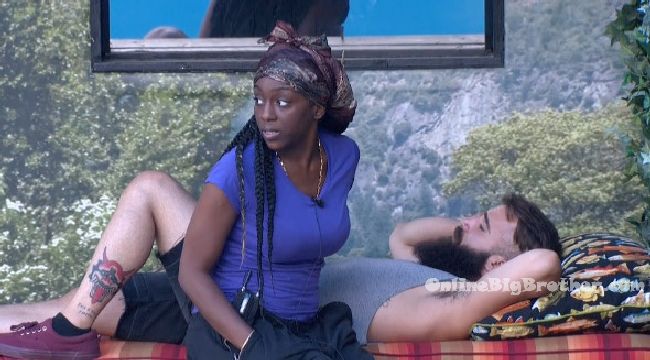 6:40pm – 6:50pm
DaVonne says do you know this bastard told Paulie about the eight pack!? Tiffany asks what? DaVonne says Frank told me he told Paulie about the eight pack. Tiffany asks why would he tell you that? DaVonne says because he said he didn't want any more secrets… he's like the 9th member anyway. DaVonne says ain't nobody agree to make him the 9th member! Nobody agreed to that! Which makes me even more .. them two might be working together. Tiffany says well he told Zakiyah final 3 didn't he. DaVonne says he told Zakiyah ..because Zakiyah didn't tell Paulie about the eight pack. I don't know if I should go tell Zakiyah that Frank told Paulie that so she can do damage control. Tiffany says no .. this is the third week, you don't want to play too hard. Let Frank get himself into this twirling of sh*t! And Chill right now. It will come out… everything always comes out. DaVonne says yeah I don't want to be in nothing. Tiffany asks when Frank said he wanted me out did you say there are bigger fish to fry? DaVonne says yeah. I said we need to get out Bronte, Paul and Bridgette. We don't need to worry about Tiffany, she's in our eight pack. Tiffany says I can't wait for this 48 hours to be up. DaVonne says you're going to come down. I'm 1000% confident!
7pm – 7:15pm Havenot room – DaVonne says he (Frank) went out there to comfort Paul. He's not genuine. Everything he does is strategy! He wants to win HOH and give it to Michelle so that he is safe. That can't happen. I told Paul .. I know its your birthday but if could win it we would be safe. Paul is easily manipulated so if any of us can get to Bronte and get her to plant that seed in Paul… maybe. Zakiyah says that's hard. I feel like Frank has already gotten to Bronte. The goal, the goal, the goal is to get Corey to win HOH.. SH*t even get Tiffany I don't care. No because we need her vote. Tiffany said that Bronte will vote Frank out. SO why not put up two of those girls as pawns .. win the roadkill. Because right now at this point in the game we could be running the house. We have the majority of the votes 5. Zakiyah says I'm just worried about Paul doing some slick sh*t! DaVonne tells Zakiyah that Frank told Paulie about the eight pack. I told him didn't he think about how it would make Zakiyah look for not telling him!? Zakiyah says I would have never known he knew anything. DaVonne says after Frank is gone we sit Paulie down and talk to him about it. DaVonne says he's (Frank) got to go!! You can't act any different! Zakiyah says he's (Frank) a piece of sh*t! He's got to go! DaVonne asks what if he planted that seed with me and Nicole and really didn't tell Paulie. Tiffany joins DaVonne and Zakiyah. Tiffany says Frank wants the girls that he can control. DaVonne says he can't get Bronge. He can't get Bronte. Zakiyah says I want him to think I'm dumb.