POV Holder:
Paulie
POV Competition
July 1st?
POV Used
Yes
POV Ceremony
July 3rd?
HOH
Paulie
Next HOH
July 7th
Roadkill Competition Winner:
Victor
Original Nominations:
Paul, Bronte and Tiffany
After POV Nominations:
Tiffany, Bronte, Victor
Have Nots
Da'Vonne, Paul and Zakiyah
Big Brother 18 Alliances Help Guide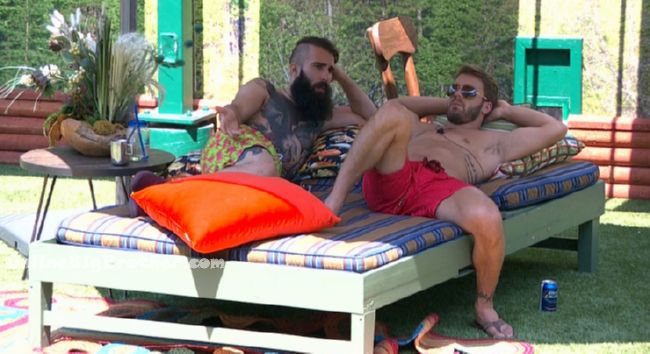 2:42pm Paul and Paulie
Paul is concerned with the girls teaming out.
Paulie – lets just chill and be quiet the girls will go after each otehr these next 3 weeks..
Paul – you're sure
Paulie – I'm very confident about it.. the only girls right now I am worried about are Bronte, Bridgette, Natalie and even Tiffany… anybody other than that we're good.
Paul asks if there's another BIG target on the block right now.
Paulie says once Vic is gone they can take it from there take it HOH by HOH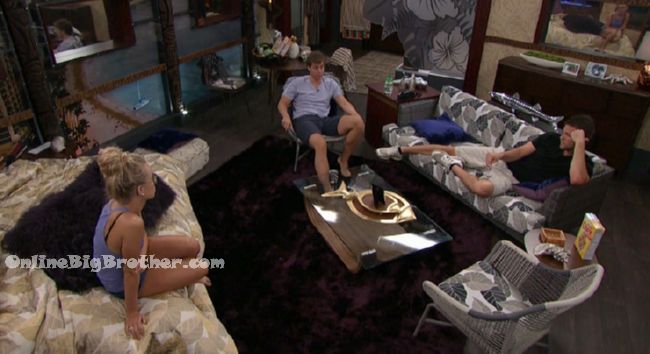 3:20pm HOH Corey, Frank and Nicole
Corey saying he likes their 8 pack but doesn't care for Tiffany. Adds that he's not close to Da'Vonne.
Frank says the entire group is tight with the exception of Tiffany.
Corey trusts James but has never talked game to him.
They go back and forth who to put up..
3:31pm Have nots Nicole Da'Vonne and Zakiyah
Nicole is saying Frank is getting aggressive about taking out Tiffany, "He's got to go"
Da'Vonne – are we going to get James to vote him out
Nicole – YES.
Zakiyah now better than later
Da'Vonne – It'll be next week
Nicole – If it's any of our names he's gunning for us he's gunning for her like nothing before
Nicole – I'm not kidding you this is a different version of him.
Nicole – he's telling Paulie about the 8 pack so he doesn't get pissed about it.. Make us look like morons
Zakiyah – I'll tell him (Paulie)
Nicole tells her not to Paulie otherwise Paulie he'll tell Frank and it'll come back to her.
Da'Vonne – what do we do? Deny
Nicole – no, take the heat
Zakiyah – I can't deal with Frank no more..
They start going through scenarios to take out Frank.
Nicole has noticed Frank is getting suspicious he's talked to everyone in the house making deals.
Da'Vonne says if Zakiyah tells Paulie at the right time that Frank has been slapping her a$$ Paulie will vote Frank out, "The right time… next week he's gotta go"
Zakiyah – He's gotta go
Zakiyah – he's getting worse by the day
Nicole – his jokes aren't funny anymore.. They're kinda mean
All three of the girls thought Frank was humble and loyal but he's not they say he's the worst.
Da'Vonne – we gotta do a come to jesus meeting with Tiffany.. Get her on board and tell her we're all gunning for Frank
Nicole – She'll tell Paulie.. We gotta see who wins HOH..
Nicole – I trust you with my Big Brother life.. This cannot leave this room.. We will be in trouble..
Da'Vonne – we gotta get Frank out while the fire is hot and right now it's hot.
They talk about Frank calling Zakiyah a hussy…
Zakiyah – he smoked too much cause he ain't right.. I don't like he's in everyone's ear promising something different.. Paulie is so blind.. He's so naive..
Da'Vonne says Frank is giving Boogie a bad name.
Nicole says girls won't win the Roadkill competitions because it's more slanted towards men winning "Our muscles aren't that fast"
Paulie comes in..
3:35pm HOH Frank, Corey and Paulie cam 1
They tell Paulie about the 8 pack say it was all the girls thing.
Corey – it wasn't something we took seriously
Paulie says this is the trio right here, "I'll go to bat for that"
Paulie – as much as Z is my homegirl.. When she's gotta go she's gotta go
Frank – Z and Nic we keep as long as we can..
Frank says eventually the one that will be making a move against them is Da'Vonne she's too smart.
Frank thinks James is just Chill
Corey thinks James is loving this season he gets to throw everything and cruise through.
Victor joins them..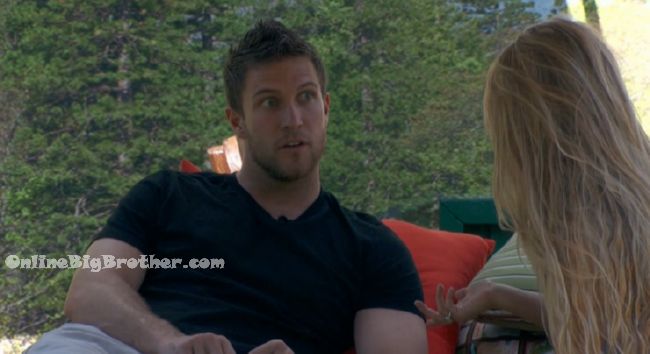 4:03pm Corey and Nicole
Corey – what do yo think of what Frank said
Nicole – terrible.. he's covering his tracks.. You 2 are his ride and die
Corey – He told Paulie… I'm like i'm damage control
Corey goes on to explain he tried to soften it with Paulie saying Paulie was in the Diary room, 'I down played it big time"
Corey says Frank told him he's ride or die with Nicole, Paulie, Corey.
Corey adds that Frank is worried about Da'Vonne but he really wants Tiffany out.
Corey – Da told Frank we have to be careful with you and James because you might have a final 2
Nicole – Da wants Frank out.. I wonder if I should tell Da that Frank told em that
Corey – we need to pump the brakes with Frank… is he the next Vic is he going down
Nicole reminds him that Frank told him to take out Corey.
Corey doesn't think Frank was serious he was just testing.
Nicole says Da'Vonne made up the Tiffany thing to make her look bad and get Tiffany out of the house.
Corey – I want Da gone now.. for your sake for Franks sake.. Honestly I trust Frank a lot
Corey says Da'Vonne is doing a lot of talking spreading a lot of seeds
4:17pm Nciole and Corey back alone. They are having trouble figureing out who to trust Da'Vonne or Frank. Nicole is worried that Frank has made final 4 with everybody. Corey thinks their final 4 is the real one.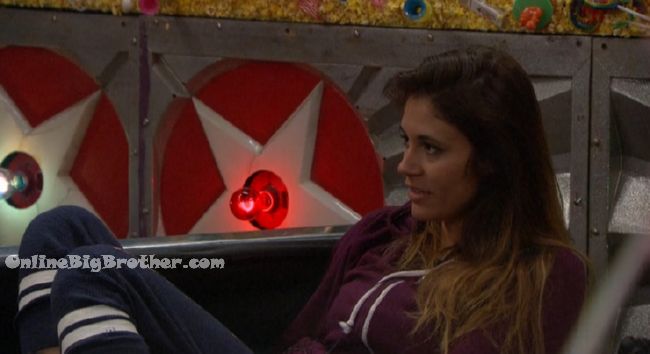 4:08pm Have Nots Da'Vonne, Zakiyah, Tiffany
Da'Vonne lets her in on the plan to take Frank out, says to have enough votes they need Corey to win the HOH and one of them to win roadkill. Tells her he's targeting Tiffany. Tiffany says they don't need to try and convince her to take out Frank she'll put him up.
Tiffany – Vic is gone this week right
Da'Vonne – 1000000%
Tiffany – wow there would be 4 guys and 8 girls.. after Frank leaves..
Da'Vonne is really worried Tiffany will tell Paulie. Tiffany says she would never do that she's on the block. Tiffany tells her she never talks long term with Paulie only 1 week stuff.
(LOL what a crazy couple hours of feeds Da'Vonne and Frank are both messing up their games. I think Da'Vonne is in a weaker spot though)
FLASHBACK and watch everything you missed: CBS All Access FREE Trial!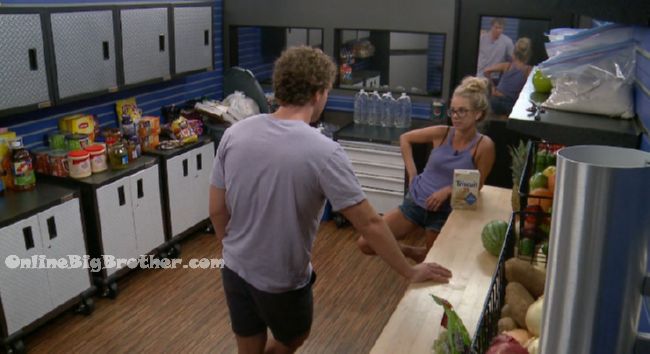 4:40pm Storage room Frank and Nicole (feeds flipped to this conversation late)
Nicole asks him what's his vibe from Da'Vonne, "go with the flow?"
Frank thinks so at the end of the day he's more worried long term Da'Vonne will pick Zakiyah. eventually they need to break them up.
Frank says Corey and Paulie have her back.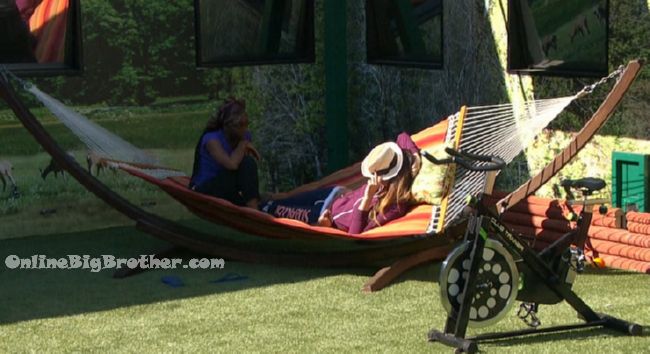 4:48pm Hammock Tiffany and Da'Vonne
Da'Vonne is telling Tiffany that Frank is after her. She's the only target that's coming from him.
Da'Vonne says after the POV she was pissed at Tiffany because she was 'Counting her things". Tiffany apologizes says that was her competitive side. Tiffany was worried Frank was getting into peoples ears she wanted to win the Veto for protection.
Da'Vonne – I haven't been lying to you I've been withholding information..
Da'Vonne says next week they need to get Frank out. She ads the way the boys have been playing Da is only loyal to the fatal 5.
Tiffany starts to cry
Da – You crying
Tiffany – ya
Da – why
Tiffany – I'm an emotional person.. I feel so stupid it's so hard..
Tiffany explains it's a combination happy cry and alone cry, "I'm a little hurt by Nicole.. Frank has told her things" goes on about the day of the Frank fight
Da'Vonne – you got to take into consideration how you were acting that day..
Da'Vonne explains they filter what they tell her so she doesn't get so upset.
Tiffany is worried Frank is telling everyone she blows up.
Tiffany asks what are they going to do.
Da'Vonne's plan is this.. Nicole's team wins the HOH and give it to Corey. Corey puts up 2 of Natalie, Bridgette, Bronte. The Fatal5 wins the Roadkill and puts up James. Then they win the POV and put up Frank. Da'Vonne thinks that's the only way they can backdoor Frank. She thinks if they put him up he'll win the veto.

[polldaddy poll=9459672]