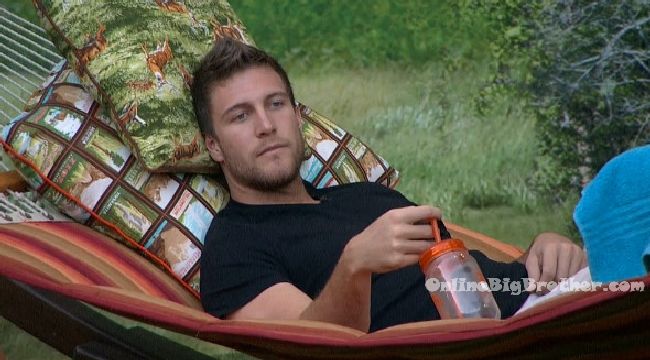 7:20pm Backyard –
Corey and James are talking. James says he told himself he wasn't going to get into any kind of showmance but…. ahhhhhhh dude… she's kind a growing on me! And she'll be like in bed staring at me. Corey says you've got hearts in your eyes. I cuddled with her the other night and she made a comment to me .. I was like I'll leave and she grabbed me back in. I was like I don't want you to get mad or nothing but I'll leave. And she was like don't hurt me. Corey says wow thats serious. James says yeah I don't know how to take that. We cuddled in bed again today. James says you and Nicole are cute. Corey says I just don't want it to have any backlash on the game. I know how much this game means to her. I just wouldn't want her to get put up next to me and her get kicked out. James says keep it innocent flirty, just don't hand out all the time. James says I'd put up Paul and Bridgette… then hopefully someone wins the secret thing and puts up Tiffany and we vote her out. Corey says Tiffany needs to go because she is already getting out of our little circle. James says she knows about it though that's why we have to do it secretly. Michelle joins them. Corey says I'm nervous about Frank wanting me to throw the HOH. Michelle says Frank is getting close to the other girls. He's giving those girls advice ..like telling Bronte to come out of her shell. To get on their good side. Michelle says I would be fine being HOH and sending Bronte home. Michelle asks who would Natalie put up. James says whoever I say. Not to be cocky or nothing. Natalie doesn't have any targets. Michelle asks do you have any advice for me? Corey and James tell her to keep doing what she's doing. James says don't flip to the darkside.
7:50pm James climbs into bed with Nat Nat.
7:55pm – 8pm Hammock – Frank, Michelle and Corey are talking. Michelle says that Bronte doesn't want HOH. Frank says that's good. Michelle says I have no problem putting her up (Bronte). I don't think Bridgette could do it. She's too close to them. As long as Natalie doesn't come after me. Frank says she's not winning anything. Michelle says I just wonder who will come back for pre-jury buy back. Frank says they won't. There's too many things that are the same as my season that's freaking me out. People who come back never last long.
FLASHBACK and watch everything you missed: CBS All Access FREE Trial!
[polldaddy poll=9459672]
Share it YO!!
Tweet