POV Holder:
Paulie
POV Competition
July 1st?
POV Used
Yes
POV Ceremony
July 3rd?
HOH
Paulie
Next HOH
July 7th
Roadkill Competition Winner:
Victor
Original Nominations:
Paul, Bronte and Tiffany
After POV Nominations:
Tiffany, Bronte, Victor
Have Nots
Da'Vonne, Paul and Zakiyah
Big Brother 18 Alliances Help Guide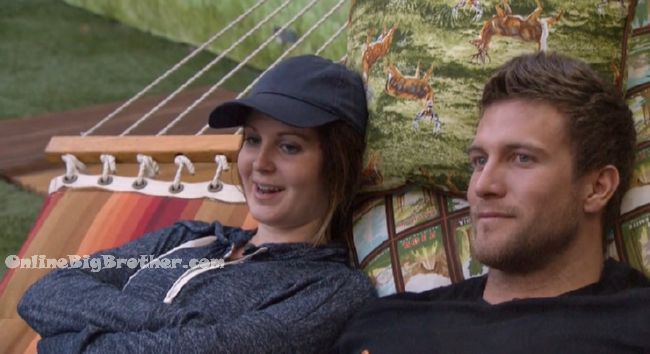 8:00pm Frank Michelle and Corey Hammock
Michelle wants to take Bridgette out.
Frank says she can't she's on your team even if Michelle wins Roadkill she can't put Bridgette up.
Frank tells her to squash the beef with Bridgette, 'She's not winning sh1t"
Michelle says Bridgette is just like her old roommate and Michelle can't stand her.
Corey says he doesn't like Tiffany much.
Frank wants Tiffany out after Bronte says everyone is agreeing to this. Frank says Tiffany isn't winning anything and her social game is poor he just wants her out before jury. Would rather Paul and Bridgette be in jury.
Frank – to be honest I never cared for her sister's game play.. She tried to intimidate people.. Waterworks so emotional
Michelle – I don't like the way she talks to me sometimes.. I'm a very casual person.. Being screamed at.. Well that tone makes me feel in a certain way
Corey – she freaked out on me day 1 that shit pissed me off.. It's annoying
Frank – I don't want the paranoia to spread
Frank – Bronte's personality has changed 100% since Jozea's gone home
Michelle – She's trying to be nice
Frank – she was so f***g cocky last week
Corey – she had a big ole' mouth talking to Paulie.. If I was Paulie I would have wanted her out this week.
Frank says Michelle is going to win the HOH, they'll throw it to her.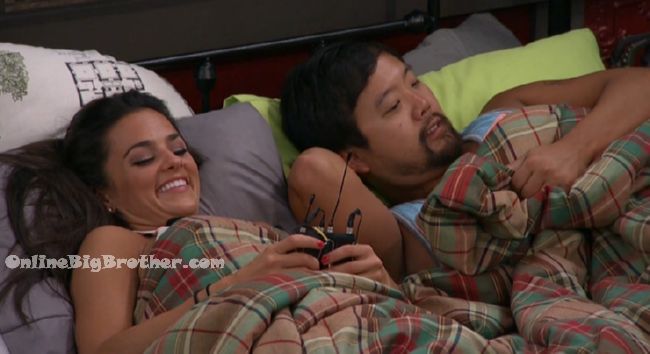 8:07pm Bedroom Natalie and James snuggle buddies. Tiffany and Bridgette are also in the room sleeping.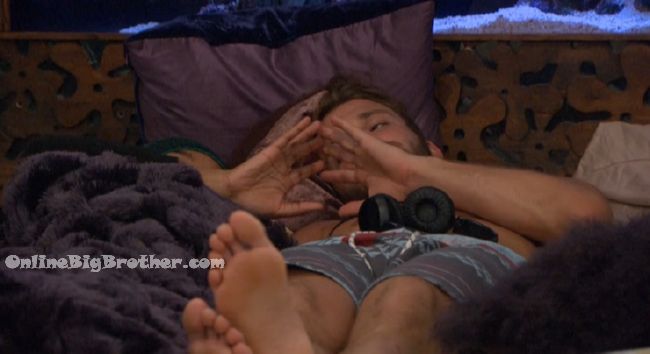 8:11pm HOH Zakiyah and Paulie
Sounds like Zakiyah told him about Frank slapping her a$$.
Zakiyah – he keeps talking about my a$$… my momma is probably having a fit.. I told him to Chill and he's like, I'm your Uncle..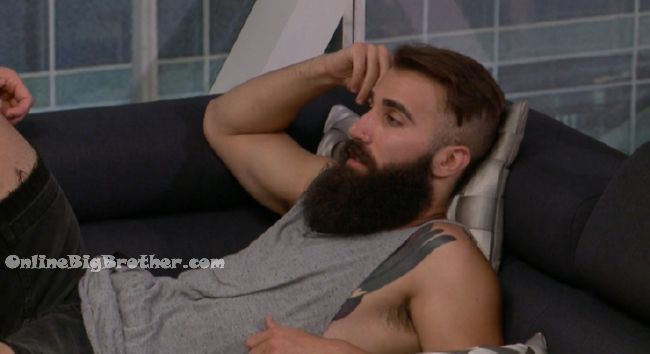 8:18pm Corey and Paul
Paul has been down lately. (see past posts)
Paul is explaining he's never been "in a box" and he doesn't like "walking on eggshells" there's no outlet for him.
Paul says he misses his parents, mentions how exhausting it is being the funny guy..
Corey tells him they are all softies in the house, everyone is missing their family.
Paul – you cool where's your head at.. you having a good time
Corey – yeah I'm having a good time… 1 day at a time..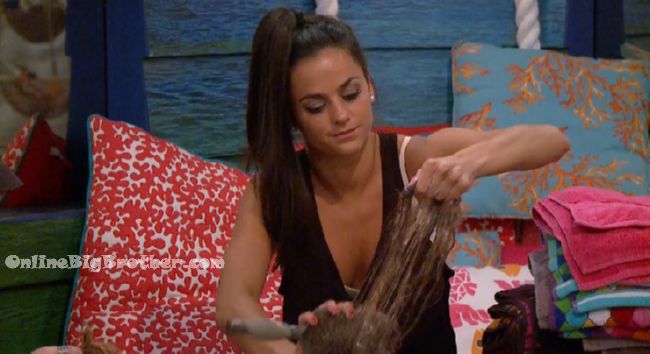 8:34pm Michelle washed her hair extensions they're tangled up like wet rats. Natalie is determined to fix them.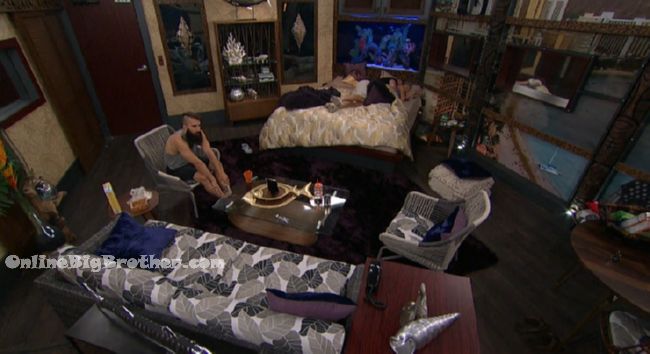 8:38pm HOH Nicole, Paule, Paulie, Corey
Paul explains he was just bummed out earlier today. Paulie comforts Paul tells him he's got his bros.
Paul says he missed his family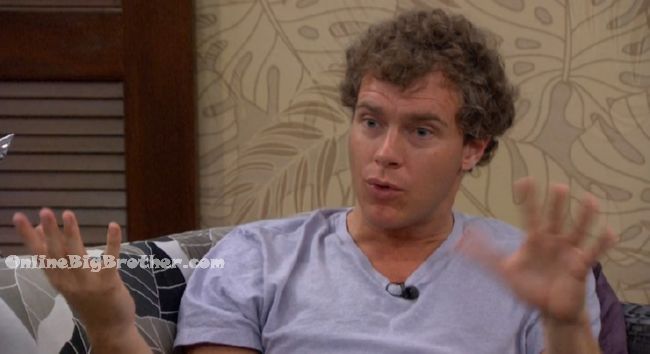 8:55pm HOH Paulie and Frank
Frank saying Tiffany is downstairs with sunglasses on because she's been crying all day. She thinks she's going home. Explains that every time you see Tiffany with her sunglasses on and her hat it means she's been crying. She's crying more than they know.
Paulie is amazed the entire house doesn't know Vic is going home. Why is she worried about going home.
Frank – Crying makes it worse
Frank says Tiffany isn't genuine every time you talk to her you get a sense she's fishing for information or playing some other social angle.
Paulie thinks Tiffany is so paranoid, he thinks this has something to do with it.
Frank wants Tiffany to be an option if Bronte wins POV.
Paulie says they could still put up Natalie or Bridgette
Frank – that's a waste of an HOH
Frank stresses that Tiffany's paranoia will spread.
Frank brings up Tiffany spreading a rumour to Da and Michelle about Team america
Frank going on and on about Tiffany crying and being a "fragile timebomb"
Paulie – today was supposed to be chill day.. Why would Tiffany be doing all this stuff right now
Talk moves back to the 8 pack, Paulie says he's not mad about the 8 pack, Just a 8 person alliance week 1.
Frank plays it down says it was silly he jumped in the shower when they were talking about it and when he came out they were still trying to figure out the name.
All Frank knew was it would keep Corey, him and Paulie safe.
Paulie says that sound a lot like how Corey feels.
Frank – honestly those are the people we send out first James and Da , then we got everything we need in our arsenal to do it what we got to do it's a cake walk at that point.
Frank – in my mind the final 8 would be, me, you, corey, Z, Nicole, Paule Natalie Bridgette.. . That's boom boom boom FIVE.. you know what i'm saying
Frank explains: Paul, Natalie, Bridgette, Nicole, Frank, Paulie, Zakiyah, Corey is their perfect 8.
Paulie – So you are saying get rid of Da and James before Paule Natalie Bridgette..
Frank – Ideally..
Frank – The only person closer to Z than you is Da and that is why we got get her out eventually.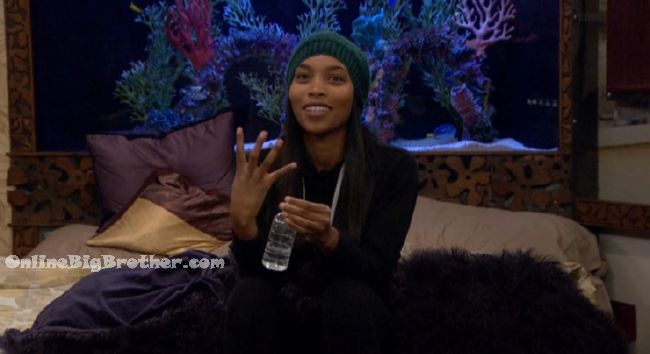 9:32pm Zakiyah has joined them after some chit chat Frank leaves..
Zakiyah asks PAulie if Frank talks game with him. Paulie says Frank goes over scenarios.
Paulei brings up he found out today there was a 8 person alliance.
Zakiyah says she thinks it was Corey and Frank..
Paulie says he doesn't care he knows big week 1 alliances aren't serious.
Paulie – I really don't mind…
Paulie tells her nobody talks game with him.
Paulie and Zakiyah agree they need to get Bridgette. Paulie brings up that Frank is dead set against that.
Paulie says he's got 1 person he can trust he's just looking for another.
Zakiyah asks about Frank
Paulie says he's still trying to feel him out
Zakiyah – whos running the house
Paulie – at this point no one is running it.. a lot of people are trying to plan out things final 5 and 6.. there's a lot of people trying to cover their bases.
Paulie says the person trying to cover all their basses create multiple paths to the end always has it blow up in their face
Zakiyah hopes she's making the right decision trusting Paulie. Paulie says every time he gives his word he's good.
Paulie says Tiffany told Bridgette she wants Frank gone and Frank is saying he wants Tiffany gone.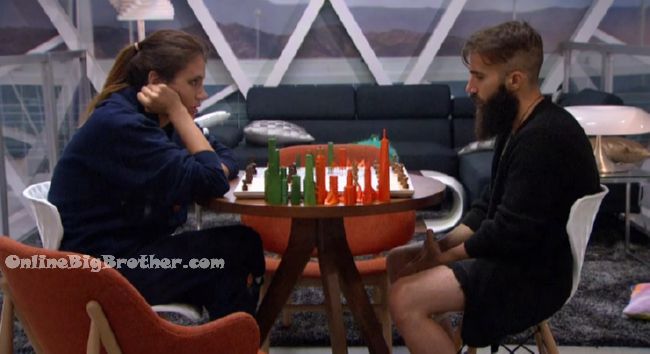 10:02pm Chess Tiffany and Paul
Paul going on about missing family… etc
They agree to have each others back next week. They're not each other's targets.
10:24pm HOH Paulie and James
James ask if paulie will play Victor in soccer after the show
Paulie says Victor wouldn't stand a chance, Paulie played pro, "He can't handle me.. I'd dice him up.. He's too big"
10:28pm Hammock Corey and Nicole
They are agreeing not to throw the HOH. Corey thinks Frank might try and win it and throw it to Michelle.
Corey – this might be his only chance to get us to throw it..
Corey adds the following week both Paulie and Frank will be competing in the HOH.
Nicole is wondering if Da'Vonne is up to something. She's thinking Da'Vonne really wants Frank out and is starting all this
Paulie joins them Nicole leaves..
Paulie says Zakiyah told him Frank came up to her and said not to trust Paulie.
Corey says to keep acting cool with Frank.
PAulie is shocked that Frank is messing up this way because he's so smart in the game.
Natalie comes out
Paulie – you came out here to talk or give us something to look at..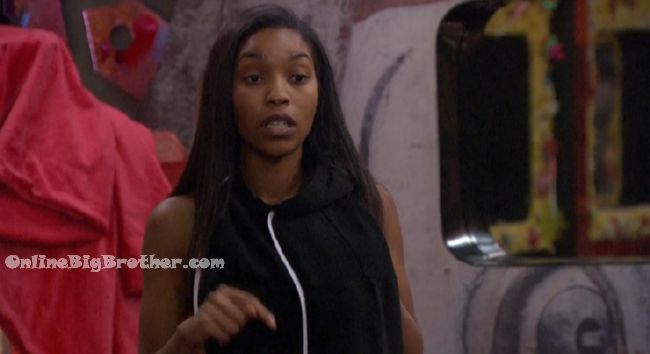 10:35pm Zakiayh goes over her conversation with Paulie. The anti Frank rage boils..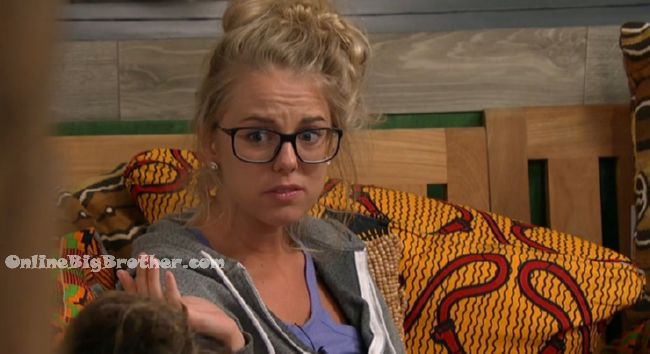 11:00pm Nicole and Michelle
They're hating on Frank, Nicole says she would rather live with Vic for 2 day over Frank for 2 hours.
Nicole – it's personal attacks.. and the guys just laugh
Michelle brings up Frank telling Zakiyah her teeth are jacked up.
Nicole brings up Frank telling her she's got legs like someone who just played volleyball in high school.
Michelle – he's going to blow himself up.. He's really mean to girls I realize.
Nicole agrees
They joke about Zakiyah saying that Frank's girlfriend doesn't exist.
Michelle saying they should get Paul out after bronte "1 less guy"
Michelle hopes Paulie, James and Corey see through Frank.
Nicole – Corey is not seeing through it.. I thought Corey was a lot sweeter…
Michelle – Zakiyah feels that Paulie's different now too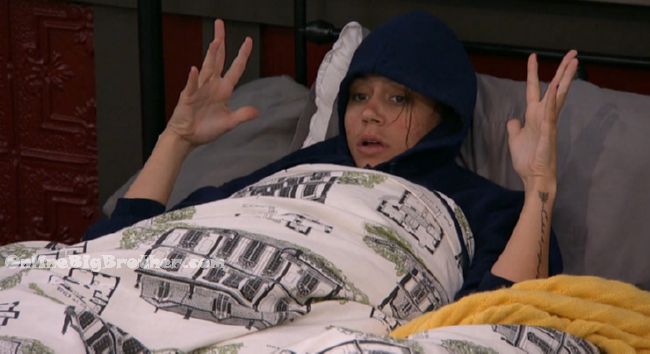 11:13pm Tiffany is talking to the camera at how much she can't stand Frank..
Tiffany – I want to slap that grin off his face… off his face…
Tiffany – bunch of f***g weirdos this season.. f****g weirdos..
11:24pm Zakiyah and Frank. Frank doesn't know Paulie told exposed the 8 pack. Frank is telling Zakiyah right now.
Frank applying some finishing touches to a great social game.. #BB18 @DawgsBigBrother pic.twitter.com/ZHWuqoZUrG

— OnlineBigBrother.com (@bigbspoilers) July 6, 2016
11:29pm – 11:43pmJames and Frank on the hammock
James says Corey understands he needs to throw the HOH but he doesn't want to. Frank says him and Corey really played it down but they told Paulie about the 8 pack. Frank explains they were worried Tiffany would tell him because she's is so unstable.
Frank telling him the plan to take out Bronte and Tiffany.
Frank says keeping Bridgette, Natalie and Paul in the game is going to help them. Frank says they will steam roll the competition if that's the case.
Frank – you think i want to be in the top 5 with Corey and Paulie.. f*** no
James wants the 4 returnees to make it to the end.
Frank – we gotta get Paulie outta here if one of us wants to win america's favorite.
James warns him about getting too confident. Frank starts scheming about getting Paulie and Corey out. James says Nicole is close to Corey.
Frank says Corey told Victor that he met his future wife right before coming on the show. Frank adds that Corey told him Nicole is the type of girl he would never date.
James likes Natalie a lot
Frank says Natalie reminds him a lot of his girlfriend.
James – I'm down with you till the end.. you dn't have to worry abotu me
Frank – I don't want to go to teh end with them..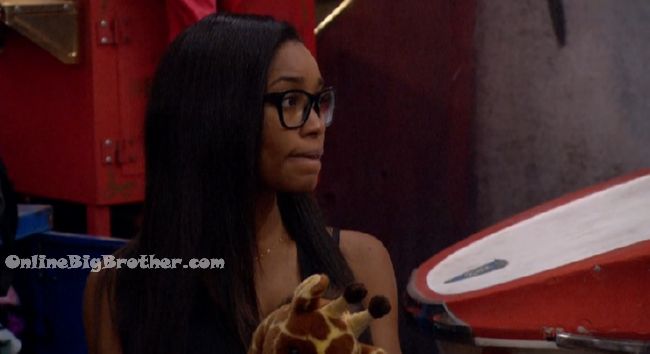 11:47pm Have nots Michelle, Da'Vonne, Nicole, Tiffany and Zakiyah
talking about Frank and how he wants to make sure Mcihelle wins the HOH so he's safe.
They agree to take out Frank next week. nicole says she's down but only if it's the right time.
Da'Vonne – I want it to be a group decision.
Nicole says Frank is going to help them get bronte out next week so they better use that to their advantage.
11:55pm Frank joins them and starts massaging Da'Vonne.. She looks thrilled.
FLASHBACK and watch everything you missed: CBS All Access FREE Trial!

[polldaddy poll=9459672]