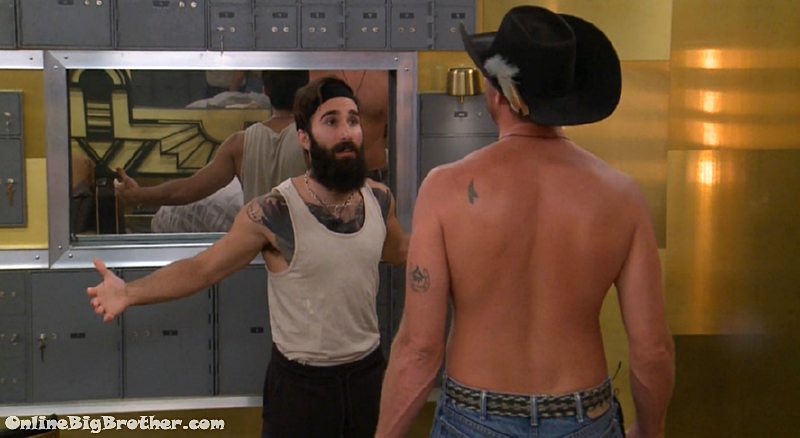 3:14pm Jason and Paul HOH
Paul – what was numnuts trying to say to you
Jason – He just wanted to know if he was public enemy number one.. I was like f* no.. he said if I win HOH he's putting Cody and Jessica up
Paul – we're going to be alright..
Jason – I think the showmances are f*ing playing us
Paul – I think they are trying but.. if they get the chance to they will.
Paul says as long as they don't give the showmances the opportunity to have power they'll be fine.
Paul says you can tell by his actions "I ain't no dumb mother f*er"
Feed subscription lets you go back and re-watch everything we post here CBS All Access Live Feeds with a FREE 7 DAY trial.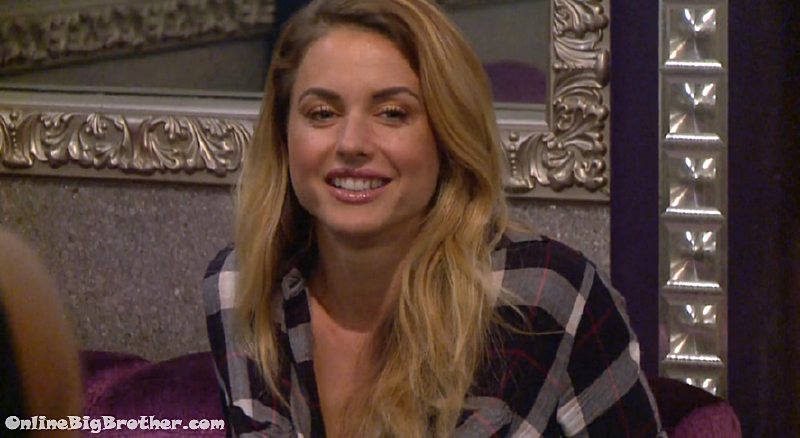 3:18pm Christmas is telling her she's off the pain meds she's been on the meds for 3 weeks. She broke her foot day 13.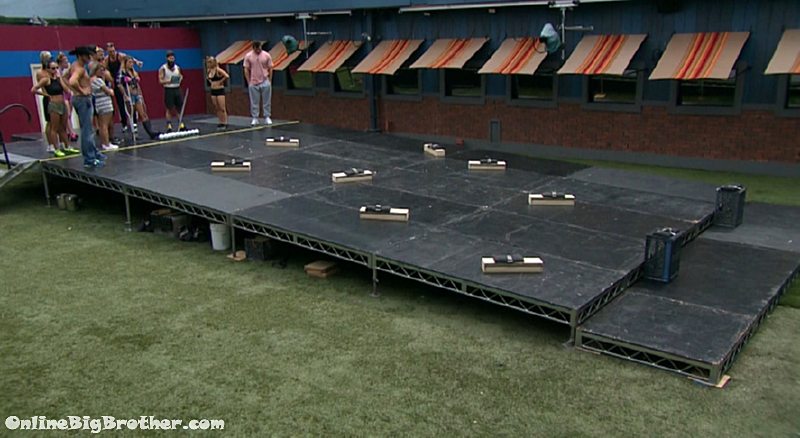 3:25pm They get to practice for Tomorrow's HOH
Paul – Stand behind the line to hit the Ball with the putter at the two targets .Experiment with straight shots, banked shots, and feel free to utilize the obstacles you may move the obstacles and targets you will each get 10 practice Shots everyone should practice enjoy,.,.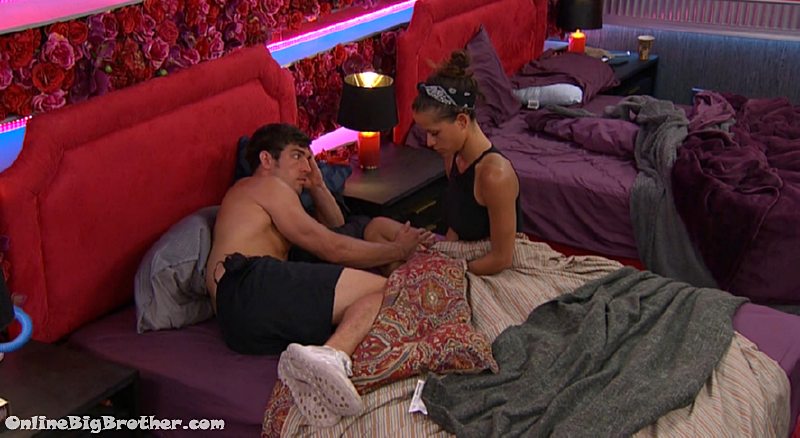 4:20pm After practicing..
Jessica and Cody complaining about the competition being a luck based one.
Cody – we've already won..
Jessica – we have 1 week together… 7 days
Cody – lets make the most of it..
Cody – if we don't get it we should play in the safety competition together..
Jessica – lets do it..
Jessica – we'll both be on the block next to each other unless you win the den of temptation.
Cody – We'll fight
Jessica – like we always do.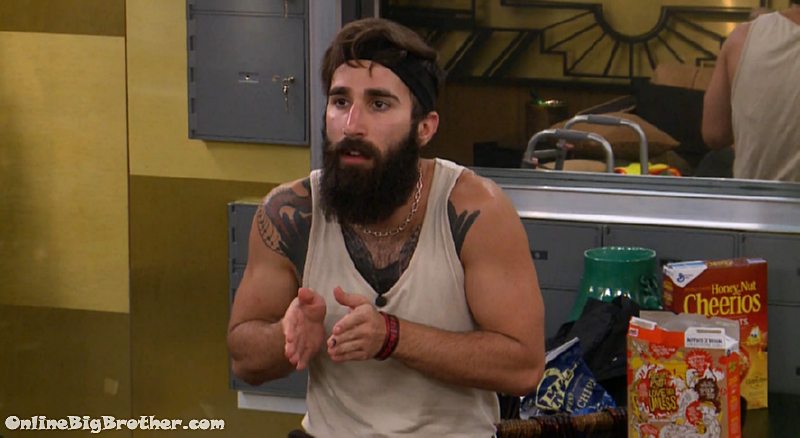 4:22pm Paul, Matt, Raven, Xmas, Alex
Paul – A it will be WAY more difficult than that.. and you get 1 chance..
Paul says Jessica and Cody are really worried
Matt – they should be
Xmas – she was shaking (When Practicing)
Raven – she was shaking like a dog ..
Xmas – she's shaking more than you (raven)
Raven says it's because of her disease.
Alex comes in..
Xmas says she's going to feed Jessica the wrong strategy..
Paul goes on about possible strategy's, "We try to get a good score locked in"
Xmas – Cody didn't bank anything he just straight shot it
Paul says Cody put too much power into the shot.
Paul says he thinks Jessica and Cody will get a disadvantage as the curse.
Paul – last season they gave them beer goggles which f*s up everything..
Paul starts singing the circus song..
Paul – I'm going to be talking sh1t (During the HOH to Cody and Jessica.. LOL here we go again)
Paul – don't shut the f* up
Paul – I need help..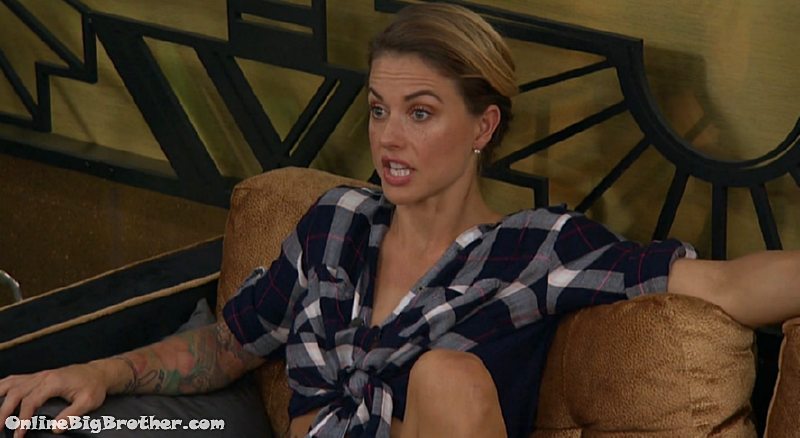 Xmas – when you talk sh1t.. you have to talk sh1t like Ohh Jessica .. you're riding on Jessica's coat tails..
Paul – because she's going home
Paul – I don't want to be the only one doing it.. it has to be strategically done by everybody in the club.. I don't mind taking the heat..
Josh comes up.. "it's 9 against 2"
Paul – we have to make them uncontrollable throughout the day.. I'm banging pots and pans.. (Please do this
Paul – lack of sleep they are going to get frustrated
Xmas- it's also high pressure because they're going up on the block..
Paul – this is a strategy MENTAL CRACK MENTAL CRACK.. Don't sleep before a competition that you need to focus on..
Paul tells them to stop talking game to Mark and Elena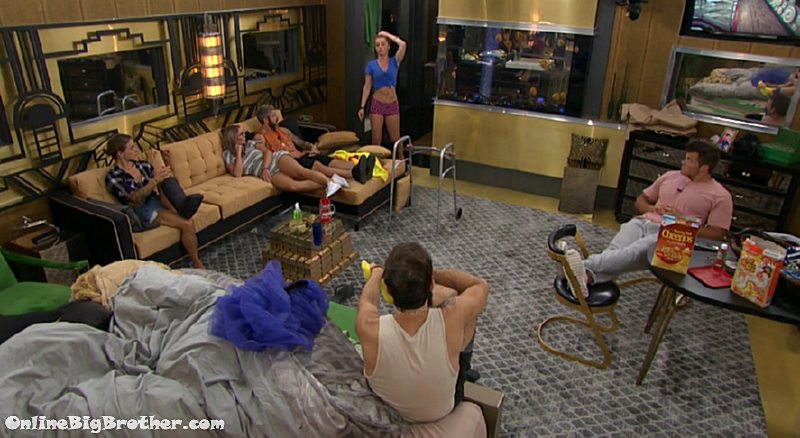 4:40pm Paul going off about strategy's to take out Paul and Jessica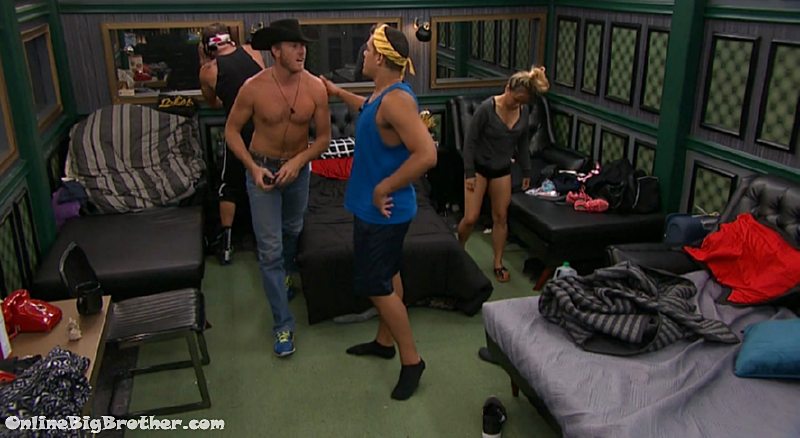 4:47pm Josh, Alex, Kevin and Jason
Josh asks Jason to carry him
Jason – NO
Kevin – We've been carrying you for 6 friggin weeks
Alex – good one
(LOL)
They head to the APSR to do a Friendship/meatball talk..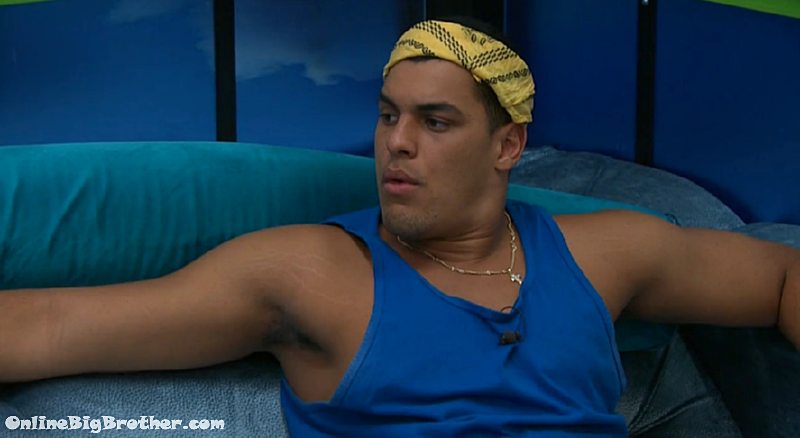 4:52pm Kevin and Josh
Josh tells him his dad can't speak English but he understands English and he can defend himself in English.
Josh says they have to win the HOH because of Cody does he's going up.
Kevin tells JOsh he's got to do yelling tonight (at Cody)
Josh – I can't..
Josh says he's not. tells him he was cool with the dancing and pots and pans but some people took it way too far with the personal sh1t.
Kevin – Like who
Josh – the d1ck size comment.. (Raven)
Kevin – wasn't me..
Josh says he's not messing with Cody tonight.
Josh – i'm playing the game where I'm joking and when it gets personal nah..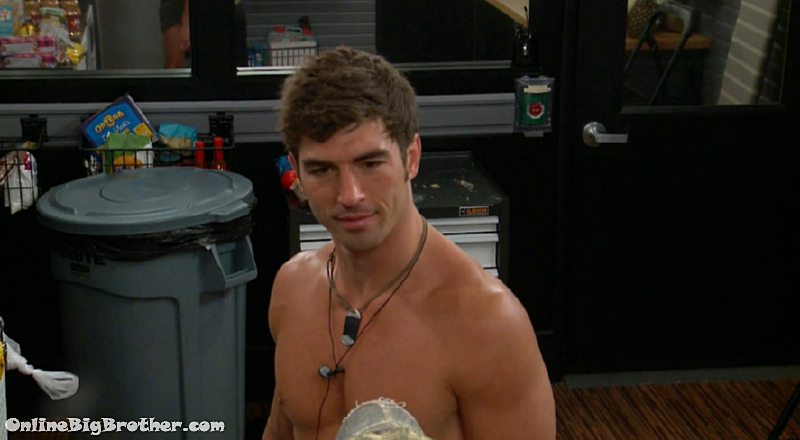 5:51pm Storage room Cody and Jessica
Jessica says she doesn't even make eye contact with Raven.
Cody – I'm convinced Christmas might actually be a witch..
Cody Cackles..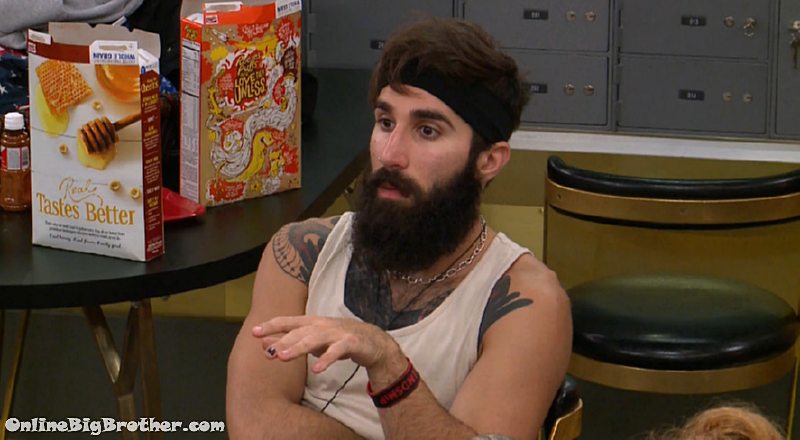 6:18pm Paul and Matt
Paul – we know Alex and Cody are with us..
Paul says Mark trust him and Matt more than he trusts Christmas.
Paul says if they win HOH and some how Jessica and Cody finagle their out of being evicted
Matt – stranger things have happened Cody winning the temptation and Jessica winning veto
Paul says they put Elena and Mark up in that scenario..
Paul says Elena told him she's given up on Mark.
Paul – we can justify getting Mark out for Elena..
Matt – 100% dude
Paul – Mark is not as strong of a Player as Elena
Matt – I'm very confident we can control Elena..
They agree Mark will be their Target if Cody/Jessica are off the table.
Matt wants to use Josh as the Pawn
Paul says Jessica and Cody are starting to be nice to him, "Forcibly being nice.. for some reason"
6:27pm
Mark and Jason
mark is worried about what Paul is saying about him.
Jason doesn't think Paul is thinking about Mark.
Mark says Elena leaving him came out of nowhere.
Jason wonders if someone has something on her.
Mark – she left me out to dry
Mark – I told you the week Alex was HOH I don't trust Raven.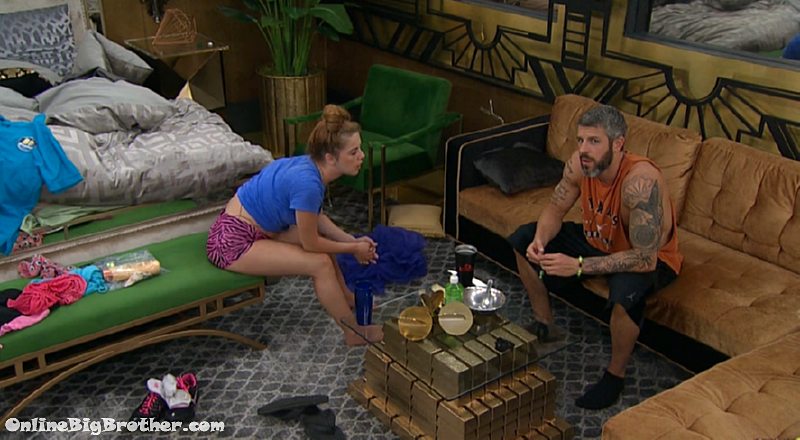 6:35pm Matt and Raven
Matt asks her what her thoughts are with Elena..
Raven asked Elena what is wrong with Mark. She said he's upset with how Jessica and COdy are being treated and he's upset for Elena leaving him.
Raven says Elena knows it upsets mark when she lays with him so she's doing more of it.
Raven – If you are hanging out with Public enemy number one that makes you public enemy number 2
Matt – what can we do with Elena moving forward..
Raven – Jessica, Cody, Mark, Christmas, Elena, Josh.. that is my order .. and that would leave the five..
Matt – Kevin's 6th
Raven – he's not a good competitor.. he respected both of us
Matt – Kevin and Josh can stay as long as they want..
Matt says each one of them has 2 or 3 targets ahead of them..
Raven says if she was Jessica she would have taken one look at that competition and telling Cody 'you're going home"
Raven explains that because it's a crapshoot competition odds are against Jess/Cody winning it and when one of them win it they are taking Jess out.
7:11pm Mark, Jason and Alex chessboard
Mark tells Alex that they have the most in common when it comes to lifestyles.
7:40pm Josh and Christmas in the APSR
Josh tells her she's his number 1
Christmas doesn't think Jessica should be the first one out she thinks it should be cody.
Josh says he has a problem with how crazy things got on Monday.
Christmas says you can't attack people's character like that.
Christmas says Raven fell hard when she went down that route on Monday.. (ZOMG)
Christmas – Paul sees you as a loyal dude
Josh – he doesn't express much game with me but he understands where I stand
Christmas about Paul "I hope he sees my Loyalty now and will return that loyalty as he see with you"
Josh goes on about how Paul is playing such a great game, "He knows what he's doing"
Neither of them like Matt's game much. Xmas says once Matt gets to Jury he'll start winning competition and will protect Raven with everything he has.
Josh says people are starting to get annoyed at Raven and Matt
Christmas says Paul can't be the only one playing the game Matt has to start stepping it up.
Christmas doesn't trust Elena, she thinks Elena is very dangerous in the game and is worried about how close ELena is getting with Paul.
Josh says he wants it to be him, Xmas, Kevin, Paul, Jason, "and like whoever else.. Alex"
Christmas – Alex.. she's a hard player but she doesn't like you she'll come after you sooner than later.. "
Josh – she's tough.. but for now she's good she's a strong competitor..
Xmas – she will actively campaign to come for you sooner than later.
Josh says Alex likes to talk sh1t about people and he doesn't
Josh – I swear to god I can tell when Elena lies.. I can see it in her face. .
8:20pm Kevin, Alex and Xmas in the APSR
Kevin says he's cool if they win the HOH he'll hang out in the corner with Jason.
Kevin thinks Paul gets to compete in it.
Kevin says Jessica and Cody have a 14% chance to win the HOH.
Kevin – lets go out there and have fun
Jason joins them..
8:38pm Elena, Ravena and Matt in the HOH. Elena tells them she's going for the HOH she needs to be off slop and get a letter from home.
Matt says either Elena, Raven or Josh will be best case.
8:42pm Have not room Paul, Jason, Kevin and Alex.
Paul tells them if he gets too choose the order he's picking Cody first then Jessica.
Paul tells them they all compete for safety.
Paul – it's 2 against 10.. it's 2 against 10
Jason – why are we so worried
If you plan on buying anything from Amazon. Use this link Amazon home
Doesn't cost you anything and we get a small cut.
Links to the ranking system
Rank your house guests here
For those of you that like Statistics here are some expanded reports.