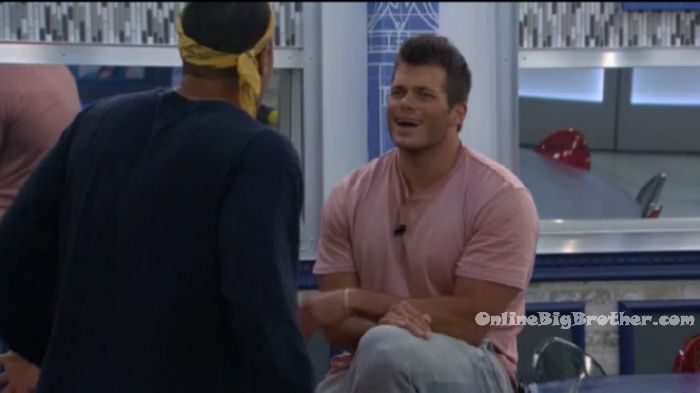 9pm Kitchen – Josh, Mark, Alex, Paul, Christmas and Elena.
Paul – Josh – you can't pay me 5k to fight you. Matt – you out weigh him by 90lbs. Raven – its not the size of the dog it the fight in the dog. Josh calls Mark a meatball. Mark – yeah, I'm a big a$$ meatball! Paul – I feel like Mark is one of those guys that won't fight but if you could get it out of him.. its scary. Mark says the Josh is like the Kevin Heart act where all he is is talk. Paul – Josh will swing. Josh – I will swing. Paul – He will scrap, he's knows he's not that good but he'll scrap. Josh – I'll scrap anybody! Like I'll scrap two of you. Paul – he will lose but he'll scrap you. Josh – I'll lose but guess what I'll be remembered for scrapping two of you. That's my legacy meatball! Remember that! Josh – I don't like to fight. I like to share love. Mark – we would need a lot more than ref to keep me off of you.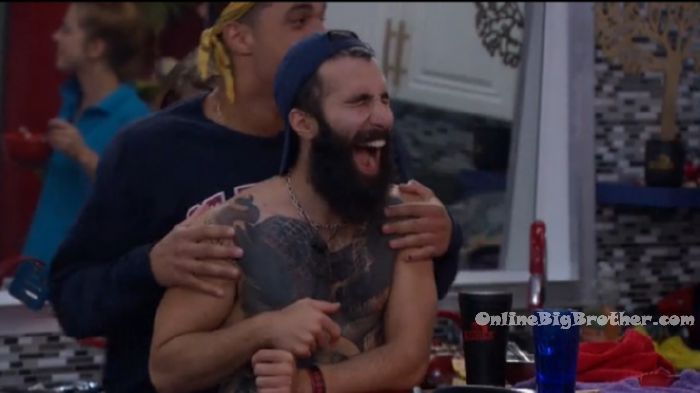 10:40pm HOH room. Paul if we step in to vote them out… you vote out Jessica.
12:45am Backyard – Josh and Mark playing pool.
Josh – If I win HOH, someone else is going to need to read my letter from my mom. In her writing I can tell how shes saying it. I can't even read a letter from my mom because I will lose it. I know that you said after what happened with your mom you get into these .. Mark – yeah, its an emotion that comes over me. There's not to much I can do about it. Josh – In this place we're going to feel 500,000 emotions. In the normal world we won't. Its going to happen to me, Its going to happen to every single one of us. Even in the top three in this house. When you feel it, you need to get yourself out of it, even if you don't want to. People don't want to socialize with me, I don't give a f**k. That's what works for me. Paul said its only gong to get worse. Mark – I know that. Everything has just piled up. You make connections in this house. I made two close ones off the bat and then I made another one. They're all kind of F**ked right now for me. It is what it is but at the same time its just a game. Josh – Like I said, I still hate you but I love you. Mark – I appreciate that. Take your f**king shot. Josh – but you're still a meatball.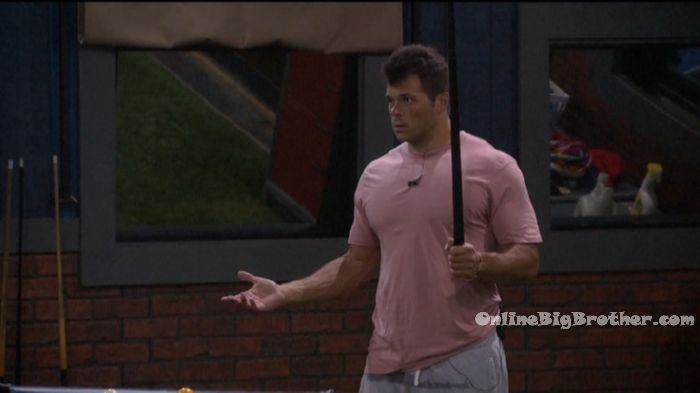 Kitchen – Paul, Matt and Raven.
Matt – so she can use it when she wants. If she wants she could have used it at noms right? Paul – before the voting begins. Matt – but if she wanted to use it at noms, could she have? They talk about voting out Jessica.d Matt – best case scenario Cody losses his sh*t. We could be like bro, you just cost your girl $500,000! Congrats! Paul – I went like, $500,000 is one expensive date. (in his goodbye message.) At this point it doesn't matter, its pre-jury. Matt – yeah. Raven – you want to say I did something shaddy. F**K YOU.
12:50am Bathroom – Paul and Josh.
Paul – keep this to yourself.. tomorrow vote to evict Jessica, not Cody. Okay?! Josh – okay.
1:35am Bedroom – Paul gets choked out by Mark.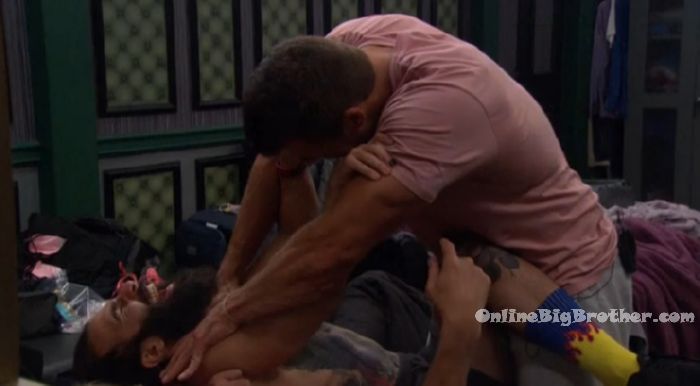 1:50am Paul, Alex and Jason saran wrap Josh's sheets into a person. Josh – this is awesome! Are my sheets in there?! Who did this!?
Matt scares Raven #BB19 @bigbspoilers https://t.co/sLQeY1KjzC pic.twitter.com/bjJXEzNM9a

— Dawg (@DawgsBigBrother) August 3, 2017
2:45am All the house guests are sleeping..