POV Holder:
Andy
Next POV
Aug 17th
POV Used
NO
POV Ceremony
Aug 19th
HOH Winner:
ANDY
Next HOH:
Aug 15th
Original Nominations:
Jessie and Spencer
Current Nominations:
Last Evicted Houseguest
David, Nick, Jeremy, Kaitlin, Howard, Candice, JUDD
Have Nots
Aaryn, Helen , GM, Elissa
3:16pm Pool Helen and Elissa
Talking about how silly Jessie was to not use the JUDD/Jessie Showmance to her advantage.
They both agree that their husbands will not like Jeremy. Helen thinks Jeremy should go up to their husbands and apologize.
Helen says when she asked Jeremy what he's done in his life he said he lives on a boat. Helen "What have you done to help people what have you done to make someones life better"
They are both glad JEremy is gone they think if Helen hadn't won the HOH and gotten rid of him he would still have been in the house.
Elissa talking about how much she misses Candice and how funny she is. They both liked Candice a lot and can't wait to see her again.
Elissa says Aaryn wanted Candice out because Aaryn said things to Candice and wouldn't own up to them.
Helen defends Aaryn a bit says they will have to watch the scene for themselves before they pass judgment on both Aaryn and Candice. Helen has heard both sides of the story and now that she's seen how feisty Candice can get she believes parts from both.
Helen points out that what Candice said to GM the night of the eviction wasn't necessary.
Elissa doesn't think what Candice said to GM was bad, "Who cares"
Helen: "Thats a low blow it's embarrassing.. Candice said it first to GM"
Elissa: "Haven't you heard all the things these girls say"
Helen: "A lot of people say wrong things here.. it's better to stay above the fray and not get involved"
Elissa agrees.. Says Candice is a successful woman and there is no comparison between her and Aaryn/Gm
Helen: 'Why is Candice so feisty"
Elissa: "Candice was adopted and was insecure about it plus she's in a house with people commenting about her race.. there was no release for her"
Helen says she's never heard Aaryn say anything racist so until she hears it for herself she is not going to pass judgment. ELissa starts listing off some of the incidents Aaryn had said something. Elissa brings up the comment last night in front of Andy and the comments about the asian esthetician
Helen :'I think someone Candice's age should.. um theres a place to stick up for yourself and theres a place where you are mature doing it.. "
Helen says Candice should have known better because she is older.
Helen thinks the way Candice acted may hurt her employment chances. Helen brings up a scenario where you could be at work at be in a tough situation. if you act the way candice people will not want to work with you. Helen adds that all the outbursts will be on the internet and aired. Elissa doesn't see that as being a problem people will know it was racially provoked. ( just to clear a few things up. Helen acknowledges things were said by Aaryn and GM but she has heard both sides of the story now and wants to see it for herself before she talks about it any further)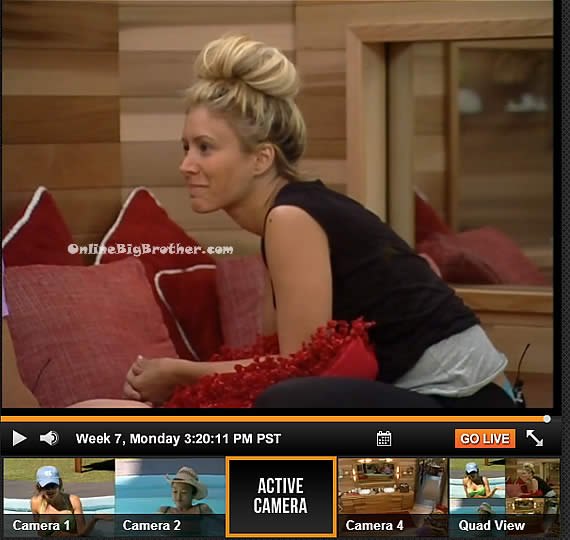 3:19pm GM and Aaryn
Aaryn telling her that final 5 is a big deal they can do it they just have to focus on Competition wins. Aaryn tells her she will never put GM up. GM says the same.
Big Brother 15 N*de flashback times here
3:46pm Amanda McCrae Bedroom
Amadana: "I think if any of us get HOH next week Elissa has to go up with spencer" She adds they want to keep some targets in the house like Ginamarie and Spencer.
Amanda says if Elissa gets taken down they put up Helen and she can go home.
McCrae doesn't know if Helen and Elissa would put Up Amanda next week.
Amanda gives him a hard time because he's giving her "I don't trust you eyes". She can't believe he even considers she's scheming behind his back.
Amanda: "I love you and will never never do anything to hurt you"
McCrae: "Bullsh!t" (They're kinda joking around)
Amanda: 'I made a dentist appointment for you on Thursday after I backd**r you"
Amanda tells him he's going to feel like an a$$hole when he watches the season and find out she really had his back since the beginning.
McCrae tells her he wants to sleep
4:31pm For the last 30 minutes Helen and Elsisa have been talking about all they places they have visited and plan on visitng.
McCrae and Amanda are sleeping
Spencer is alone in the living room
Andy is rocking out to music in the HOH
(Bring back willie)
4:47pm Spencer, Jessie and Helen bedroom
Helen saying it's day 53
Jessie: "It's day four all over"
Helen: "this is the longest season ever"
Spencer says he heard they start two weeks earlier and end one week later.
Helen: "That's a long time"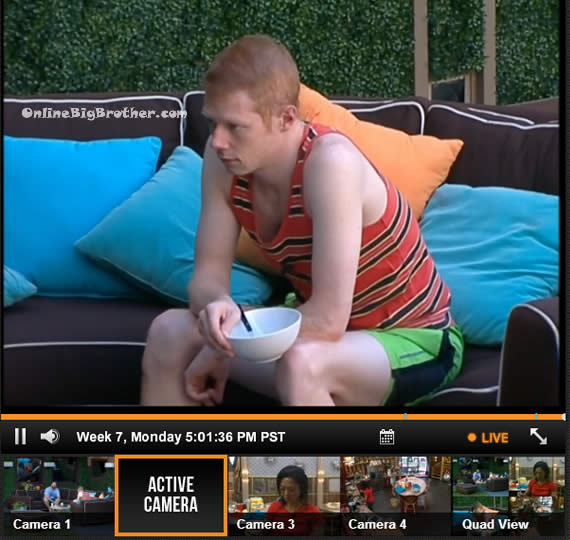 5:00pm Andy and Spencer Backyard
Spencer: "There's pretty much no scenario that is bad for us"
Spencer: "If Helen and Elissa won HOH what do you think of Swaying them to put up Aaryn and GM.. Aaryn is such a competitor"
Andy says yes but they would have to see who wins the HOH before they make plans.
Spencer: "Next week will be the first week i'm not on the block"
Andy says he feels terrible because Jessie thinks she's staying. Spencer doesn't care as much he's heard Jessie say many times that she didn't want to be in the game.
They start talking about the casting experience and summer camp. (Summer camp is the period where production decided out of the semifinals who makes it on the show)
Spencer: "I admire how cutthroat she (Helen) is in a way.. it frightens me though"
Andy comments that Helen was so mad yesterday that Jessie was happy. They laugh
Spencer says the biggest wildcard in the house is GM.
[polldaddy poll=7309671]