POV Holder:
Andy
Next POV
Aug 17th
POV Used
NO
POV Ceremony
Aug 12th
HOH Winner:
ANDY
Next HOH:
Aug 15th
Original Nominations:
Jessie and Spencer
Current Nominations:
Jessie and Spencer
Last Evicted Houseguest
David, Nick, Jeremy, Kaitlin, Howard, Candice, JUDD
Have Nots
Aaryn, Helen , GM, Elissa
1pm – 1:50pm Amanda heads upstairs to the HOH room to talk to Andy. Amanda says you have probably heard this a lot about how if McCrae and I are on the block we would play separate games to to try and separate them in the eyes of the other house guests. Amanda says that she told Helen that too and she relayed it to Helen in a way that didn't make me sound too good. Andy says I don't think you have anything to worry about. Andy says yeah I think that is a good thing for both of your games. McCrae joins them. They talk about how its best they are keeping Jessie in the dark. They talk about what they will say to Jessie to get her jury vote. McCrae says that he will tell her that she was too good. Amanda asks what too good? Why would you say that? I would just be honest. McCrae says that he would be honest she is a vote that anyone could pick up. Aaryn joins them. Andy tells poopy (Aaryn) that he thinks she is in a good place. Aaryn doesn't think so because she lied to me. Andy says that Helen just told me today she wants to keep you around. Amanda says that Helen changes her mind all the time. She needs to go in the next couple weeks. Andy says that is why it's good for me to stay on Helen's good graces. She even thanked me today for keeping her on the right track because a few weeks go she wanted to get you out Amanda which I told you about. Amanda says for me it's a tossup who we should get out next week Helen or Spencer. Andy says no one, not even Helen has any idea about this foursome. (Amanda, McCrae, Aaryn and Andy the 3AM alliance) I think we are good. They all agree. Andy tells Aaryn that he thinks she is playing a really good game right now by laying low. Aaryn says I am not even trying I just really hate my life right now. Andy says everyone just needs to keep selling what we are selling Jessie right now. Amanda says what's crazy is that the last 5 evictions have been unanimous, except for the one Spencer vote. McCrae says that he is going to start telling Spencer to put on his sad face like he is going home. Amanda and Aaryn argue about whether to take Elissa or Ginamarie to the final five. Amanda wants Elissa and Aaryn wants Gina. Amanda thinks Helen has to me target number one. Aaryn says Elissa is going to come after me like a spider monkey if I'm HOH and send Helen home. Andy, Amanda and Aaryn study the past events of the house. Amanda says that Helen and Spencer are really hard to read, they lie to me. Aaryn talks about the beginning when she was with Jeremy/Kaitlin and Elissa hated me I wasn't being a c**t just to be a c**t I just knew my game was f**ked and couldn't do anything about it.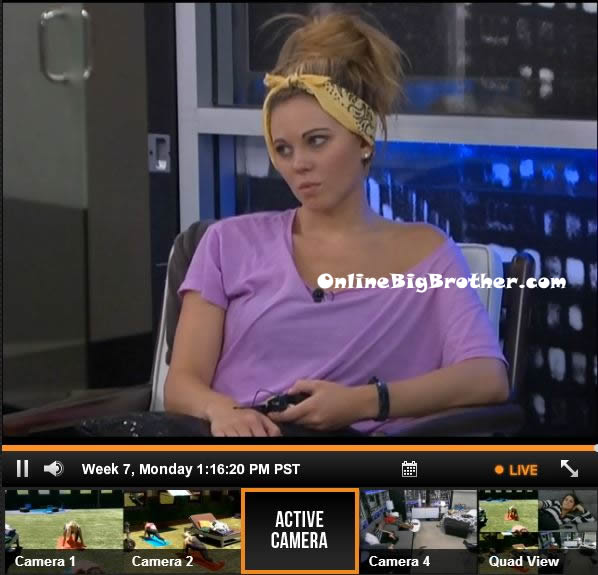 2pm – 2:30pm Aaryn goes to head downstairs and Andy tells her that he is sorry her first couple weeks were horrible here. Aaryn says it's okay you guys have more than made up for it. I am sorry for being a c**t! Aaryn leaves. Andy and McCrae agree that she was a huge c**t in the beginning. Andy, McCrae and Amanada discuss keeping Elissa over Ginamarie because Gina is a better competitor and since we have been together since the beginning what we want trumps what Aaryn wants. Andy says that he is worried about taking out Helen. Amanda tells Andy that he has to get some dirt on his hands to win in the end. Andy agrees. McCrae wonders if Gina is closer to Spencer than we realize. He brought it up to us out of no where that he wasn't really aligned with her which just sounded way too suspicious. Amanda/McCrae agree that it would be too scary to take Aaryn to the final 3 or 4. Andy says to be honest I don't know if I would want to be in the final 3 with you two because you would take each other over me. Andy comments that every time Jessie and Spencer come up to the HOH room he fakes sleeping just so they wont stay and he won't have to talk to them. McCrae asks if Andy would ever put up Helen. Andy says no, I wouldn't want to. McCrae says that's how I felt about Judd. They hear production behind the HOH walls and think that they are setting up a Pandora's Box. Amanda heads down stairs …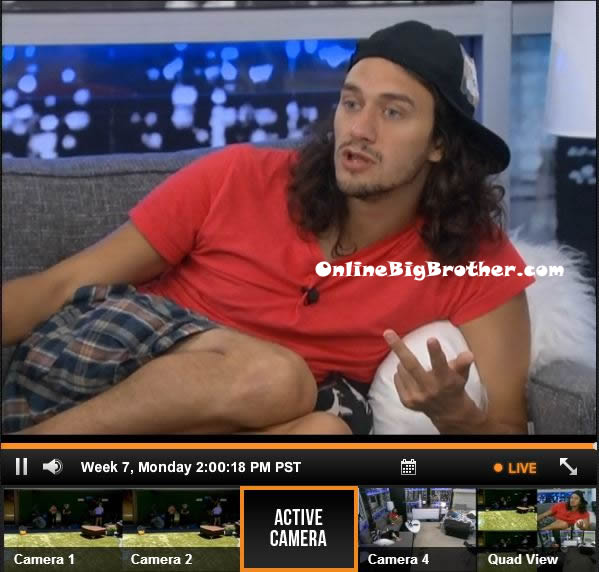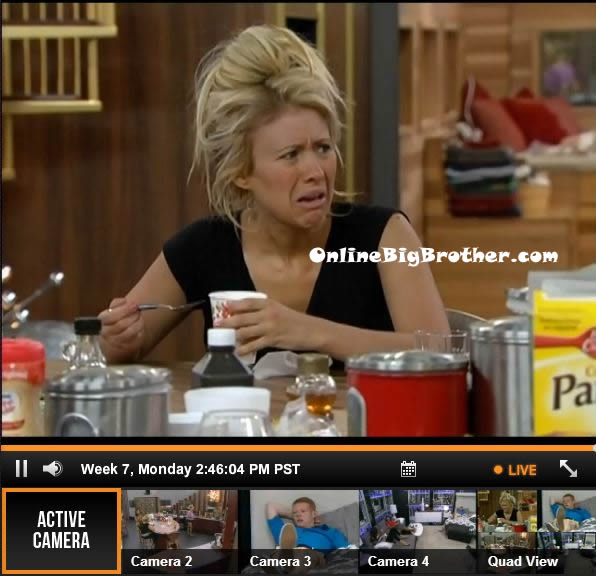 2:40pm – 2:55pm In the kitchen – Amanda, Gina and Aaryn talking. Amanda talks about her wedding with McCrae that they're going to have. Aaryn asks Amanda why don't you have a real wedding here? Amanda says because I need a real diamond ring. The conversation turns to talking about the Movie Superbad and how the guy got period blood on his pants. Amanda says that she got period blood on McCrae's batman boxers the other day .. but it was his fault. Amanda heads back up to the HOH room. Gina tells Aaryn that Nick pretty much knows everything about me he's seen me go to the bathroom, burp, fart, what I look like when I go to sleep and what I look like when I wake up. Gina says when I got engaged before we got engaged after 4 months. Up in the HOH room Amanda, McCrae and Andy talk about past seasons. Andy wonders when the last time a gay house guest won HOH. They think back through the seasons and realize that it was Kevin from Big Brother 11. They continue talking about their position in the game and strategies when they get down to the finals. McCrae and Amanda head down stairs.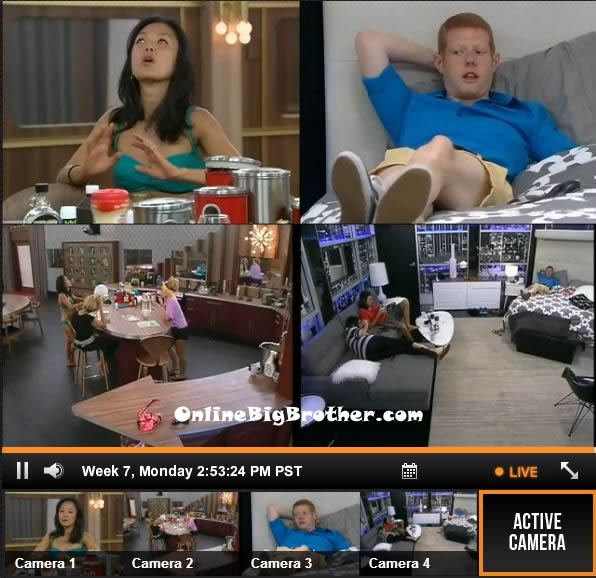 3pm – 3:10pm Amanda goes to take a nap in the rainbow room. Meanwhile Helen and Elissa are out in the pool. Elissa says she really wants to win HOH so that she can see her family.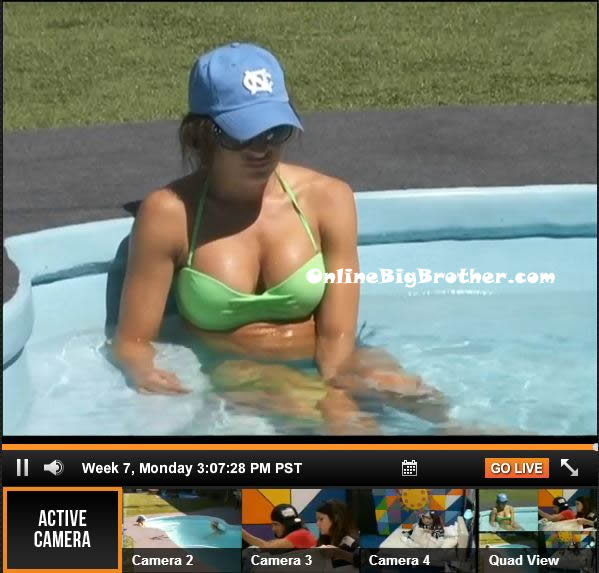 Use the Big Brother Live Feeds to FLASHBACK to SEE what they can't show you on TV:
BB15 N!p Sl!ps / N*des
[polldaddy poll=7309671]