Check out our BB19 Ranking Grid. . rank your houseguests here
8pm Bedroom – Cody & Mark.
Cody – there was even a little bit of a$$ kissing from me this week. I was like no, no I totally understand. Absolutely. It was ripping my soul out with a blunt object. I was like why don't you look at me as an asset. AHHH.. it killed me to do that. So you do something for someone else and it never works out. Cody – should I just make up a havenot bed now? Mark – I'm going to go piss and see if Elena will look at me. F**king self-evict. Cody – don't put yourself with the likes of Megan. Mark – oh never.

8:06pm HOH room. Paul, Matt and Raven.
Paul – the showmance killer is back! Paul – if we convince Jessica that she is only targeted because of Cody, I think she might let us kick him out of this game because she is pissed at Cody right now. She said he just blew up my whole game again by the way he acted. So the hex is if both of them are up and she doesn't feel safe, she can use the hex and its a dud week or something. Matt – that doesn't help them anyways. Paul – so I said to her the only reason you're targeted is because of Cody. Christmas, Alex and Josh join them. Josh – he got in your face? Paul – he tried to yeah. Jess started talking loud and I said hey Jess keep your voice down a little bit. And he was like don't f**king tell her what to do! You treat them all like dogs down there. And you know what Paul, I'm tired of your sh*t! You walk around thinking you're the best player ever. You constantly tell people your on day 136. Paul – that's a fact! That's a fact and I'm not putting it in your face, its more like maybe listen to me, I kind of know what's going on. I never said I was a better player. Christmas – you've had 3 months experience at this. Paul – and then he was like F**K you Paul. And I was like NO f**k you Cody!! Get the f**k out of here. He was like what the f**k are you going to do about it?! Paul – tell you to get the f**k out of my room you emotional pu$$y! Are you sure you're 32 buddy, I'm pretty sure you're 12. Paul – I am going to unearth him this week. I am going to GI JOE him. I'm going Josh on him! Christmas – there is no way he has safety and he is acting like that! Paul – nope, nope, nope!! If Cody tries to talk to me I will just say sorry Cody no air time buddy! Elena joins them. Paul – Now I am going full Josh on him!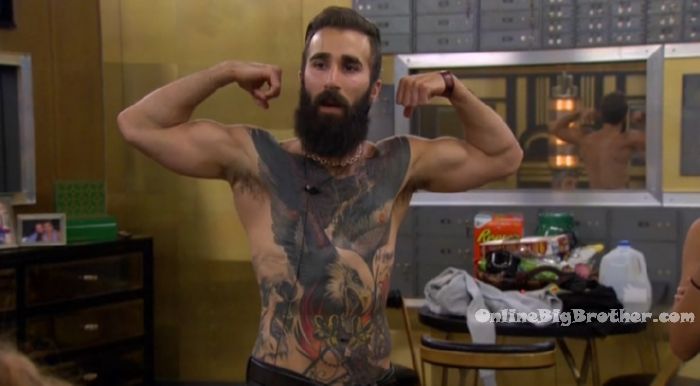 Josh – someone doesn't react like that if they're safe. Paul – I'm calling their bluff! Josh tells Elena that she is beautiful. He doesn't deserve you. Can I give you a kiss?! Josh leaves to go tell the meatball he kissed her girl. Elena – at what point did he (Mark) think that was okay in the game or in real life. He thinks it was funny.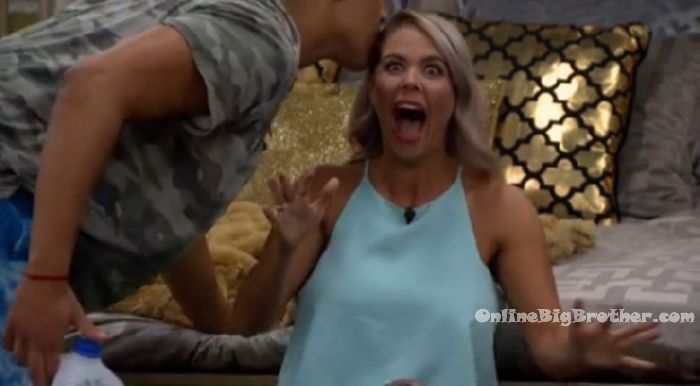 8:10pm Bathroom. Elena and Jessica.
Elena – so you guys just take yourselves off on Thursday and he will have to put up two new people or some crazy thing will happen in the house. Jessica – I honestly don't even want to talk about it. It doesn't matter any more. Elena – I can't believe that sh*t. Its good that you're safe but it sucks. Jess – if you win HOH next week are you going to give the house what they want? Elena – I have no idea what the house wants at this point. I was 99% certain that I was going up and out this week. I knew this week specifically was going to determine a lot. Elena – and then Mark is going to get in sh*t from production. Jessica – did he swing? Elena – it wasn't good. Big Brother switches the feeds.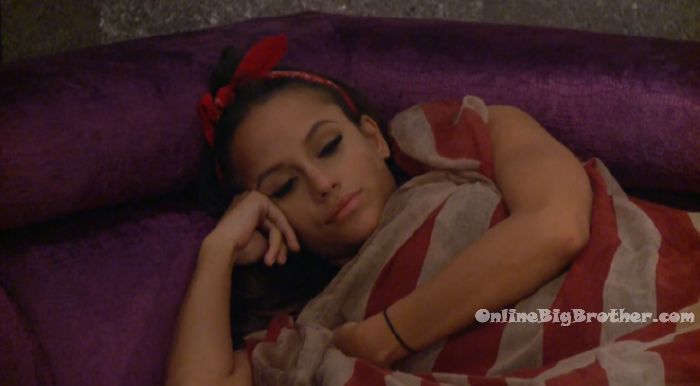 See what they can't show you on TV Try the live feeds for FREE!
8:17pm Havenot room. Cody and Kevin.
Kevin – what are you doing? Cody – just giving Jessica a minute. Kevin – are you guys coveted? Next Thursday?! Cody – yeah, but I will probably tell Jess to not use it and keep me up there. Kevin – don't get emotional, just breath man. Cody – but as far as I am concerned I am the worst for her game. As long as I am here its going to keep f**king with her game. Kevin – you're a good man for that. Just sit up there and relax.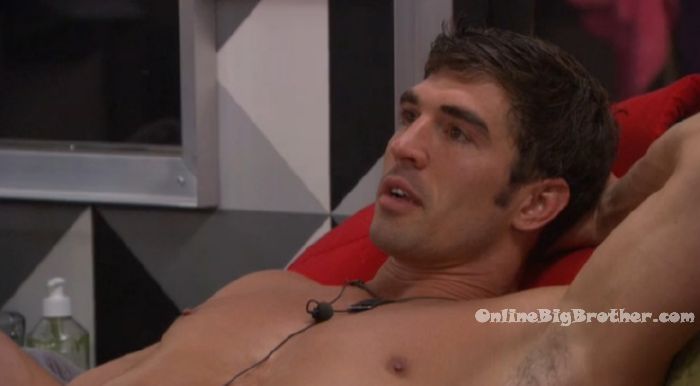 8:25pm Kitchen – Josh, Paul, Alex and Jason.
Josh starts banging chairs on the floor and banging pots and pans together again – HEY MEATBALL, I WANT TO PLAY!!!!!! LETS F**KING PLAY!!! Paul tells Josh to ask Cody – why are you crying?! Josh – HEY CODY WHY ARE YOU CRYING!?! YOU'RE 32 YEARS OLD, YOU BABY!! Alex – chaos! I love it!! Josh – DA DA DADADDADA … MEATBALL I WANT TO PLAY!! WE'RE ALL AGGRESSIVE LETS PLAY! WE TRY TO BE NICE, WE TRY TO BE COOL BUT YOU GUYS WANT TO PLAY DIRTY… WELCOME TO HELL! I don't like bullies. I saw my cousins get bullied. I don't like bullies. You suck! YOU CAME INTO THIS HOUSE AND BOUGHT A PERSONALITY OFF OF AMAZON .. RETURN THAT SH*T! GET A REFUND. YOU'VE GOT A 30 DAY WARRANTY! BECAUSE YOUR PERSONALITY STILL SUCKS!! YOU WANTED TO PERSONALLY GET ME OUT OF THIS HOUSE AND YOU FAILED!! I AM NOT SCARED. THERE IS NO FEAR IN MY BODY! WE'RE GOING TO HAVE FRIENDSHIP AND YOU'RE NOT APART OF IT. YOU AIN'T PART OF SH*T! DADDAADADADADADADADADADDDDADADAADADADADADADADADADDDAA.. YOU AIN'T SLEEPING TONIGHT! YOU BETTER GO KNOCK ON THAT DOOR BECAUSE YOU'RE NOT SLEEPING TONIGHT! Jessica walks by to go take a shower. Josh – I don't have any beef with you. You're gucci. Christmas – tells Josh that momma is proud of him. Josh – YOU GUYS HAD THE PERFECT OPPORTUNITY TO HAVE A SHOWMANCE WITH MIAMI! WHY AMERICA, WHY! THEY WENT FOR THE PLAIN YOGURT. THEY WENT FOR THE PLAIN TOPPINGS! NO TOPPINGS! AMERICA HATES IT! WE HATE IT! WE WANT YOU OUT!! YOU HAD A SHOWMANCE RIGHT HERE! YOU F**KED UP!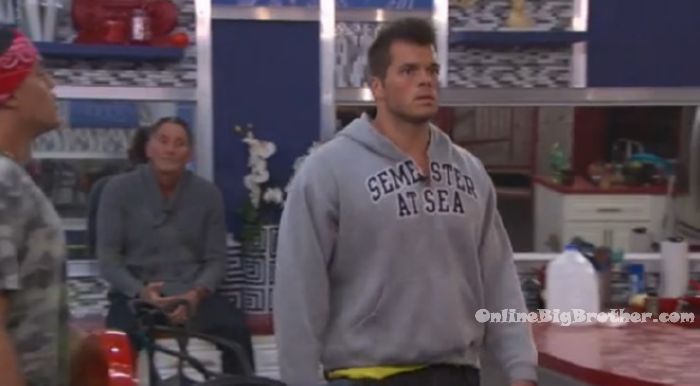 Mark walks by the kitchen and heads up to the HOH room. Josh yells at him – WAS MY QUE TO RUN WHEN YOU CAME UP TO ME?! BECAUSE IT DIDN'T WORK!! YOU'RE STILL GOING HOME MEATBALL! YOU'RE STILL GOING HOME! You can't get in my face but if you want to do it .. then do it! You can do it. Don't play yourself meatball!! YOU PLAYED YOURSELF WHEN YOU THREW A DRINK IN MY FACE! YOU F**KED UP! I TOLD YOU BY THE POOL YOU F**KED UP AND YOU DIDN'T LISTEN TO ME. WELL GUESS WHAT?! THERE'S NO SLEEPING TILL YOU LEAVE. THERE'S NO EATING! I'M GOING TO TORTURE YOU AND BE YOUR WORST LIVING NIGHTMARE TILL YOU WALK OUT THOSE DOORS. Paul tells Josh to go up and sit in the HOH room. Josh gets called to the diary room. Soon after Cody comes out of hiding to get a drink of water from the kitchen.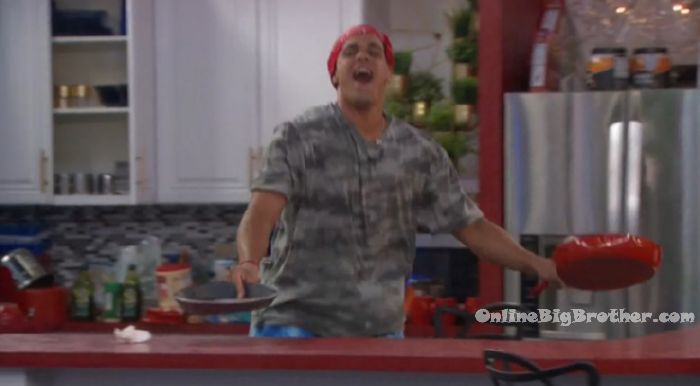 8:30pm HOH room. Kevin tells them that Cody is in his room crying saying that he's had enough. He said he's going to tell Jess to leave him up there. He said he's just bad for her game at this point. They all watch Josh on the spy TV. Josh comes up to the HOH room and asks Mark for the too-too. Mark – its mine. Josh – its not yours its big brothers. You don't deserve the too-too. You're not apart of friendship so what are you doing up here. You were just defending Cody so go be with him in the havenot room you big meatball. Come on you big meatball get out of here!! Josh leaves. Elena – I quit my job for this. This is going to get exhausting real quick.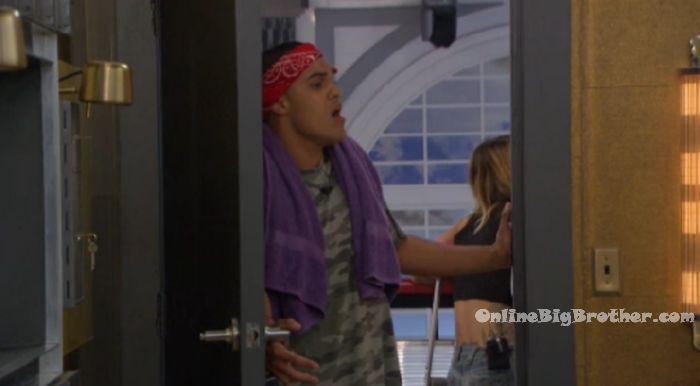 8:35pm Kitchen – Josh, Paul, Alex and Christmas are all dancing and yelling.
8:50pm Mark, Paul, Elena, Christmas,
Paul – this is big brother, its only going to get funnier. Don't try and tough guy around me. That sh*t don't fly. If he wants to fight me we can set up a time and place outside of the show and we can fight. You're shaking and your eyes can't stay still. Get the f**k out of here. Small di*k complex!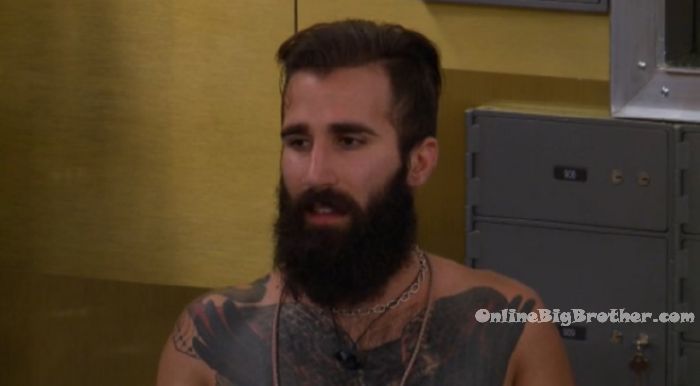 8:55pm Kevin tells Paul that Jessica said she just can't do it no more. The way Cody acted towards you was wrong and she can't do it no more. It looks like the guy she's been with, she's going to be done with. Paul – well I'm sorry, it ain't my fault. Kevin – bottom line he acted inappropriately and I'm not covering him any more.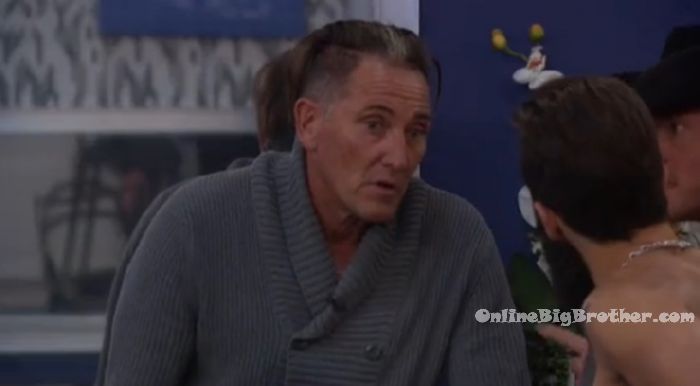 8:57pm Lounge room. Paul and Elena.
Paul – this is a hash tag blessed moment .. you better back the f**k up if you want to make some serious moves in this game. I told you to f**king trust me. You're f**king welcome. Pivot! Even though I had nothing to do with that. Back the f**k away. Don't be an idiot in this moment right now. Elena – the only thing I am afraid of is.. Paul – Cody and Mark are done! Gone. Cody I am pretty sure is about to self-evict because Jessica no longer gives a sh*t about him. Cody is gone. Mark is next! Abandon ship. Elena – I just feel like I still .. Mark's behavior today is not something I feel comfortable with in this game or in real life. Paul – also all the things that they're saying .. I was watching Marks face specifically when I was nominating him because I had a hunch and he looked over and was like (nodding). I was going to call him out on it and be like hey buddy what are you doing in here .. Cody is down there .. why don't you go smile at him more. But he is high tension and I don't need to do that is a conversation I will have at a later time. You need to rip the band-aid off on that one. If they truly are that safe why is Cody acting like that. Elena – I feel safe with you but not the rest. Paul – its repairable.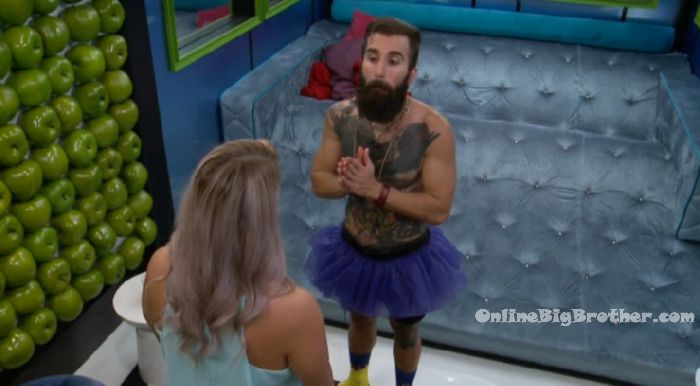 Josh comes out of the diary room and tells Paul, Kevin, Jason, Elena and Alex – I need to stop. Paul – what? Josh – everything. Paul – really? Josh – yeah I need to chill. I know that I am not going to hit someone but we don't know if they are going to hit somebody. It is coward to get them to him me and get kicked out. I want them to walk out the front door. Stand with the pots and pans right there. Jason – oh damn it right .. because we can't bait them. Paul – really. Josh – I can't provoke a fight. I want to get under their skin.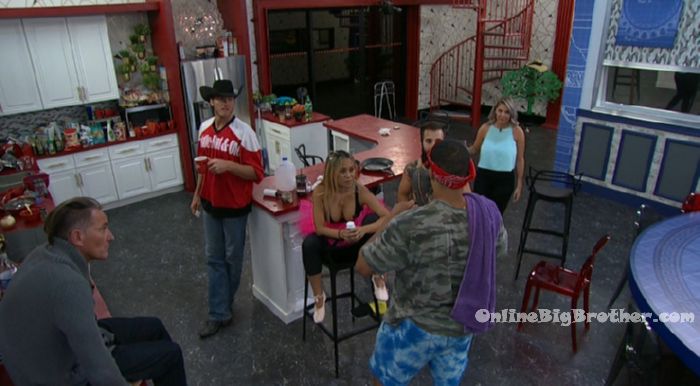 9:10pm HOH room Mark telling Matt what production told him. Mark – I said I didn't touch him. They said a man of your size charging at somebody.. big brother blocks the feeds.
Christmas – a lot of people weren't expecting Cody to come back. You showed a different side of you when he wasn't here. I think that you held onto that. A lot of people don't trust Cody. I think that a lot of people just don't trust Cody. Jessica – if I was seen as separate, I shouldn't have been nominated. Christmas – everyone prefers you here over Cody. They didn't want to put you up but the temptation peeked their curiosity. Jessica – I feel exhausted in this house. Christmas – you are not the top target. Jess – I am scared to see how all this plays out in the real world. I don't agree with how he (Cody) handled the situation and if that is how he handles things in the outside world, it is not okay with me. Jess – you realize he is going to be here for another 2 weeks. With the hex, no one goes home. Not Jason, not anyone! Christmas – how is that a plus. Jess – no one is going home this week and Paul can't compete in HOH next week. I honestly didn't think Paul would nominate us. Christmas – if you felt safe would you keep it up? Jess – I don't know. I think if anyone was on the block next to Cody, they would feel safe. Christmas – this hex is a good thing for you but you have to figure out how to use it for a good thing. Use the hex, don't use the hex just make sure it works for you. Jessica – my biggest fear about getting into a showmance was going through a break up.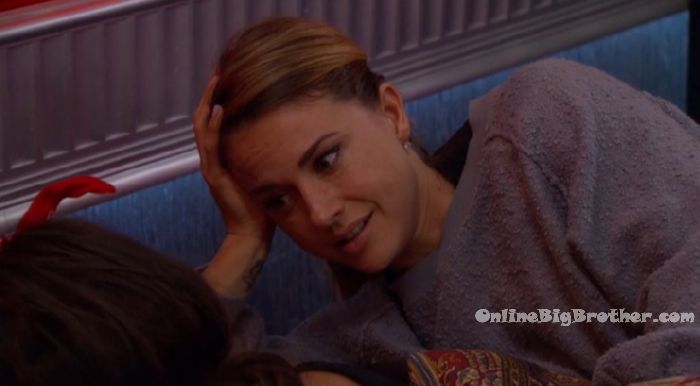 HOH room – Elena and Mark.
Mark – being bullied as a kid that whole feeling of being defenseless and just sitting there taking it. It is just very painful. Elena – I know, I'm sorry. I don't think you should have said anything to him. I am not discounting the way you feel.. when you're already not in a good mindset. I don't discount that. Its just unacceptable. Elena – I have found ti really had so maintain friendships. Everyone struggles with… you should not have gone after him. But Josh is clearly not mentally stable. Trying to have a rationally conversation with him leads to this. Mark – I need you in this house. Elena – you can't behave that way. Mark – I clearly can't do that again or I'm out of this house. Elena – you have to understand that this is a game. You got in his face! Mark – I took the pans from him. Elena – it didn't look good. You're terrifying and it didn't look good. I believe that you wouldn't have but it didn't look good. Everyone said. Mark put his hands on him. Elena – my association with you could be changing the amount of time I have left in this house. Mark – if I had touched him, I would be out of this house. Elena – if they're not going home.. someone has to go home. I am literally in a place right now where I don't know what to do. There is no guarantee that any move or pivot I make will make any difference. Elena – I just don't know what to do. Mark – I know you're in a tough spot.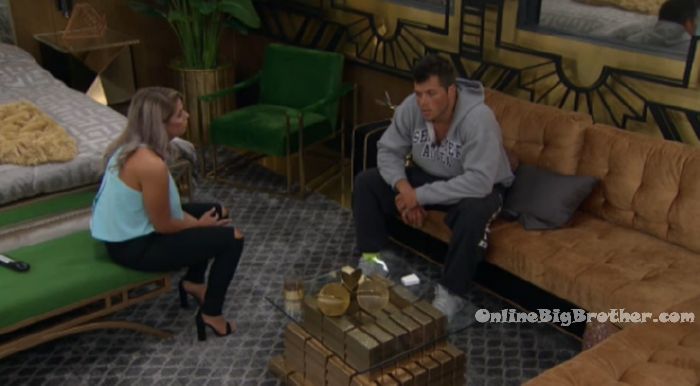 9:45pm HOH room. Mark – because of what just happened between me and Josh am I a bigger target than Josh? In your eyes? Paul – in my eye's no. Josh isn't even a target to me. Josh I can get out at any time. My objective right now is Jessica and Cody. And Jess only because she is attached to Cody. I told Jess that the only reason people are lying to her is because no one likes Cody. Nobody likes Cody. Everybody doesn't like Cody. Everybody wants Cody gone. You're safe this week right? That is one week you can un-f**k yourself. Don't be outside the numbers because Cody's a cool guy. I know this is a marathon and not a sprint… just like how Cody gassed out for the second time. Its going to be sweet to tell him to f**k off for the second time on my HOH because he is an emotional player. Remember when Josh had a week of safety and everyone for sure thought he was going home… learn from that and un-F**k yourself. Mark – thank you.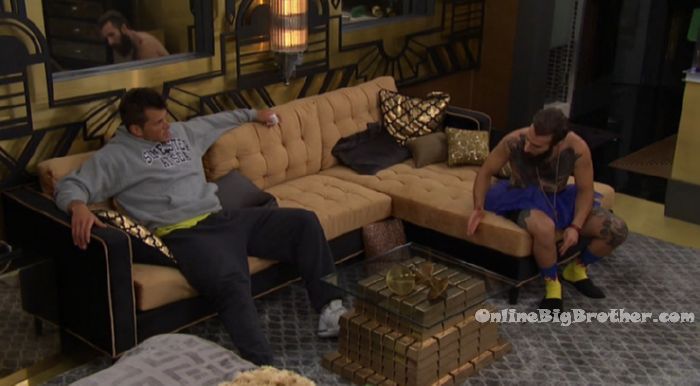 10:25pm Kitchen – Christmas and Paul.
Christmas – give her a night. He is acting like an a$$ and will continue to act like an a$$. Paul – if we can keep this wound open till tomorrow after the veto, then we're done and we can make a deal. But we have to win the veto to make the deal. But I am not willing to pull her off because if we pull her off and she uses the hex and Cody is safe. She has to be up there and be in a room of 10 people saying we are up there right now Cody is who we want. We don't know exactly what it is and Production can't lie for her.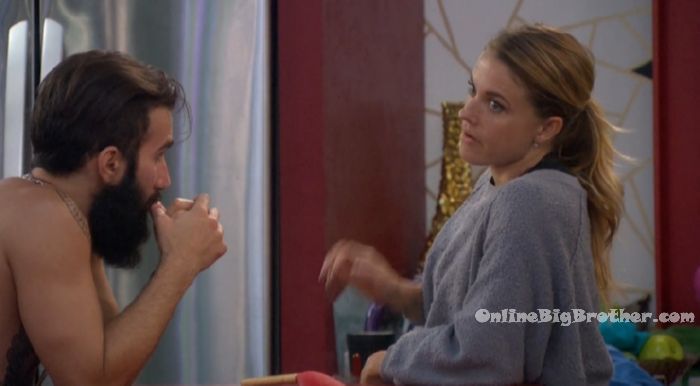 10:50pm Havenot room. Jessica and Cody.
Cody – I am extremely sorry for everything. Jessica – so you showing that you're sorry for everything is you packing your bags, not even addressing me and making up your bed in here? Cody – I was just giving you space. That's it. I am sorry. Jessica – I'm sorry doesn't cover it. Mark reacted to someone that was screaming for 20 minutes and banging pots and pans in his face. I can understand a snap there. And I understand that we have been kicked so many times in this game that you're going to snap. But at the end of the day this house is a game. But when we leave this house we have to answer to people. I don't know who you have to answer to in your life but in my life I am a representation of my family and I have a job and those people expect me to behave in a specific way and the people that I associate myself with are held to those same standards. So considering the situation that we were in you reaction was overwhelmingly too much. Could you react. You were well within your right to react but it did not match the situation. I came in saying that I would not attack anyone's personal character or throw a temper tantrum and you got into Paul's face and called him names which attacks someone personally. This is a game and we have to answer for our actions personally and I don't like that side of you. I am 26 and you are 32, I have been in enough altercations with people to know what I can handle and what I can't and I don't want to be dating a hot head that gets into fist fights. I need someone that balances me out. I appreciate that you were defending me but the degree was too high. If people can't come after you they will come after me. Cody – I don't think I can balance you out the way you want me to balance you out. Jessica – you don't want to? Or you can't? Cody – I can't. Jessica – I can only do so much. Cody – I can't do anything to help you. Jessica – so what was the point of this. Cody – I didn't know how much I would let you down. Jessica – this is not just a game, this is my life. Cody – I don't know what I can do to make you happy right now. Jessica – you didn't even try to make it better, you just said that you can't do it. Cody – you are asking me to not be myself. Jessica – you can try to not be as hot headed. Cody – the only way to try that is to go through another situation and I don't want to put you through that again. I just want you to be happy.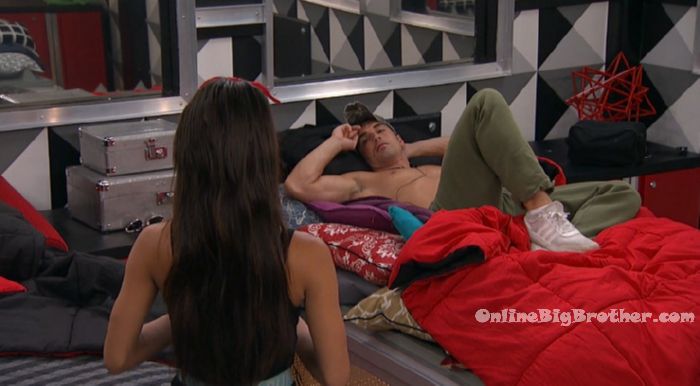 11:20pm Storage room. Paul and Jessica.
Paul – you can make it to jury. I get that you like Cody and Cody likes you but he will be there outside of the house. If you guys have genuine feelings for each other he will be there. He strikes me as the type of guy that would take a bullet for you. When I asked you to keep your voice down, he thought I was attacking you. That's just his machismo character. This is a game homie! Maybe you and Cody will work out, maybe you won't. Do you think he will be upset that you went so far in the game? Think about it. Next week if you want to take a shot back next week then do it. This is a game. I take risks in this game. I enjoy it. You never wronged me. You never wronged anyone. You have a good track record in this house. You're only downfall was being associated with Cody. Jessica – don't take my expression as anything.. I am in reboot mode.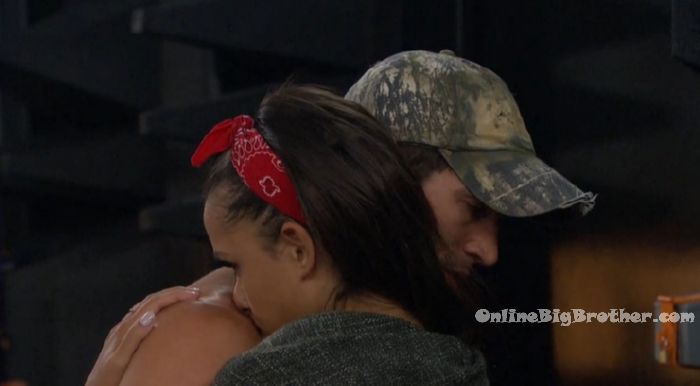 11:35pm Havenot room – Jessica and Cody.
Cody – its a game. Jessica – you need to f**king control yourself. Cody – I am not going to stop myself from being myself. Jessica – that action upstairs.. Cody – that up there I will not stop myself from doing that. That's how I am. And you don't like that so there is nothing I can say to change that. I will do that every damn time. Jessica – what does that accomplish. Cody – it doesn't matter what it accomplishes. That's what I wanted to do and I'm going to do what I want to do in that situation. I am not going to change that and it is hurting your life. I am incredibly sorry. All I can do is disassociate myself from you. Cody – you live in a society with people you can't act like that. Jessica – you're being so stupid. Cody – I don't think I can make you happy the way you want me to. I don't have the same social light that you have. Cody – I don't want my daughter to see me like that either. I will try to pull myself from that every time. I am not giving up but I am defeated. Cody – can I go back to not talking. I was cool the first part of the came winning competitions .. that's what I do. Jessica – I can't not use the hex on you. I just can't not do it.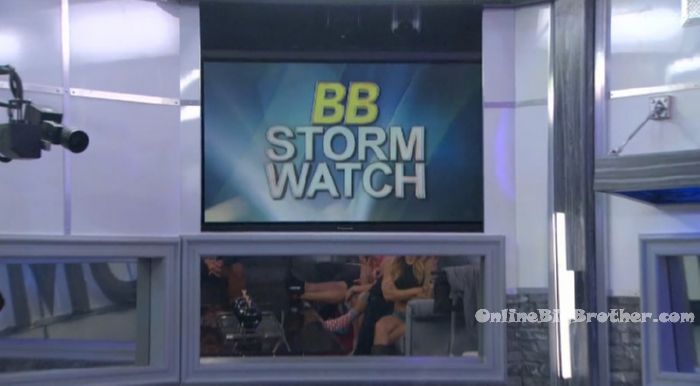 12:43pm Big Brother give the house guests an announcement. "Everyone gather in the living room…" Paul – I know what this one is. No one is going to sleep tonight. Big brother blocks the feeds. "This is a BB storm watch update. Big brother was tracking a mild storm Cameron. With BB storm Cameron only lasted 11 hours some residents are wonder if the storm even happened. This storm came in at 17 miles per hour, however other readings of storm Cameron were so strong it felt like a super fan. We're also tracking BB storm Jillian, it started out as a massive weather system with strong gusts but was downsized after going through Tijuana. With BB storm Jillian bearing down on the house there were reports that house guests were fearful of its shear power and force. Those reports were quickly proven false. BB storm Jillian swept through an apple orchard but only swept up poison apples. BB storm Jillian ended up spending most of its time in Loxburg. Stay tuned to the BB storm channel.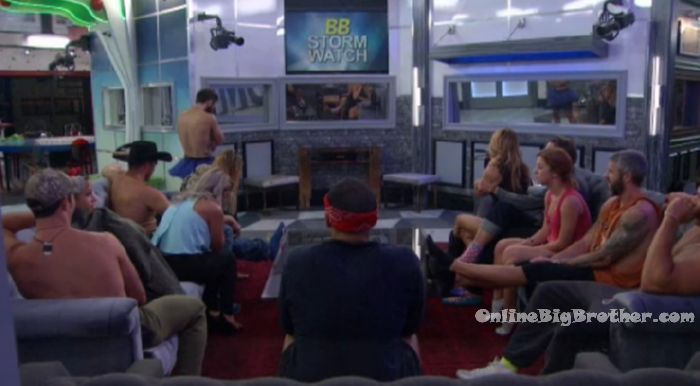 12:55am HOH room. Paul, Elean, Josh, Alex, Jason, Matt, Raven, Christmas, Mark and Kevin.
They're studying the BB storm updates..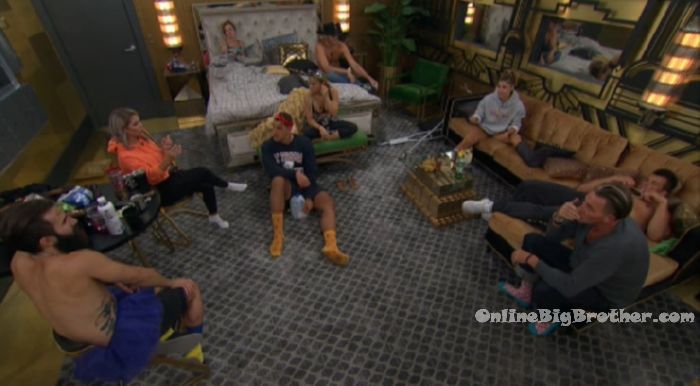 1:50am – 2:10am
Another BB storm update.. All the house guests run to the living room except for Cody and Jessica.
Fast changing weather conditions are breaking out in the immediate BB area. Stay tuned throughout the night for crucial information and details. This is a BB storm update… After the update they head up to the HOH room to go over what they remember.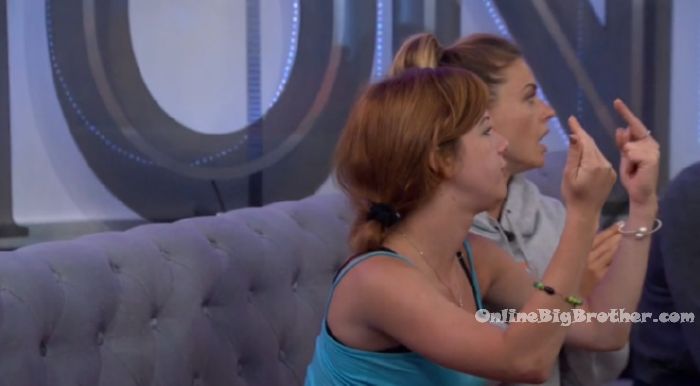 Links to the ranking system
Rank your house guests here
For those of you that like Statistics here are some expanded reports.