POV Holder:
Cody
Next POV
Aug 30th
POV Used
No
POV Ceremony
Sept 1st
HOH Winner 1:
Cody
Next HOH
Aug 28th
Nominations:
Donny & Nicole
Have Nots
Donny & Nicole
POV Players
Donny, Nicole, Cody, Frankie, Derrick, Christine
Watch the last month of the live feeds for only $9.99!
– PLUS try it out first with the 2 day FREE trial! –
12am In the fire room – Frankie and Cody are talking. Frankie says I worry. Cody asks what do you have to worry about? Frankie says not about you, I just worry about making the right decision. Like we're at that point where every decision matters and it made me freak out. That's all. Cody say and that's why I was so frustrated because you were mouthing you opinion and I was mouthing mine. Like I don't like the whole .. especially when its just us four now. We're going with the group.. there's not group any more. Frankie agrees. We are but there legitimate sides to each coin. Frankie jokes we could pick out a skittles. Frankie says I understand your points. Cody says and I understand yours. I'm always going to have your guys back. Frankie says yeah I know and I'll always have yours. And she (Nicole) will never tell you who her target is. Cody says I haven't even gotten her alone yet. Frankie says she would be silly to say because regardless it would bite her in the a$$. Frankie says like if she comes for you, she's going to get fire! Cody says that's why I get nervous because anyone but you me and Caleb. I love Christine and trust her 10 fold but if she ever feels like she's on the outs …Pshh! I just don't want Donny and I don't fear Nicole. Frankie says of course you don't she was sucking your d**k! Cody says she does it like that with me because she is still playing a game. She can act nice with Christine but I don't think she can forget what Christine did. Frankie says no I agree. That's the thing I never did anything to her. She tried to come after me but failed. That's why I am going to destroy her. Caleb joins them and says seeing all 3 girls together weirds me out. Caleb says they have to win.. Victoria isn't going to win, Nicole's not going to win. Christine's the only one of them that can win. Cody says what she's won doesn't concern me. It all comes down to we have to win the competitions. I am way more confident with the 3 guys. Caleb says tomorrow will be a physical guaranteed unless its a double eviction. Cody says Nicole knows if she doesn't win she's going home. Christine joins them and then conversation ends.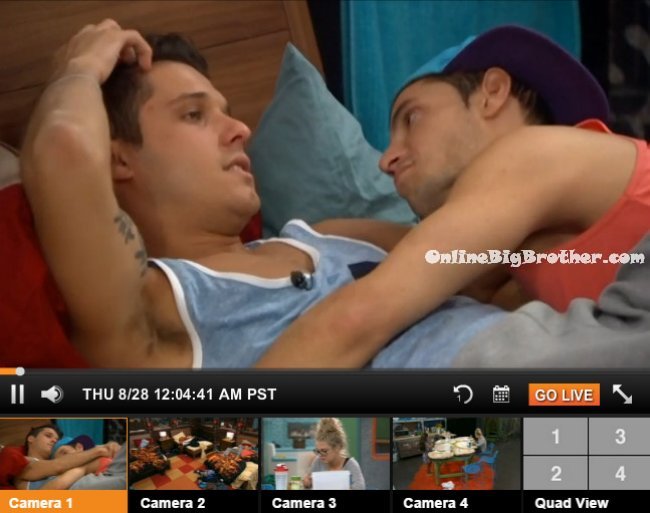 In the bathroom – Caleb asks Derrick what are you thinking? Derrick says Donny's got to go… Caleb gives a thumbs up. Derrick says ..and then we've got to win! Caleb says sounds good! Derrick says not to mention do you really want to draw a line against Cody right now? Caleb says no but in a way I feel like that if Nicole stays they're all just going to team up against me, you and Frankie if we don't win. Derrick says possible, they've got to win 3 weeks in a row then. Caleb says yeah. The thing is if one of us go home in the next 3 weeks its game over. You know what I mean? Derrick says Donny could do the same thing to us. Caleb says yeah. Derrick says there's losers but we ain't going to loose. Caleb says no we're not, we'll be fine!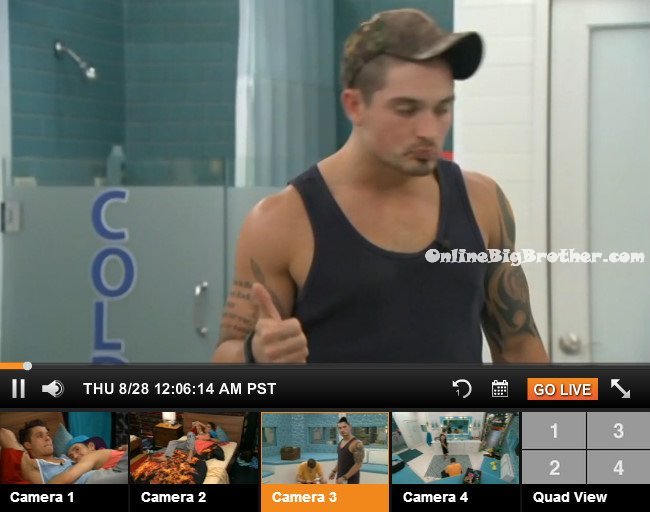 12:15am In the kitchen – Nicole and Victoria talk about how Christine laughs at everything. Victoria says I just kept thinking how did Nicole do it. Nicole says that's what Donny would say. He said its the most annoying thing he's ever heard. Victoira asks who did you do it? Nicole says I don't know but I can't do it any more. Victoria says she literally does it all the time. Nicole asks do you know anyone that laughs at everything? Victoria says no. Nicole says no I don't either. Victoria says I said If she thinks she's going to laugh all the way to the end then the jokes on her!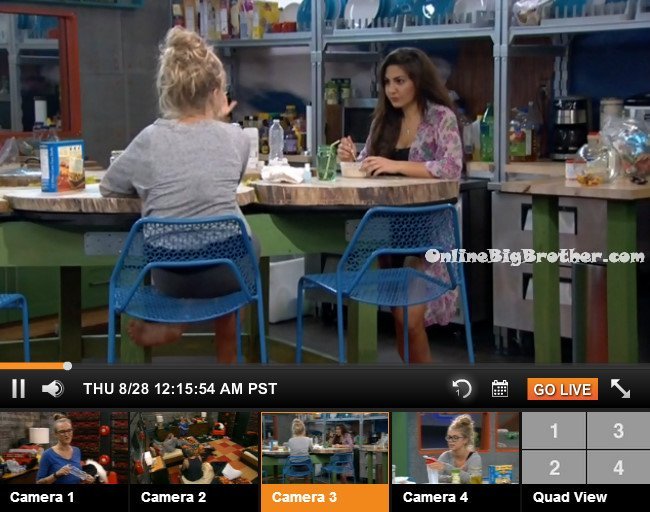 In the fire room – Derrick talks to Victoria. Derrick says I've seen you talking to Nicole all day what's going on, what have you been talking about. Like is she coming after me? Victoria says that yesterday she was talking to Nicole and she's not putting you up and she's not putting me up .. like for sure. She was saying hypothetically she would put up Christine. Derrick says yeah but that's the thing who would she put her up against. Victoria says she wouldn't tell me who that other person is. Derrick says that's what worries me it could be me. Victoria says no she said she wouldn't put you up. At first I was talking personal with her and slowly I got to game talk. I think she would put up Christine and Frankie but she wouldn't say she's so tough. Derrick says just stay close with her. Frankie joins them and Victoria leaves. Derrick and Frankie talk about how they could never have saved Donny as a mission. Derrick says the play turned into a roast and BB is all about roasting people. Derrick looks at the camera and says all the Ariana fans vote for us to win the mission. Frankie tells Derrick to tell ALL MY FANS! All my fans, she doesn't even know about the show. They laugh. Frankie says take a screen shoot of you voting for us and send it to my twitter account and I'll follow you when I get out. Derrick says there was no other option is if it doesn't work I'm okay with that. You went up there and crushed it and it back came a bashing session. They end their conversation and leave the room.
12:55am In the bathroom – Derrick and Frankie continue to beg to the camera. Derrick says ultimately you've got to hope there are more lovers than haters. Just know there are going to be people that vote to vote against us. Frankie says yup I know. I just hope that's not the majority. God I can't see people hating all three of us. Derrick says I talked to Donny and he said we're going to have explain yourself when you vote me out. I looked at him and told him how 3 weeks ago we came to him and begged him to do a mission with us. And he said he is here for Donny Thompson not Team America. Now you're asking us to honor the same thing. I think that's ironic. He cost us 5K.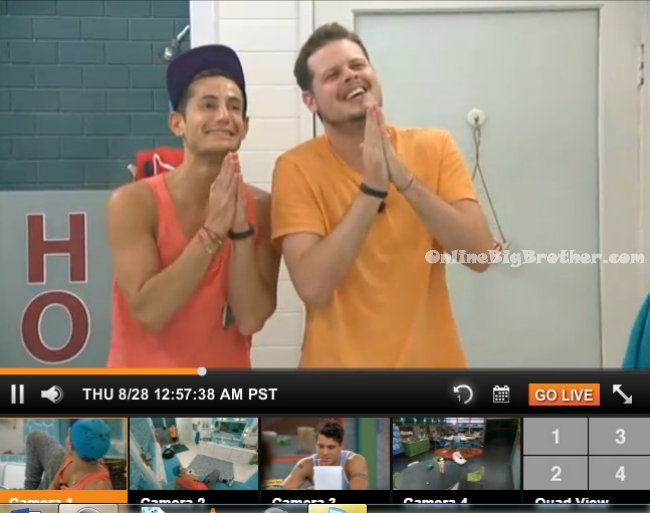 1pm – 1:35pm In the kitchen – Cody, Christine, Nicole and Victoria are talking and hanging out. Victoria starts drawing on Nicole's back and having her guess what she's drawing. Victoria's really bad at it and they they draw on Cody's back. They draw a crab and glasses but he doesn't get it. They head to the fire room. Cody draws on Nicole's back. Nicole says nothing dirty. Cody draws on her back. Christine and Cody laugh. Nicole lies and says I don't know what that is. Christine says its on every bathroom stall when you were in high school.