POV Holder:
Cody
Next POV
Aug 30th
POV Used
No
POV Ceremony
Sept 1st
HOH Winner 1:
Cody
Next HOH
Aug 28th
Nominations:
Donny & Nicole
Have Nots
Donny & Nicole
POV Players
Donny, Nicole, Cody, Frankie, Derrick, Christine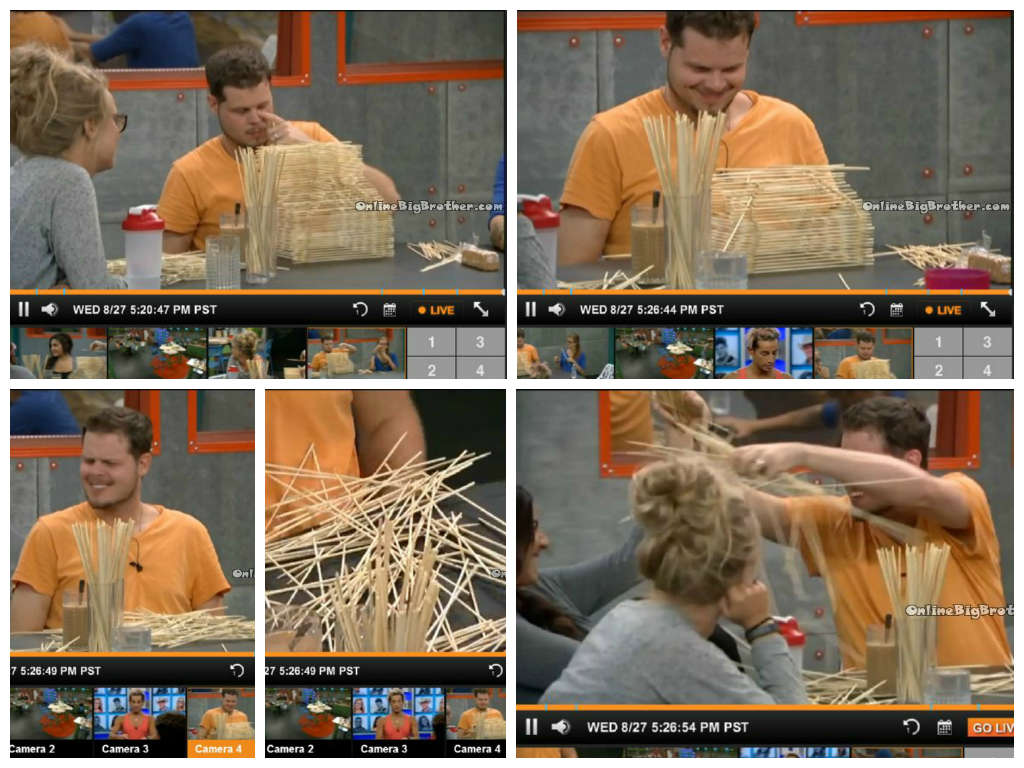 5:26pm
Derrick's Crane collapses half way. Victoria destroys the bottom half make a giant mess..
Derrick's pissed at her cause now he has to clean up a giant mess he was going to grab it and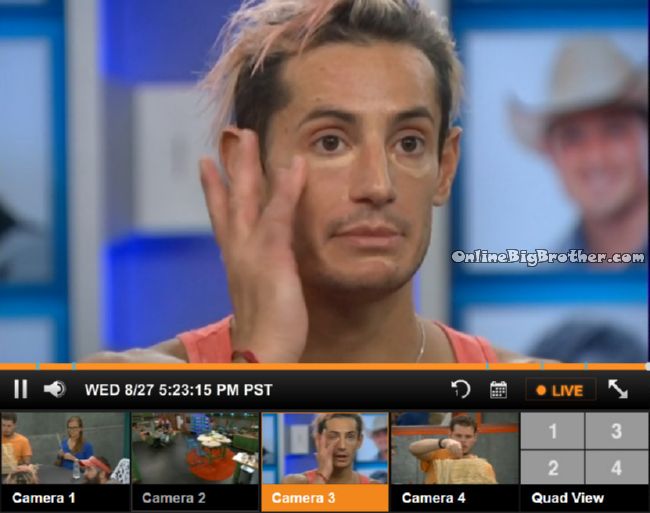 While this happens Frankie is applying makeup, says because he's Italian he needs to use coverup around his eyes to make his skin look uniform.
Frankie – "Some people think makeup is for when you go out but it can be for all the time whenever you want your skin to look uniform"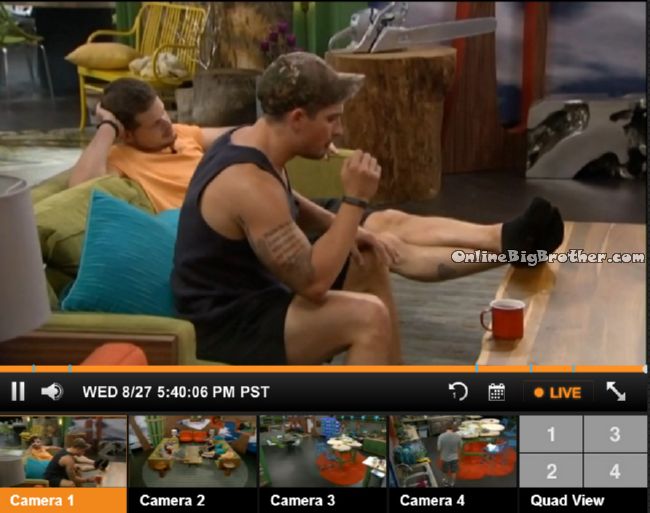 5:39pm Living room Christine, Derrick and Cody
Talking about how dirty Frankie is. Frankie was cutting his toenails In the living room with the nails flying everywhere.
Derrick – Disgusting absolutely foul .. by far the dirtiest person in the house
Christine says Frankie always leaves pee on the toilet seat.
Derrick there's cotton balls everywhere
They argee him cutting his nails was the grossest thing, It crossed the line.
Derrick – when I cut the nails I do it on a towel in the bathroom
Cody says he cuts his nails in the garbage
Derrick says Frankie picked up 3 clippings he bets them he could walk over there and find some "I can see one from here.. you don't see it right there it's from his big toe.. he is one of the most unsanitary people
Derrick says Frankie was saying he can't wait to get back into Hotels where they celan things ups for you"
Cody says he suggested to production they do a piece on how disgusting Frankie is in the house
They all agree Frankie doesn't clean the dishes properly. Cody tells them to smell a glass Frankie cleaned. Derrick says he always washes the dishes before he uses them.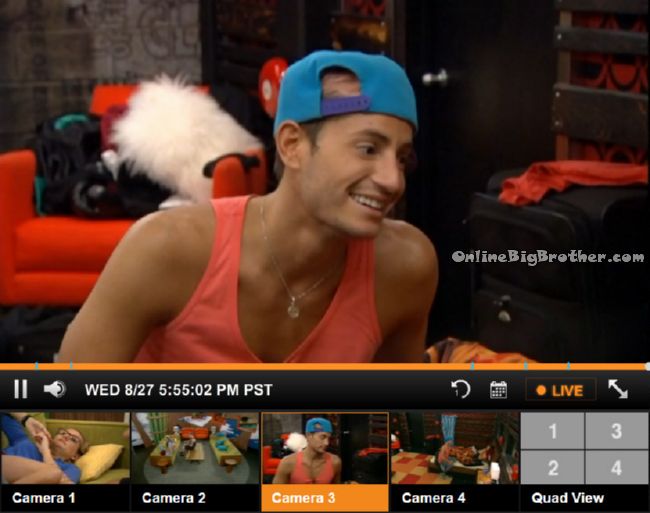 8:54pm Frankie and Derrick FIREROOM
Frankie says during the live show they will find out if their Tem America task was successful
Julie will ask one of them what would they want for a have nots. They are supposed to say Apple Pie. If she say our wish was granted they succeeded in America's task if she say their wish has been denied it means they failed.
Frankie leave..
Derrick – America looks like we get to see.. what you tonight.. I'm nervous we put our faith in frankie this week.. i hope it worked we'll see.. "
Derrick – " oh my god my heart is beating out of my chest right now.. "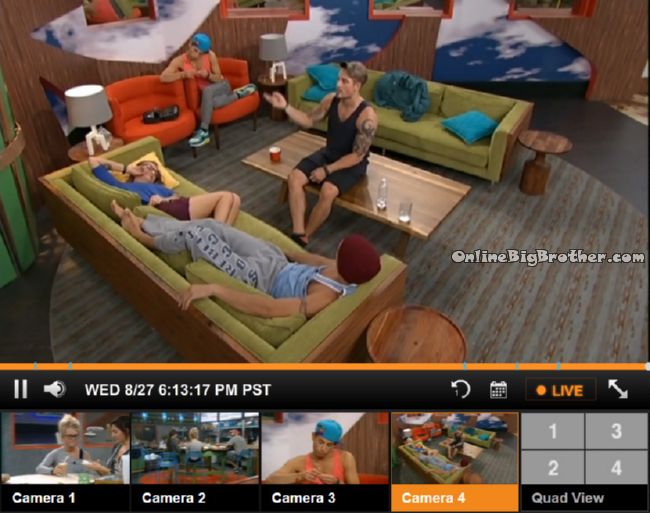 6:04pm Living Room Politics
Caleb – Why are country boys better than city boys .. if you give me 5 dollar bill I will make things happen buy fishing line .. whatever.. If you give that to a city boy he buys two cigarillo and make a blunt"
Christine – OK Caleb you are generalizing way too much Caleb
Caleb – I never said that.. to me
Frankie – you just said that in 10 million people
Caleb – I would just say they would spend it on Sonic or something
Christine I know Country would buy chewing tobacco and beer..
Frankie – a 40
Cody says he can invest $5
Christine – anywhere
Caleb – what will you invest $5 in
Frankie invest 1 stock in apple (more than $5 need $105)
Caleb laughs say when he was in highschool he would say give a country boy 5 bucks we'll make it last.
Caleb – when the end of the world is coming what will you do
Cody – I will kill zombies and eat people
Frankie says he knows nobody that is worried by the end of the world.. Caleb says it's not the end of the world it's if government comes into your house. frankie and CHrine say Republicans are always scared that the government are scared of taking their Bibles..
Caleb starts talking about when the government shut down all the soldiers deployed were not getting paid.
Caleb – If Obama wants to come into your house he can take anything he wants
Frankie – Obama can't take sh1t out of your house it's against the law.. .it's called checks and balances there is no way a president can change the law
Caleb – how often do police officers go into a house without a warrant..
Caleb promises them that Obama has more power than those police officers..
Caleb – Obama cut off payment to the soldiers
Frankie – no the government's shutdown wasn't just Obama.. the congress.. republicans and democrats alike
Caleb says Obama had a big hand in it
Caleb says there's more red on the map then there is blue but why did Obama win
Frankie explains the electoral college and how it's proportion based on populations.
Talk drifts to swing states.
Frankie – I flew to Florida to vote in the last election..
Explains he would vote absentee but the year Gore was running for president and the state of Florida lost all the ballots.
Caleb says Obama won the first election because all the kids turned 18 and voted him because of his race.
Caleb doesn't know how he won the second election
Frankie – it's because of who he was up against.
One way to support this site that doesn't cost you anything extra is making your
Amazon purchases through the links Below
For in Canada use the following link:
Amazon.ca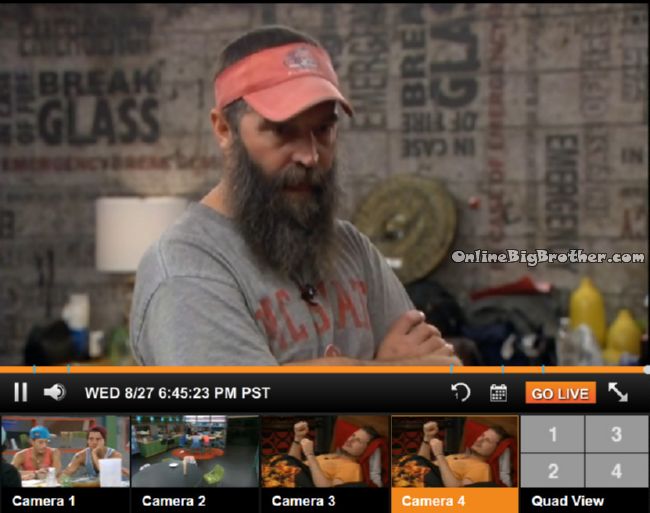 6:31pm FireRoom Derrick, Frankie and Donny
Derrick – I don't think you have the votes I don't think you have it
Frankie explains julie will ask them "What food would you like to request from America.. we are to saw Apple pie if she says Yes your request has been granted we accomplished our mission if she said we were denied we did not accomplish"
Frankie – I don't think it's looking good Donny
Donny tells them Caleb told him he'll vote for DOnny if DOnny has the majority.
Derrick – this is the same thing that happened to Nicole. (People saying they will vote for someone and they won't)
Frankie – I love you I think we're getting the apple pie..
Frankie leaves.
Derrick – I don't think you have it
Donny – I have to ask .. my family is watching this..
Derrick blaming Frankie on the house voting Donny out.
Derrick doesn't think they passed the task and America wants to rub it in their face..
Donny tells him they still have 8 people in the house they have potentially 3 more missions, "I'm as trustworthy as anyone."
Derrick now says COdy is in charge of this week.
Donny LEaves "Well you have a good evening Derrick"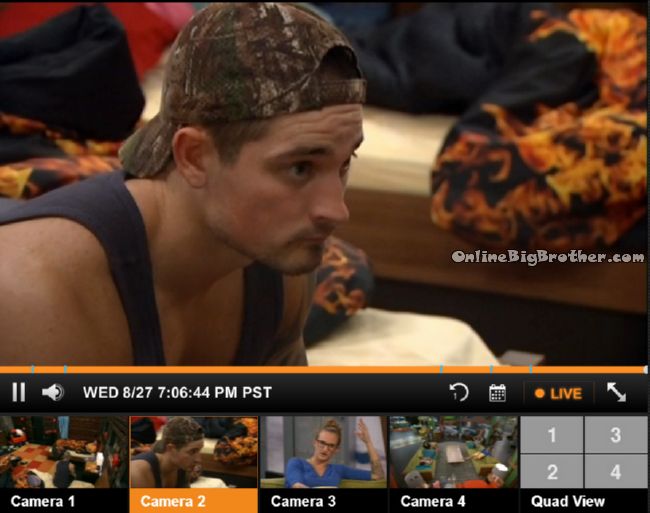 7:00pm Caleb and Derrick FireRoom
Caleb says Nicole is a big threat they are just thinking principle they need to think game.. Keeping Donny maybe better for their game.
Caleb – We really need to think about it
Caleb wants to talk to Donny and find out who he will put up
Derrick says if DOnny wins he won't put up Cody or Victoria he thinks it will be Christine and a unknown. "She's the only person he hasn't gone to for a vote."
Derrick wonders if Donny is willing to put Vicoptira up as the replacement..he doesn't think so he thinks Donny will put up a guy not Victoria.
Derrick says Nicole wants either Christine or Frankie out but Donny wants something bigger out.
Derrick – If we vote to keep Donny Christine will put us up she hates that man.. I like Donny he's a good guy.
Caleb – I do to
Derrick says Christine will not flip the vote the only way for Donny to stay is for him, Frankie and Caleb to vote to keep him.
Caleb says if Nicole is physical and mental Donny is just mental.. if they keep Nicole and she wins HOH they will regret it.
Caleb – Do we go on principal or do we go on game..
Caleb stresses Nicole is better at competitions than Donny she has a good chance of winning the HOH.
Caleb – Honestly Nicole is a much bigger threat.. principaL is key sometimes but when it comes to half a million dollars it's about game.
Derrick says he needs to talk to Frankie first because if Frankie isn't on board there's no point in talking to Cody.
Caleb – These thoughts are good… Nicole's a big threat dude she's not dumb"
Caleb is worried Cody and Frankie are both really smart
Derrick – She's smart and Athletic Donny's just Smart.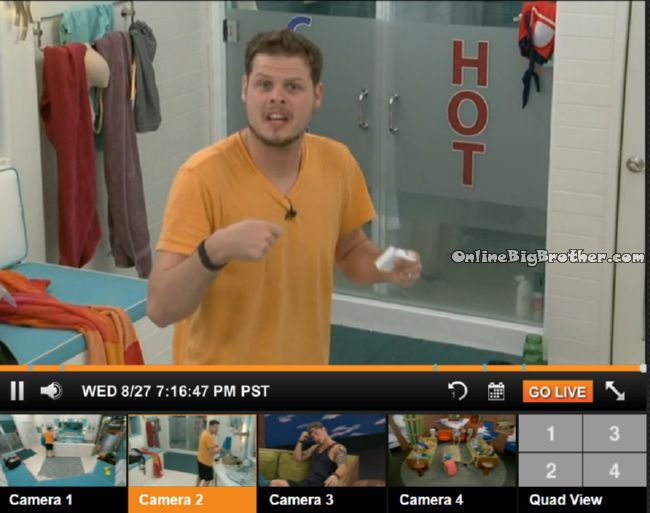 7:16pm Derrick calls the camera over..
Derrick – "the have nots are eating tofu and he's excited about it a$$"
7:16:42pm Derrick to himself
Derrick "what do I do what do I do.. I could flip this house if I wantted to"
Where is the vote
House may be starting to flip… Donny could be saved if Caleb, Derrick and Frankie decide.
The Live Feeds are archived. You can go back and watch everything that happens
Try It Free! Subscribe now to the official BB16 Live Feeds
More polls here https://www.onlinebigbrother.com/big-brother-compendium/big-brother-16-polls/
[polldaddy poll=8260325]
[polldaddy poll=8261457]