| | | | |
| --- | --- | --- | --- |
| POV: | Angela | Next POV: | Aug 4th |
| POV Used | ? | POV Ceremony | Aug 6th |
| HOH: | Angela | Next HOH: | Aug 9nd |
| Noms: | ROCKS and Tyler | Have Nots | |
12:10pm Kitchen.
Brett, Bayleigh, Haleigh, Rockstar, Scottie, JC, Sam and Kaycee are talking about past seasons events from Big Brother Canada and BBUS. They talk about BBCAN when IKA Wong shredded the other house guests family letters while they watched.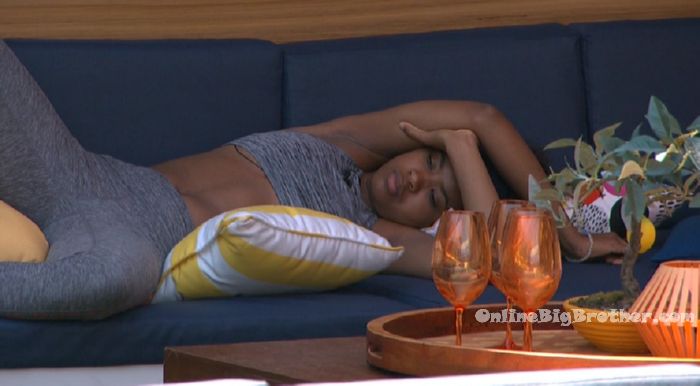 12:20pm Backyard – Fes and Bayleigh. Fes – what are you thinking? Bayleigh – a lot of things, what are you thinking? Fes – Do you think this plan will work? Bay – I think the plan will work but a lot of things need to change moving forward. Fes – meaning? Bay – too many people are getting close to each other. Rockstar joins them. They talk about Rockstars punishment. Fes – its not really a punishment. You just have to eat and work out.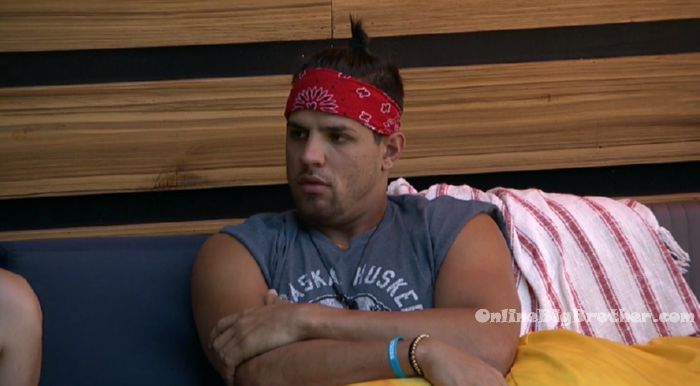 12:43pm HOH room. Angela, Scottie and Kaycee. Angela – the amount of lies that have been told to me.. its insane! This is the funniest thing.. so Scottie last night remember when I was working out with all the girls. Scottie – yeah. They're trying to do an all girls alliance again! Scottie – OH BOY!! Angela – isn't it funny the only time they don't feel safe, they try and start an all girls alliance? Like is that not the worst thing you could possibly do when your back is against the wall.. you're going to start an alliance. In Rockstar's defense you are the only person she did not throw under the bus when she came up here. I though she would throw you and Tyler under the bus. Tyler joins them. Angela – when they pitched the all girls alliance I was said the reason why it didn't work last time was because we didn't have a plan, so what's the plan? They I wanted to see if they would start throwing out names but they wouldn't. Scottie – just last week Bay said that if I won this week she wanted me to put up you (Angela), Rachel or Kaycee. And now she is trying to work with you. Angela – the first person that has been in my room non-stop is Bay and she has been throwing you guy's names out like crazy (Tyler & Scottie). Angela tells them about how she offered to do whatever Bay wanted her to do this week if Bay would use her power on Angela next week if she was in trouble… and Bay straight up turned it down.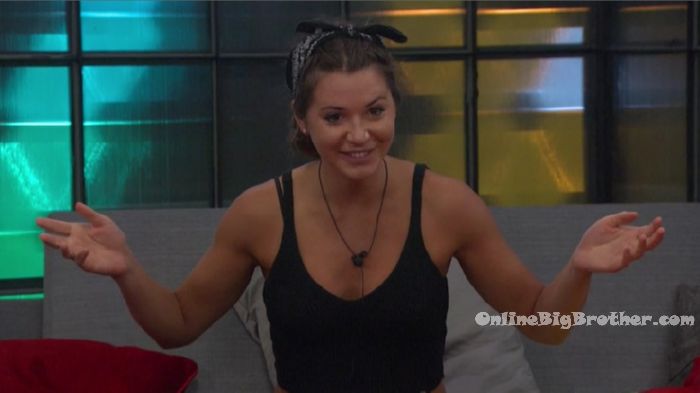 12:57pm – 1:25pm Big Brother switches the feeds to the BB re-runs.
1:35pm Jessie comes over the PA and tells Rockstar to make a batch of beet balls and shadow box while they cook.

1:30pm – 1:39pm Bedroom. Bayleigh and Haliegh. Bay – I'm trying to stay away before I say anything crazy. People say things to me that are rude and disrespectful. My problem in real life is I'm good at popping back. I say something really quick that's not nice .. in this game I can't do that because people will hold grudges. I don't know what world she lives in… its obviously one where she isn't used to people calling her out. But I know this, I can only allow you to disrespect me so many times before I am like alright cool! Even the whole Bayleigh do you want to go there with me? I will gladly! What's up!? Haleigh – lets get in the car, buckle up and lets go! Bay – I am ready to ride. There are people that can handle it and people that can't. Don't dish it out if you can't take it. Like Sam .. she dishes it out but can't take it. You think I'm dumb and the answer is yes .. you think I'm dumb.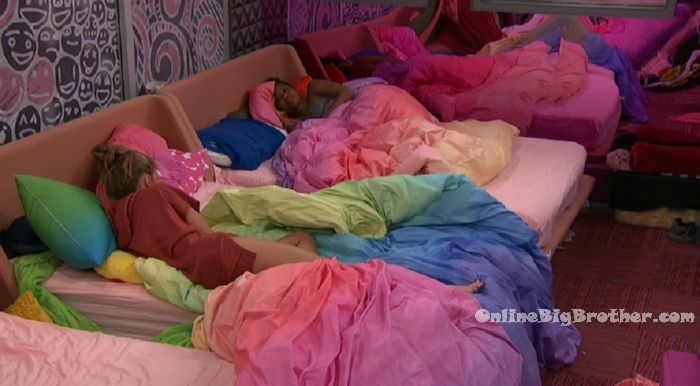 1:40pm – 2:15pm Big Brother switches the feeds to the BB re-runs..
2:40pm Storage room. Scottie and JC. JC – two things will happen. Either she will put up a light pawn or she is trying to backdoor someone. Worst case scenario is she backdoor's Fes, but I don't think she is going to do that. Just keep your mouth shut. Scottie – stay cool. That's what I'm doing. They high five and JC leaves the room.
2:50pm Bathroom. Scottie – Haleigh wants to play a chess game with me. She just wants to get information out of me. The only think I say is she promised to keep me safe so I trust her. She's like what does that mean for the rest of us? I was like I don't know. If Haleigh asks just say that she is just trying to figure out who Tyler and I were connected with. Angela – so Scottie just be like she called me and Tyler up together .. she was just trying to figure out how many people I am working with now.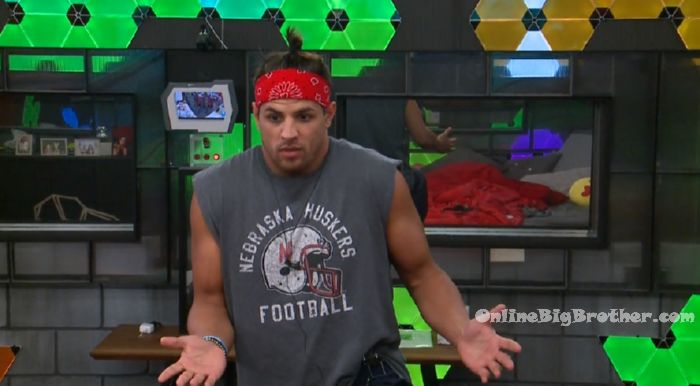 2:55pm HOH room. Fes and Angela. Fes – the only thing I have to say is you have the opportunity to make the biggest move in big bother history. You could be the most iconic big brother player ever! Like I have never seen anything like this. Not one bug two people .. one was on the block and then taken off. The guy gives up the veto because you convinced him on the spot. The other is on the block because of the hacker. And you convince him by saying let me have my HOH back. I have never seen anything like it. Angela – the only thing that is keeping me back is that I have been true to my word and this will be the first promise I will have to break. But Bayleigh made a really good point .. when someone lies to your face why should I do something for you. Fes – this will set you up. You walked in here as one of the hottest girls to ever walk in this house. Angela – thank you. Angela – what if I put some up and they figure out a way to keep themselves and then Rockstar goes home. Tyler joins them. Fes – leaves. Angela to Tyler – His pitched to me was that I will go down in big brother history.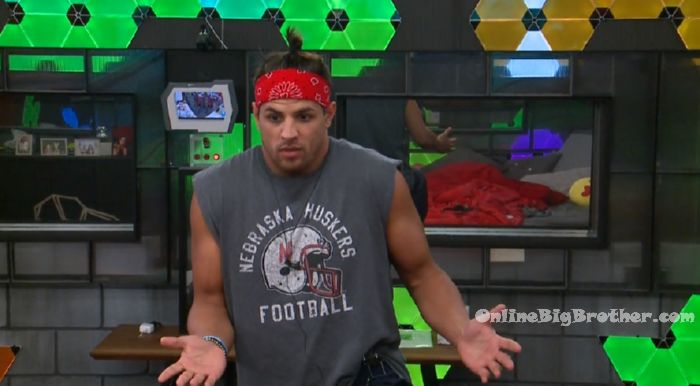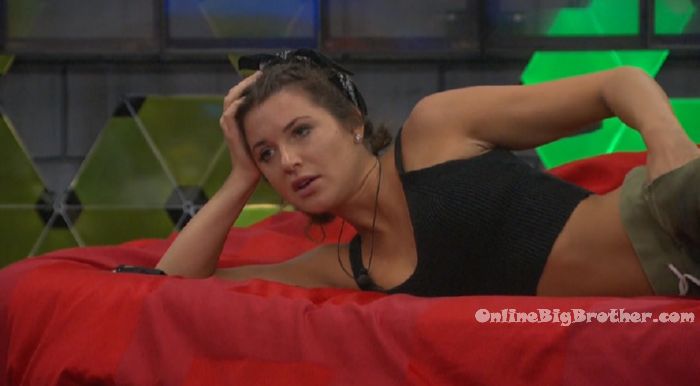 3:43pm HOH room.
Rockstar, Angela and Bayleigh chatting about random things and sucking up the the HOH the day before the veto ceremony. Rockstar talks about her boyfriend Chris. The conversation turns to talking about the veto competition. Baleigh says she is going to miss sleeping with Haleigh. She is such a cuddler. Angela to Rockstar – do you want to be engaged? Rockstar – of course. Kaycee and JC join them.
4:20pm Backyard suntanning.
If you've enjoyed our live feed updates so far this season, please consider donating.
Any amount is greatly appreciated! Your donations go directly to paying the fees required to run this site.
Rank the houseguests!
Easiest way to Rank the house guests use link below