Head of Household Winner – Jackson
Have note are:
Nominations are: Christie & Sis
Power of Veto Players are – Christie, Sis, Jackson, Nick (Christie pulled ), Holly (Sis pulled), Cliff
Power of Veto holder – Jackson
Power of Veto Ceremony –
Grab your live feeds —-> BB21 Live Feeds Subscription Link
Rank your houseguests —-> Big Brother 21 Ranking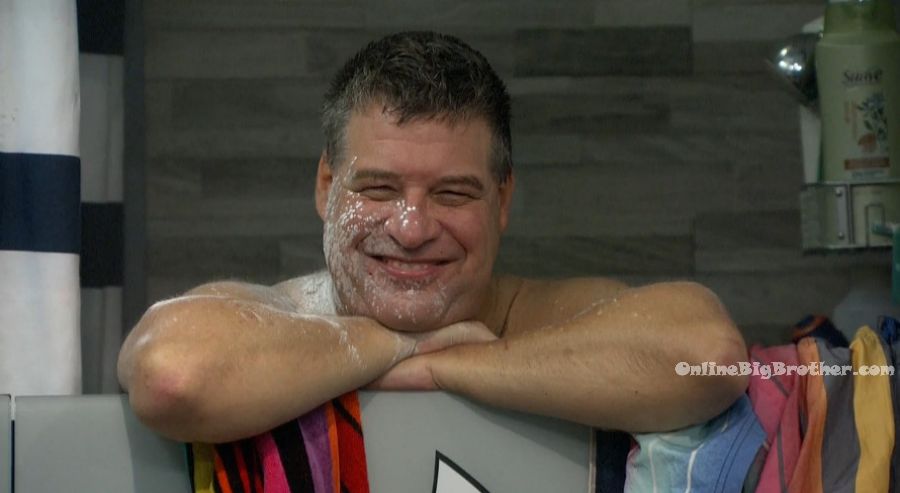 12:34pm Bathroom. Cliff is in the shower and had just finished showering when Sis comes out of the washroom, grabs the baby powder and shakes it out on him.
Sis powders Cliff #BB21 @bigbspoilers pic.twitter.com/x7f6R8DQp6

— Dawg (@DawgsBigBrother) August 18, 2019
Backyard. Cliff, Jackson, Holly, Christie, Nick and Nicole. They think up ideas on how Cliff can get Sis back. Cliff wonders if he should put sqwinchers on her towel so that when she lays down it will turn her skin purple. He decides against it as he doesn't want to ruin her clothes. Sis from across the yard says – I hear you f**kers conspiring against me. Cliff – go on Kat!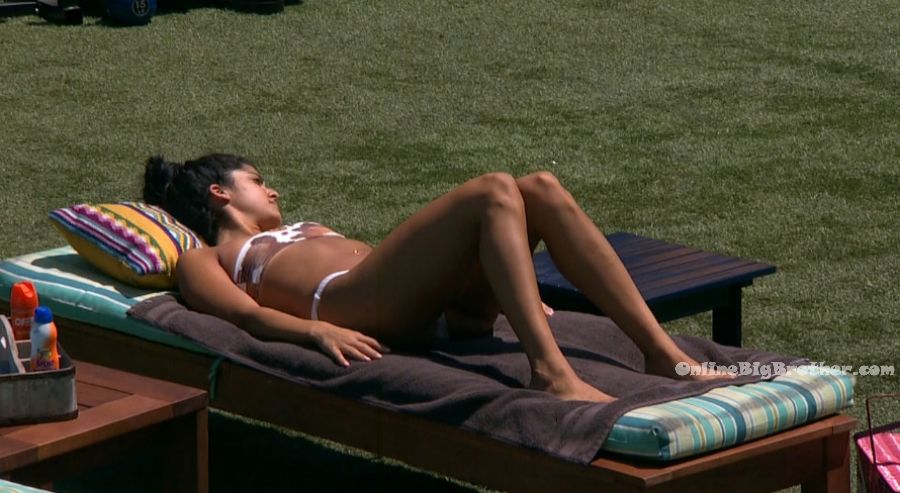 1:09pm Bedroom. Sis and Christie.
Christie – I feel sh*tty about it because I don't want to .. if you come off the block and she goes up ..I feel like she will just know that it was like a plan the past couple days. And it sucks because I love her .. but she does make the most sense because Nick has to vote and he is not going to vote out Nicole. He is not going to vote out Cliff. I hate that, that has to happen. Sis – I look at it like .. we both have a chance to be here at the end of the week and we have to do what we have to f**king do. And I know you're so good with your words and you can convince him that if we make a f**king deal we will stick to it. And we will get one, two, three out…. and then Nick. And we will f**king be here still. And you don't have to win HOH .. Cliff isn't coming after you. Nicole isn't coming after you. They're all going after Jackson and Holly. Nick is going after Holly and Jess. And you, Me, Tommy, and Nick are not coming after you. If we make this deal Holly won't come after you. If you want a chance to stay here that is the only thing that might work. Christie – I want to talk to him .. is it smart for me to talk to the both of them together? Sis – I think so .. Holly has reservations about you so make her feel included. Christie – I feel like you and Tommy have to talk to them too. So if we can do it all together to show that we really mean this to solidify it. The rest of the house is going to be freaking the f**k out! Like should Nick be there? Sis – maybe. Christie – because I do have to make sure I have his vote. Sis – because if Nick isn't there he will feel like he is on the outs. Christie – yeah Nick has to be there. I don't know when we're going to be able to get alone. Sis – we will swear on the bible that we won't go after them till we get down to 5 or 6. Christie – sell my soul .. but that dream really was crazy Sis. Like I really did resurrect my dead grandfather. Sis -and you literally told him yesterday let me sleep on it. That gives me goose bumps.
Christie – I feel like it can't hurt especially if you're being genuine. Before this veto meeting .. like sh*t is going to hit the fan. Its killing me and I hate that its going to have to be her but she is the one that makes the most sense. She is the one that caused that like re-division. Maybe you can talk to Holly and somehow in there .. make it about Jess. Like a little …just between you and her. And then by the time I talk to her I reinstate that point and its already in her head a little bit. Jess told me last night that Holly blames her for you guys not being friends.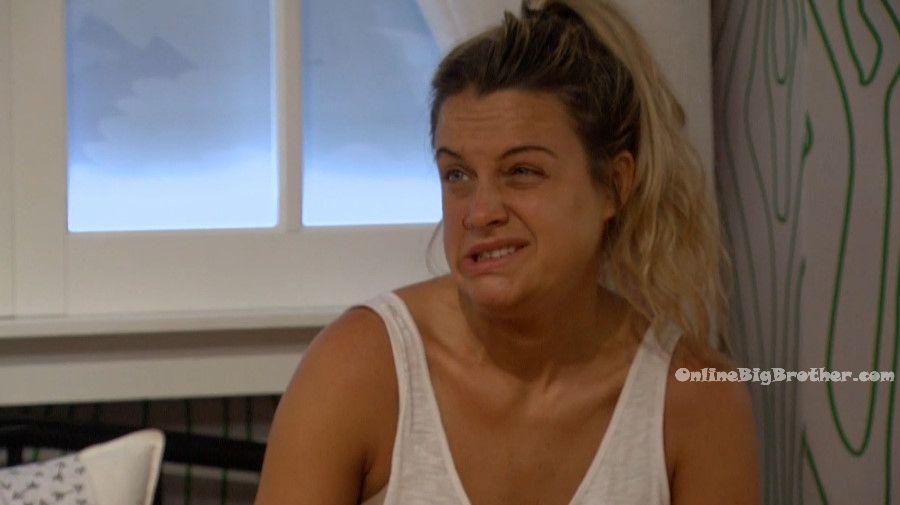 1:30pm Suntanning..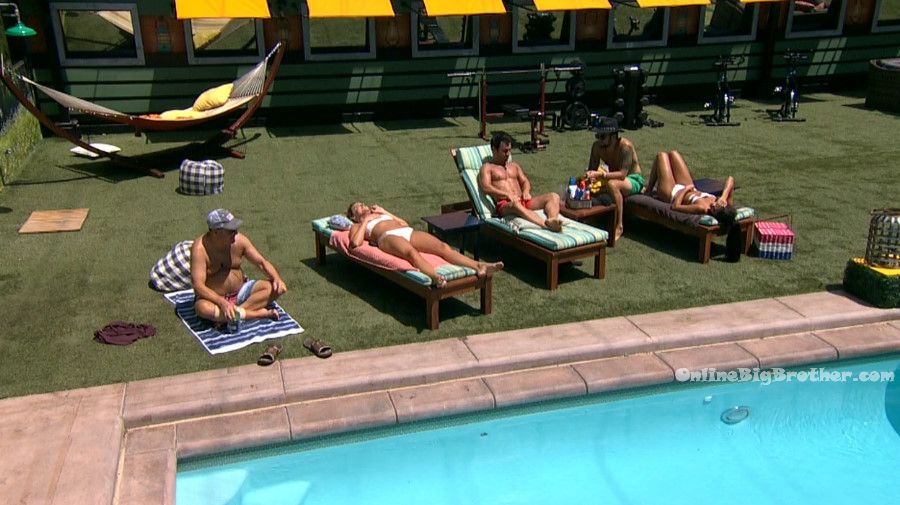 1:40pm – 1:55pm HOH room. Sis and Holly.
Holly – step on into my office. Sis – I've just felt really hurt lately.. but then Michie made it clear. I felt like you had some sort of idea that we were going to go up and it just hurts because I felt super blindsided by him. I felt blindsided by him and kind of by you. I was like there is no way her boyfriend would not tell her … at least one of her really good friends.. at least I thought .. was going on the block. I just would have loved to have know. And when you came in the room after I felt like it was insincere. Holly – it was so f**king awkward. Sis – yeah it was. I just had this feeling that you knew. I honestly believed that us four could get to four. Holly – it just felt so f**king awkward. I was gung-ho the four and Michie wasn't in the four. I was afraid of who he would put up and I didn't know what direction he would go. He didn't even involve me at all in the process. Sis – I had to pretend when I was talking with Jess because its all fake just in case she wins HOH. Holly – I am genuinely confused on what Jess is doing. She was literally kissing Jackson's a$$. Sis – then she came down and was kissing me and Christie's a$$. I feel like she is just trying to cause a divide between us because she is scared we could all get back together and come after her. Holly – she is and she doesn't know where to go. Sis – she is f**king playing us and I really hate that. Holly – yeah she is definitely doing that. Sis – that's why I don't want her to know I am up here talking because she is going to make something up and then we are going to start fighting again. I've been really crying a lot and she really made me believe it. Holly – and there is a little truth in what she is saying .. and blowing it up into something that is not.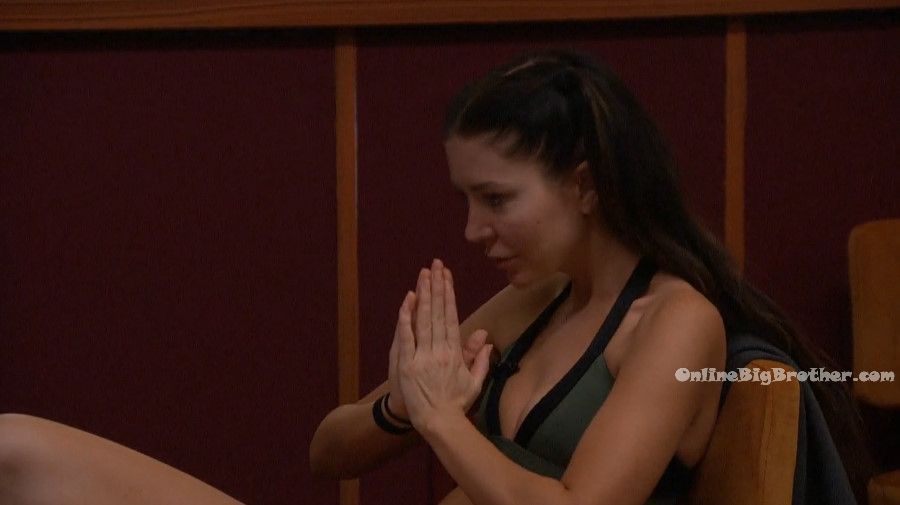 1:56pm – 2:43pm HOH room. Sis and Holly continued. Holly – she (Jess) caused a lot, a lot of Kat's paranoia. Sis – really because she told us that she think that you guys cause a lot of Kat's paranoia. Holly – wow! Kat said that Jess keeps putting ideas in my head and I know that my paranoia is coming from her. Sis – see that's what I feel she is doing to US! Holly – I am just going to literally going to stop listening to anything that comes out of Jess's mouth. Sis – me too and if I hear anything I am just going to go straight to the source. Why can't she (Jess) be on the block… like what the f**k. Holly – that's the thing after Michie put y'all up I did talk to him especially once I saw Christie's face. Sis – I love Christie.. and obviously I would love for her to stay but if she would have to go ..she would have to go. But I think about it in numbers ..like that is what is really scaring me. If Jess wins HOH she will probably put Nick and Jackson up. Cliff – I am not really sure where Cliff's head is at but the last thing I heard is that you two were his target. But if we could just keep the numbers now then we would be able to take them all out. Then we go after each other and that's when we f**king compete. But I get what Jackson means about this is the only time to get Christie out but Cliff and Jess are good at mental comps and Nick is really good. But Me and Tommy, and you and Jackson .. we are not the best at these mental comps. Nick is good with everyone .. he would just wait till Jess is out and then throw it to Nicole and let her do the dirty work. Sis – I would just love if Michie would just say lets swear on the bible and.. Holly – has he talked to her yet? Sis – all of us are so strong together .. like how f**king boring would it be if it was just some of us .. it would be so fun the last few days in the house. Holly – it would be so f**king sick to get to six. Sis – like I would legit bible! I would bible and no one would ever go against that .. like that's some serious sh*t. Holly – I would have to seriously talk to everyone and just feel so confident. Sis – Tommy wants to get back together. They hug and head downstairs..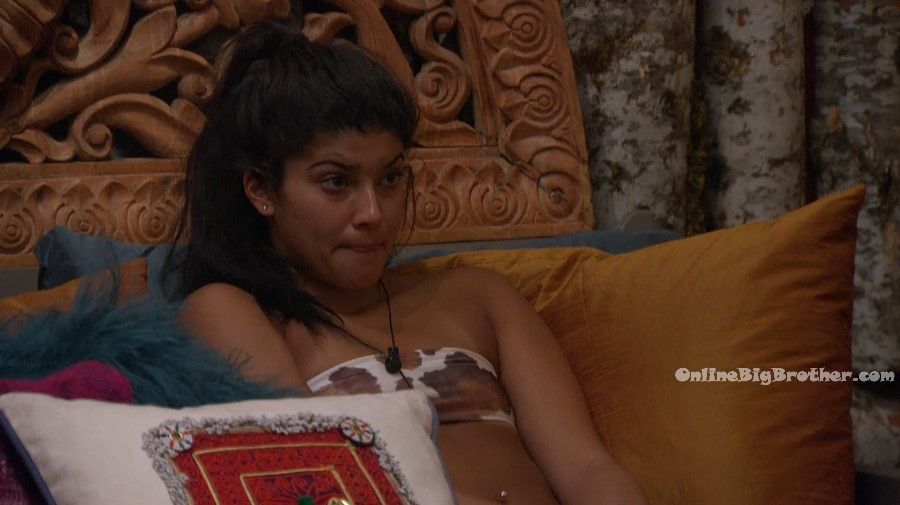 3:45pm More suntanning..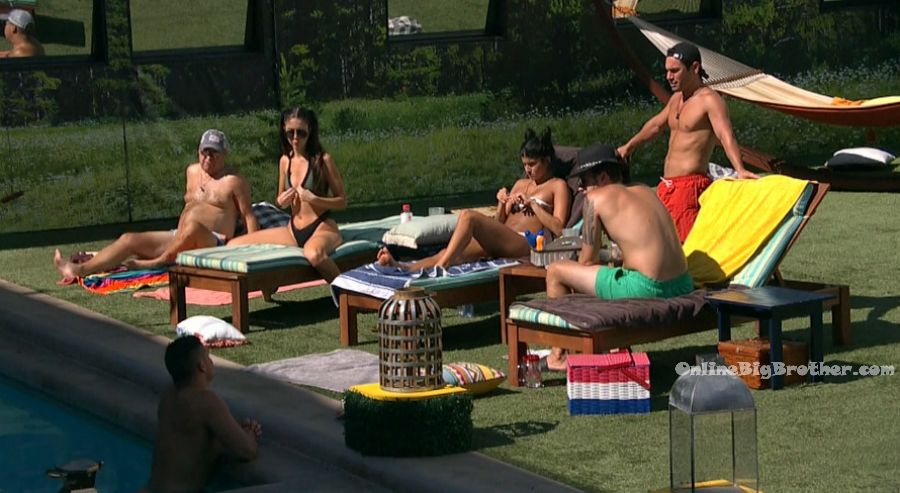 4:08pm – 4:23pm Bedroom. Tommy, Sis and Christie.
Tommy – I think we get the gag back together. Christie – although Nick has to be in on it or else he will not vote to keep me. Sis – I know, I know that's why. Tommy – I think Nick should be in on it. My pitch to them .. this buys them 2 more weeks definitely. Going into next week there is still a huge target but if we have an army protecting them it pretty much buys them another 2 weeks.. and so much can happen in two weeks. But one thing that I don't want to do is that we won't take a shot at them first because I don't want to promise that. Sis – you don't have to promise that but you (Christie) because Michie said that upstairs because he was scared that you were going to take a shot at him. Tommy – it sucks that you have to make a promise that you're not going to take a shot at both of them first. I would just try with just one first. But this is good for all of us. There is so much uncertainty .. we don't know who could win next. If we have a tight group and we get down to it and then we compete and stick to the original plan. Sis – say we'll compete because he is all about competing .. but you won't take a shot at him at first when we get down to it. Take a shot at Nick. Tommy – don't say Nick .. just say I won't take a shot at you first. This buys them two more weeks and America will love it. Christie – I have to game now and its annoying.. like I want to game but its like making a deal with someone that I didn't want to have to. Obviously he's got me by the balls now so I don't have a choice. So I either give up or I sign the deal with someone that I didn't necessarily want to. Sis – that's how this game is. I never thought I would make a deal with Cliff. He's always been my number one target. Christie – so talk to them together but aim it at Michie. Sis – even if this doesn't work.. at least we f**king tired.

4:25pm – 4:55pm HOH room. Christie, Holly and Jackson.
Christie – first I want to let you both know that I love the both of you. And the day before this whole blow up happened… we did both get a chance to talk individually.. and I really was so happy and a sigh of relief to to put that all out there. We all got to talk and Tommy has been so gung ho about all of us getting back together. I really, really did feel so good about that and then another huge blow up happened. A lot of it didn't involve me. .. it involved Sis. And a lot of it was to make us look like we weren't together. Whenever something is said I always just believe Jess and I almost just fall into her. She is good and genuine.. she is.. Jackson – she is Jess. Christie – yeah. And I literally like love her. And a lot of things that she says was hurting me. In my heart I really did feel like we could come back together and build an army around maybe the two of you. I do get your point and you probably did hear me angry.. Jackson – I can describe it .. it was like we were in a relationship .. the six… really I felt like I was with an significant other that was like cheating on me. And then day 44 happened and I kind of got kicked to the curb. And then we smoothed things out and were on good terms .. but in the back of my mind I was still unsure if I could trust you and Tommy and Sis. 12 hours before the blowout .. I came up here and was really swallowing my pride. I really felt like I had been done dirty. I wanted to give it one more shot.. and I found out about a deal that didn't include me, Holly and Jess. On top of what I heard in the havenot room about how we don't have anyone in this house. We don't win HOHs or Vetos. The only person they have is Kat and we need to get her out disarm them. I was like okay, I don't have anyone .. I don't owe anyone an explanation anymore. Who is my biggest threat between me and five hundred thousand dollars ..is you. I was given an opportunity and if I didn't take it .. it might be the end of my game. Christie – I didn't take it personally being nominated. Sis took it a bit more personally because she didn't understand why she was up. Jess was trying to divide what we were trying to rebuild. Do I think that most likely I am going home this week .. I do. If I were to happen to stay this week by any means and I could guarantee that my strength could be used to protect the both of you.. even if it means that I would have to give my word, shake on it, put my hand on the bible that I would not come after you till it got down to the six. And I am sure it would include Nick .. like I said I would rather work with him for now than against him. I also see how tight he is with Cliff and Nicole. Nicole has a very good chance at winning this game. He blatantly said that he doesn't have my back over Cliff and Nicole. I am honest with my game moves.. I would not lie or go back on my word if I give it. Even if at one point I wanted you out so bad … and to me its like signing a deal and putting my stamp on it.. I wouldn't take a shot at you. I would vow to use my mental skill to get us to a five or a four. And I wouldn't have Nick's back before I had yours because Nick vocalized that he wouldn't have mine. I have myself already gone and have made my peace with it. I feel like America would be flipping the f**k out knowing that it could be a come back story. But I do respect you personally that if you do not think that is a good game move for you then I respect that too. I fear Jess and Cliff mental ability. I fear Nick and Nicole's bond. These are threats that come way before the two of you. And I would be willing to make any deal, word, promise, bible going forward to stay in the game. I owe it to myself and to you guys to make it work. Jackson – you're a fighter. Christie – if you can foresee building an army around you for the next 3, 4, 5 weeks.. let me know. Jackson – I love you Chris and I've gained so much more respect for you. On a personal level you and I have squashed our personal sh*t and I hope we have a friendship outside this house. Christie – I love you both and if there is anything else you want to ask just ask me. They hug and Jackson leaves.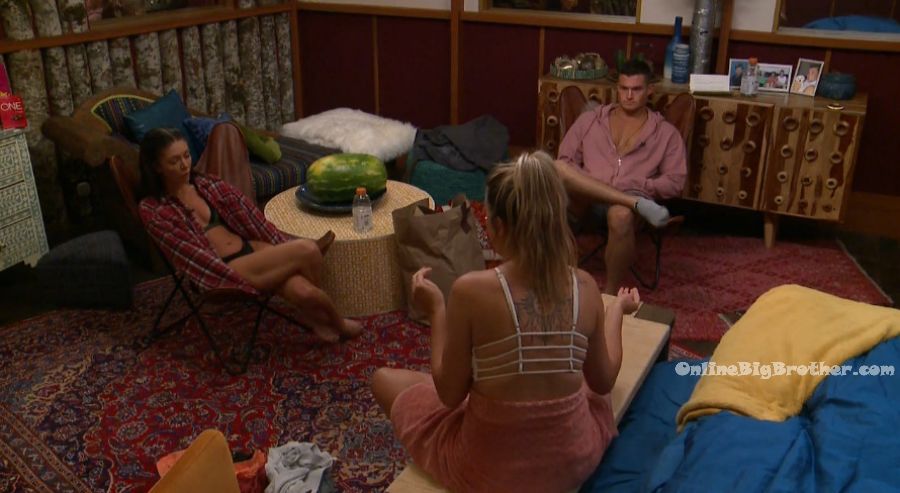 5pm – 5:15pm Christie and Holly.
Holly starts crying – I should be the one consoling you. Christie – we're going to be friends no matter what when we get out of here. Holly – its really sucks because I want to go to you and make you feel better but you're hurting and I feel like I have something to do with it. I've had these same feelings that Michie had .. I've been terrified of being betrayed by you but I didn't make the decisions. I wouldn't have made the same decision if I had won. Christie – I believe that it wouldn't have been me and Sis if you had won. I couldn't not be there for you guys but then I go to the RV and I just felt like an impostor. Like I am the villain. Sleeping up here in my castle. Christie – I am so sorry that you felt that way too. Holly – I respect and stand by his decision. Same goes for you, Tommy and Sis. Christie – I am not going to just lay down and go to jury and I am not going to campaign against Sis. Whatever happens I respect and at least I have my truth. Holly – Jess came up here to apologize and was like yeah I know it wasn't you ..just generalizations of the house and I used you ..as an example. And then went and told Sis .. Holly just admitted to saying that. I was like are you F**KING KIDDING ME! Christie – and was angry that you were trying to deny it. Christie – I am angry but props to her its a sick game move. Tommy joins them.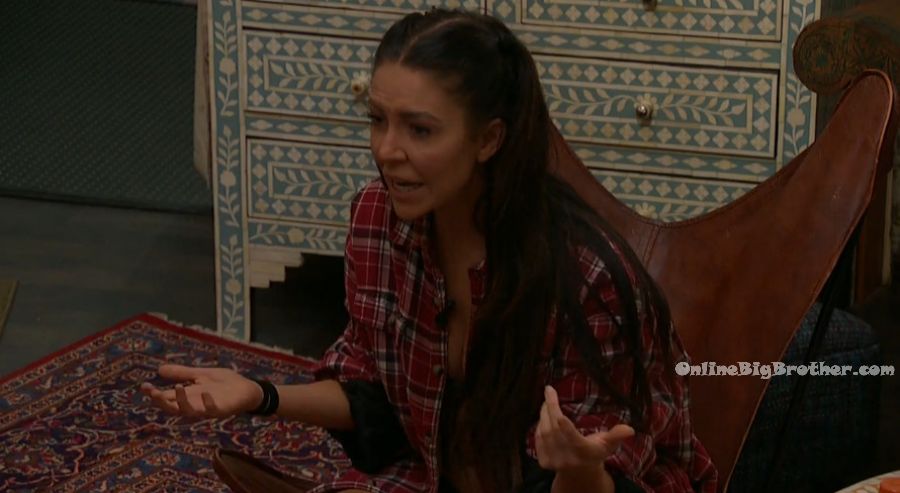 5:40pm Storage room. Jackson and Holly.
Holly – the reason she was so mad at me yesterday was because after Jess came up and we had that conversation she went straight down to Sis and Christie and said that Holly is admitting everything that she said. Jackson – wait, wait, wait.. Holly – about the personal stuff.. remember right after you won and Jess came up and I was like Jess why did you say that stuff? And she was like I'm sorry.. I was just using you as an example. And she said to Christie and Sis that Holly admitted everything. Like I don't know why she is denying it she admitted it in confidence. Which is verbatim what I said. Jackson – WHAT THE F**K JESS!! I almost want to take Sis off the block and put Sis up there. Holly – don't, don't! So when you are counting our people we don't have Jess …she went straight to them and is continuing to throw me under the bus. Jackson – I think that Jess is so tired of being on her own that she is trying to get on everyone's side. Holly – I feel better about Sis but not 100%.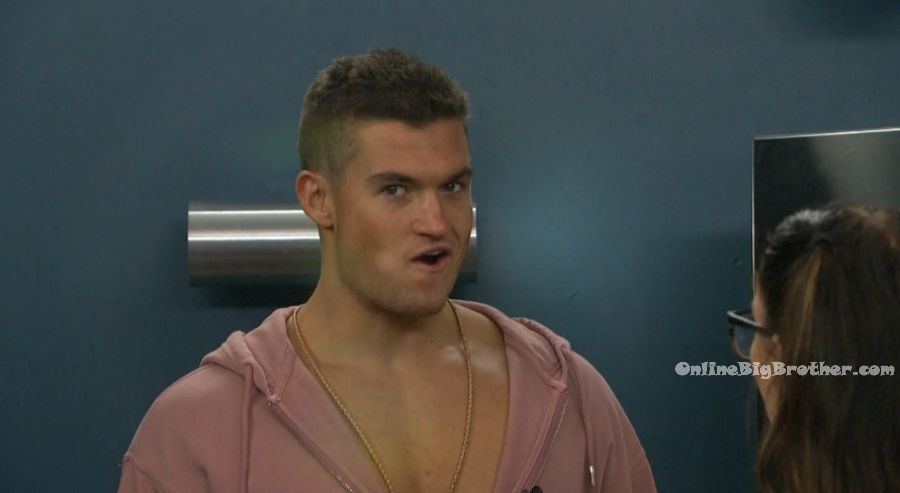 6:10pm Hammock. Christie and Sis. Christie reiterates her conversation with Holly.
7pm Backyard. Cliff, Christie, Jackson, Nick and Sis are chatting about random things. Meanwhile in the kitchen Tommy and Holly are cooking dinner. Holly is making chicken and pancakes.
SHOW your support!
If you are one of the generous people that donate to help keep the updates coming, we're giving out a bit more this year. Check out this page for more details: OBB Members