Head of Household Winner – Jackson
Have note are:
Nominations are: Christie & Sis
Power of Veto Players are – Christie, Sis, Jackson, Nick (Christie pulled ), Holly (Sis pulled), Cliff
Power of Veto holder – Jackson
Power of Veto Ceremony – Jackson did not use the power of veto
Grab your live feeds —-> BB21 Live Feeds Subscription Link
Rank your houseguests —-> Big Brother 21 Ranking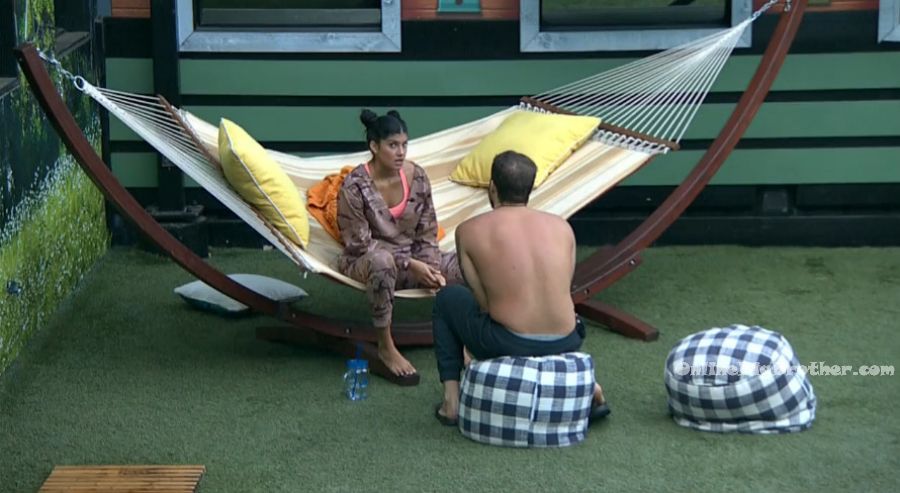 7:19pm Hammock. Nick and Sis.
Sis – you want to know what my dream come true? Nick – if we got to final two. Sis – no but that is a dream. Nick – if what? If Jess went up on the block? And Christie stayed? Sis – why do you talk so loud!? Nick – is that it? Do you think we can make it happen? Sis – yeah! Nick – Bro! I'm rocked! I already have an idea of how it could work. Did you talk to Jackson about it!? Sis – no, I am going to but Christie already talked to him. Nick – About it? Sis – yeah about if we make another six – Holly, Jackson, Christie, Tommy, me and you. Christie already talked to him about it. Nick – what did he say? Sis – she said he didn't really say too much about it. Nick – I was talking to him before Cliff came out about Jess. Jess is saying a lot of sh*t. Cliff told me some sh*t. She thinks that Me, Michie and Tommy have a final 3. Sis – Jess is saying a lot. Nick – she is going to come after us next week .. me and Michie. Sis – yeah I know. I totally see that. I said that's why you need Christie here because she is good at mental comps. If we can convince him that Christie is a bigger f**king target than him, he needs to f**king keep her here. That will keep a lot of people on his side. If he gets rid of Christie that's one number. Nick – I need to talk to him but I can't say what Cliff said. Sis – why can't you!? He's not going to say anything! Nick – I am not saying his name. I want to talk to him and say that Jess is saying that me, you and Tommy have a final 3. Sis – we have to convince him. We have to convince him. Like literally f**king her a$$ (Jess) would leave this week. Nick – and I would be so happy. I wouldn't even care if I wend next week. Sis – and this next comp is a mental comp. Nick – that's why I'm scared. We could petition for jury votes like you will lose Jack's jury vote if you vote Christie to leave. Nick – and Christie's. Sis – I don't know if Christie already said that she wouldn't vote personal. Nick calls Tommy over. Nick to Tommy – Jess is saying that you, me and Jackson have a final 3 and we're working together. Tommy – no way! But we don't! She just made that up!?! Nick – and she told Sis that she wants me to go up as the replacement nom and for me to go out. Tommy – oh my god! If she (Jess) goes up on the block it is part of the deal that everyone has to vote her out. That is the f**king deal. If we made the deal we couldn't go after each other .. Everyone of the six has to vote her (Jess)( out. Sis – yeah I know. Sis tells Tommy that he has to talk to Jackson about the deal. It can't just be me and Christie. Christie and Cliff joins them.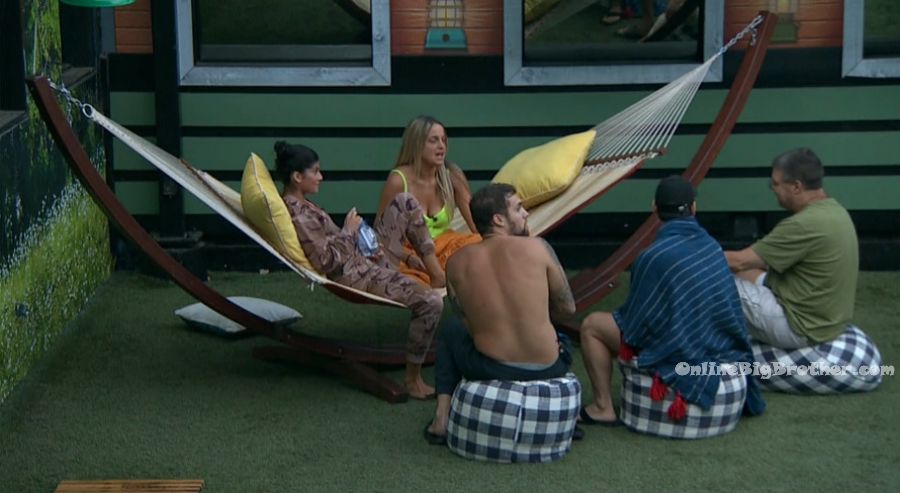 8:04pm Hammock. Tommy and Christie.
Christie – the Jess thing could happen but I am also having another thought that I am just brainstorming. If we want to do this six again with Nick.. like Nick is literally good with EVERYONE! And lately people are talking about him and Nicole going to a final two. Like a lot! But since we want to work with Nick..I would rather work with Nick than against him right now… so we need to start to disarm him. Like Nicole.. I love Nicole. Tommy – I think it should be Cliff instead because Cliff is weaker. I mean Nicole is weaker. Christie – Michie wants a girl gone this week. Tommy – then I would do her. Christie – but I don't care. I would pitch it like you pick .. Jess or Nicole! But putting up Nicole forces Nick to have to show his side. Because if he votes to keep me then ..boom! He shows his loyalty and I stay. If he takes me off it is going to look like its a blatant plan to get us all back together. If he takes Sis off it just looks like he feels really bad about putting up Sis since she doesn't deserve to sit up there but we still look like I'm his target. And it will force Nick to have to choose. If he picks me, then fine whatever we move on. If he votes to keep Nicole then it goes to a tie and he (Jackson) breaks it but Nick would not want to be against us going into next week. Tommy – smart! Christie that's genius! Christie – Nick literally thinks he has EVERYONE and we need to disarm him. Tommy – you keep someone in here that Nick is against (Jess). Christie – it would be a dream come true! Like America would eat it up! Tommy – I think he is going to need some guarantees.. would you be willing to go up as a pawn once we get down to the seven? Christie – it depends on against who? Tommy – whoever is left .. Jess or Cliff. Christie – if I knew I had the votes, yeah. Tommy – You might have to do that if we get to that position. Christie – its life or death for me right now.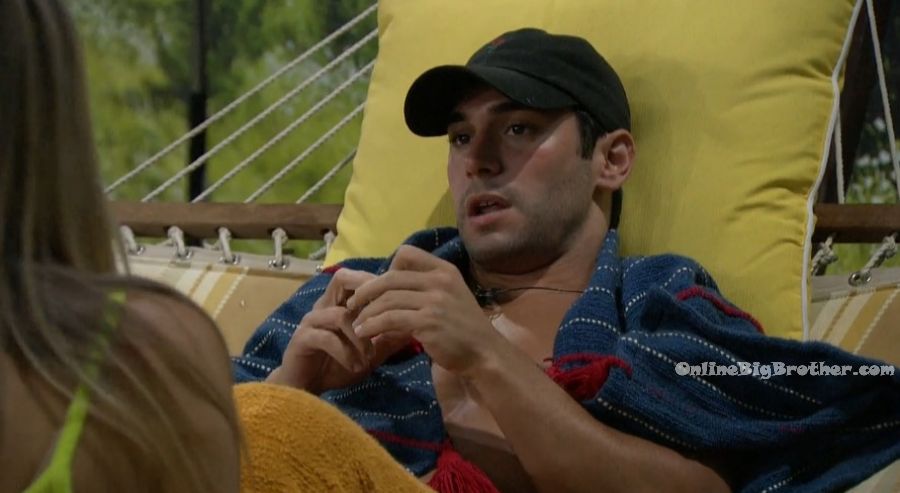 8:15pm HOH room. Jackson and Holly.
Holly – Christie or Sis .. one of them said to me today that if Jess wins she is going to put up Nick and Jackson. Jackson – well if she does, then she has lost my vote and my respect. Holly – which is so weird because then it makes me question everything else she said. Did she or did she not apologize for what she said? Jackson agrees. Holly – and then she went right immediately to Christie and Sis. And was like Holly asked me why I would tell you stuff in confidence. Jackson – she is painting a massive target on her back with a lot of people. Holly – yeah. Nick scares me a lot. Especially since I talked to Sis and Christie today.. they are pushing hard for the five of us together .. they really want to but they also want to add Nick as a six. And that worries me a lot .. and yes I agree with Christie in a sense that it is better to be with him than against him. Jackson – but not with Sis and Chris. That's lethal .. that's sixth place for me. Holly – and fifth for me. Not meaning we will get farther against them because that could bite us in the a$$. Jackson – that's a risk I am willing to take. Holly – and I think that Nick and Sis definitely have something. Jackson – Nick has something with everyone! Holly – true. But Nick for selfish reasons wants to also keep Sis in the game. When Chris was talking and said you can use me to your advantage .. I'm like yeah you're just reminding me of how dangerous Nick is. Jackson agrees. Holly – I see through his (Nick) sh*t and I can't hide it. Sis does too but realized that she has to flirt with him. Kat did the same thing and it killed her. Towards the end of her time here she said it makes her sick what she had to flirt with Nick to keep him on her side. She was acknowledging how gross it made her feel. Even if you weren't here I wouldn't do it. I would never be able to make a deal with him or trust him.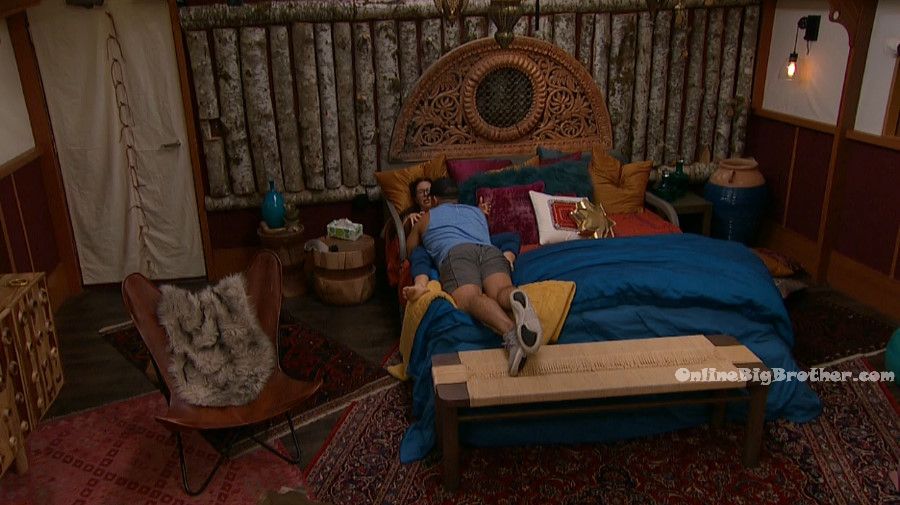 8:23pm – 8:44pm HOH room. Tommy, Sis, Holly and Jackson.
Tommy – I wanted to check in with you about the potential plan that was brought to you and wondered what you thought. Jackson – to be honest I haven't given it much thought. I was going to get through a workout. Vlog .. and then. Tommy – yeah, at some point I wanted to talk you about it. It doesn't matter which you choose. It doesn't change anything between us. No matter what. Jackson – for me and I expressed this to Christie .. she can beat me. Do I think she could help me in the next few weeks… yes but then comes the extent of in the next 1-4 weeks where do I fall in the scheme of things in terms of where her loyalty lies. Yes she might be able to help me in the next few weeks but it comes down to who wins HOH first. And I don't know if I truly will get his opportunity for real. And I don't know if I could go toe to tow with her in the next few comps that we haven't had. And I know her strengths. I know she is very close to you and you and I know when it came down to it .. it would be me first. Tommy – wasn't that part of it that she wouldn't be able to? Sis – once we get down to a certain point is everyone for themselves. Tommy – with an army we can get two more weeks definitely. Christie can beat Cliff and he scares me. We have some strong players in this house and we have to get them out together. Sis – you really can't do anything in this house without numbers and without Christie we don't have the numbers. Tommy – you ask for whatever you want and I guarantee she (Christie) will agree to it. So ask for whatever you want. Set your guarantees. Tommy – I promise I will do whatever I can to protect you. Sis – same but I need to start sinning comps.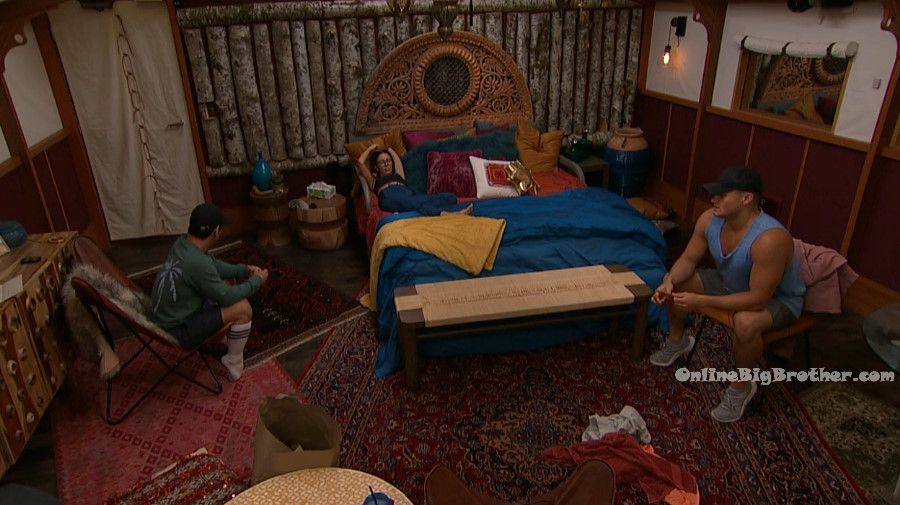 8:44pm – 9:20pm HOH room. Jackson and Holly.
Jackson – I think they're scared because they're scared because all they have are six-shooters. I think they did too little, too late. They put all their eggs in one basket .. and didn't even consider having outside relationships. I think as long as Tommy is in the house he is a bigger threat. Jackson – if I take her (Christie) off the block it exposes everything. Holly – The only thing I worry about is if Nick wins HOH.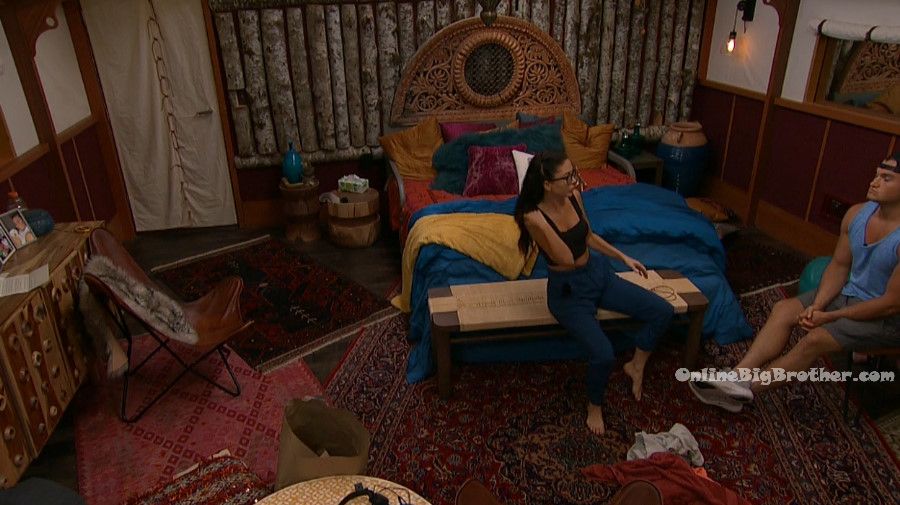 9:25pm HOH room. Nick, Holly and Jackson.
Nick – fun fact .. Jess said that me, you and Tommy are in an alliance together and have a final 3. Holly – Nice! Jackson – are you f**king kidding!? Are you f**king kidding!? This chick is asking me to use the veto! And change the noms! Nick – She told Cliff and Cliff told me. Holly – WOW! Nick – dude she is dumb bro! Jackson – she is f**king asking …like begging! Holly – she is losing her mind. Nick – she is literally trying to get me up as a replacement nominee. Jackson – She is f**king Holly over. Nick – how? Holly – She is telling me sh*t about the girls and then running to them and telling them sh*t about me. I am like .. could you not!? Then she came up here and apologized for it and then went back to them and said Holly just admitted to it. Nick – Cliff didn't believe it but all she does is drag me. I can't wait to put her up next week. He said if you put her up next week I will vote her out in a heartbeat. Jackson leaves to go to the diary room. Nick and Holly continue to talk about Jess. Nick – I've been trying to get her out for weeks. She is so emotional ..she is dangerous. I'm scared of her.
Jackson and Cliff. Jackson – Nick just told me and hasn't told anyone else. Cliff – she told me one time and that was it. And I don't think she said it like she knew it. She just said it like she was throwing out stuff. Jackson – I don't have anything with anyone. I am just up there with Holly .. and I don't even have a final two with her. Cliff – its just her conjecture more than anything else. Jackson – no, I just wanted to let you know directly. Cliff – that was actually yesterday early morning before we even talked. Jackson – she (Jess) is throwing Holly under the bus going back and forth to the girls. .. and she is saying this about me. We haven't had the veto ceremony nomns.. its still not locked in. Cliff – I told Nick .. he is worried about Jess coming after him. Jackson – I would be too if I was him but now its.. Cliff – keep it quite. Jackson – I am not saying anything.. I'm on my own. I will let them duke it out.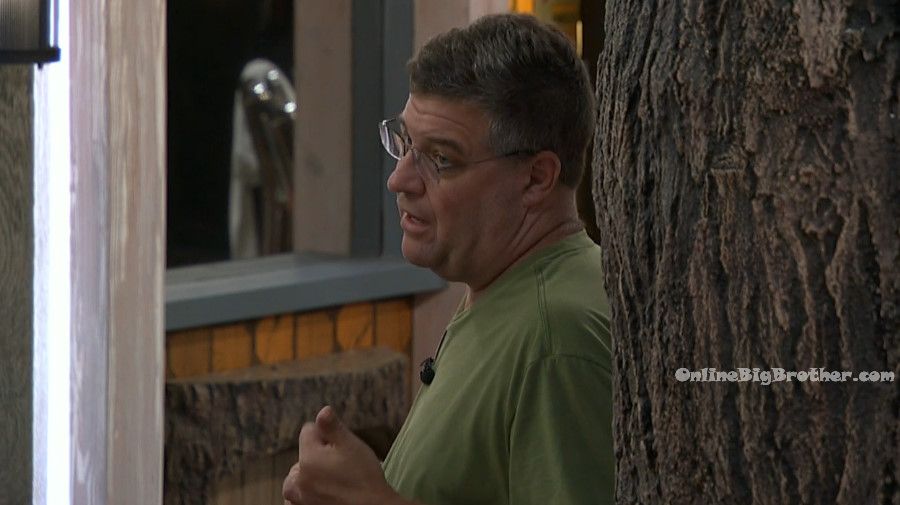 9:50pm Bathroom. Christie and Jess.
Christie – I think Nick is upstairs with them. Jess – I just wish there was something we could do. A deal or something. Christie – they're not going to put Nick up. There is more of a shot at them putting up Nicole, than Nick. I don't think they will put up Nick ..they're working with Nick. I am going to sleep on it tonight and wake up early tomorrow ..hopefully with a plan and hit it hard. Jess whispers something about wanting to push to get Nick up as the replacement. Christie – I don't know if Nick would go home over me. I don't, I really don't. Jess – that is f**king ridiculous. Christie – Nicole and Cliff aren't going to vote out Nick. Think about it.. they know you're gunning for Nick. They are not going to let Michie be the only male threat left in this house. They know .. why would they have to take a shot at him.. if you would. Do you know what I mean!? That's a fact! That makes sense. There is more of a shot of them putting up Nicole over him.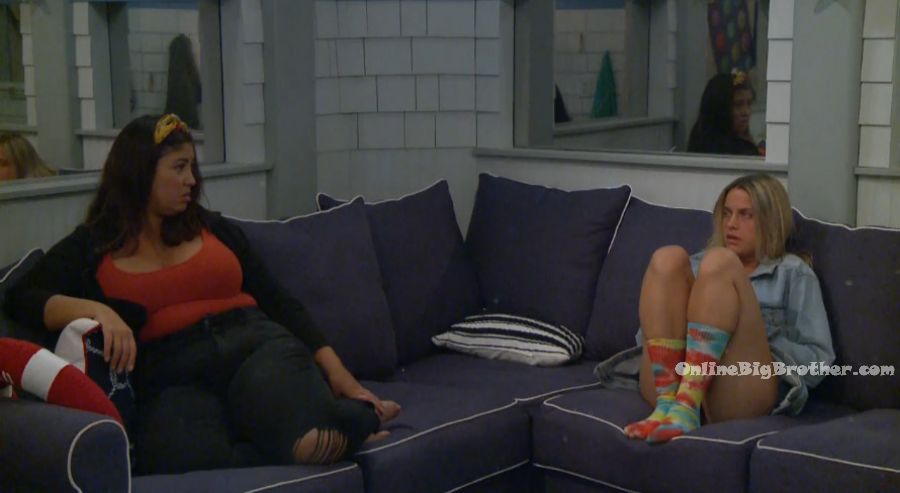 10:30pm Big Brother tells the house guests to check the storage room. They house guests think they got alcohol. When they race into the storage room they realize its just cookie dough. "Since you're here for the dough, here you go now show us how you decorate a handsome Orwell."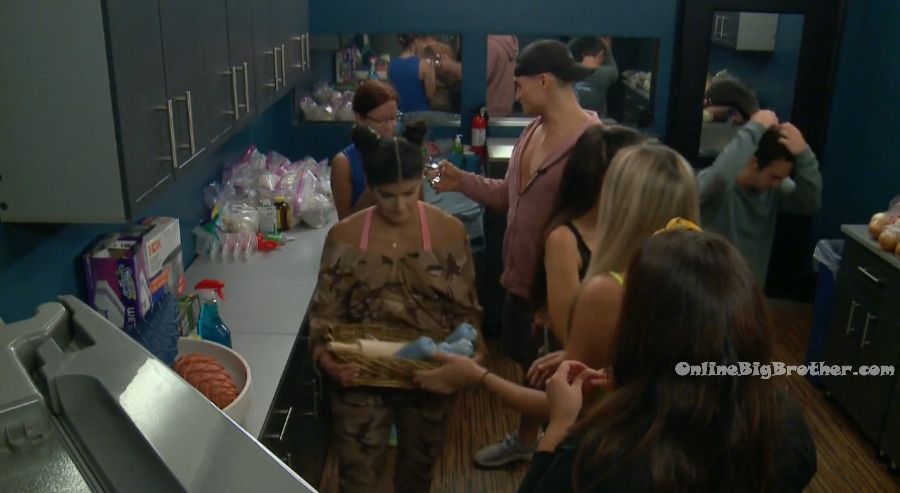 10:30pm – 12:40am The house guests make, bake and decorate the cookies.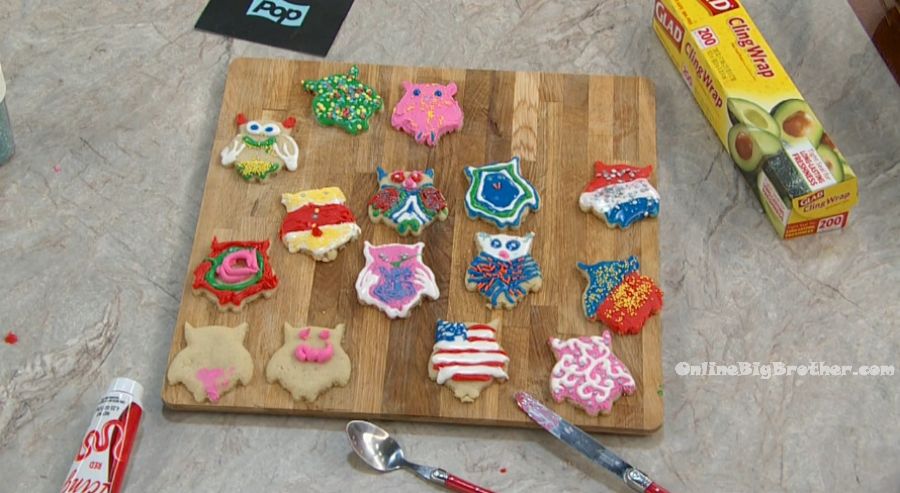 12:45am The house guests are hanging out in the backyard chatting..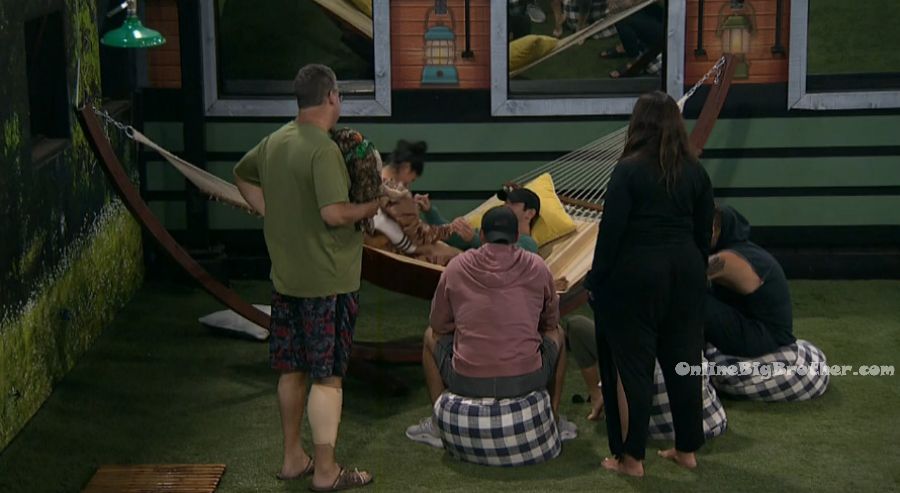 1:03pm – 1:45am HOH room. Jackson and Christie.
Christie – I know you spoke to Tommy and Sis today ..we and I would literally love to get the gang back together… even if its just to get us through the next couple weeks. I feel like numbers wise it makes sense. I obviously want to be here. I started to observe groups and trios in the house and as much as I have had a love hate relationship with Nick and I want to work with him for now … he is.. Jackson – hustling! Christie – working with EVERY SINGLE PERSON IN THE HOUSE. He has Cliff, Nicole, Tommy, Sis, Nicole .. he may have you .. I don't know. Me, Jess and Holly are the only people he does not have. It scares me and kat dropped a bomb on my .. Nick is going to go to the end. If you were even to consider using it on Sis as a you don't belong to be up there type thing.. I look at how is left to go up. That leaves Jess, Nicole and Cliff. Jess, I personally like Jess. Jess wants to take out Nick. They talk about the things that Jess is saying. Christie – Nick has everyone in the palm of his hands. Then I look at Nicole and she is literally like perfect. But she is not a threat and she's not winning comps and we feel bad for. She is Nick's greatest ally. Jackson – whatever happens this week is about taking the personal and setting it aside. You're on the block because of how much I respect your game play. Christie – I see you in a different way too. I respect you ten fold. Jackson – its mutual. Christie – sleep on it and do whatever is best for you. I will give you my word.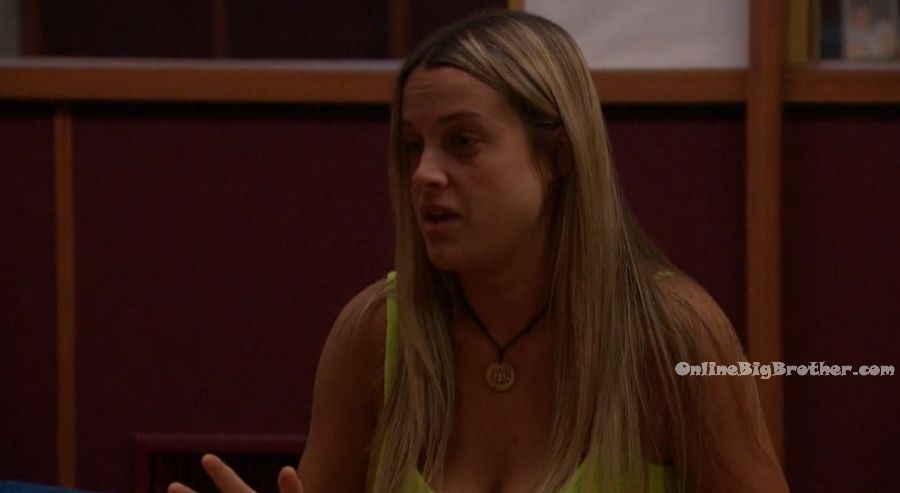 SHOW your support!
If you are one of the generous people that donate to help keep the updates coming, we're giving out a bit more this year. Check out this page for more details: OBB Members