Head of Household Winner – Jackson
Have note are:
Nominations are: Christie & Sis
Power of Veto Players are – Christie, Sis, Jackson, Nick (Christie pulled ), Holly (Sis pulled), Cliff
Power of Veto holder – Jackson
Power of Veto Ceremony –
Grab your live feeds —-> BB21 Live Feeds Subscription Link
Rank your houseguests —-> Big Brother 21 Ranking
11:40 am
Christie – I'm in the mood for Chips.. in the mood for garbage.
Christie – I'm going to sit here and eat f*ing chips.
Just random chit chat around the table.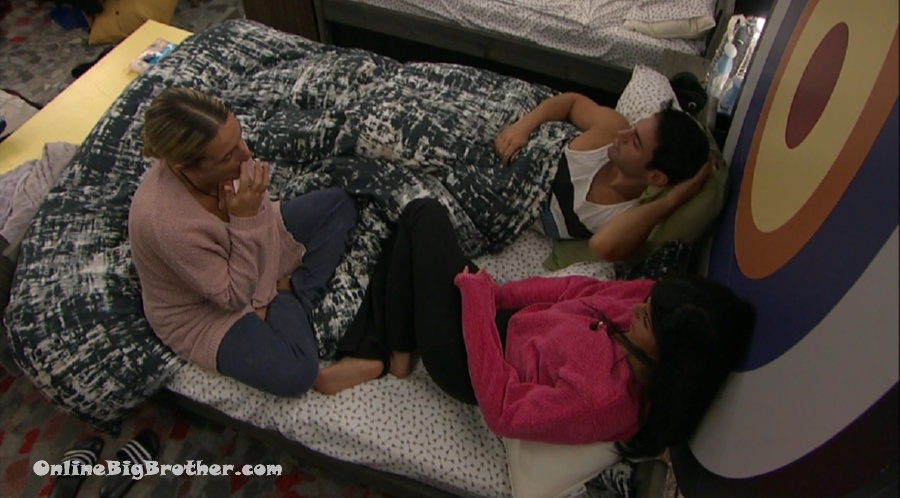 midnight Tommy, Christie and SIS
T – Christie I love you and I'm really sorry
Sis brings up her conversation with Jackson earlier today. "He told me he didn't owe it to me because of what he heard in camp comeback and because right after the big blow-up with Jack he just felt really alone. he didn't owe it to anyone to tell what he was doing"
Sis – then he was saying how.. he put me up knowing you would go home against me I was just like I get it but why would you put me up against someone… I mean I wasn't throwing you under the bus.
Sis – I was like why would you put someone on the block that made a deal and left you out of it.. he's like I know I get he would have left up against Christie. (I think she's implying Cliff, why didn't Jackson put up Cliff)
Sis – I was saying it just sucks because we could have all been in a 5 person thing and totally had each other's back and now it sucks because if we still wanted to or something like now it's hard (LOL) down a number I lost someone.. I'm losing a number, Tommy's losing a number, Nick's losing a number, You're losing a number and he was like I KNOW but that's just the risk I'm going to have to take
Sis – I pitched to Tommy maybe the deal or something. Tommy thinks it's worth a shot
Tomm y- I think so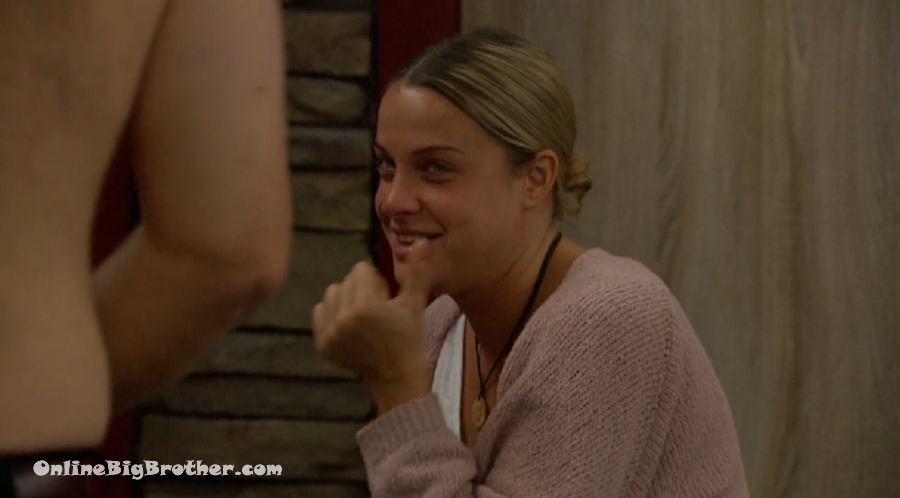 Christie – I was encouraged to. I had a dream and GOD suggested that
Tommy – really
Christie – Like hard, Like a big message I went to sleep and not sleep my medatation.. and I was told by my spirit guide umm.. why the hell would you just give up you are amazing at this game you need to .. you need to talk to whoever is in charge and you need to turn this around if anyone can do this it's you
Sis – when you took a nap today did he come back
Christie – yeah mmmmhhmmm it was a different Spirit guide to. it was two-spirit guides and they both told me that I have the power to change this
Sis – you do, be careful the way you say it
Christie – I'm not expecting anything the way I see it I am going out this week and that's fine. I can't just lay down and take it I have to fight I just don't know the route i'm going to take
Christie – I've been trying to just be cool with them and civil and friendly ad much as I can without being phony
Sis – he sees you as a really big threat you have to convince him that you have his back.
Sis goes on about how Jackson thinks CHrsitie is the biggest threat and strongest player socially in the game.
Christie – these are all assumptions I haven't made any big moves. I haven't convinced anyone to do anything
Sis – that's just what he thinks
Christie says the only thing she's done is "get Bella on teh block but that was to save him and Jack" (He had the veto so not really)
Christie – he's not taking one of us down
SIS – you don't know that if you can come up with someone good
Christie – the only person is Nick..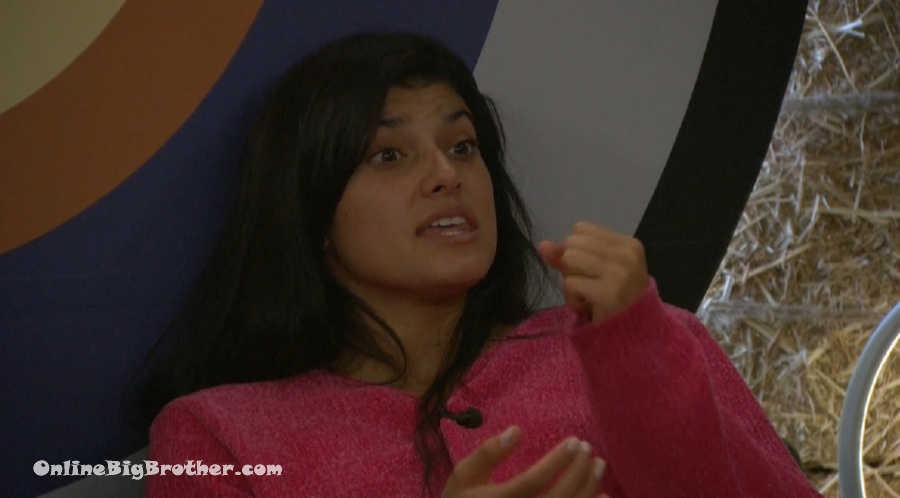 Sis – you don't need to convince him who to put up you need to convince him to get us back together.. like you would really have his and Holly's back
Christie – I do believe I can do it. I just don't want to be a sellout and work with these people it sucks
Christie – I can't be the only one pitching this on my own
Tommy – you won't be
Christie – what is he saying to you. . you've been talking to him?
Tommy has brings up nothing new.
Christie brings up talking to Jackson "I get it I get your noms it's a game it's not personal I just don't want you to think I was crying and sobbing because you beat me congratulations. that's really the only communication we've had"
Sis pushing for Christie to fight "you know how much pride I had to swallow to talk to him"
Christie – I know I will do it
Christie – then what I win HOH and put up who?
Sis – then don't win it. If you stay no one is coming after you. I'll try and win it
Tommy – I'll win it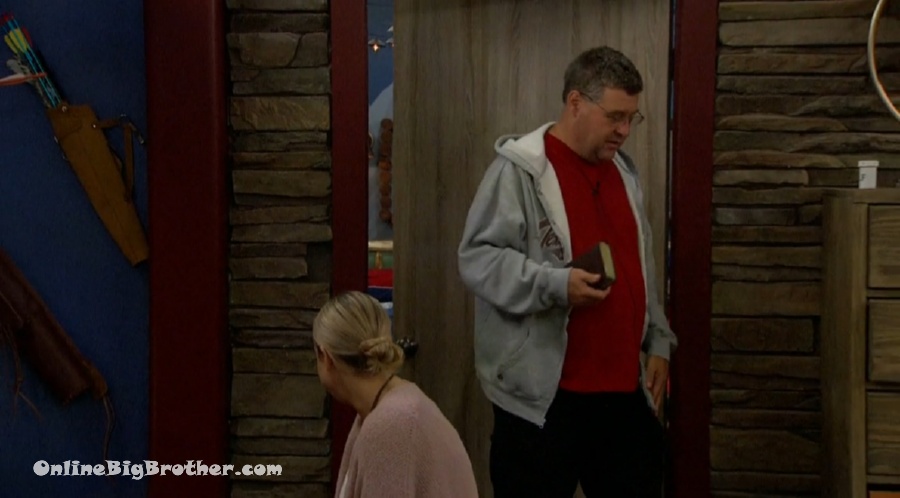 Cliff waddles in holding a bible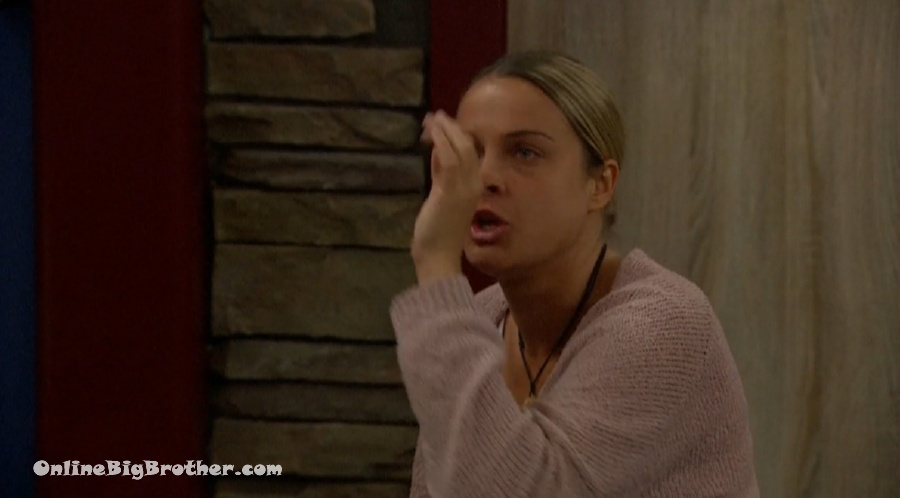 Christie starts crying "I did my best all my heart and soul into I can't be mad at myself or anything like that"
Cliff – when I talk about the game I see the same thing in you, The Joy
Christie – I am obsessed with this game. I said I would give up my whole 500 thousand dollar prize if I knew I could come off the block.. If I know I cold stay another week cancel the eviction this week and just be given just one more chance and even if I win I get no money.
Christie – I would give it all up, I don't care. No I'm fine I really am just going through the motions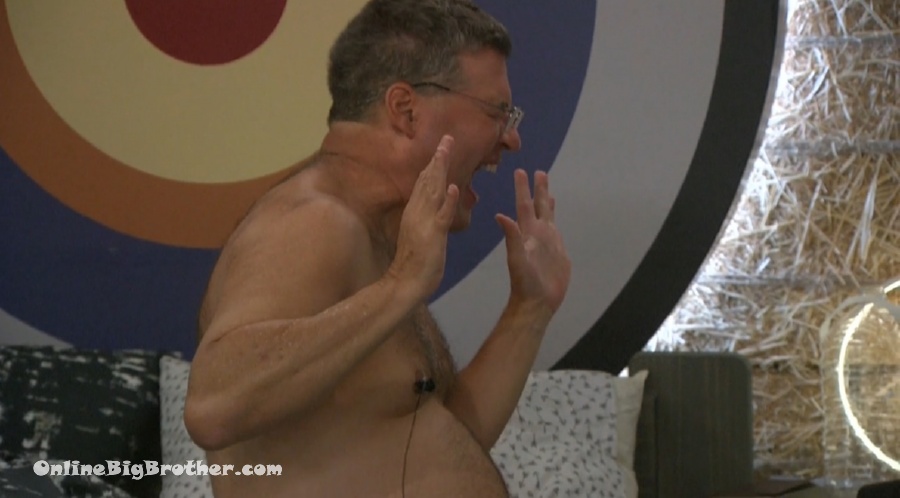 Cliff attaches the microphone to his hairy chest they all laugh. Christie and Sis leave to go to sleep in the RV
Cliff now attaches the microphone to his nipple.. ouch.. "it's too tight"
Sis and Christie come back in. Cliff tries again
Cliff – it hurts how do you all do that stuff.
"it's too tight.. it hurts how do you all do that stuff. " #BB21 pic.twitter.com/xQPHefXqef

— OnlineBigBrother.com (@bigbspoilers) August 18, 2019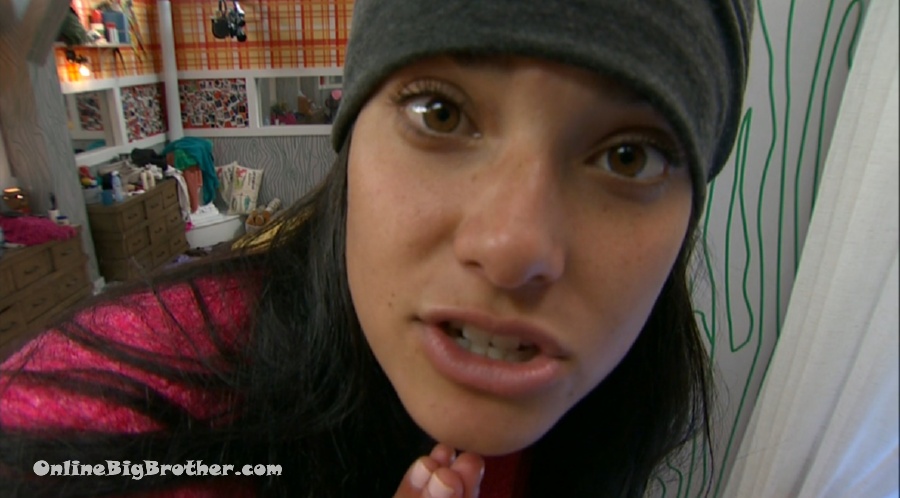 12:23 am Sis, Jessica, and Christie
Sis – HEY you America please give us a power, please.. America gives us the power I beg you Give us the power it's so good I love you America.. give us a power, please.
Sis – A wacktivity power, please.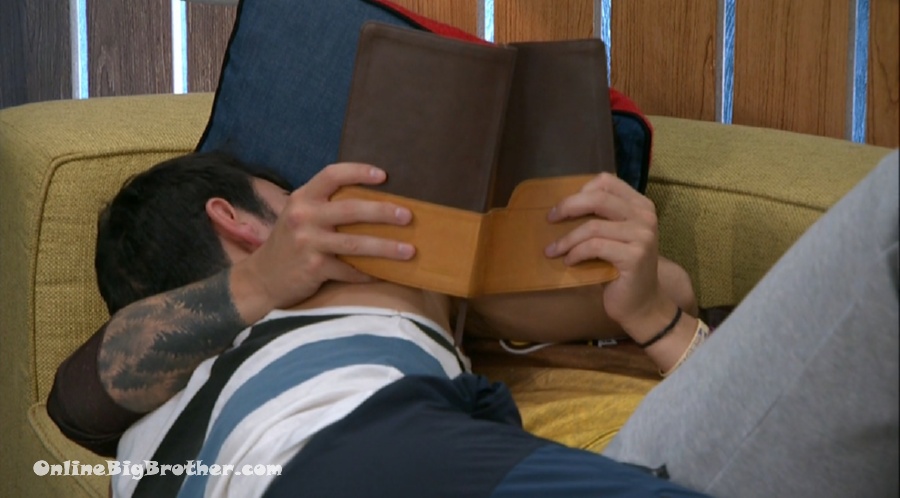 12:41 am Cuddling on the couch reading the Good book.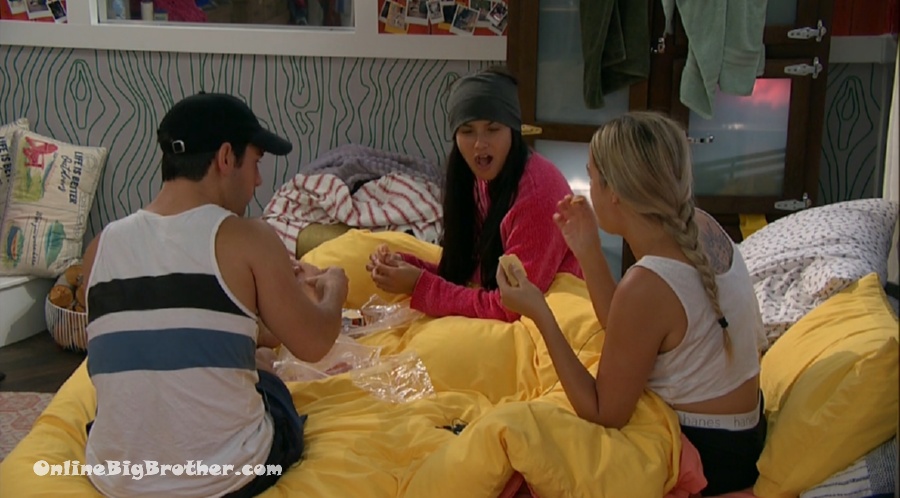 12:57 am Feasting on process cheese slices and deli meats. Chit chat. Christie asks the cameras for another power.
For the next hour, we just have the houseguests running around chitchat. Nothing of note. They are all sleeping by 1:40 am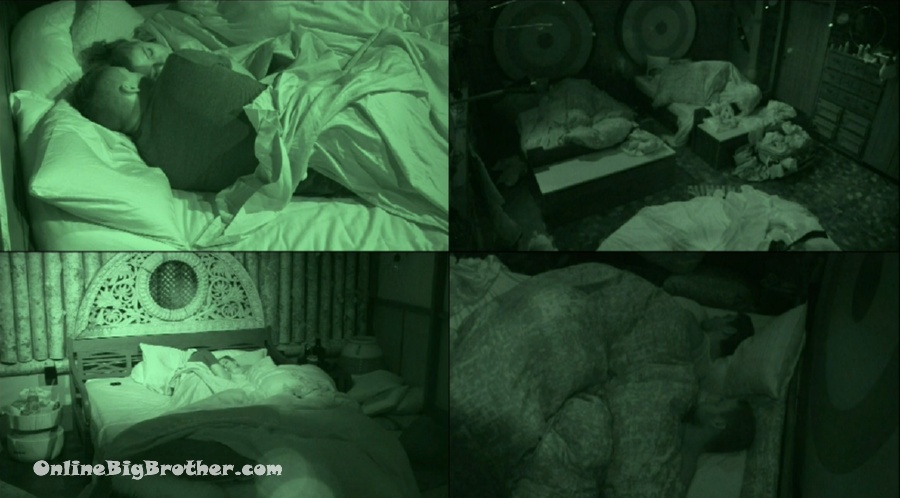 5:13 am Zzzzz

10:23 am Cliff talking to his wife.. Says he's assuming there are 39 days left.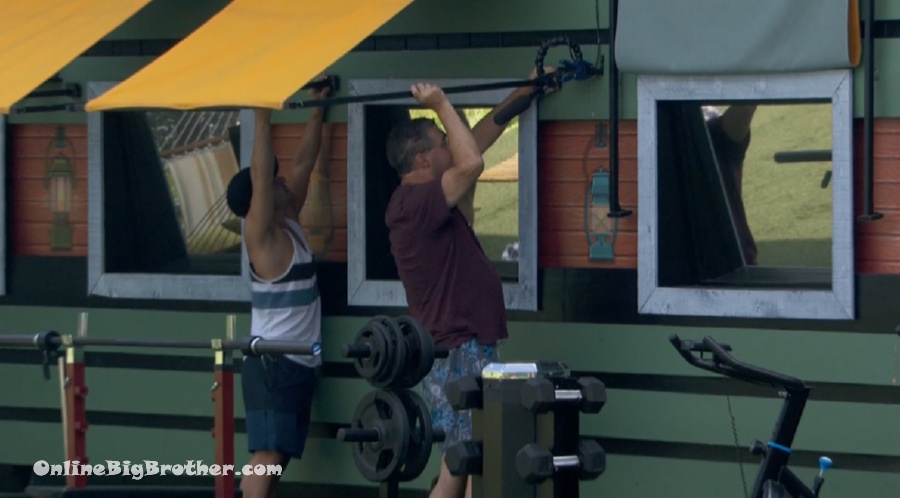 10:35 am CLiff and Tommy
Cliff – Hopefully casual day hanging out and getting back into a good place
Cliff – I had a horrible dream I was out of the house going back to work. I walked into the office I was amassed because my computer and phone were still there. I was thinking oh my gosh do I still have a job
CLiff – but then when I walked in I didn't recognize anyone there and no one knew who I was
Cliff – and then the one guy I recognize 'you gotta be really careful'.. I was What's going on?
Cliff – He's saying watch out there are people out to get you that B1tCH Hallie the new computer girl
Cliff – and it was Hallie from last season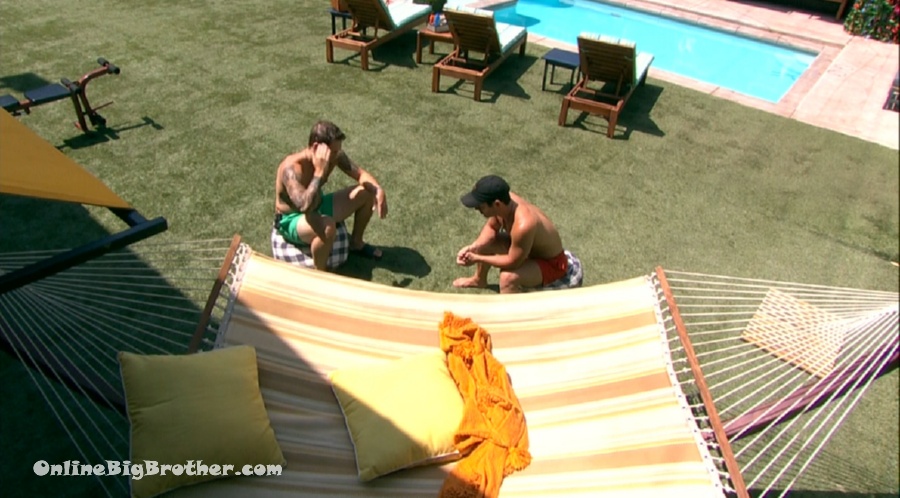 11:26 am Tommy and Nick
Tommy says it's scary because he's felt so protected because he's had these two girls
Nick – that's how I was with Bella and Sam
Tommy – I totally get that
Nick says he wants Jess out next week he doesn't know who to put up against her.
Nick – I knew she was talking to Christie about me.. I was lip-reading.
Tommy – nothing is happening..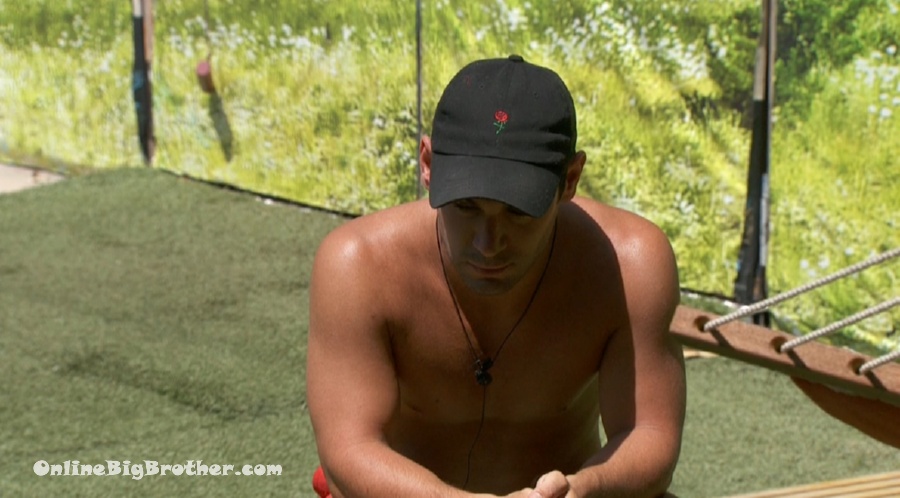 11:47 am Tommy
Tommy- the three younger guys need each other at this point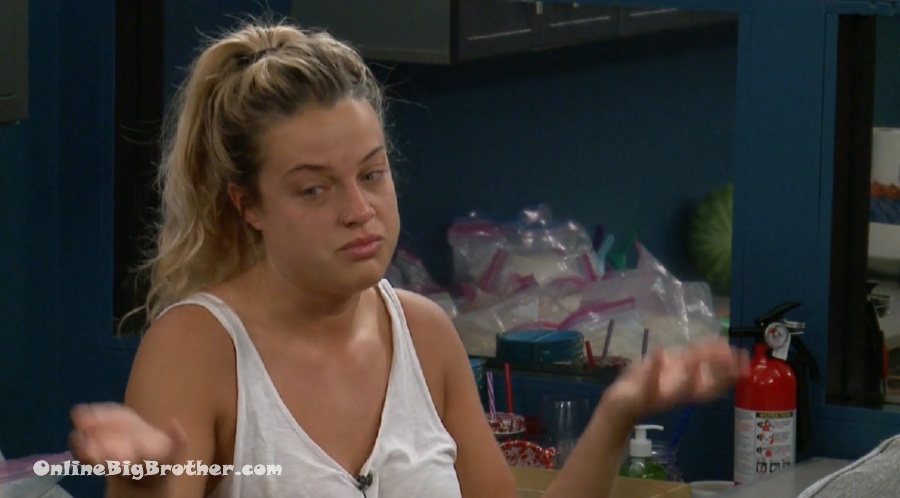 11:56 am Christie and Jackson
C – of course, I'm upset this suck.. You are a competitor I respect you .. I do have regret
C – I would have loved to play this game with you and I just wanted you to know that it's genuine
They respect each other in the game.
They hug it out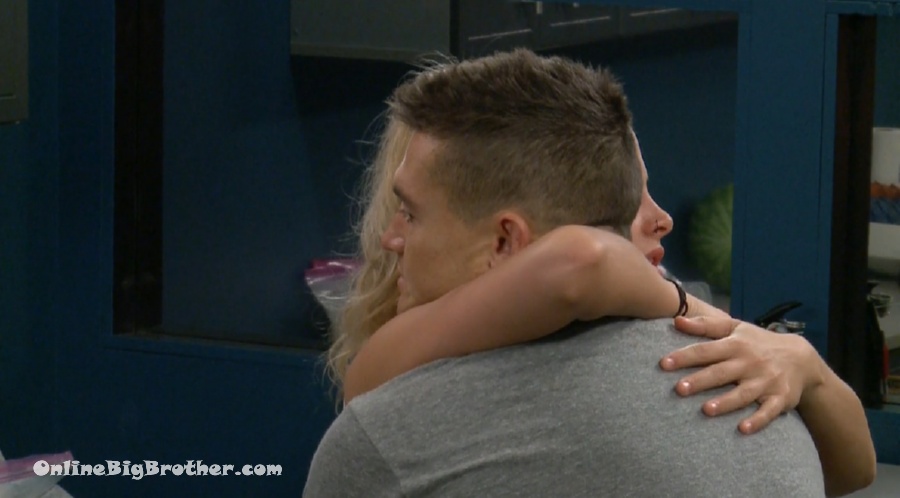 Christie starts talking about a dream she about her grandfather he passed away alst year it was the first dream she's had of him since before the death.