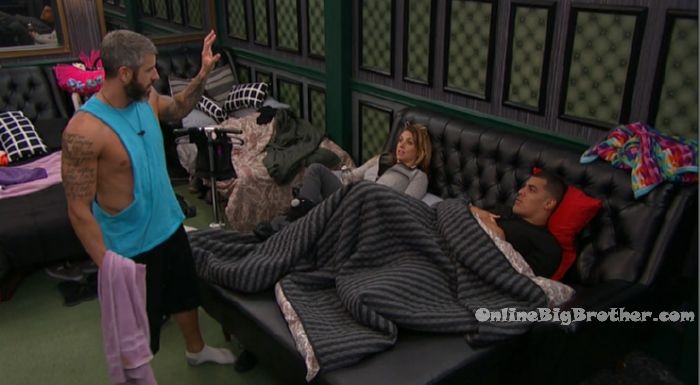 If you plan on buying anything from Amazon. Use this link Amazon home
Doesn't cost you anything and we get a small cut.
8:55pm Bedroom – Christmas, Josh and Matt.
They talk about how Kevin has being the rogue vote the whole season. Josh – I am just tired of confronting people. I am just going to start calling people out. I think I know who the second vote was but I'm not going to say because.. Christmas – obviously not us. Not Paul. It has to be out of the three. It has to have been someone who would have been with chaos. Christmas – I think it was an attempt for a split vote. But I'm the deciding vote and people know I wanted Mark out. I'm pretty certain they want Kevin out though. Matt – we just have to get Kevin on the block. Even if its just because its what the house wants with no intentions of getting him out. We just have to get him up there. He's the only one that hasn't been on the block. Josh – I feel like I'm going to be on the block. Matt – you're fine as long as its with Kevin. He could very well put me up. Matt leaves. Josh talks about how when he was in the bathroom, Jason wouldn't look at him. Christmas – I think they want to backdoor Kevin. Josh – I am just going to lay low and chill.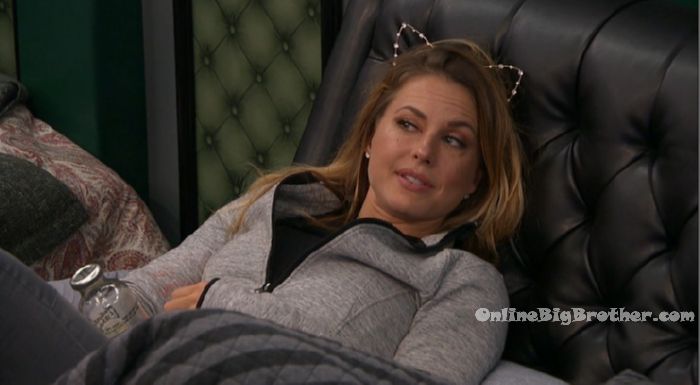 See what they can't show you on TV
Try the live feeds for FREE!
9:35pm Kitchen – Josh, Alex, Jason, Christmas, Paul. Josh – so we can talk about how we played them to keep me. Paul – yeah! Paul talks about how he overheard Jess saying they (Cody & Jess) deserved to be in the house and the others didn't.
11:05pm Bedroom – Jason – I am such a ball bag. Josh – I am such a cry baby. My whole family was in the living room balling when they saw that.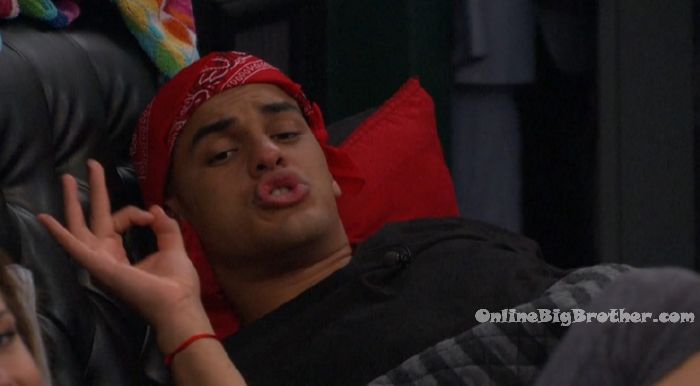 11:13pm Bedroooom Paul – she said it might be you… I mean you as in me. Alex said that to me. Kevin is freaking out. He said it wasn't me. I talked to Alex and she said Kevin is going up but we can't just put him up because he is going to freak out and be annoying. She said It might be me. It will either be me and you or and I don't think Jason would put Alex up there. Or maybe Josh. If he (Kevin) doesn't have to win he doesn't want to compete in anything.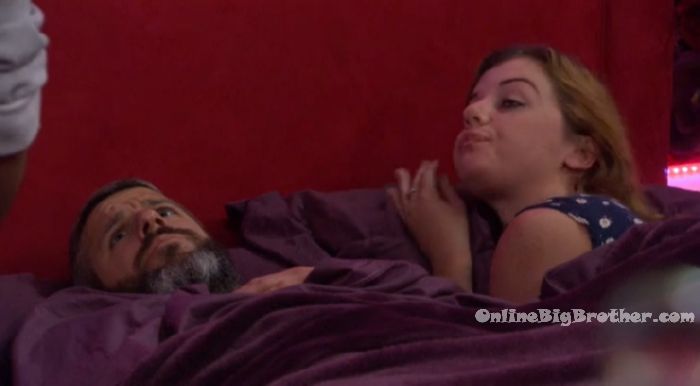 11:30pm Christmas – I don't think Raven was the rogue vote. Paul you think it was Kevin. Christmas – I don't think Raven would have chanced it. It wasn't Josh either. He wouldn't have chanced it being a split vote. Paul – I wouldn't have either. I really don't give a sh*t to be honest. Christmas – I don't think you and I have anything major to worry about. They already know that Raven is a pathological liar. I didn't think I would get this suspicious. Christmas – take someone with deep seeded trust issues and put them in big brother. Kevin joins them. Kevin -That foolish tree thing… How dose that work before nominations? You have to think and then be nominated. Pretty much nothing is good. You have to think and then be nominated? Paul and Christmas – yup. Kevin – its sort of ridiculous. Its literally nothing that is good. One you put a bounty so you're going to get nominated if you get it. Christmas – I feel like I am in a good position with them. Christmas – whenever I feel like I am in a good position I get put on the block. Paul to Kevin – when Raven walks by I'll ask her a question, notice how she doesn't have an accent.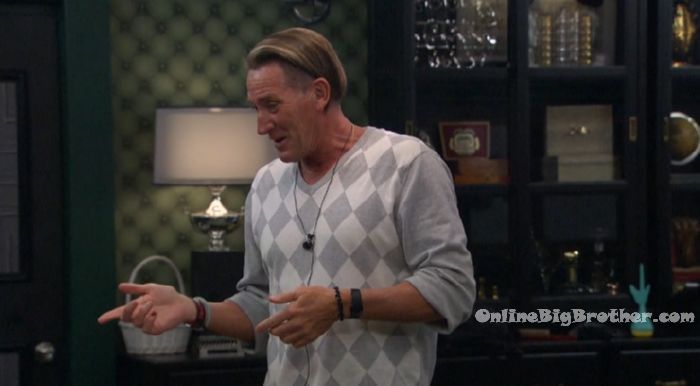 12:35pm – 1am
Jason – who wants to see my HOH room?! Paul – lets go see your fat wife! Jason – Lets go see my fat wife!!!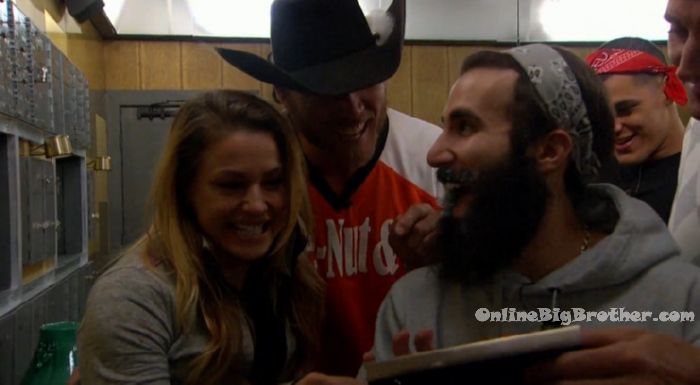 Jason reads his HOH letter from Frank:
Jason I've been getting down to the house often. The other day I came down and put hay out for everyone. I took Ike to give Ollie the rest. We had a hell of a good talk. He told me how to drive the tractor and where to put the hay so if we messed anything up, its on him. When Ollie saw us he came running through the fence. He let us scratch on him for a while. I think he is missing the scene so I am taking him to the next rodeo I have. I got the studs moved shortly after you left and that went about like you can imagine. My last resort was to ride my mare out there and I was fairly certain one of us was going to be bread before it was said and done. See ya buddy, Frank
FLASHBACK and watch everything you missed: Live Feed 7 day FREE Trial!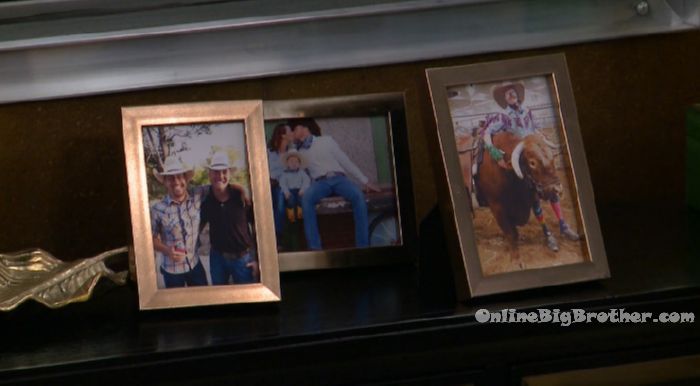 1:18am HOH room. Jason, Paul, Kevin, Alex, Christmas and Josh.
Jason – this is it! Those two (Matt & Raven) motherf**kers can go pound sand. I am so done listening to those dumb motherf**kers. Paul – you don't want to create enemies of them. Jason – yeah I don't want it to be weird, lets just get along and have a good week. Paul – tell them I have a bigger plan. Paul talks about how Raven was talking about a reality TV show. She actually knew about a topic for once. She was explaining it and she had perfect English… no accent. I want to call her out. Paul – and then when you walk in there (bedroom) she pretends she's sleeping. Jason – she riding him like Zoro. Christmas – she's catching feels for him. Jason starts talking about bulls. Paul – can you eat bull meat? Jason – Uhhh.. yeah what do you think hamburger meat is?!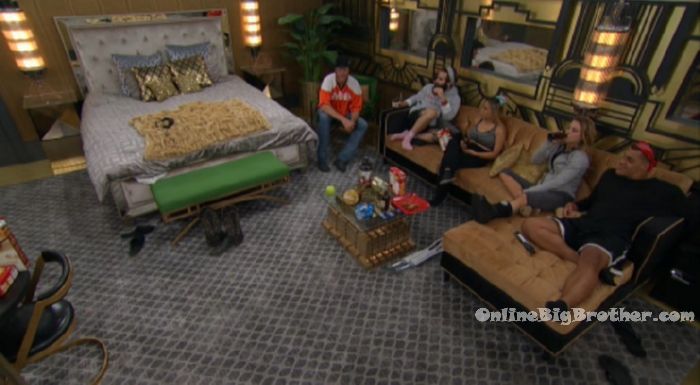 1:45am Jason – no one wants to be the first one to say it because you don't want to be seen as insensitive. Because trust me, I was like oh man that Raven … the first few days I was like that sucks. The poor girl. Terminal illness, can't eat what she wants. Trying really hard. She is so positive. And then I kept watching her – this dirty little b***h. She is full of sh*t!



But I was like, I wasn't going to say it. They were like what do you think about .. and I was like na ..change of plans. I ain't packing her around on my back no more. Instead down there eating beef tacos, beef jerky. Josh – does she eat beef tacos? Christmas – yes! Paul – she can't have red meat. Christmas – she can't process it. Kevin – she takes cookies and puts it in the ice cream. Jason – cookie dough, blocks of f**king cheese, eggs.. Christmas – she said she's lost weight here? Jason – she's gained 20 f**king pounds. Paul – she calls me fat. Jason – have you looked at her a$$ lately. Its twice the size now.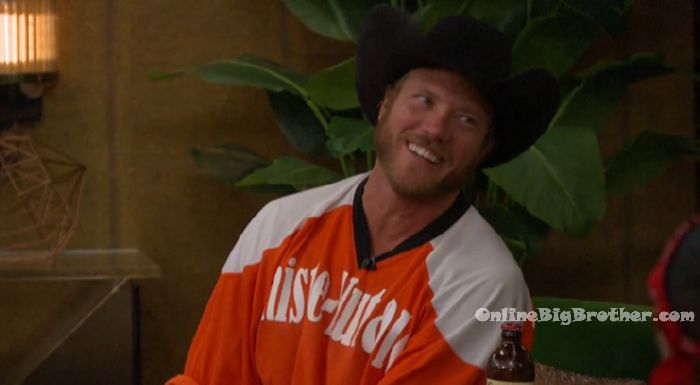 2am HOH room. Paul and Jason.
Paul – Just tell them what they want to f**king hear and be like I'm backdooring Kevin. Because they ain't going to say it. Jason – yeah. Paul – Just put them (Matt & Raven) up there and then whoever we want gone. Alex plays in the veto, I play .. we pull one of them off. Jason – Matt or Raven, I don't really f**ing care. WHich ever is the better competitor. We vote the other one out and you you say that's not what you wanted. That way you don't have bad blood with either of them. Or you could sh*t on them. Jason – I'm not going to shit on them. The reason why I would rather send Matt home is because she would lose it without him. They talk about how they think Raven was the swing vote. Paul – I just don't get it. Am I being f**ked. I don't even feel that comfortable. They're either that gullible or we're not seeing something here. Jason – I guarantee there is no way all of us are not seeing it. They're f**ked. And they're ignorant a$$ clowns for not knowing they're f**ked. I has been a systematic shooting of the showmances.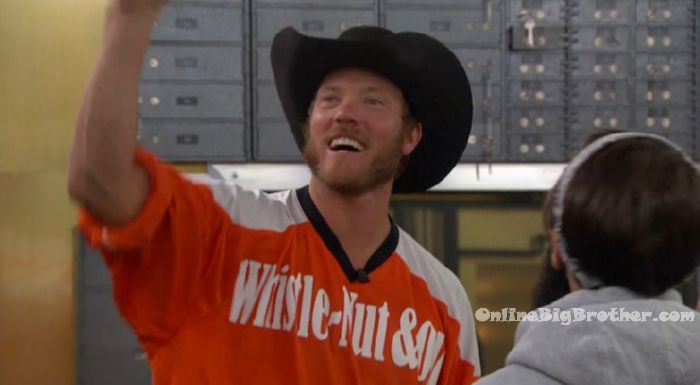 Jason – if you, me and Alex consistently win HOH we got this. Paul – the only thing that could f**k us is a luck comp. We just have to take it week by week. If we can make it till five, we've got this. Jason is worried if Christmas won HOH. Paul – I could convince her (not to put him up). I can unf**k a situation. The only people I couldn't do that with is Matt and Raven. Just convince them that we're backdooring Kevin, make them feel comfortable. Send one of them packing and you don't have to care about what that one thinks. The other one you can win an HOH and mend that relationship if you want.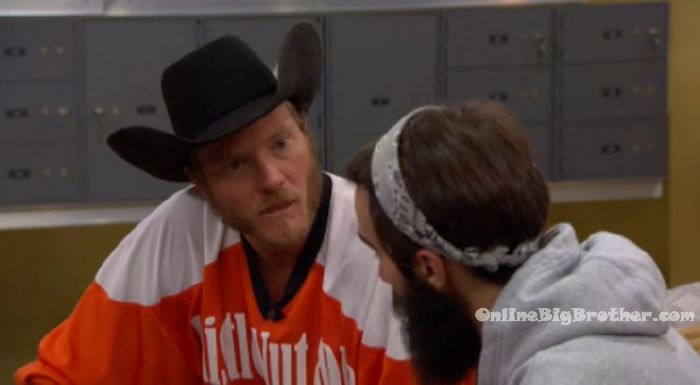 2:44am Josh and Christmas
they're excited because Paul told them they are not going up it's Matt and Raven.
Xmas- we need to win HOH and take a shot at them..
Xmas – we need to beat Alex and kevin
Xmas says Alex and Jason don't think they are in the game, "they think we're just hanging out"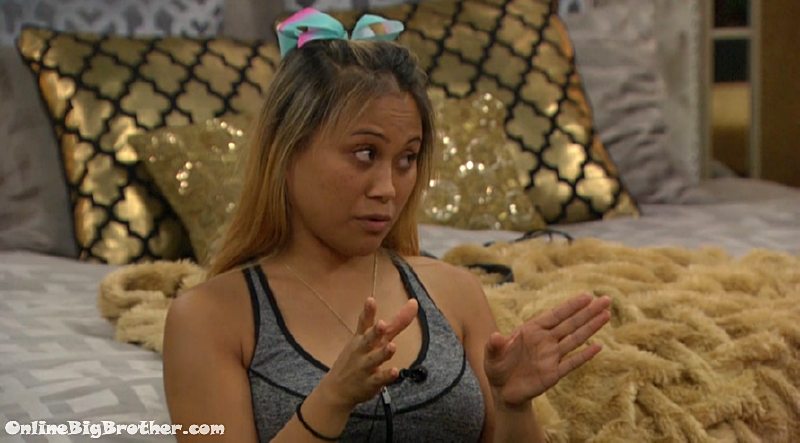 3:00am Alex and Jason HOH
Alex – did you tell Paul it was you and me with the rogue votes
Jason – did I tell Paul
Alex – no, did you tell Kevin it was me and you or just you
Jason – I told him it was just me
Alex – he went to paul and said it was Alex and JASon they are trying to stir trouble..
Jason – just f*ing listen to me I'm not lying to you, right after the thing (HOH) in the storage room he was like it wasn't f*ing me..
Jason makes it sound like Kevin was panicking "I'm telling you i'm telling you it wasn't me.. I'm telling you, it wasn't me, it's wasn't me I promise you, I swear to you "
Jason – I told him it was just me, I said Kevin I know one of them was me and I'm pretty sure the other one was Alex.
Alex – Ok fine.. Paul was like he's throwing out both our names
Jason says he later went to Kevin and said the other vote wasn't Alex it was Raven "You better shut your f*ing mouth"
Jason – it was an act of god you got Paul reeled in (ZOMG)
Jason – I mean you f*ing crushed that thing
Alex – what happened was, we had Cody, Jessica and Meghan to thank what happened, they were the clear targets.
Alex – I was going to coast by like Jillian, Cody for some weird reason had a hardon for me and You
Alex says once Cody tried to nominate Paul week 1 he never trusted any of them but he say her compete in the POV.
Alex – he said seriously I need to congratulate you because that was me last summer, that's what happened to me..
Alex says after the Candy Crush HOH, "I was the one that let him (Paul) step in front of me to win the game)
Alex – that's when he knew he could trust us
Alex – the more we work together in the game and the more he see us as friends he's not going to vote against us
Jason – he's not he's not going to vote against us (The Dear leader only loves us)
Jason – I 100% believe it
Jason – I told him dude you, me and Alex are unstoppable
Alex – I'm not going to be an Elena, Cody or Mark i'm never going to flip on you
Alex – there's no two people I would rather loses to in this game other than you and Paul
Alex says if Paul or Jason win HOh it's the same as her winning HOH.
Alex – we have to put plans in place so we're all protected.
Alex – so this week IF MATT GOES HOME we're going to throw another rogue vote to kevin so that they can't tell it's not me or Paul so if one of us makes it we're safe.
Alex – we're going to run outta people soon. That's why we need to keep the people that will be less dangerous at the end, they'll roll over and let us take over
Jason – that'll be Josh and Christmas
Alex – do you see
Jason – I've always saw..
Alex says the worst case scenario is if Kevin, raven or Matt wins the POV
Alex – I think Josh knows what's right he'll put up Christmas or raven (HAHAH)
Alex – Or RAven will put up Josh.. or whatever vice versa
Jason – yeah..
Alex – I'm getting excited because we're getting close to the end, we just need to hold it together
Alex says pre season interviews she said her plan was to team up with the tallest guy in the house he can win the tall competitions she'll win the short ones.
Alex – Mark, no offense to him, looked like a tool bag
Jason – yeah
Alex – Kevin, looked too old. You win
Alex – but, I got f*ing lucky. Everyone says I'm carrying you but you're the most genuine person that's never doubted me you've always come to bat for me.
Alex – you've been the most loyal in this game, literally all i've had was my family, my partner, and my ride or die
Alex – I Couldn't be happier with the person I picked
Alex – I'm completely happy with Paul.. I have no problem taking you guys to the end. Whoever wins it wins it..
Alex- even if I came in third.. Still winning
Alex – outta everyone in this game we've done all the dirty work, we got Cody out twice
Alex says getting rid of Dom was critical to them getting the showmances out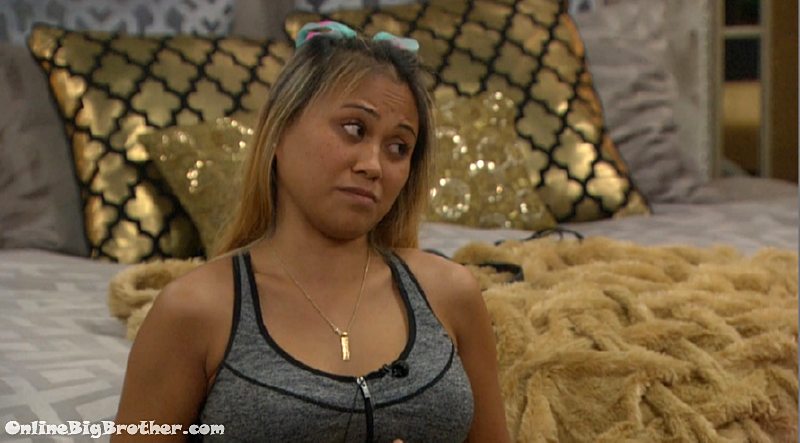 3:19pm HOH Alex and Jason
Alex – if we keep this up, we can walk to the end..
Alex thinks they can guilt Josh to not put them up, "do you really want to do this JOsh.. we worked really hard for this and now you're going to send us home "
Alex says once Raven started begging them to drop so she could get a letter from her mom Alex sucked her butt to the back of the hot dog so raven couldn't see her. Still in the comp.
Jason – there was no way in f* I wasn't going to win that Comp.. I don't give a sh1t if blood was pouring outta my body
Alex says they can control Josh not Christmas.
Alex – this is epic like I told you we've played this game so well, That those two dumb dumbs are going to sacrifice themselves without knowing it and they're going to think it was their idea
Alex – when we need that Veto to win it we're going to convince one of them to let us win it, we're going to take one of them off. We're going to look like the hero and when the rogue vote happens….
Jason – what the f*
Alex – exactly
They high five..
(you chumps are gonna take Raven down, put Kevi up and Kevin is going home not Matt..KRAKEN!)
Alex – if we hadn't linked up with paul,.. I think we could have managed it only if Paul wasn't in this game
Alex explains if Paul wasn't in the game they would have been able to make it this far but since he is in the game they had to team up with him to make it.
Alex – since he is (in the game) we need him to get to the end
Jason – yes
Jaosj – JOsh was a sh1t bag in the beginning.. Mark turned into a sh1t bag..
Alex about Kevin "he's been a sh1t bag since day 1 dude"
Alex brings up Xmas saying that Kevin told her he's been sleeping next to them day 1 and they've been telling him all the plans and he says sure but thinks their plans are stupid.
They start questioning that Kevin doesn't work has 7 kids and he's loaded. Alex says Kevin isn't a gangster he's probably FBI or CIA. She adds that Kevin's wife makes 200 grand
Jason – pisses me off that he lies so good to me..
Alex – he knows that he needs to lie now.. What would you do if 500K is at stake
Alex says they are going to catch Kevin in a lie about the Jillian vote in front of the entire house. (Week 2 sh1t for the win)
Alex – isn't this great.. we're literally writing the story.. we're going to catch him in a lie and we'll know his tell..
Alex says Kevin swore to god to her and Christmas he did 2 different votes that week.
Jason – he's going to say he voted out Jillian..
Alex – doesn't matter we're going to prove him in a lie.. we don't care about the vote..
Alex says it'll make Kevin feel bad for lying and they'll get his Jury vote.
Alex – now he won't be running his mouth in Jury because he's a scum bag..
Alex says she's got stuff to do after Big Brother "I got to start by bikini company.. travel the world, I don't win it sucks i'm sad.. I got a stipend I'm going to go do something "
Alex says that He's not letting Raven win because she's sick and she's not letting Matt get to the end to be with her "then he'll bone out as soon as reality sets in"
Alex – "Same with Kevin I'm not going to let this man win and thinks he's Derrick, and is orchestrating this whole thing, when in truth we've been controlling him this entire time" (and Paul's been controlling you)
Jason – he hasn't orchestrated sh1t and when he tried it pua giant X on his back
Alex says day 1 when kevin was sick it wa a ploy for him to see who is empathetic
Alex – now I see that but I didn't see it until week 2..
Jasop – everyone cooks his f*ing food
Alex – you know how you say matt and Raven are down there laughing their d1ck holes closed..
Alex says Kevin is in the Diary room laughing at them. "I guarantee it"
Alex says Mark in real life "is aggressive and Mean"
Alex – I do like mark..
5:00am Everyone sleeping..
Donations help us keep the lights on. If you would like to support the site please consider donating.
Links to the ranking system
Rank your house guests here
For those of you that like Statistics here are some expanded reports.